Beginner sock knitting: Sockalong – needles
Today's Sockalong post is all about the needles, but before we start I must say thank you so much for all your support – it's great to know so many of you are going to get involved!  Can there ever be too many sock knitters in the world?  I don't think so!
So, on Sunday we talked about the yarn and today we're going to look at what we're going to knit the yarn with.  I'm actually going do this sockalong on three different types of needles, although you only need to pick one!  The reason for this is that if you've looked around at sock knitting on the internet, you'll have seen that some people use DPNs (double pointed needles), others use magic loop using a long circular needle and then there's me with my short circular, and you might even (like I did at first) have wondered which one was the "right" one for socks.   The answer to that is, of course, that there is no "right" needle.  Like so much about knitting, it's all about personal preference – however, if you've never knitted socks before, you might not know which one to choose to begin with and so I thought if we talked about all three it might help with that choice. I'm using my latest sock to demonstrate the needles – don't worry, I haven't started the sockalong without you!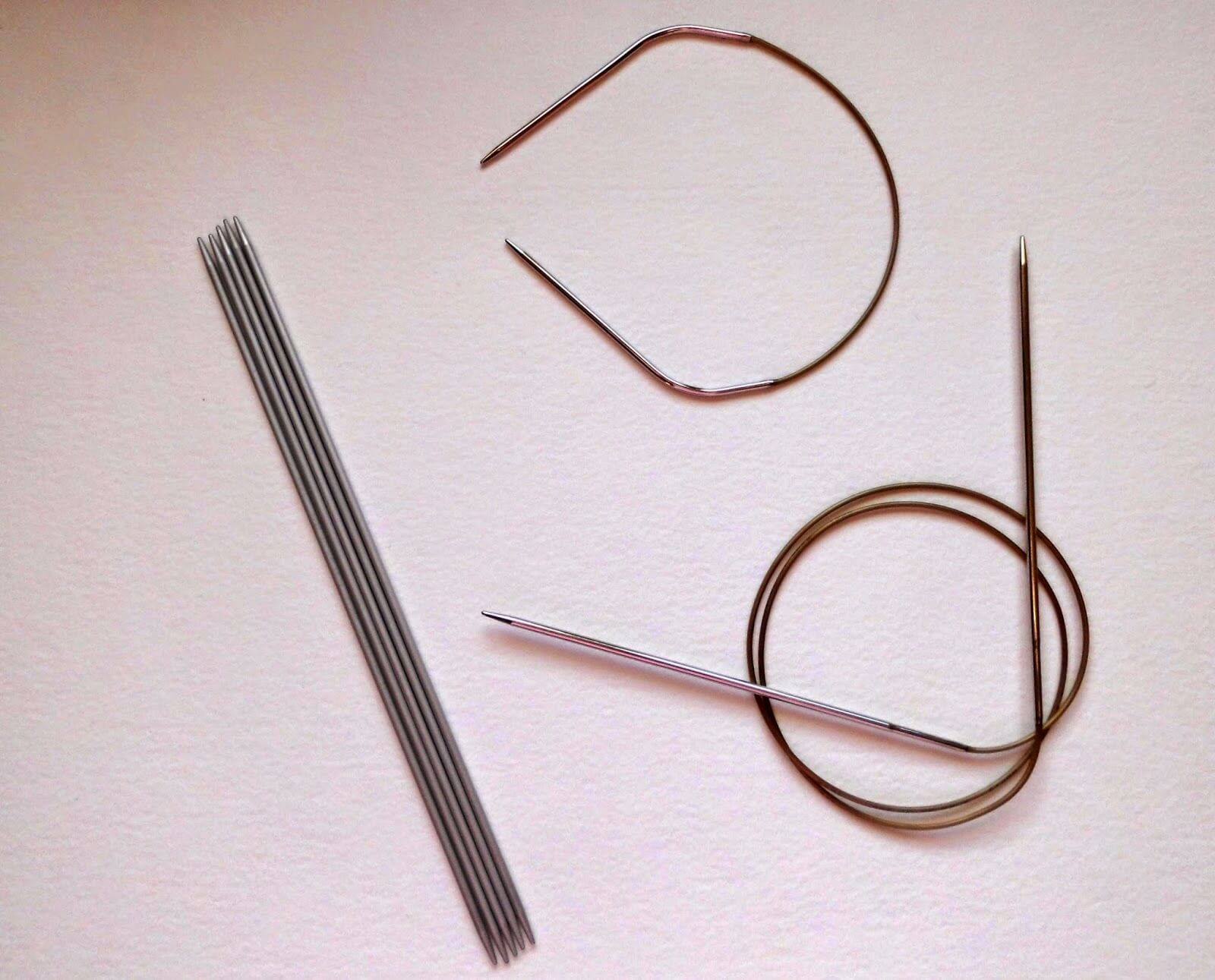 My first few pairs of socks were knitted on DPNs because that's what the pattern told me to do. When I first started knitting socks, I didn't realise there was any other way of knitting them in the round as circular needle cables are long and I had so few stitches to fit around it.  You may have heard knitting with DPNs referred to as "wrestling the hedgehog" and that's not a bad description – to go from two needles to four or five can be quite a challenge!  Having said that, once you get the hang of it, they produce a good sock and some people wouldn't use anything else.  DPNs usually come in a set of five and in various sizes.  My DPNs are 20cm long and you can get them in longer and shorter lengths than that.  It's entirely a matter of preference which length you go for.  Remember that the biggest number of stitches you're going to have on your needles is the cast-on because of the way that I'm going to recommend you do it, so go for a size that you think will accommodate that and still feel comfortable in your hands.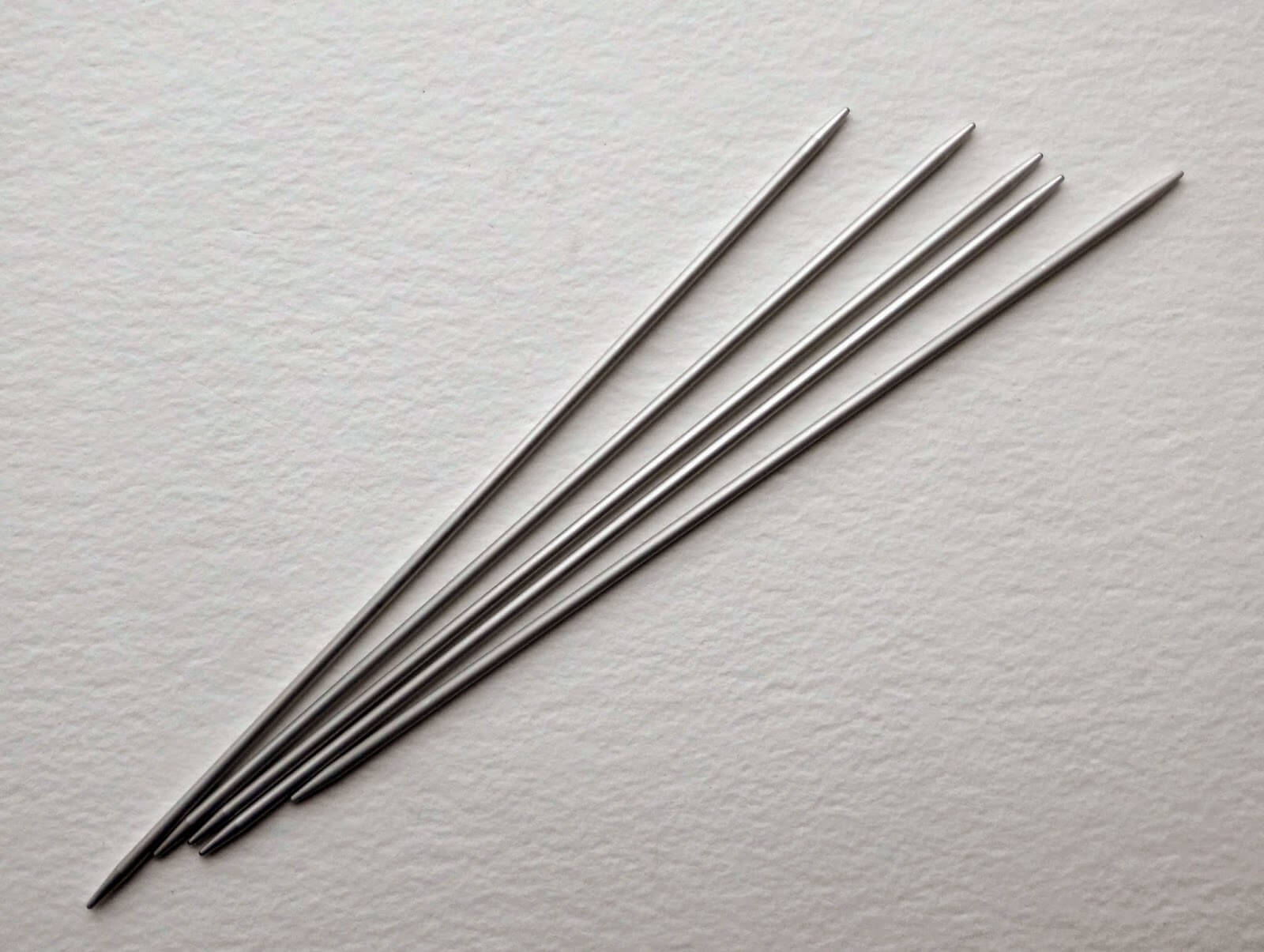 I choose to knit on five needles; four to hold the stitches and one to work with.  Some people prefer to knit with four but until you try it out, you won't know!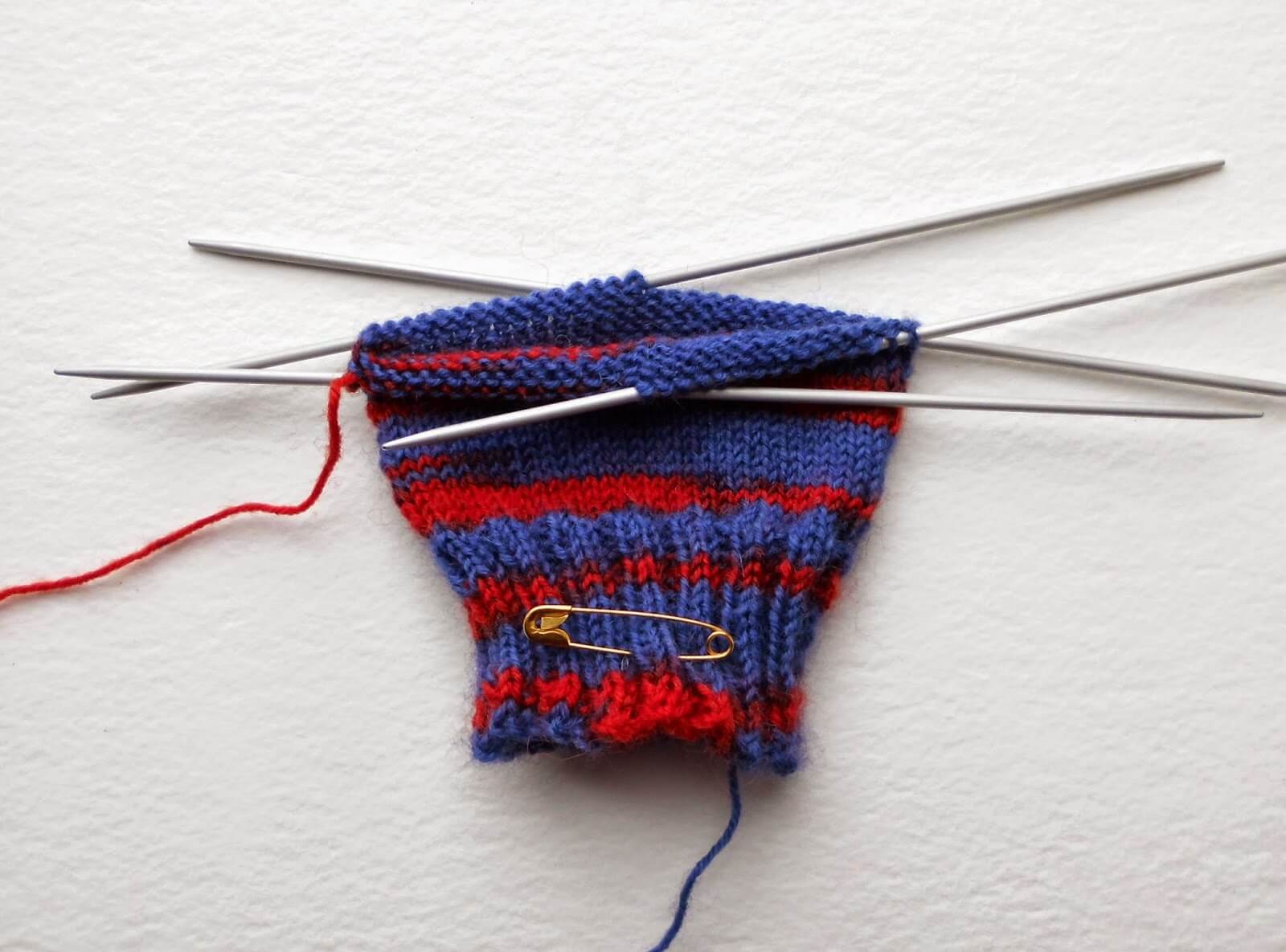 Next up – my favourite, the short circular.  Why do I like this needle so much?  There are a few reasons: firstly, it sped up my knitting no end and once I'd caught the sock bug and discovered there were so many fabulous sock patterns available, it meant that I could get on with them faster! Secondly, it's only 30cm long including the tips and because it's so small it makes a sock a brilliantly portable project.  There was no danger of me accidentally stabbing anybody with the points or losing a needle in transit.  Like many parents, I have spent a lot of time sitting outside after-school classes or at poolsides and I could have read a book to pass the time, but I found that once I was confident with what I was knitting, it was much easier to keep one eye on what was going on around me.  It's hard to wave at a child swimming past when you're trying to finish reading a paragraph, but you can easily take your hands off your knitting for a minute without losing where you're up to!
Finally, and perhaps the reason that I like it best; it's a talking point.  Three years ago my Dad had a malignant tumour removed (he's been given the all clear now, thankfully!) and we spent a lot of time in various hospitals waiting to see consultants or for radiotherapy appointments.  My latest sock project went along with me everywhere and it always made me smile to see how people's eyes were drawn to what my hands were doing.  I've had so many conversations with people who remembered how much they had liked to knit once and they really must get out their needles again and I hope that one or two of them did.  Any knitter will tell you that the rhythm of the needles calms the mind and gives you breathing space and if my socks helped someone to rediscover that, then that makes me happy.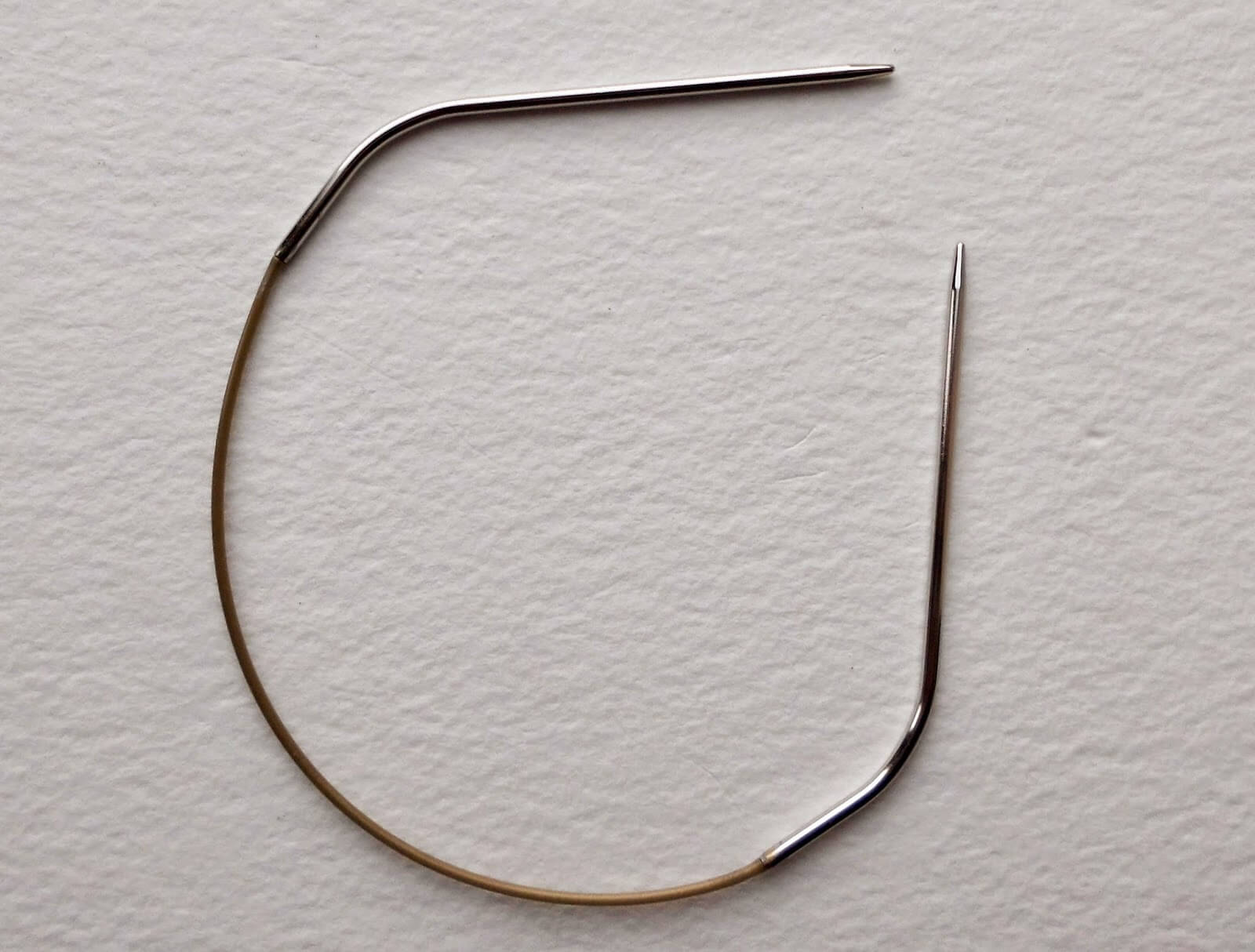 If you choose to use a short circular, you will still need DPNs.  I cast on with them as I find that trying to cast on with the short circular doesn't work for me.  I think this may be the cast-on that I use as apparently other people don't have any problems, but as this is my sockalong, I'll be showing you what I do! 🙂
You'll also need your DPNs for the heel and for the toes.  Our sock is going to be a top-down, heel flap and gusset sock because that's the one I like to knit (you can check out the pattern here if you want to see it before we start).  The heel flap is knitted on two needles, going back and forth in knit and purl stitches, so I find it easiest to use my circular as a stitch holder and use the DPNs to do this.  You'll also need to change to DPNs for the toes as you decrease too many stitches for them to sit comfortably on the circular.  Don't worry, all will be revealed as we go along!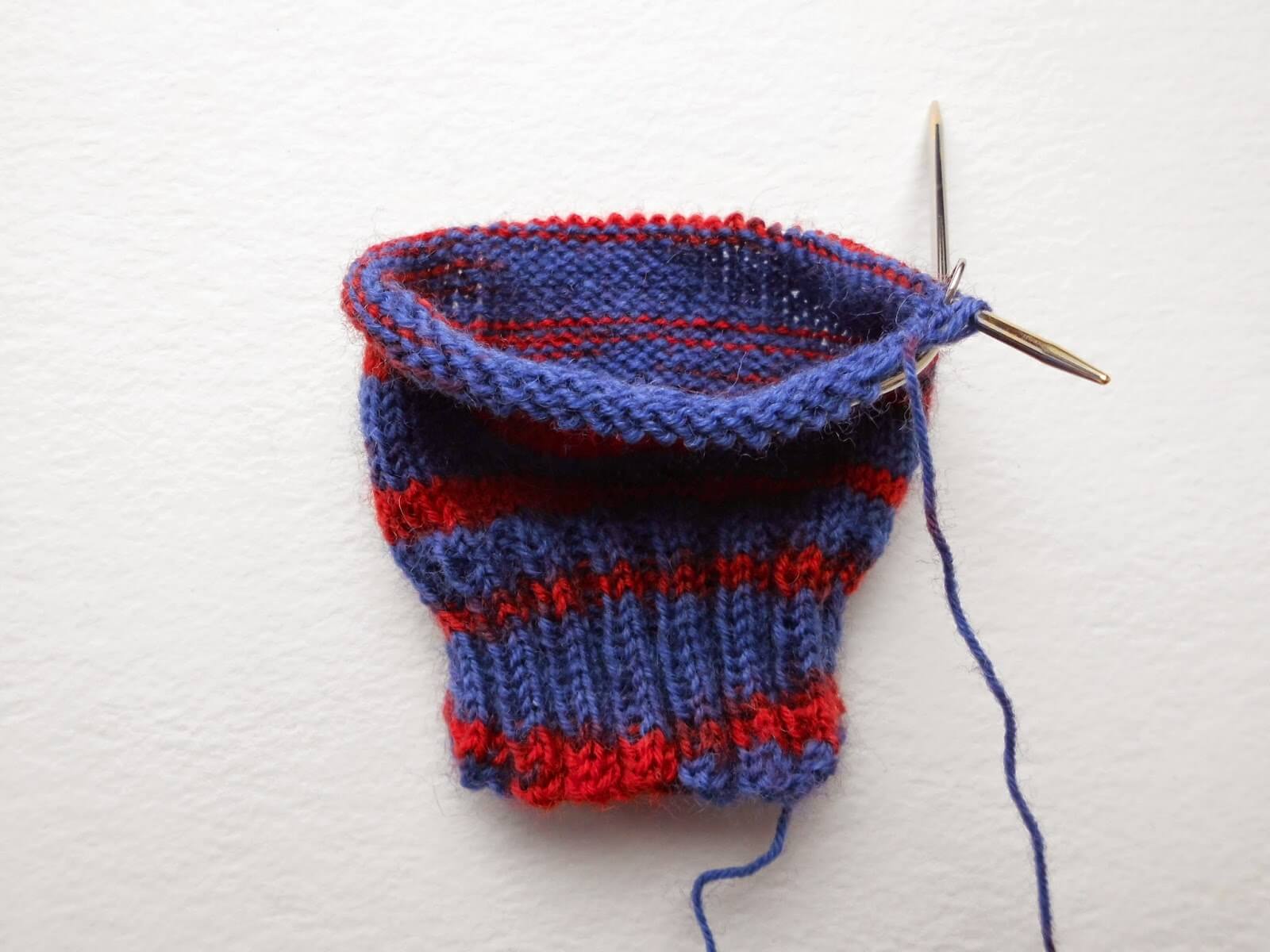 If you're interested in short circular needles, you might want to read this post as well – an update on the types of short circulars that are now available.
Finally, the long circular for using the magic loop method.  I never really liked this method very much until I made my Neat Ripple socks but now it's my second choice after the short circular.  I use an 80cm circular needle and this makes manageable loops on either side of the knitting.  (For those who want to make two-at-a-time socks, you'll need a bigger cable, say 100cm, but I'm not going talk about those during this sockalong.)  Some people find this method much easier because there's more to hold onto than with the short circular.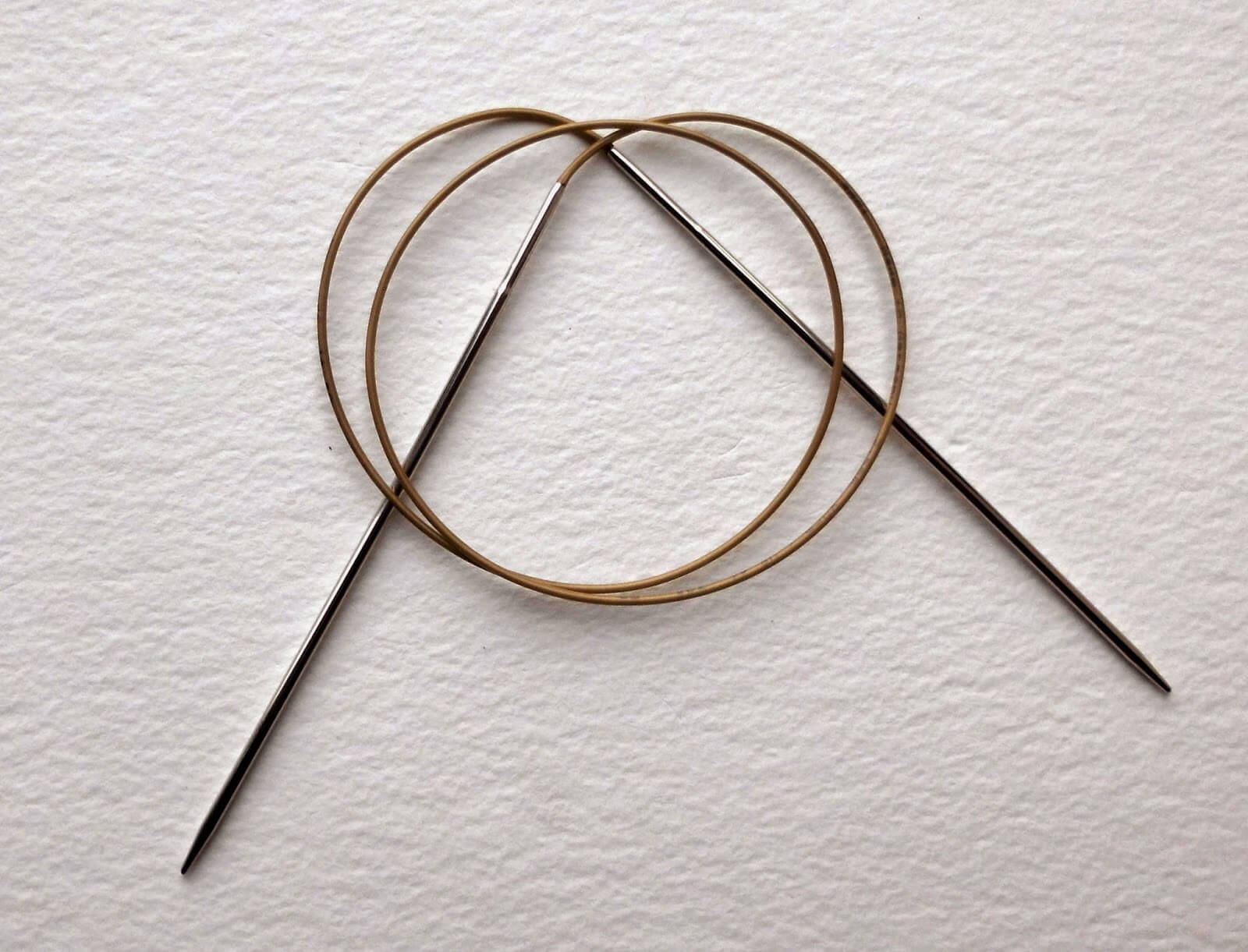 It might look a bit confusing at first, but it's really quite simple.  You start off with your stitches split across the two needle tips and a loop in your circular on the left hand side.  All you do for each row across is pull the back needle out far enough to knit the stitches on the front needle, thereby creating a loop on the right hand side.  When you get to the end of your row, you turn your work around and do exactly the same time again.  I like to mark the front of my sock with a safety pin (more attractive markers are available!) so that I always know where I'm up to.  Have a look on YouTube if you need an "in-action" demonstration!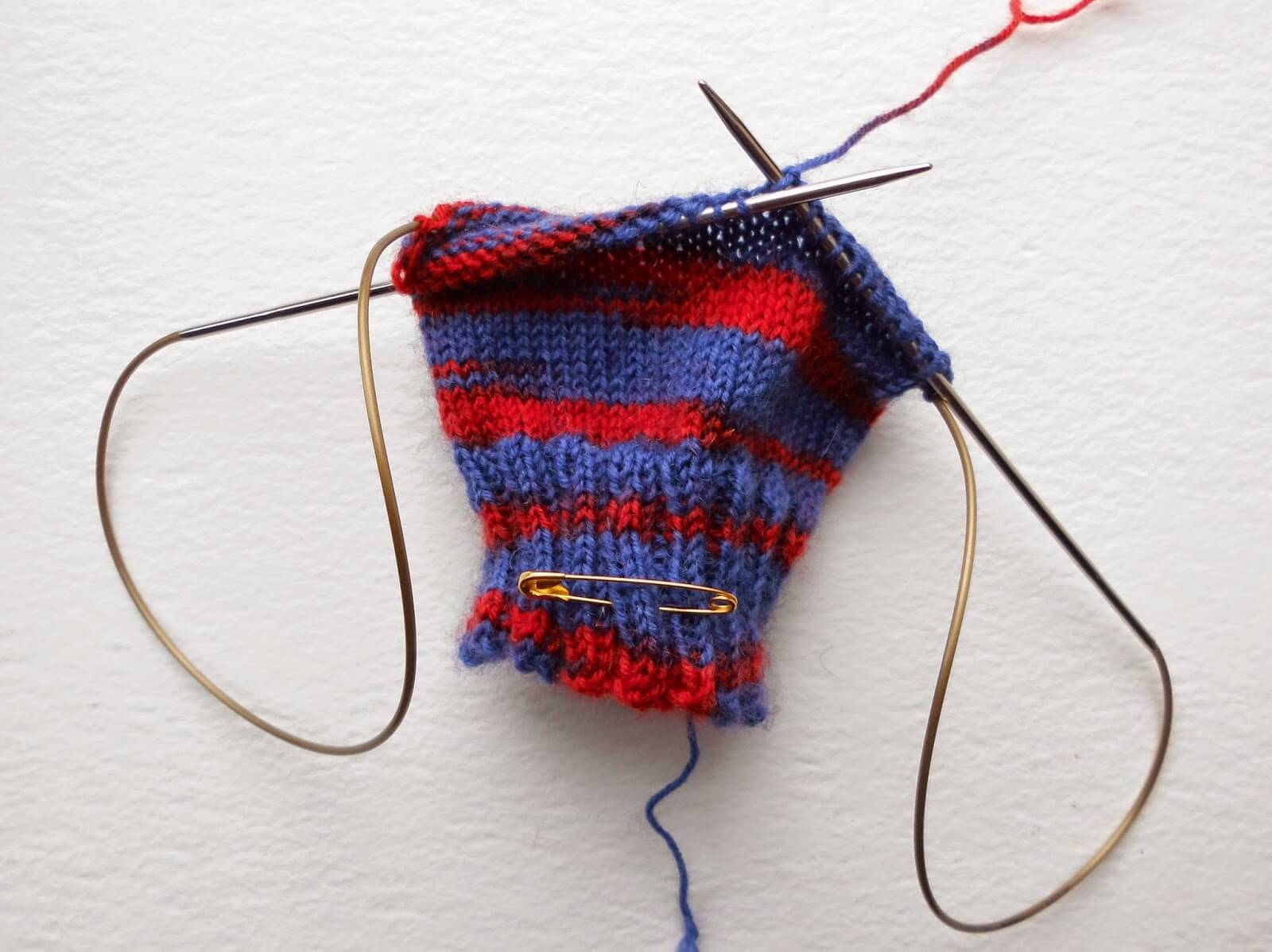 When you get to the heel, there's enough cable for you to leave your stitches on the cable whilst you work back and forth with the needle tips, and there's no need to change to DPNs for the toes as you decrease the stitches; your loop just gets bigger.
Right, so having told you all about the needles, where do you get them from?  Pretty much the same answer as on the yarns post – try your LYS (local yarn shop) first and if they don't stock them, you'll find them online, both in specialist yarn stores and good old Amazon.  In contrast to the yarn post where I suggested that you might not want to buy the most expensive yarn for your first socks, I'm going to say here that it's worth buying a good circular needle rather than the cheapest that you come across.  This is because the more expensive brands have better joins between the cable and the tips, and you want this to be a smooth as possible so that it doesn't snag on your yarn.  Cheap needles are a false economy here as you'll end up getting frustrated and (ahem) throwing your knitting across the room in disgust (not that I would ever do that, of course! :).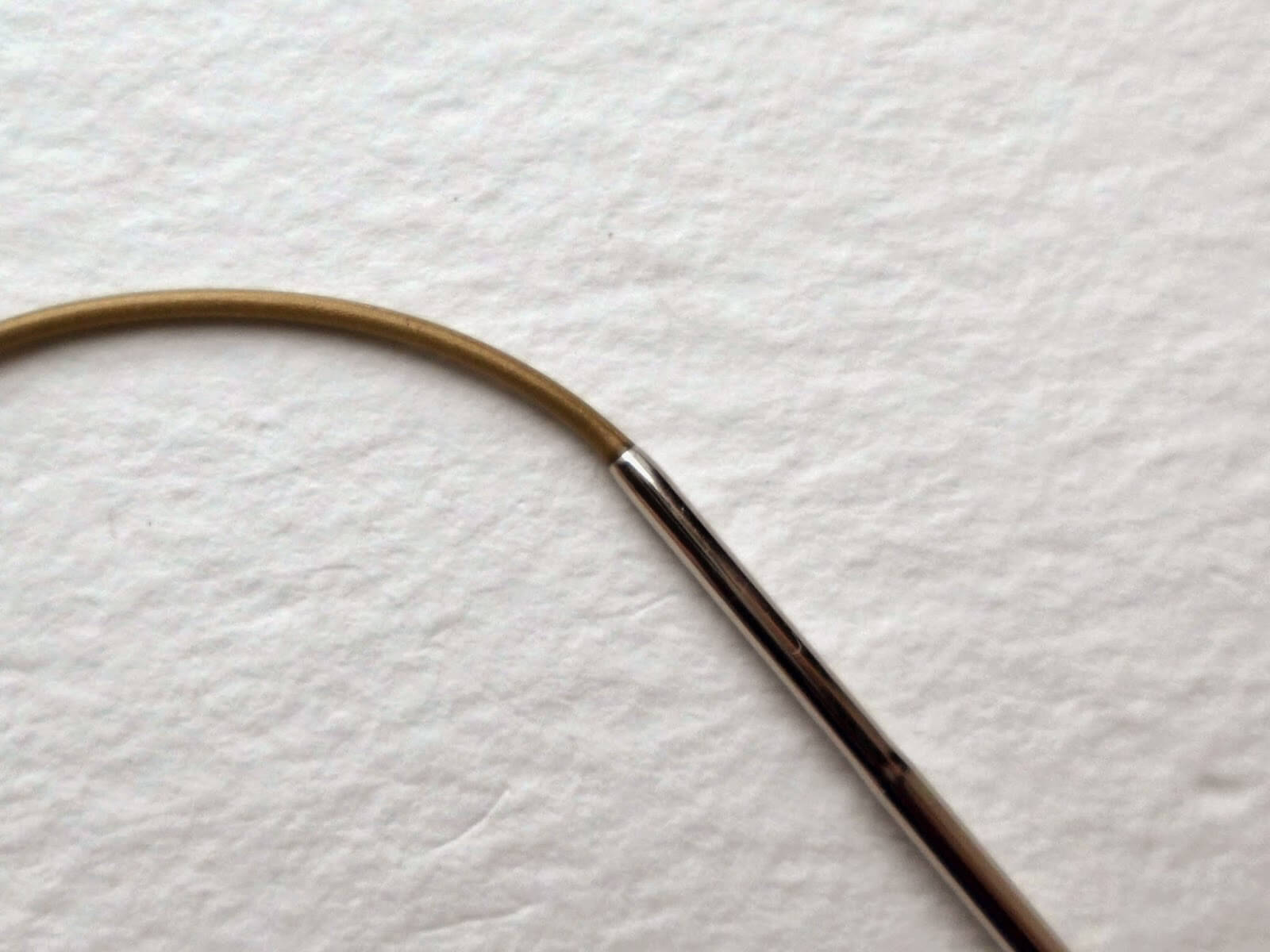 Oh yes, and a word about the size!  I knit on 2.5mm needles and I use 3.0mm for casting on so that my cuff isn't too tight.  The 3.0mm needle is entirely optional; you could cast on over two needles or simply keep your stitches very loose.  Unless you know the tension that you knit to then you will need to check your gauge as it might make a difference to the needle you use, but don't worry if you find this is the case; you can either exchange the needle you bought (most yarn suppliers should do this without a problem) or alter the number of stitches you are using to compensate, but we'll talk about tension later.
You will find that you will need to buy fixed circulars; that is, ones that don't have interchangeable tips (I think this is because the tip size is just too small to accommodate the thread connection between the tip and cable).  My needles are made by the German company Addi, and I use their circular needles in both 30cm and 80cm lengths.  KnitPro also make 80cm needles in their Nova and beautiful wooden Symphonie ranges, but their small circulars are 25cm rather than 30cm.
Before you buy a short circular, it's worth considering what size of socks you will be making. If you are knitting for small feet, you may well cast on less than 60 stitches and you will find that they become a bit tight on a 30cm needle, so have a look at one of the shorter lengths.
You can find 30cm circulars made by HiyaHiya and ChiaoGoo and I'm sure that there are lots of other makes as well – you'll just need to have a look around but the main thing is that your join is as smooth as it can be.  Hiya Hiya also make 23cm needles, and if you want to try really tiny circulars, Addi and Hiya Hiya make 20cm needles too.
As a final point, I've recently discovered that Addi 30cm circulars no longer have bent tips like mine does in the pictures but instead are straight.  Hiya Hiya are also straight, but ChiaoGoo are bent.  I had to buy a new Addi 30cm needle as I wore mine out and I've found that the straight tips are just as easy to knit with, so don't worry about having to buy one exactly the same as in the pictures.
I've been asked quite a few times now about the difference between all the short circular lengths and whether it matters which one you knit with.  I would say that it doesn't matter, it's all down to personal preference.  You do have to hold the needles slightly differently to how you would hold straight needles, but I find that this actually leads to less strain on my hands.  If you've got a friendly yarn store close by which sells both, you could always ask if you could try them out before you buy, but whichever size you go for, rest assured that the pattern will still work and your sock will still be wonderful!   A word of warning though – don't be tempted to buy a 40cm circular if you can't find a smaller one – it's just too it as a short circular and too small to use magic loop.
There's been a lot of information in this post and I hope it's helped you to make some decisions about the needles you'd like to knit with.  In terms of how many needles you need to buy, here's a quick recap:
DPNs – you can knit a pair of socks with one set of five DPNs
Short circular – as well as the short circular you will also need a set of DPNs for the heel and toes.
Long circular – you can knit a pair of socks with one long circular needle.
Is that everything?  I think so, but as before, feel free to ask questions if you'd like to.  The next sockalong post is going to be about tension swatches and I'll post it on Sunday so that you've got time to have a look around at yarns and needles before we move on.  Looking forward to it! 🙂
Don't forget that f you're interested in short circular needles, you might want to read this post as well – an update on the types of short circulars that are now available.
Basic 4ply Socks pattern copyright © 2014 Winwick Mum All rights reserved.
Sockalong tutorials copyright © 2015 Winwick Mum All rights reserved.
More Sockalong posts:
Sockalong – tension squares, casting on and stitch calculations
Sockalong – accessories and matching yarn
Sockalong – Week 1 – Cast on, cuff and leg
Sockalong – Week 2 – Heel flap, heel turn and gusset
Sockalong – Week 3 – Foot, toe and grafting the toes
Sockalong Basic 4ply Socks pattern
Facebook Sockalong group for help, advice and encouragement
These Sockalong tutorials are free and will always remain so, but if you have enjoyed using them and would like to buy me a brew, it will be much appreciated! You can find the donation button on the sidebar on the left hand side.  Thank you! xx