Easy Lace Socks tutorial – getting started
At the beginning of this year when I posted the tutorial for my Easy Cable Socks, I said that my focus for this year would be on bridging the gap between the basic 4ply Sockalong sock and other sock patterns.  Although some people are quite happy to tackle a different sock pattern after knitting the basic sock, others feel that the leap required from plain knitting to a pattern is just too big.  That's OK.  Some of us like to take the steps into the swimming pool whilst others launch themselves from the side, but eventually all of us are swimming.  I like to think that this year's tutorials are just a set of steps into the pool!
The next pattern in this tutorial series is going to concentrate on lace knitting.  I know that sometimes lace knitting looks like the most complicated thing on earth, but it really is just two needles and a piece of yarn – there's not even a cable needle involved like there is with cable knitting!  The creation of lace knitting is actually very simple.  It's all worked on increases and decreases, and creating new stitches by winding your yarn around your needle so that (usually) your number of stitches on the needle will remain the same.  There are always exceptions to this rule, but once you can knit lace stitches, you'll be able to tackle anything, I promise.  Trust me, I'm a sock knitter! 🙂
The good news is that means, then, that there's not a great deal of difference in the actual knitting of these socks – my Watercress Leaves socks ..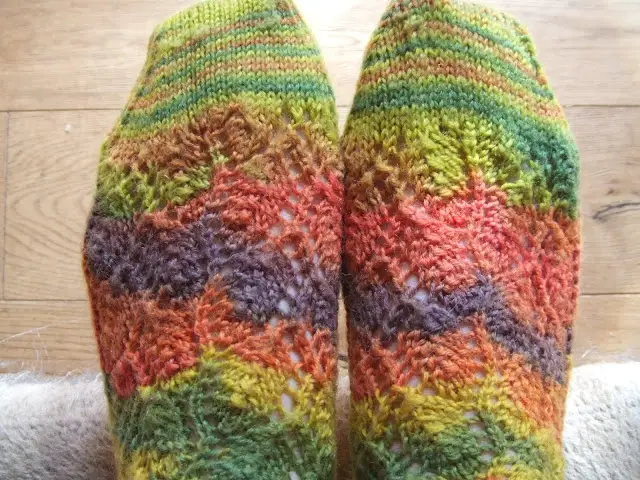 to these ones which are called Spring Forward …
and to the shawls, cardigans, baby blankets and tops that you might have wanted to try but never quite got round to starting.  If you've always thought that lace knitting was too hard, then I hope that I can show you that you can do it and open up yet another rabbit hole for you to disappear into!  I think that lace knitting looks like a special kind of alchemy and is a wonderful way to impress yourself (and other people)!
Before you head off in to the archives of Ravelry, though, let's take a look at the Easy Lace Socks and see what you're letting yourself in for.  I'm going to go through the basics of the lace pattern and how lace knitting works today so that you'll have an understanding of it when you look at the main tutorial.
This is what the Easy Lace Socks look like …
If you've just made a pfft! noise and thought these look far too complicated and are not for you, then just hang on a minute!  Remember that I said above that lace knitting is a special kind of alchemy?  This pattern is just made up of knits, purls, increases and decreases, but lace always looks far more complicated.  You've already mastered the basics if you've knitted a plain Sockalong sock, so there's no reason why you can't give these socks a go.
The lace pattern runs right around the leg of the sock and then down the top of the foot.  I've written the pattern in such a way that you can make the amount of lace that you knit smaller if you want to, but I promise that it's not difficult and you should be able to manage a whole sock-ful of lace, even if you've never knitted it before.
I've chosen to use a heel stitch heel which you'll be familiar with if you've already knitted the basic 4ply Sockalong sock.  In fact, the whole pattern is based on that sock so nothing should feel too far out of your comfort zone.
Let me show you what the pattern that you're going to be knitting looks like.  I think it looks a bit like little ladders, and it creates a neat ribbed pattern that should fit well on any size of foot (and of course I'll tell you how to adjust the lace pattern to fit different cast on sizes).
If you look closely, you can see how the stitches work to create the lace pattern.  There are only four rows (or rounds) to this pattern and it's worked over six stitches so you're not having to remember anything complicated.  There's a decrease at each end of the pattern block which is what pulls the stitches in the right direction for the pattern, and just like the gusset decreases on your socks, they lean to the left or the right depending on which row of the pattern they are on.  I'll show you exactly how to knit this pattern in the main tutorial, but it's easier than you might think!
There's also an increase on every pattern round – for every stitch that you decrease you need to replace it with another one otherwise you'll end up knitting an ever-decreasing triangle and that's not quite what we're after for a sock.  There are a few ways of creating new stitches and in this lace pattern, we're going to use the easiest of them all – the yarn over which gives a nice airy (lacy) look to the pattern.
The main tutorial will have the pattern both online and in downloadable PDF form, lots of photos and also video clips (I've received so many lovely comments about how they helped with the cable socks – thank you! – that I've created more for this tutorial).  I'll also show you how to read a chart which really isn't as hard as you might think.  I'll be posting all of that tomorrow, but in the meantime, I've tried to answer some of the questions I thought you might ask.  If I've forgotten anything, do let me know in the comments!
What size are your socks going to be and can I change it?

The sock will be based on my usual size (my UK size 5 foot) but it's easy to adjust that to fit your own foot.  Don't forget that the size of a sock is based on the width of your foot, not the length, so I recommend that you look at the sock stitch calculation in the Sockalong tutorials which will help you work out the size based on the width of your own feet.  You can also try your sock on during the knitting process to make sure it's comfortable.
Can I use any yarn for these socks?
Yes.  The pattern is written for 4ply yarn so any 4ply should work, although I always recommend a quick tension swatch just to be sure that your size will work out right.
I've used Doulton Flock Border Leicester 4ply in the colourway Cringle Moor for my socks, and you can read more about it here.  It's another no-nylon sock yarn that I wanted to try out and it has worked beautifully with the lace pattern.  I'm very happy with the way the socks have turned out and would definitely recommend that you check out the yarn if you are also interested in yarns that are a bit different from regular sock yarn.  I'll be writing a review of the yarn in about six months' time when I've been able to give the socks a good try out so do look out for that post!
I've never knitted lace before, will I be able to do it?

Yes!  All you're going to be doing is decreasing stitches and then making a new one by wrapping the yarn around the needle.  The decreases are nothing that you haven't done before if you've already knitted a sock, and wrapping the yarn around the needle is easy.  You'll feel like a magician with your pointy sticks and yarn by the time you've finished this!
Can I adjust the size of the pattern block for a bigger or smaller sock?
Yes!  It's very easy to do that with this particular pattern.  I'll show you how to do that in the main tutorial.
Can I continue the lace pattern down to the toe decreases?
Yes of course, if you want to!  You'll just have to adjust your lace pattern as the number of stitches gets smaller which isn't hard to do.  I decided to stop the lace pattern at the toe decreases because it is easier to do it that way, but you can take your pick how you want your socks to look.
Right then!  I think that's everything for now … I hope that's been useful as background information and tomorrow I'll share the pattern with you.  Do ask if you've got any questions, but I hope that now you're all ready to grab your yarn and needles and prepare to cast on!