Circular needle organiser
I've had it in my mind for a long time now that I need a better way to store my knitting needles, especially now that I have commission projects on the go as well as my own knitting and can never find needles when I want them.  I needed a proper circular needle organiser … this is what I've made – and I'm so pleased with the result!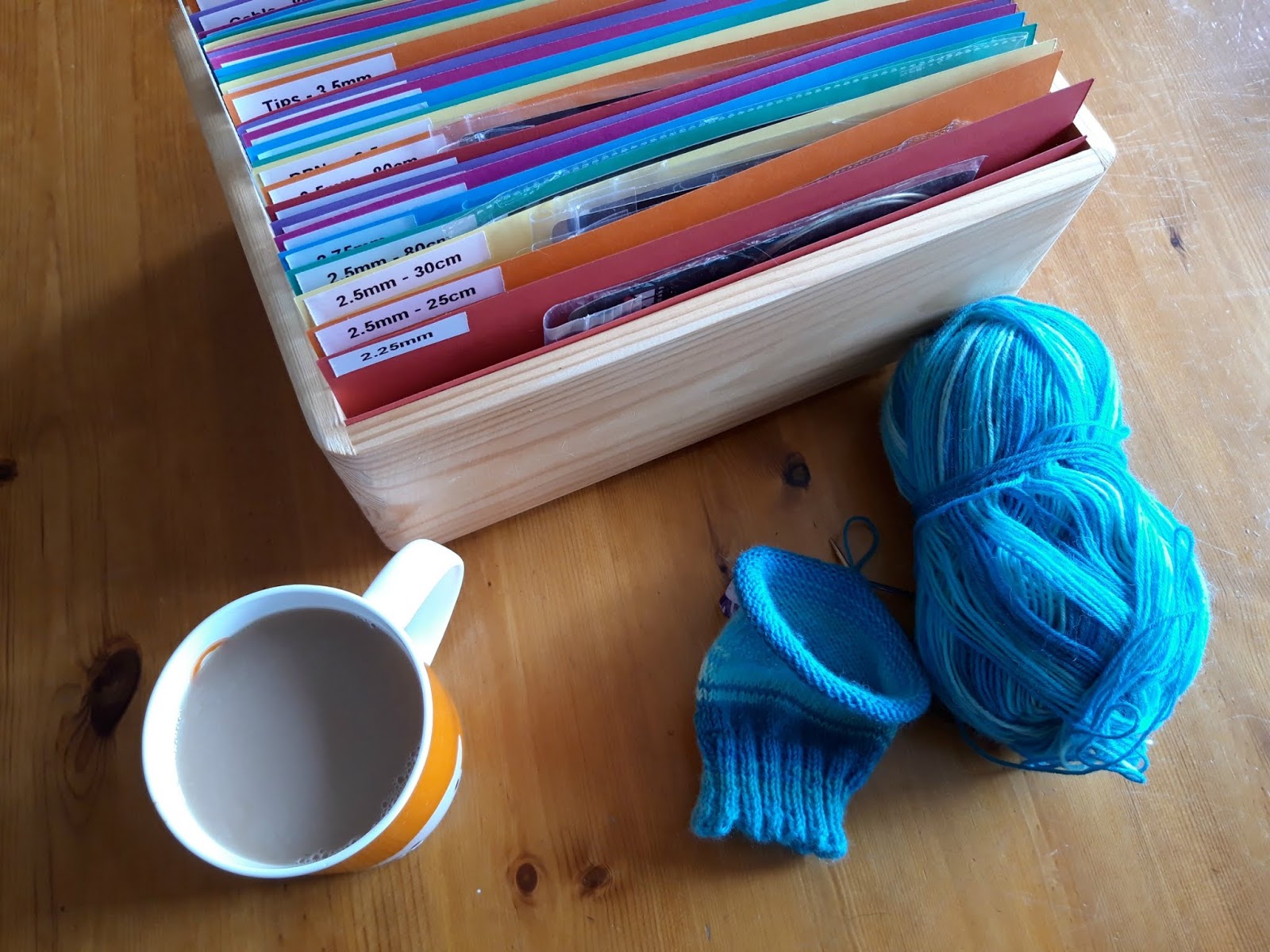 Previously, my needles had been stored in whichever project bags I was using and this tin …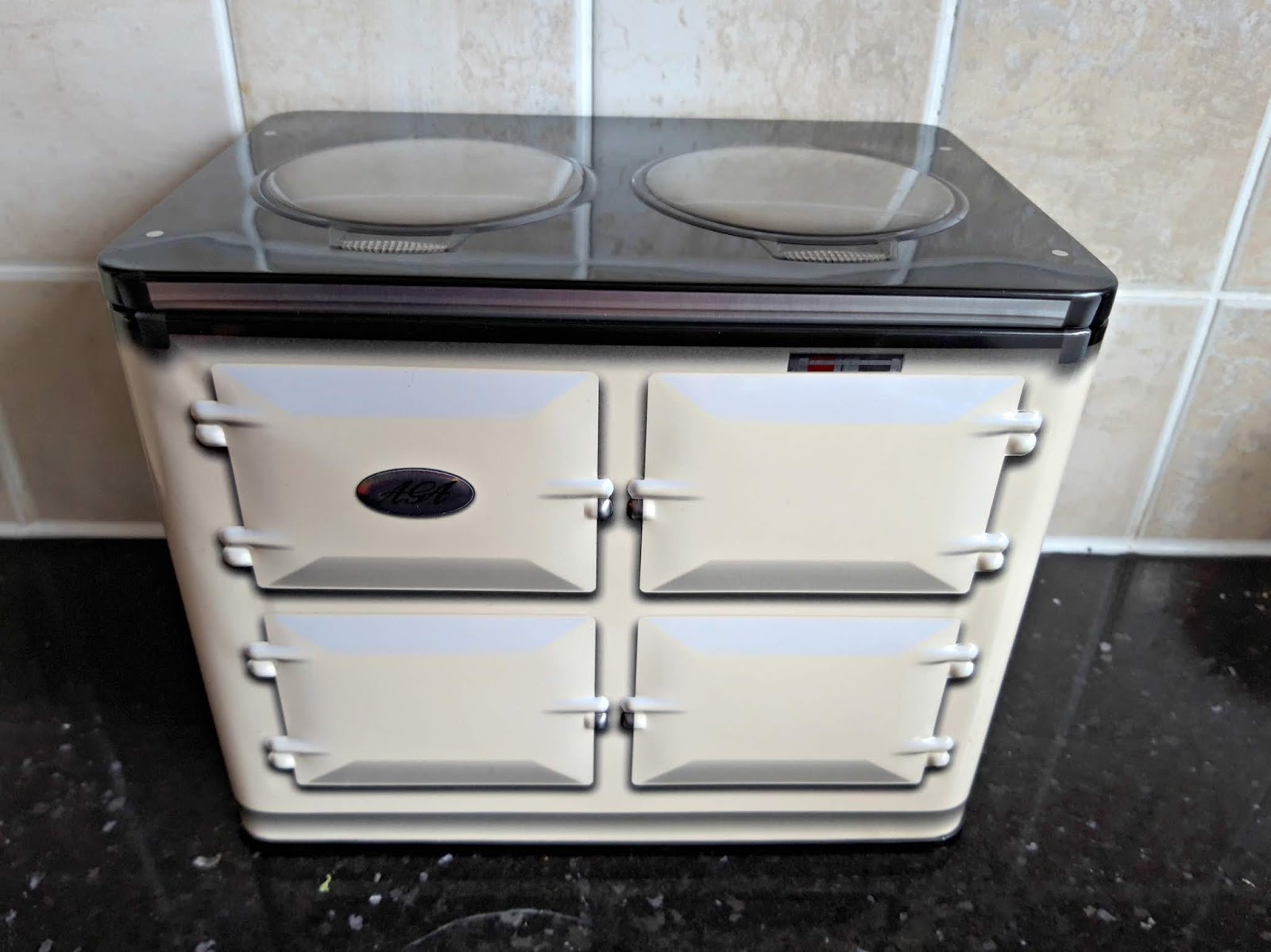 It's a very nice tin and I like it because it looks like our Aga (albeit the wrong colour and with an extra door) – but as I've acquired more needles, it's become more difficult to see what I've got (which is not helped at all by my leaving needles in project bags instead of putting them away).  The only good thing is that I keep the needle packets so that I can put them away in the right sized pack to make it easier to find again – although that isn't always very helpful when I don't know where the needles are in the first place.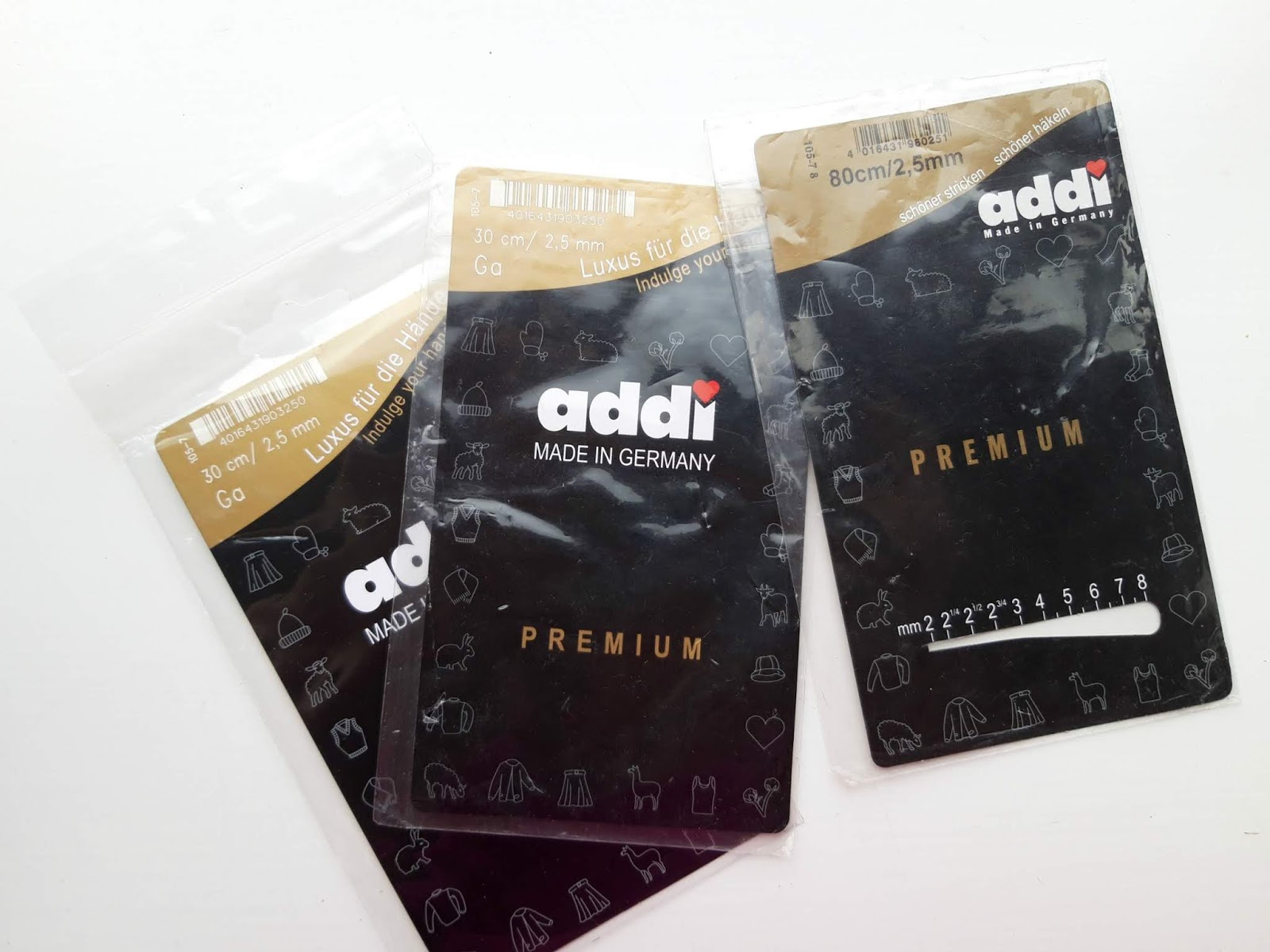 Also in the tin is a little packet that came free with a knitting magazine where I keep my cable needles, and a zipped pouch that small daughter made for which has crochet hooks in it, and my Knitty patron stickers which I'm actually very proud to have and which shouldn't be stuck in a tin.  It's no wonder I buy more needles because I think I haven't got enough of the size that I need …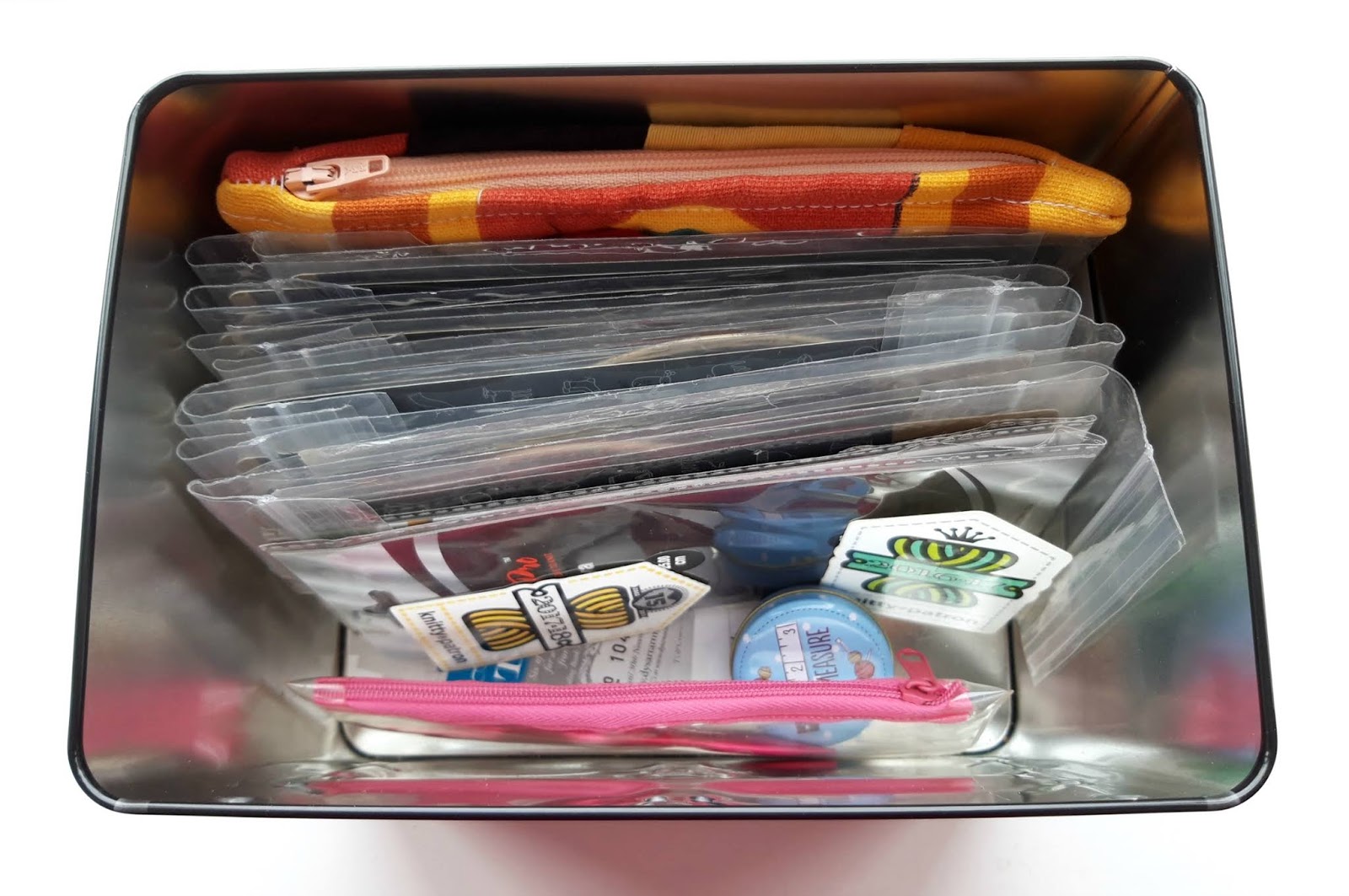 So I decided that enough was enough and I needed a Proper System.
I did a bit of research on the internet and to be honest, I wasn't particularly inspired by what was coming up.  I did think about making a fabric roll, or perhaps looking on Etsy or another website to see if I could see one I liked, but a fabric roll has never really appealed to me and I knew there would be something that would suit me better.
Finally, I found a blog post through a Pinterest search looking close to what I wanted and knew I had found my answer.  All I needed was a box, some card and I was off!
The blog post I read uses a plastic box and I looked around for something suitable that we might have had around the house for quite a while before realising that I didn't actually want to use a plastic box at all, and I certainly didn't want to buy one!  We're trying to reduce the amount of plastic that's coming into the house and I wasn't planning to replace the needle storage box once I'd made it, so why not go for something a bit nicer?
I found this box on Amazon, and it wasn't as expensive as I had expected – some of the plastic boxes that I'd seen were just as much if not more expensive, and I liked the look of this one much more.  It's 30 cm x 20 cm x 14 cm (12 inches x 7.9 inches x 5.5 inches) and that's just the right size for the longest packet of DPNs that I have, so I knew that everything should fit in.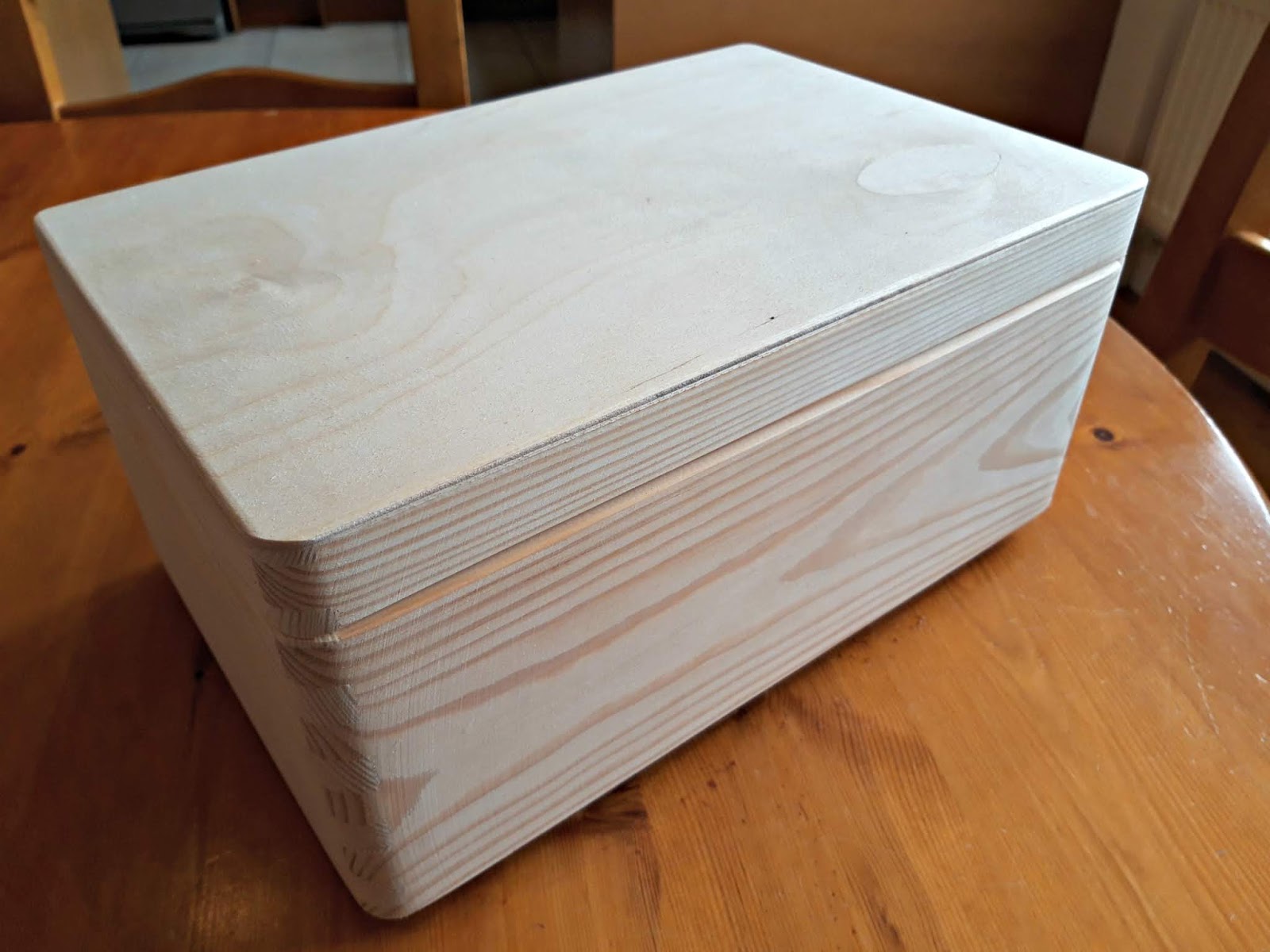 I chose one without handle holes because it sits side-on on my bookshelf and I thought it would look neater without being able to see the contents through a handle hole.
The next job was to stain it.  I could have left it in the natural state that it arrived in, but having recently been re-staining our staircase and thoroughly enjoying watching the wood soak up the stain, I decided to stain the box too.  I used Ronseal Danish Oil; easily enough bought at a hardware store and recommended by a decorator at one time as an alternative to teak oil.  The box soaked it up!
The wood was obviously very dry so I decided to do the inside too.
After that, I added some felt strips to the bottom where it would sit on the bookshelf so that it wouldn't scratch the wood.
(It looks wonky on the right hand side in this photo but it isn't in real life!)
After that, it was time to fill the box.
The blog post I read suggested using cut down cardboard folders, but I couldn't find anything that would be the right size so I decide I would just make my own.  I bought some A4 card and cut it to the right size to make a folder that would slot into the box and hold the needle packet.  A4 card is 21 cm x 29.7 cm (8.3 inches x 11.7 inches); I measured 11 cm (4.3 inches) across the shorter side and scored down the length so that it would fold and leave a tab for me to attach a sticker, and I took 2 cm (0.78 inches) off the width so that the card would sit comfortably in the box.
I decided to split my needles into fixed circulars (both short and long), DPNs, cables (for my interchangeable needles) and needle tips, and I was surprised at how many there were!  By the time you've got a few different sizes of each type (for example, I've got 2.5mm needles in 23 cm, 25 cm, 30 cm, 80 cm and 100 cm sizes), there are quite a number of little folders needed!
I had a lovely time with the label maker!  I originally bought mine from Aldi a few years ago when it was on offer and it's had plenty of use, especially since big daughter went to university and felt the need to label everything that moved (and some things that didn't!).  Fortunately, the refill tapes aren't too expensive!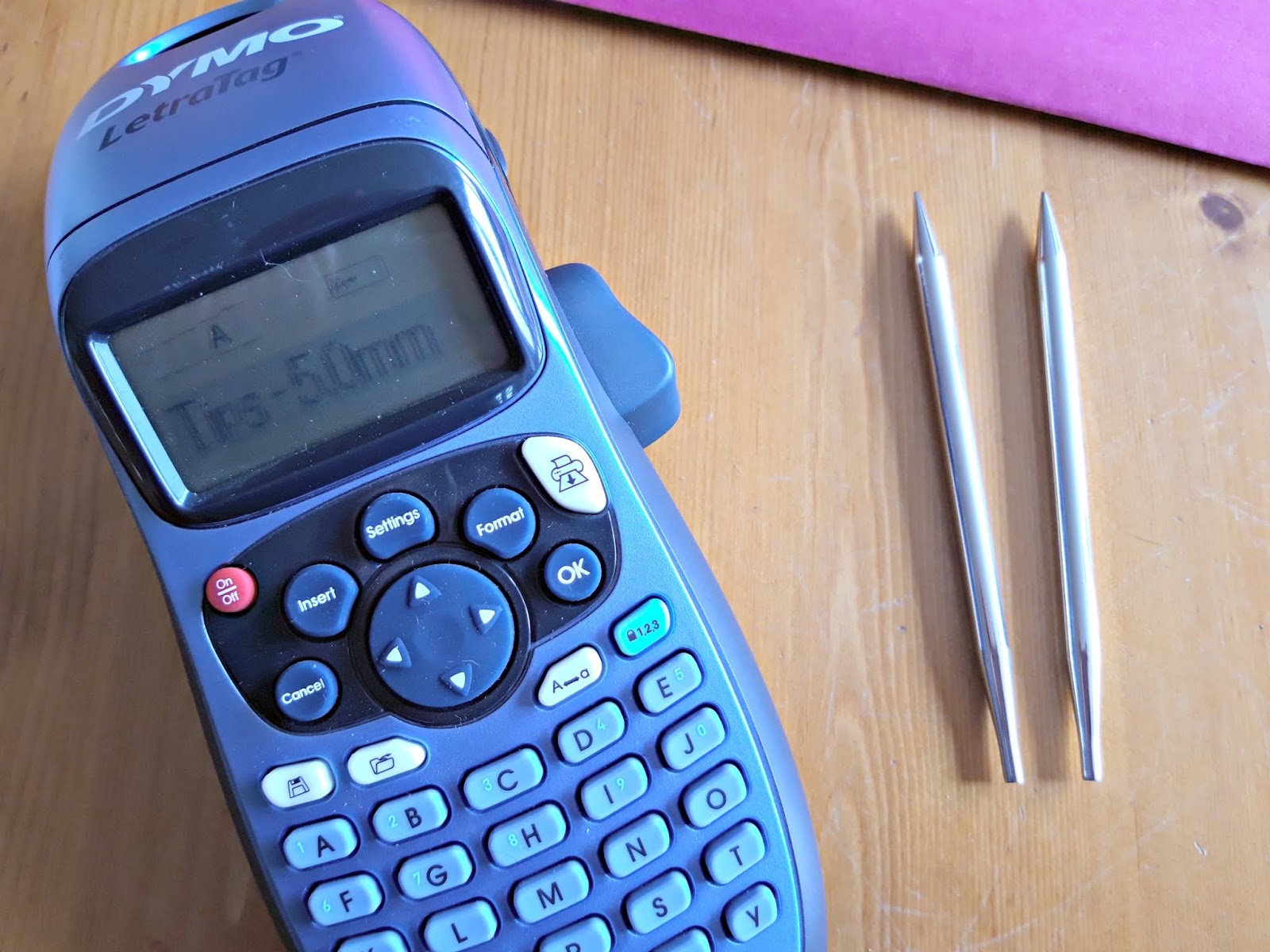 I think these little folders look pretty good!
The next thing to do was to put them all into the box and put the needles into the right folder.
And those Knitty patron stickers?  There's a home for them too!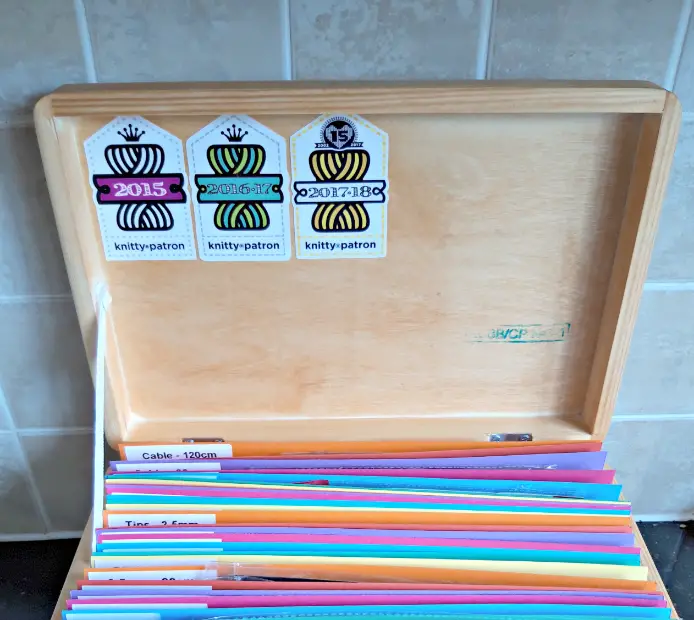 I was feeling rather pleased with myself, I have to tell you …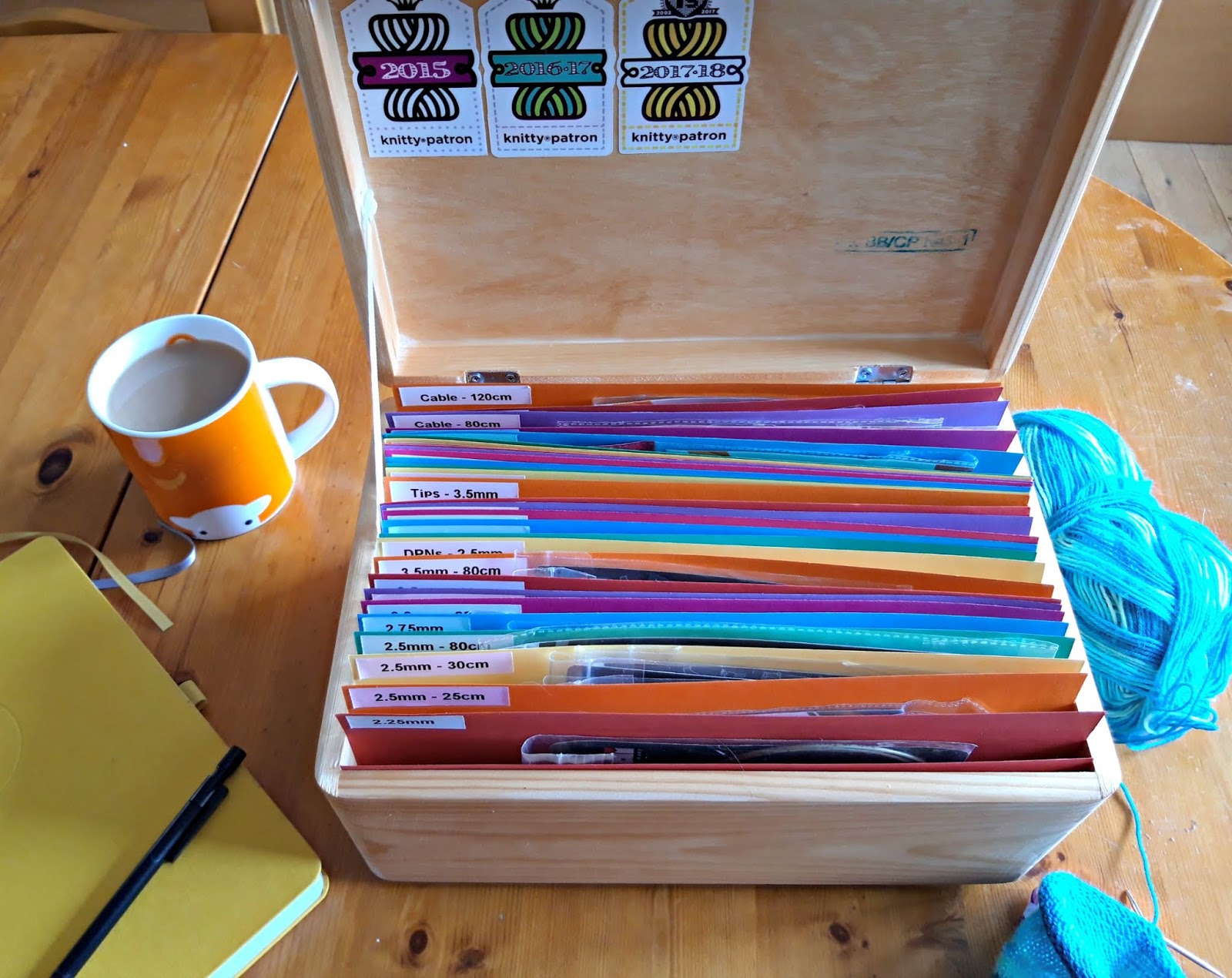 and then I remembered that the point of this system was to tell me where all my needles were.  I headed off to the computer and made myself these inserts …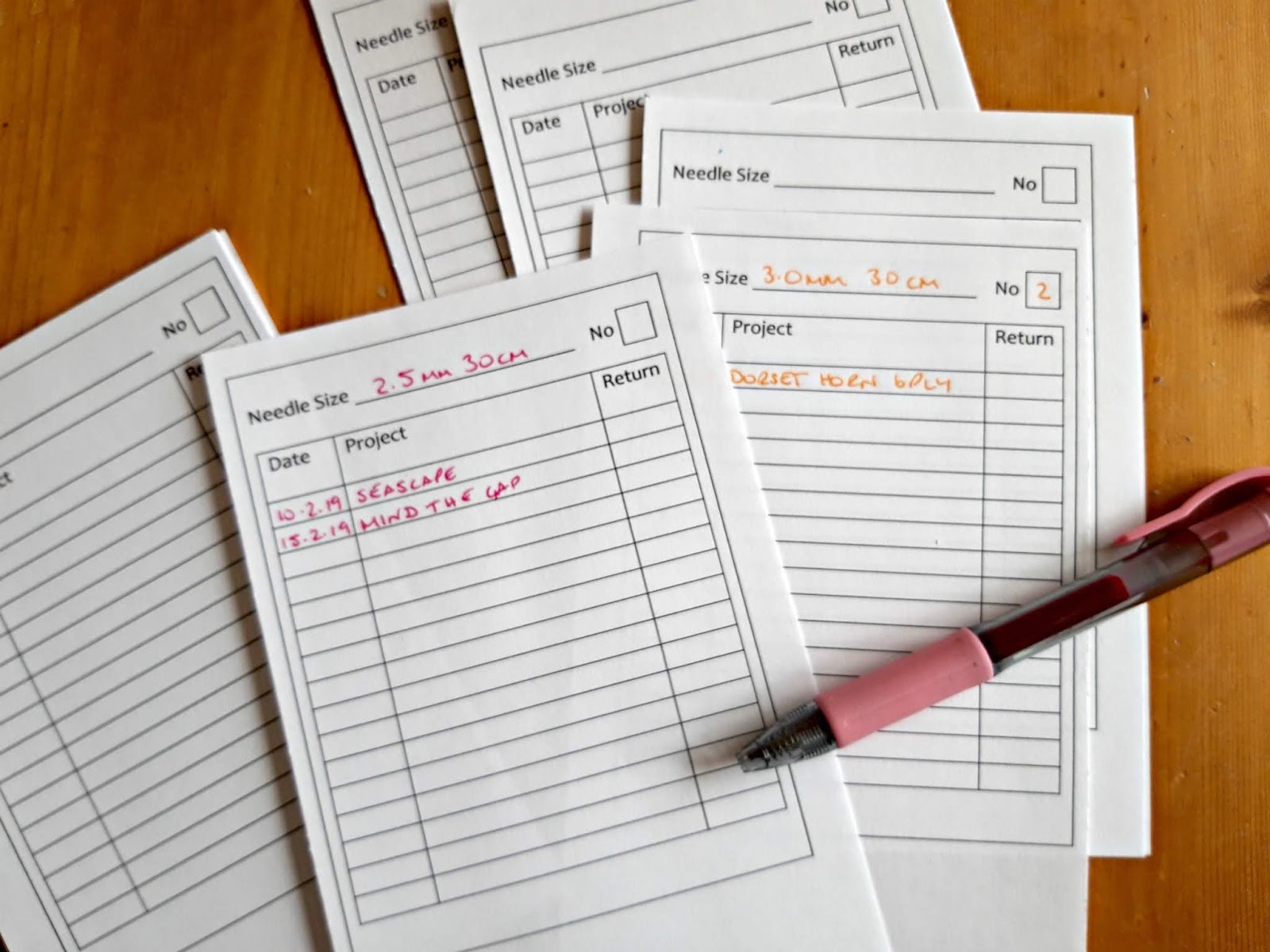 I used a separate one for each of the needles and I'm hoping that they should help me to keep track of which projects my needles are being used for at any one time.  I have so many on the go!  If you think they'd be useful for your needle organisation system, you can download the page here.
So there is it, my nifty new needle organiser!  It's seen plenty of use already and I have to tell you that it's such a relief to know where my needles are!
I hope this might be something useful for you to make too
This tutorial is free on this blog and will always remain so, but if you have enjoyed using it and would like to buy me a brew, it will be much appreciated!  You can find the donation button on the sidebar on the left hand side.  Thank you! xx