"Why won't this thing shut?!"
There has been a disaster on the Emergency Sock front.
If you've been reading my posts through October (Blogtober) then you'll have read about my Emergency Sock which is Basic 4ply Sock that lives in my car (there's a handy storage box with charging points between the front seats made just for this purpose 🙂 ) and means that if I get stuck in traffic or have to wait in a queue somewhere, I've always got some knitting close at hand to stop me getting cross about wasted time.
It's actually been coming along quite well which says something about the amount of time I've been spending in the car waiting – not so much in queues lately but not so small daughter has been going to extra revision sessions after school and there's no fixed time for them to finish so she gives me a vague time to be there and I go and wait until she puts in an appearance.
It's looking good, isn't it?  The yarn is from Burrow and Soar, it's a hand-dyed skein in a shade called Bower.  I'm enjoying knitting it; it's not taking much thought and is growing quite quickly.  Or at least, it was.
"Why won't this thing shut?!" asked not so small daughter crossly, slamming the lid of the storage box after she had got into the car and plugged in her phone charger.  It had been a maths session and she was a tad grumpy.  She slammed it again.  And again.  "Ah, done it now."
And so she had.  That 'whatever it was' that was in the way had been sorted.
And sadly, so was my Emergency Sock knitting for the day.
Not so small daughter was very apologetic.
I have since been able to use it – I turned the needle around on the stitches so that the bent section is in my left hand but it's not ideal.  Yes, you are right, I could have taken one of my WIPs off the needle that it is on and used that one, but that would have involved me looking at the WIPs (or perhaps the WIPs looking reproachfully at me) so I have soldiered on with the bent needle instead.  Such fortitude! 🙂
I've got an embarrassing number of 30cm sock needles in the house (not just with WIPs attached) so I could have swapped it, but of course I couldn't find any of them so I have ordered yet another one which arrived the other day and I'm back on straight needles – hooray!  You can see just how bent the other needle was, it's no wonder I was finding it difficult to knit!
I mentioned the Emergency Sock on Instagram and had a fun conversation with lots of people saying that they also had an Emergency Project (not just socks, I do have to remember that other projects are allowed!) and lots of others saying that they hadn't got one but they were going to start taking one around with them.  I think it's essential kit along with your phone and your keys these days!  Oh, and the overriding thing that came out of the conversation is that every Emergency Sock (Project) bag needs an Emergency Snack in there as well.  Ooh, now that sounds like a good idea!  Helen from the JosieKitten blog said that she keeps one of those caramelised biscuits in hers that you get from coffee shops then it really is an Emergency Snack – they're not my favourite biscuits and I usually give mine to not so small daughter but as Helen pointed out, anything that is more of a favourite wouldn't last very long and might not actually be available in an emergency as it would have been eaten.  This is very true and Emergency Crumbs really wouldn't hit the spot!
On the subject of things to eat, I have made some muesli.
I wrote about my muesli and yoghurt breakfast on Day 13 of Blogtober and Ingeborg was kind enough to leave me a comment telling me how to make muesli for myself with her recipe.  It was very timely as I was down to the dust in the bottom of the box so I had a rootle through the cupboards to see if we had everything that I would need.  This is when you realise how handy it is living with a mostly-vegan big daughter and there would be a few replacement ingredients but all I had to buy was apple sauce!
Although the recipe is in the Blogtober post comments so you could look it up there, I wanted to check with Ingeborg that she didn't mind if I shared it here.  She told me that her version is an adaptation of an original recipe by Sieglinde Fischer from Noton Keramik which includes chocolate and hazelnuts so you might want to try that one out too!  That recipe is here.
Ingeborg's Muesli
250 g oats + another 100 g to spread on the muesli during baking
150 g almonds, chopped
150 g walnuts, chopped
150 g cashews or other nuts, chopped
60 g linseeds
50 g muscovado sugar, or even less
Mix all dry ingredients, but leave out the extra 100 g oats.
180 g apple sauce, unsweetened
1 tbsp olive oil
50 g "runny" honey or maple syrup
1 pinch of salt
Mix the "wet" ingredients + salt until smooth and then pour into the dry mixture. Stir everything well until no dry spots are left.
Spread evenly on a large baking tray, it should have a flat, dense surface.
Bake for 20 minutes at ca. 160 C, stir & turn the mixture upside down, then sprinkle the additional 100 g oats on top.  Roast again for another 20 minutes. (If you like it even more roasted, stir again and leave it in the oven for another 10-20 minutes.)
It's super-easy, isn't it?  I don't know why I had never thought of making my own muesli before!
I chopped the walnuts and almonds – I did try using big daughter's super duper blitzy blender device but it pulverised everything within seconds so I decided to rescue what I could and chop it myself.  I am not a huge fan of nuts but I do eat them in my muesli and I actually quite like the big pieces.  If my Mum could only see me now after years of my picking nuts out of things! 🤣
I swapped the cashew nuts and linseeds in the recipe for pumpkin seeds, sultanas and pine nuts and mixed it all together.  So far so good!
I buy our honey from the local farm shop where they keep bees as well as hens and ducks (our ducks have stopped laying eggs now, they must have decided that they're on their Winter rest) and sell all kinds of fresh fruit and veg.  It's where I buy our smokeless coal as well – they've got everything we need!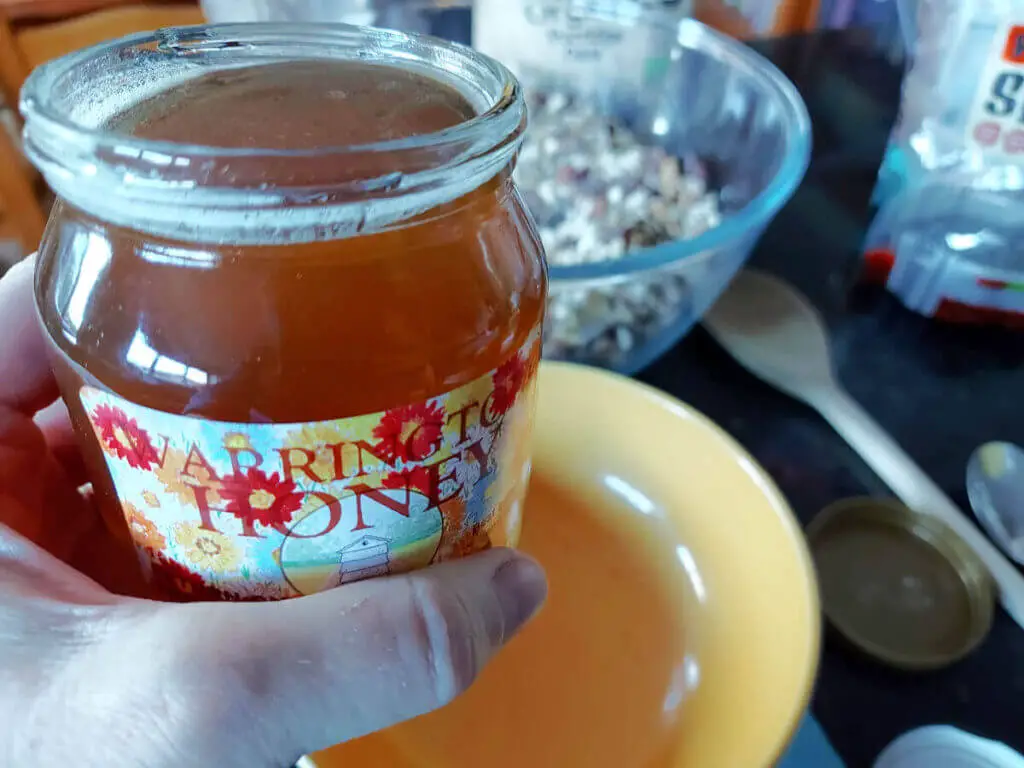 Once the honey and apple sauce was mixed in (I forgot the oil!), it looked like this.  It was all sticking together at this point but I kept stirring to make sure that there was nothing dry in the bowl.  I couldn't get unsweetened apple sauce so I decided to miss out the sugar as I figured that there would probably be enough sugar in the sauce that I had.
Then it went into the oven.  I think perhaps it should have been a bit flatter according to Ingeborg's instructions but I pressed it all down and in it went.  Then, after the required time, I turned it all over and it went back in again.  I have a really bad habit of forgetting things that I put into the oven for a second time and it wasn't until I wanted to know who was burning things in the kitchen that I realised that it was me, but luckily I had just singed a few sultanas and everything was OK.  Phew!
And here it is!  Ingeborg was right, it is a really delicious muesli and it was so much easier to make than I expected.  I think it's unlikely I'll ever buy muesli again!
Thanks, Ingeborg!
I'll have to give all those shortbread recipes you sent me over Blogtober a try next – now perhaps that could be my Emergency Snack … although they really would be Emergency Crumbs! 🙂