More Super Socks is the second sock-knitting book in the Winwick Mum series.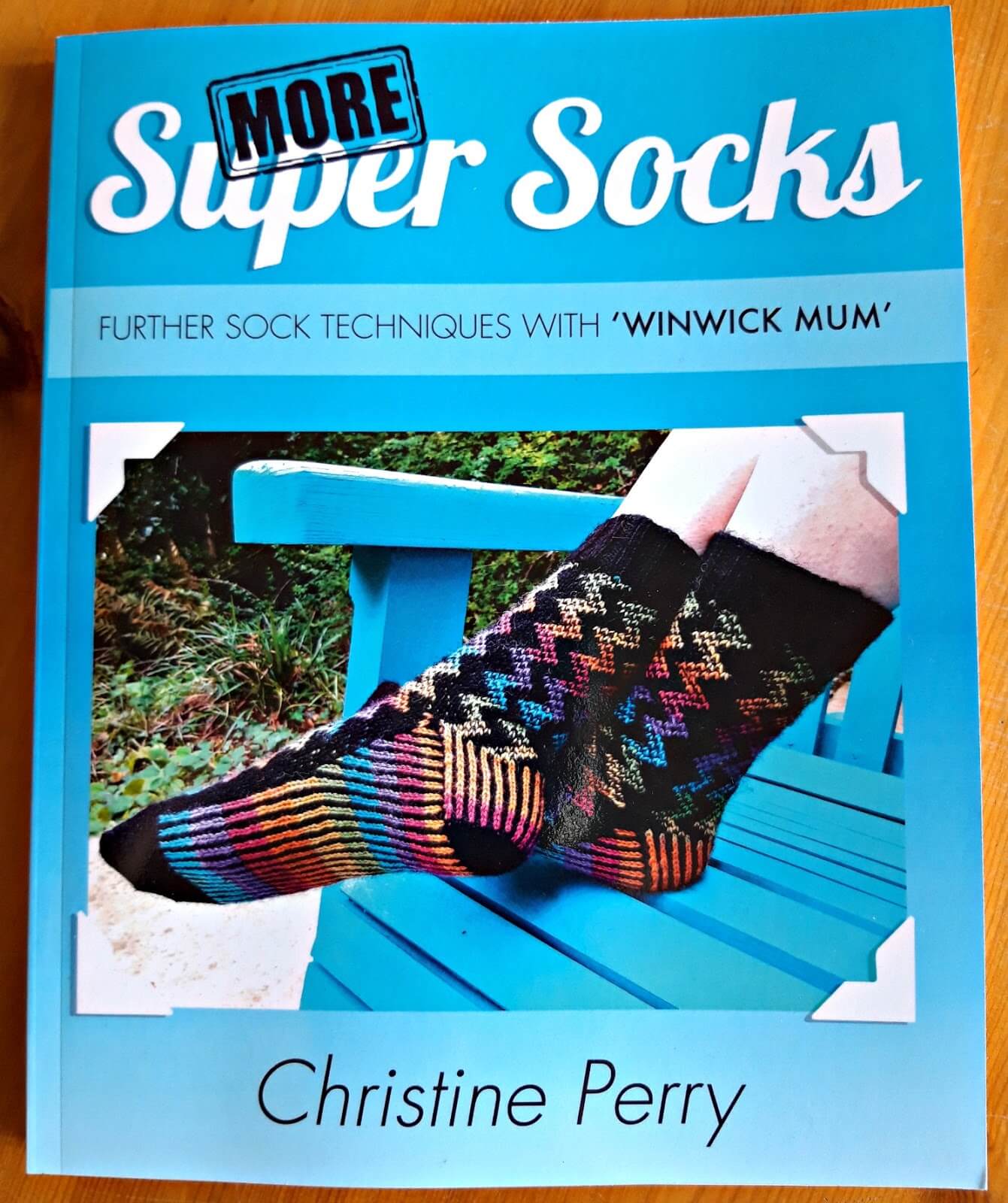 It contains four technique tutorials which cover cables, lace, intarsia and colourwork knitting for socks, and four brand new, exclusive patterns that are only available in the book.
You can take a tour of the book and see what's inside here.
More Super Socks in paperback form is available online, in some yarn shops (do get in touch if you own a yarn shop and would like to sell it) and by post directly from me.  It's also available for Kindle and more ebook options will be available soon.
A signed copy of the book is £14.99 plus postage to anywhere in the world.  I've tried to keep the postage as low as I can but unfortunately, they have increased during the Covid crisis and the current prices are UK: £17.50, Europe: £21.50 and rest of the world: £25.00.  If you are in Europe, please check before ordering whether you are likely to incur extra customs charges when your book arrives – I don't want you to get a shock!
If you would like a Sockalong badge and/or a copy of Super Socks as well, please get in touch using the form in the left hand sidebar so that I can send an invoice with the right postage – don't worry if you forget as I'll refund any extra postage to you.  Also, if you're using an iPad or iPhone, you may find that you can't link to PayPal so if that happens, please drop me an email (link on left hand side bar) and I'll send you a direct invoice.
Please make sure that you choose the right country from the list below.
More Super Socks – UK – £17.50
More Super Socks – Europe – £21.50
UK mail should arrive within a couple of days of posting, and European and rest of the world postage is (according to the Royal Mail) 5-7 working days.
IMPORTANT!  You might see a link for a free PDF copy of my book on the internet.  This is a scam to get your email address and personal details so please do not give any information to these people.  They have no connection with me and I have not authorised anybody to give away any free PDF copies.  
Don't forget that you don't need to own an e-reader to be able to download the ebook version – there are free apps that you can download to your computer to read any e-books.
Kindle app:  https://www.amazon.co.uk/gp/digital/fiona/kcp-landing-page
Amazon UK                                                     Amazon US
Paperback                   Kindle                               Paperback                   Kindle
Amazon will pay me a commission for any purchases through the links on this page. Thank you very much for your support if you choose to buy! xx