More Super Socks
Hello!  I promised to tell you more about my new book, More Super Socks, and today's the day.  I am so excited to show you what this book is about!
Well, here it is.  Introducing … More Super Socks.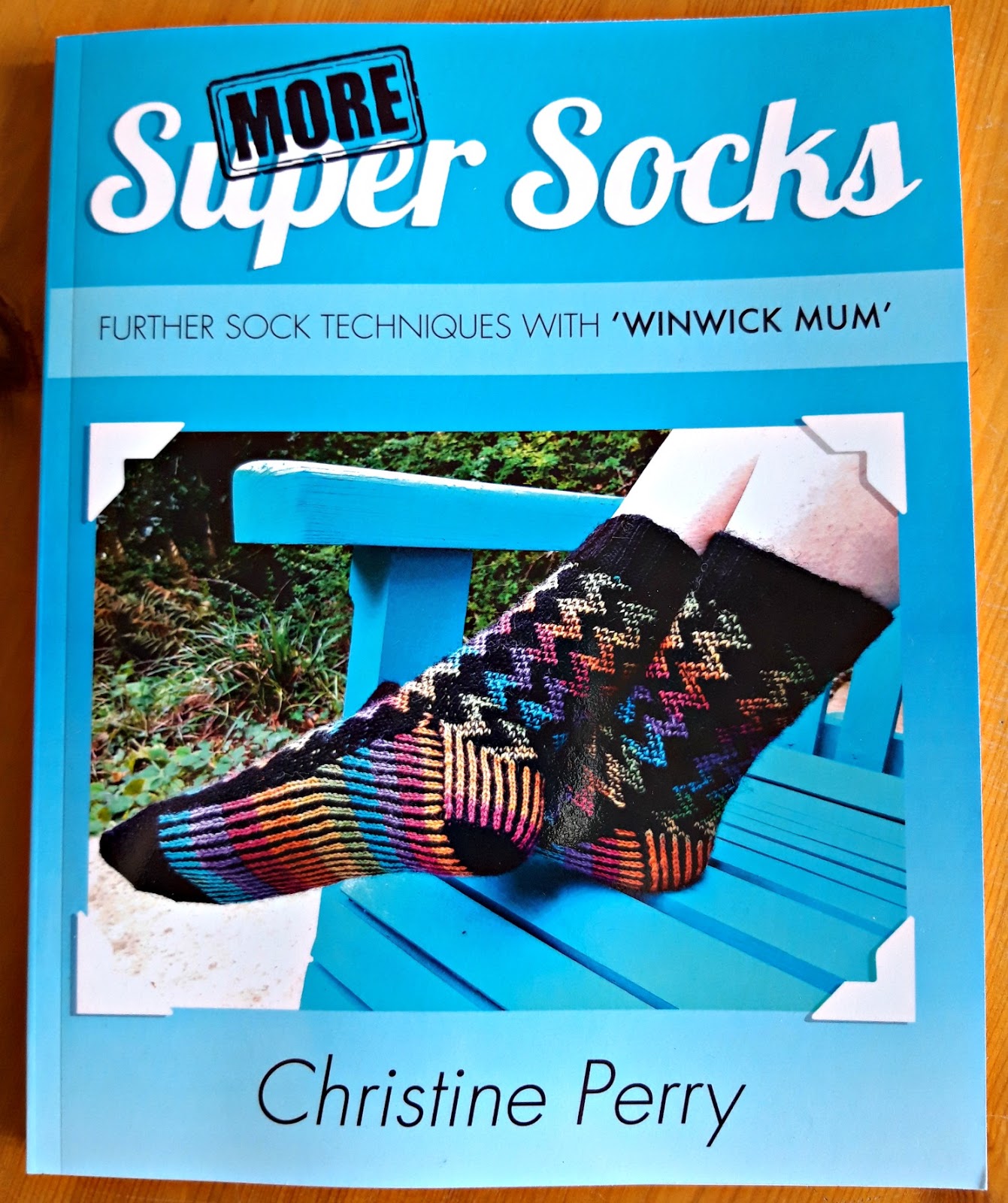 The idea behind this book is that it helps to bridge the gap between knitting the basic Sockalong sock that's in the Winwick Mum Sockalong tutorials and the first Super Socks book, and knitting other patterns that are more complicated.  For some people, that jump is an easy one after learning how a sock is constructed, but for other people it still seems like a jump too far.  It's only the same as being someone who likes to leap straight into a swimming pool from the side or getting in down the steps.  Either way, you still end up in the water!
I started the process of writing More Super Socks way back in January 2017 when I wrote the pattern and tutorial for the Easy Cable Socks.  The tutorial assumes that you can knit a basic sock (so you've already climbed down the first step of the ladder into the pool) and then helps you to understand how cables and charts work.
It's the same with the Easy Lace Socks for lace knitting …
the Patchwork Socks for intarsia knitting …
and my new tutorial which is coming very soon for Easy Colourwork Socks when we're going to look at knitting with two colours rather than just one.
All four of these tutorials are included in the book.  Yes, they are available for free on the blog and will remain so, but what people have always told me about Super Socks is how useful it is to have all the information in one place, and I hope that More Super Socks will be just as useful as a resource for working with future patterns that you might want to try out.  All of these tutorials have photos and videos to show how to work each section and the video links are given in the book.
However, what people have also asked about the original Super Socks book is whether there are other patterns are in the book along with the Sockalong sock.  There was only ever the intention of providing one pattern (although it is in a 6ply size as well) in Super Socks, but I have added more patterns to this one which won't be published on the blog – four more, in fact!
So what else is in there?  Well, you might have have spotted my cover star socks already and they're in the book …
There's a second pattern for each of the tutorial techniques so that you can try out what you have learnt with the tutorials.  There's still some tutorial help to go with each of them rather than just leaving you with the pattern to work with (we're down at the bottom of those pool steps now!) but the idea is that the gap between the in-depth tutorial and patterns that you might see elsewhere is now much smaller, and the second set of patterns that you'll see are much more like those that you find in yarn shops and online.
Would you like to see the socks?  Oh, I am so proud of them!  The yarns have been a joy to knit with and it's been a real adventure to design socks for each technique.  I've learnt plenty about the British yarns that I've used and about pattern-writing too, so we'll have all got something out of this book! 🙂
First up, using the cable technique are the Drunken Cable Socks.  You thought cables always went in straight lines?  Think again!  These are good fun to knit and, surprisingly, are no more complicated than any other cable pattern although you do have to keep a close eye on the rounds of the pattern.
The second pattern is a lace one, following on from the Easy Lace Socks.  These socks are called Beatrice, a name which means joy and happiness, and that's my intention behind this pattern.  If you can knit the Easy Lace Socks, you can knit these.
These socks are called Flow Through because of the way the central colour flows through the other two, and it's based on the intarsia technique – just like the Patchwork Socks.  I love the way that you can create blocks of colour using this technique, and this pattern is perfect for leftovers too.
Finally, my cover stars.  These are the Rainbow Zig Zag Socks and I just LOVE those rainbows all over them!  They're much easier than you might expect to knit (I'm all about the easy knits! 🙂 ) and they look so effective with the colours against the dark background.  You could be creative with the colours, too, or use more leftovers for these socks if you wanted to, the choice is yours!
Each of the patterns comes in four sizes, there are charts (where needed) and written instructions for all of the patterns so that you get a chance to practice using both of them, and because the technique tutorials have videos to go with them as well as the photos, there's no reason why you shouldn't be able to knit any of the socks in the book, even if you only started knitting socks very recently.
And there you go.  More Super Socks.  I am so so proud of this book (have I mentioned that already? 🙂 ) and I hope that it looks like something that you would enjoy too.