Beginner sock knitting: Sockalong – tension squares, casting on and Sock Stitch Calculation
This post was written as part of the Winwick Mum Sockalong, a series of free tutorials which tell you everything you need to know about how to knit socks for beginners.  This post deals with tension (gauge) and the formula to work out how many stitches to cast on for your socks – men, women and children!
If you are looking for the Sock Stitch Calculation, click here!  This formula will help you to work out the right size for any size of feet and weight of yarn!
It's our third pre-Sockalong post … the start date is getting closer!
Hello to everyone who's already said they're joining in, and if you're finding these posts for the first time, it's not too late.  The Sockalong starts on Sunday 3 May so you've got time to have a look at the pattern, choose some yarn and make sure you've got some needles.
Today, we're going to look at how to create a tension or gauge square (also known as a swatch). No, don't sigh, it's important that you know about it even if you choose not to do one.  I must confess that I'm not the world's greatest at doing tension squares for myself but I've learned that with a new yarn it's worth taking the time to check my knitting – or I find myself doing a lot of frogging!  (Technical term for when your knitting has gone wrong and you have to rip-it, rip-it, rip-it out!)
Let's start by taking another look at the ball band on the yarn.  This the yarn I'm going to be using which I talked about the other day.  You can see the symbols panel with the washing instructions and the gauge information quite clearly.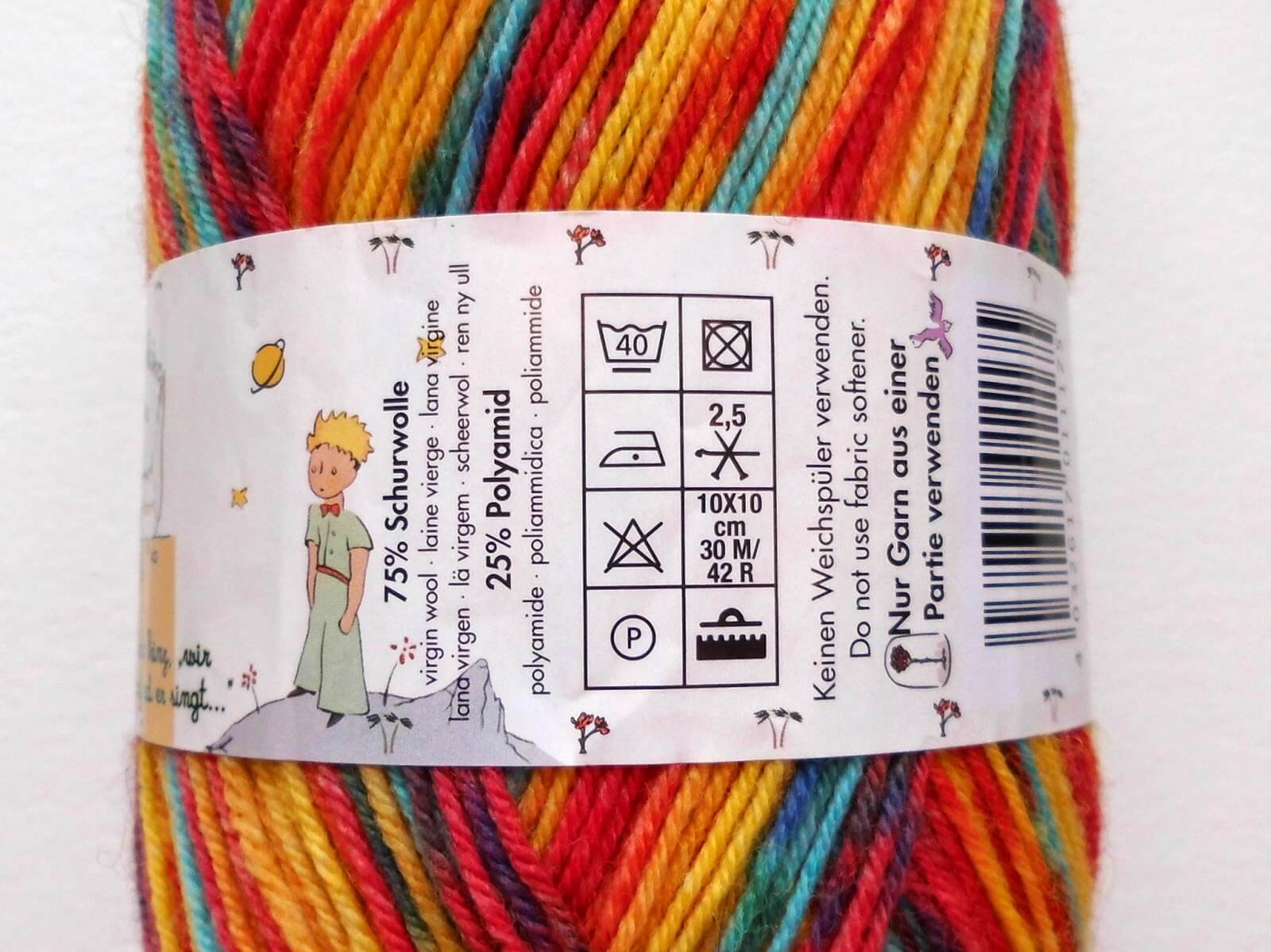 If we take a closer look again then you can see that in the red oval is the recommended needle size – 2.5mm – and underneath that the number of rows and stitches the manufacturer says you should get knitting on 2.5mm needles.  Based on a 10 x 10cm (4 x 4 inches) square, you should get 30 stitches (M) and 42 rows (R).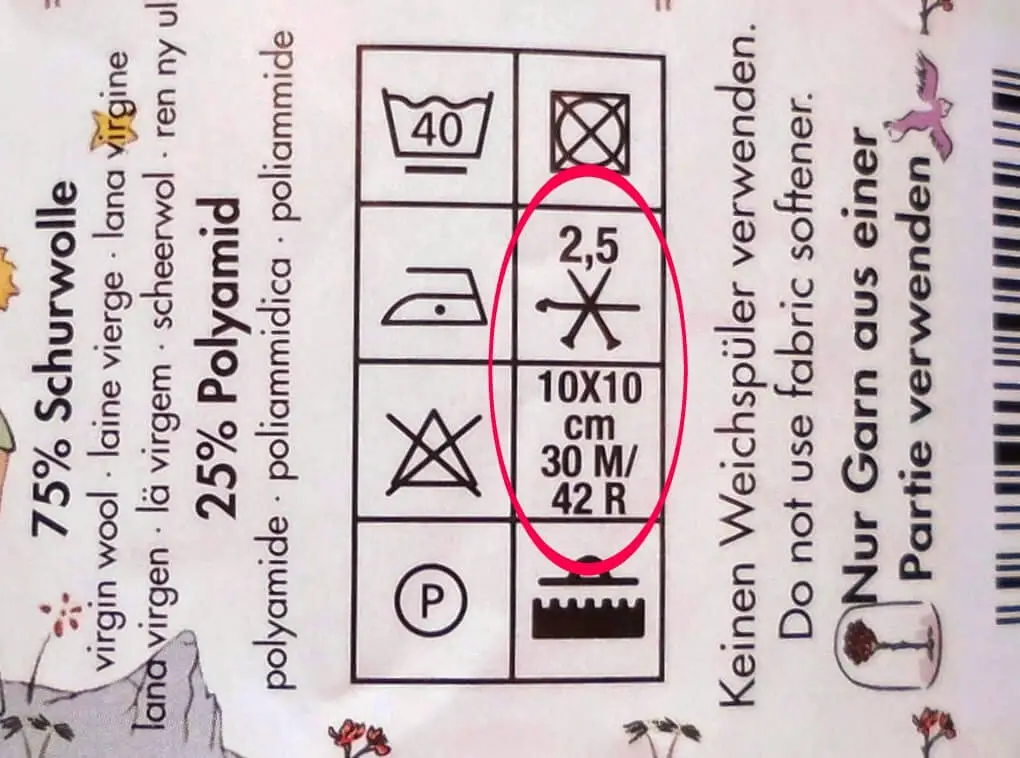 If you know that you will get that number of stitches and rows without checking, then that's fine and you can put your feet up until the next post.  However, if you've never knitted with the yarn before or you're not quite sure, then it's always best to check. Knitting in the round gives you a different tension to knitting on straight needles so it's worth taking the time to see exactly what gauge you're knitting to.  Additionally, you can use the number of stitches in your swatch to help you work out how many stitches you will need to cast on for your sock.
For a sock, the most important thing is to know the number of stitches per inch so working out the number of stitches to expect to get in one inch (using the ball band above: 30 stitches ÷ 4 inches = 7.5 stitches) is helpful before you start.  It's not essential to make a huge swatch – just big enough to measure your stitches is fine – but I'm going to show you the process below. Generally, I use 2.5mm needles for any sock yarn even if the ball band suggests differently, and it usually works out at 7-8 stitches per inch.
I'm going to show you the swatching method used by Elizabeth Zimmerman which makes shorter work of the gauge swatch than having to cast on enough stitches to knit a whole sock.  In this example, I'm going to cast on 35 stitches to give me a margin at each side of my swatch (remember the ball band says I should be getting 30 stitches to 10 cm?).  This will make it easier when I come to measure the stitches.
First things first, you need to cast on, and it's always best to use the type and size of needles with which you're going to be knitting your sock then you know exactly how your knitting will work out.  For this example, I'm going to show you how to knit the square using DPNs but the process is the same whichever needle you use.  There are no hard and fast rules about casting on for socks; you can pretty much use whichever cast-on you like and you might find that you change your mind from sock to sock depending on the pattern you use.  My preference is the cable cast-on and I'll show you how to do it in case you've not come across it before, but it really doesn't matter as long as you cast on the right number of stitches.
Make a loop and slip it over your left needle.  Put your right needle into the loop knitwise.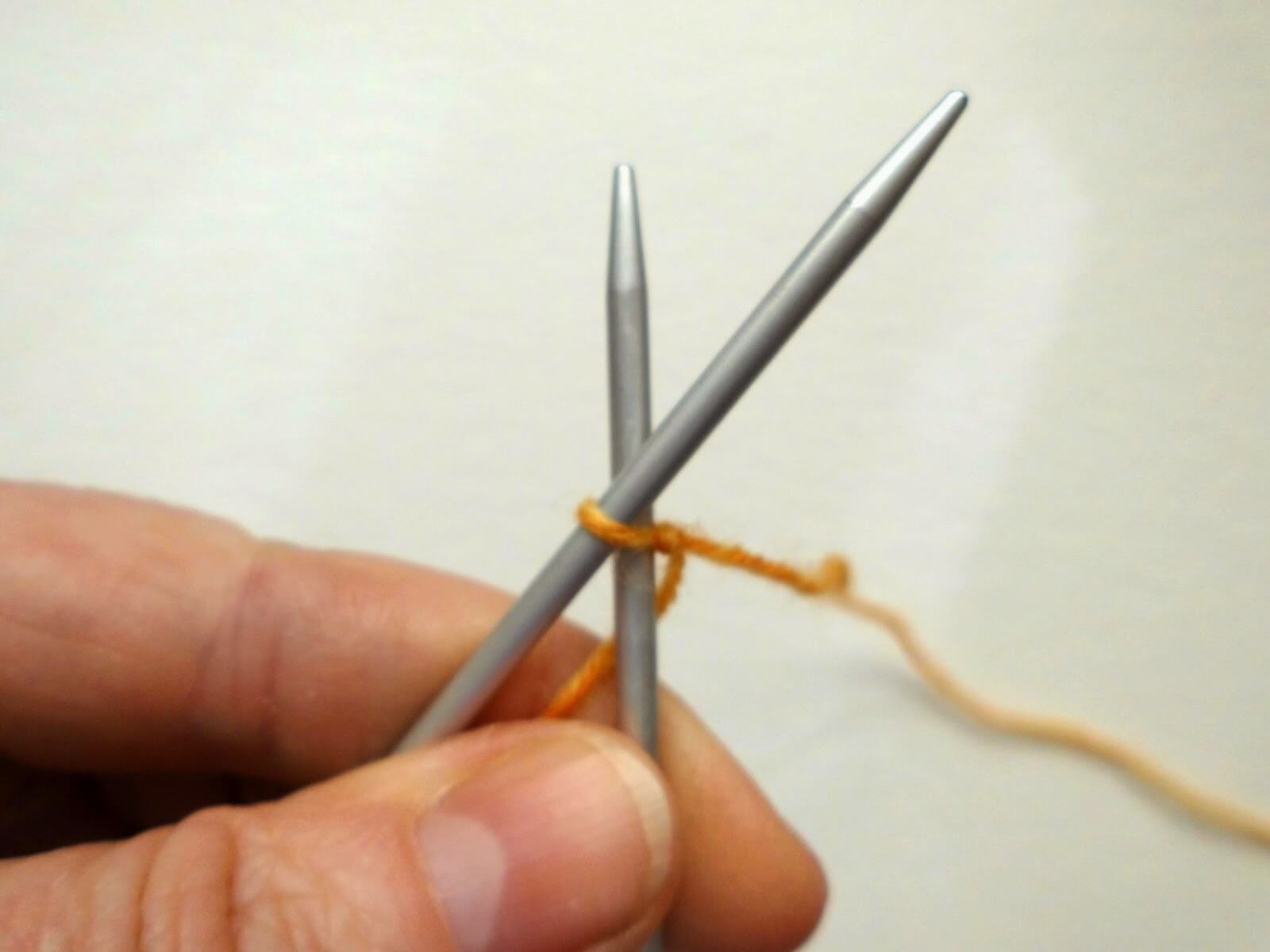 2  Put the yarn over the needle and pull it through as if you were creating a knit stitch, but instead of sliding it off the needle, put it over the end of the left needle to create a second stitch.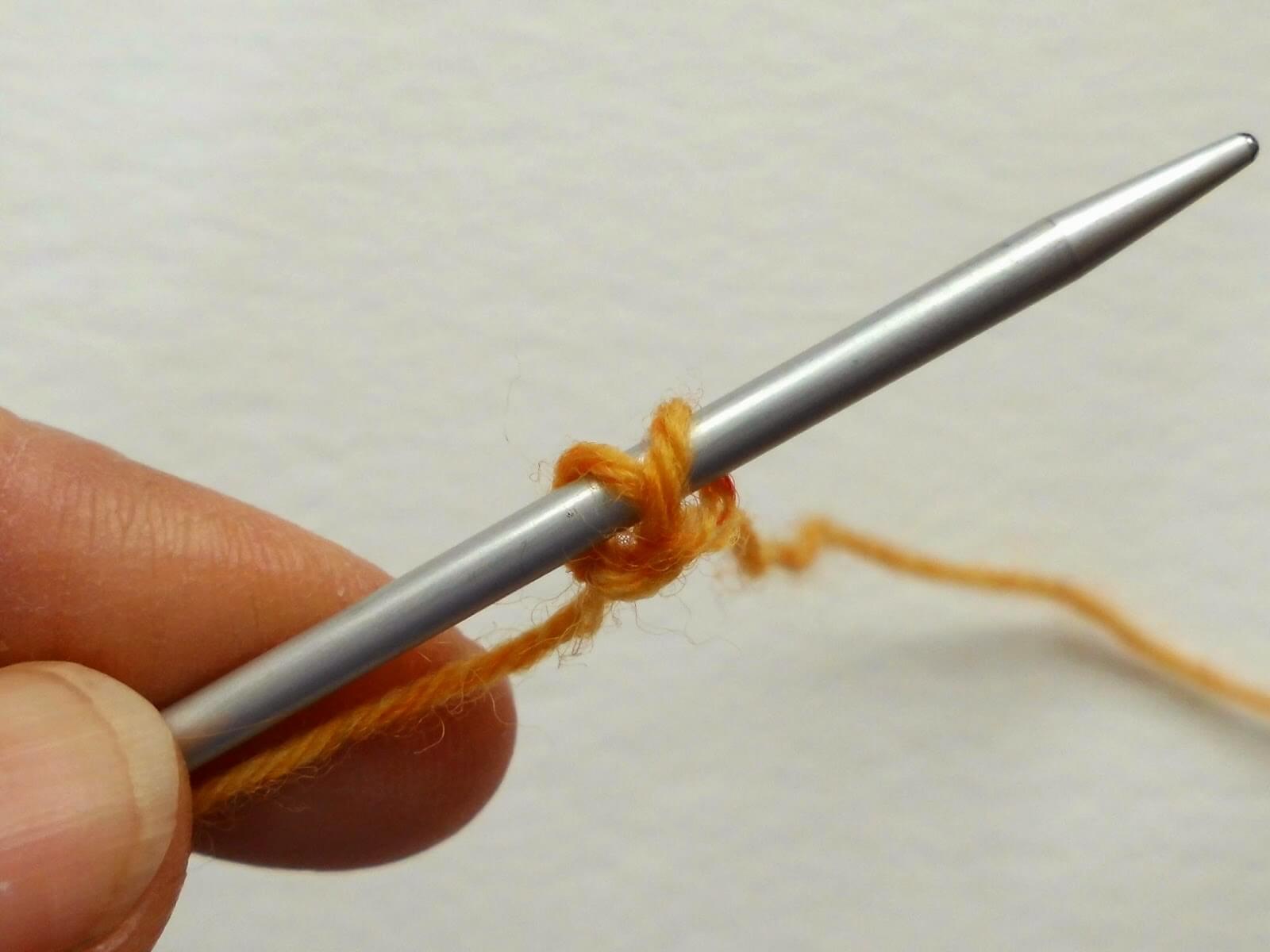 3  Put your right needle between the two stitches and pull the yarn through …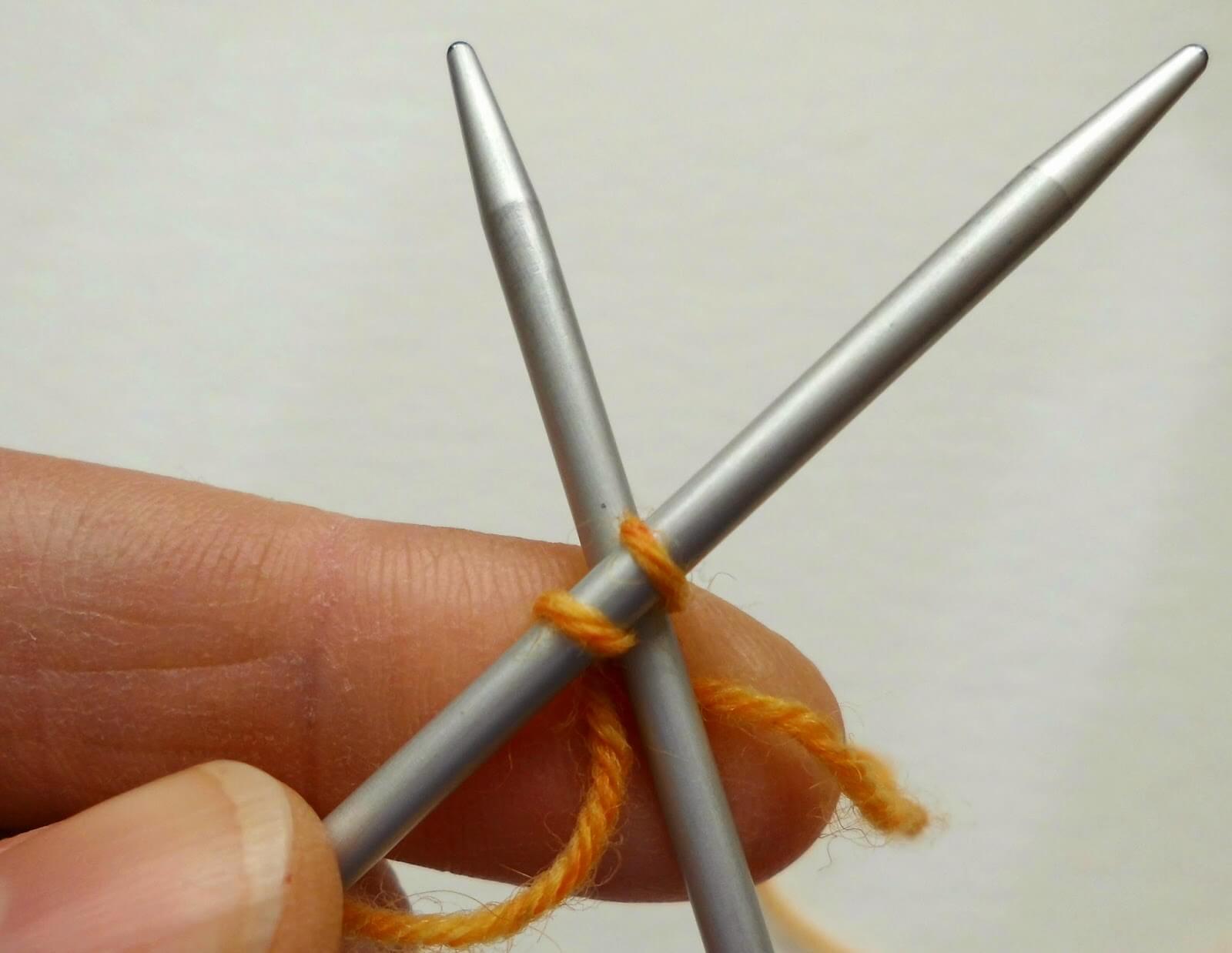 4  … putting the new stitch onto the left hand needle again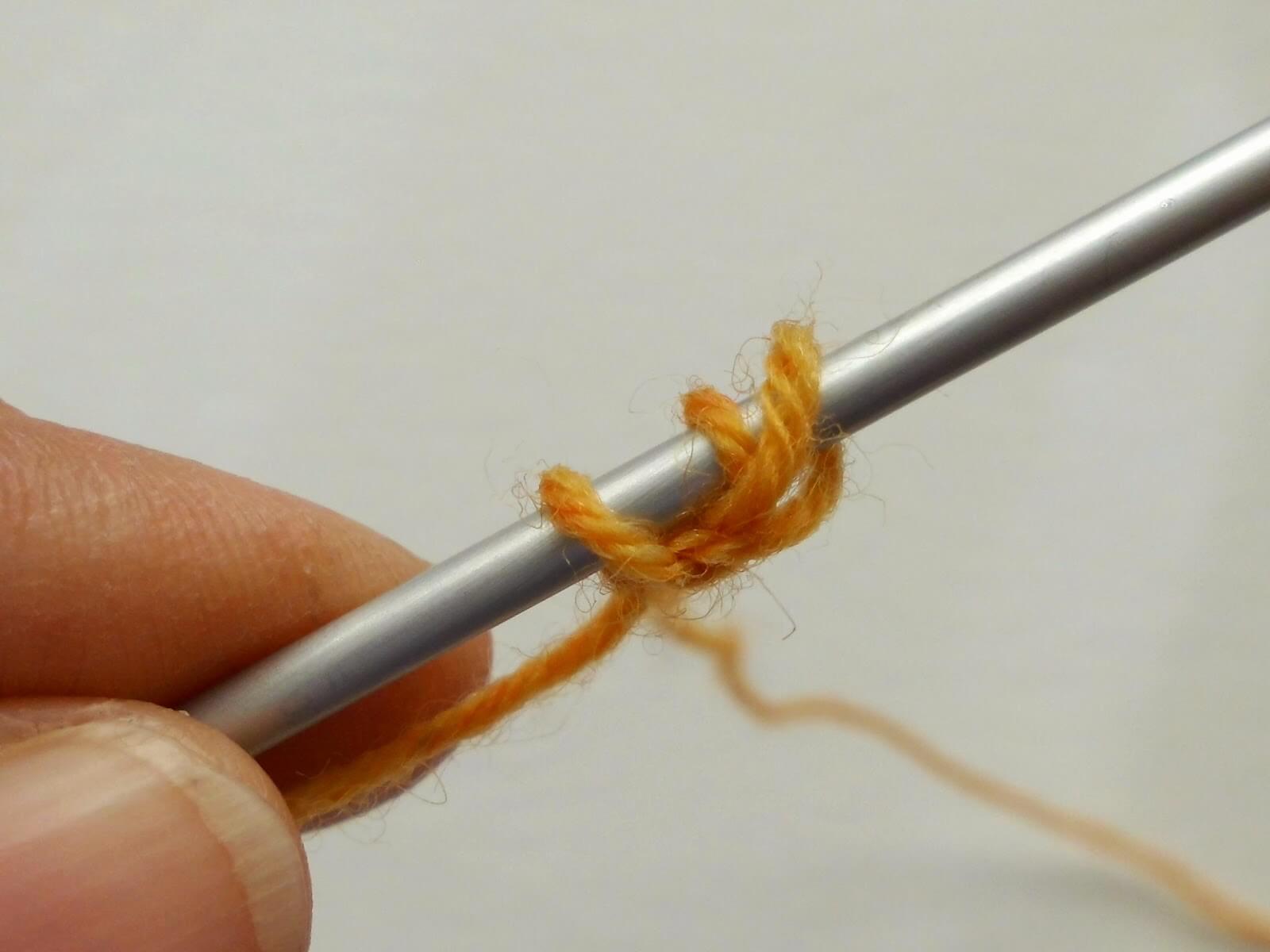 5  Continue until you have the number of stitches you require, remembering not to pull the stitches too tight on your needle.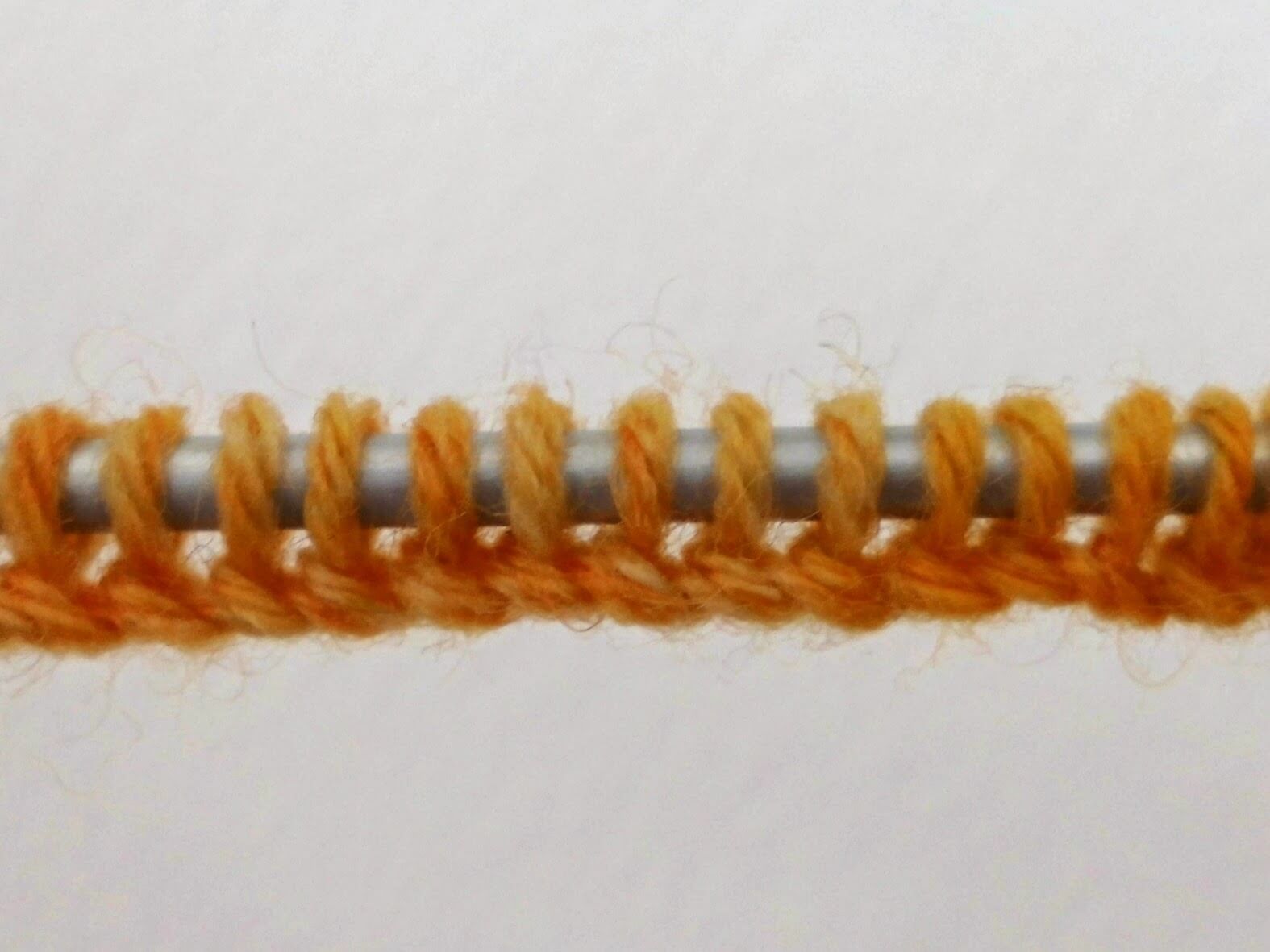 When it comes to your sock, you'll need to take a view of how tightly you cast on – this might be dependent on the cast-on method you choose.  I cast on with a size bigger needle and others cast on over two needles to make sure that you don't pull the stitches too tight.
Once I've cast on the right number of stitches for my swatch, I work two rows of garter stitch (knit both rows).  This helps to stop the end of my work rolling up too much.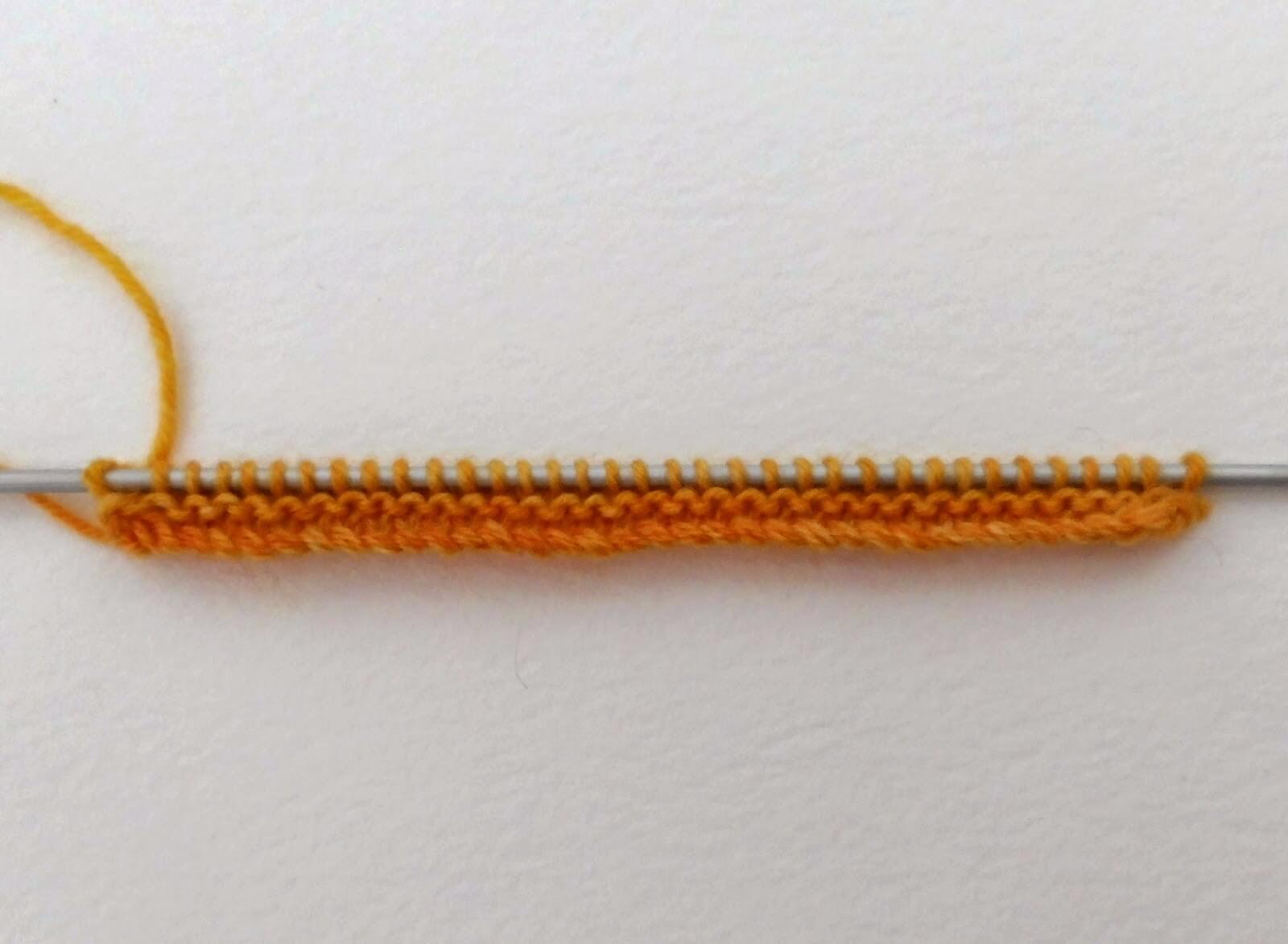 Next row: knit across all the stitches, but instead of turning the work and purling back across the row, leave a long length of yarn, go back to the beginning of the row and knit the row again.  This gives the same effect as knitting in the round as you don't have a purl row.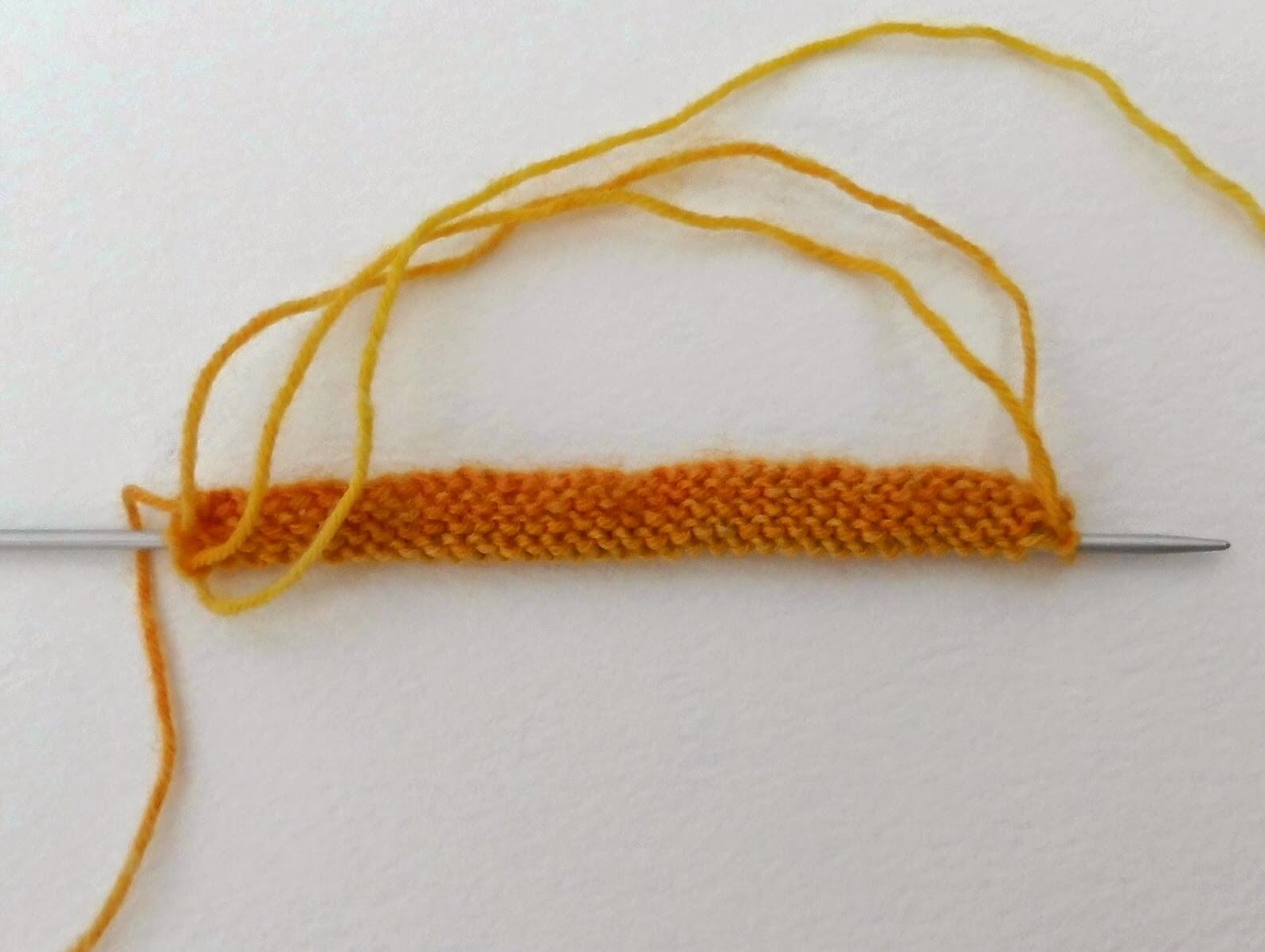 It looks a bit messy on the back but it does the job!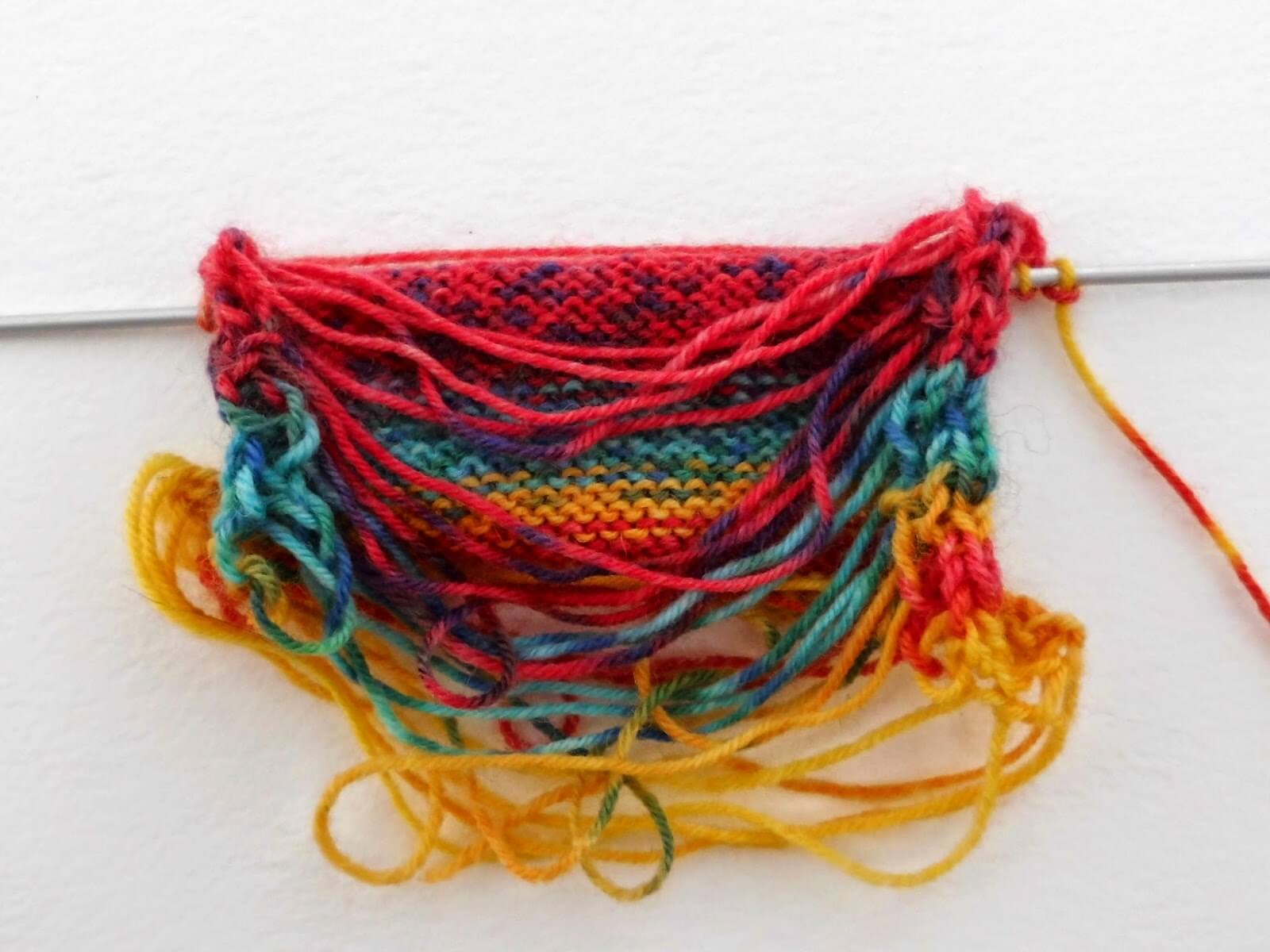 Once you have worked the size of square that you need, you can measure your work.  It's quite acceptable to work less than the required 10cm as long as you do the maths to work out the number of stitches per cm to get the number you should be working to.  If the number of stitches in your tension square match those on the ball band, then you're knitting with the right size needles. If you've got more stitches, try going up one size to a bigger needle and if you've got less, try going down one size to a smaller needle.  If you're not able to change your needle size, another alternative is to cast on more stitches so that you get the right diameter for your foot;  you will need to increase the pattern we're using by 4 stitches each time.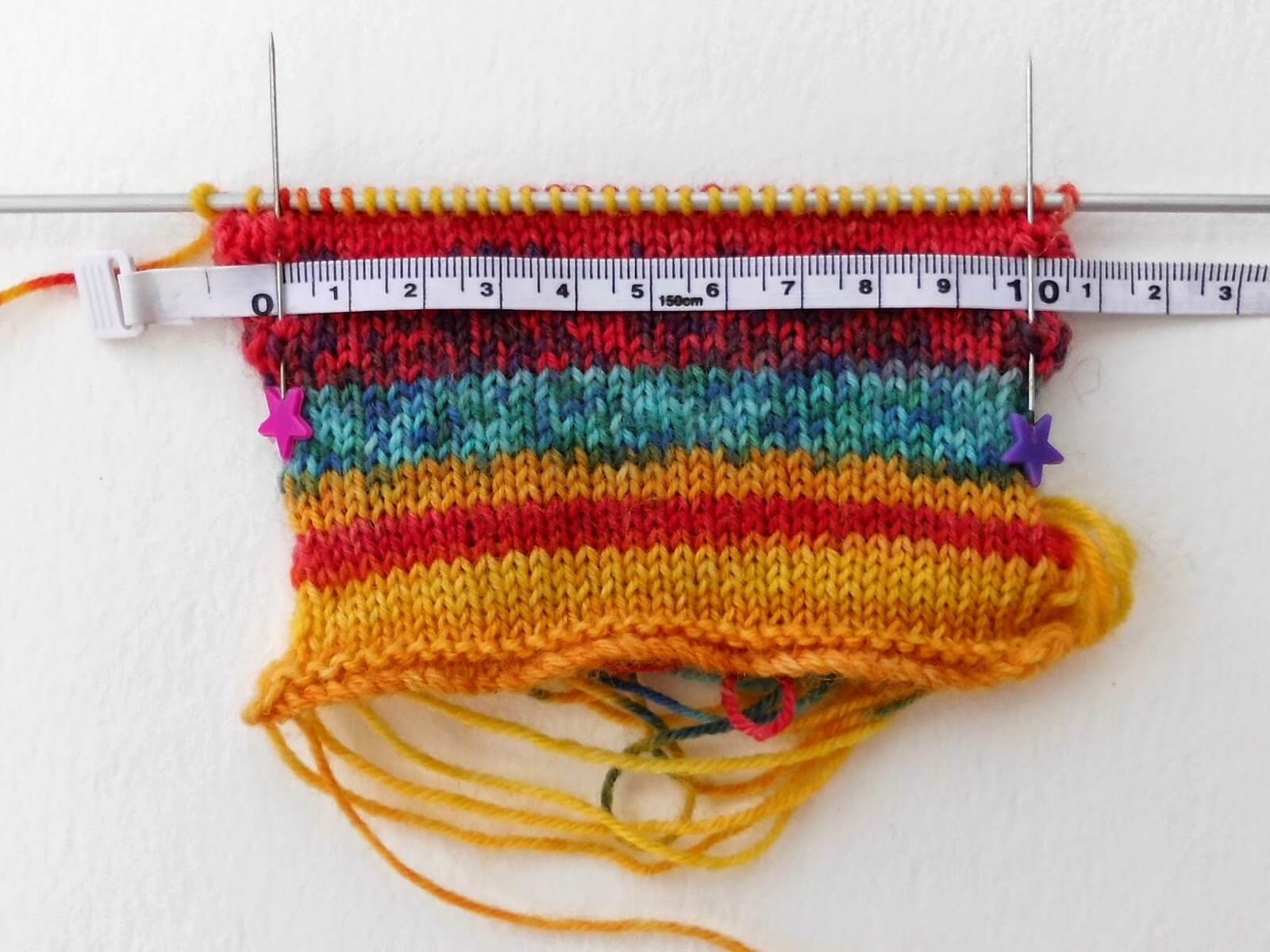 Some people like to keep their tension squares and collect them to make into blankets, but I never do.  Once I know the information I need, I just unravel it and wind it back onto the ball ready to use for my socks.
That's all there is to it – it's not hard, is it?  My problem is that I'm usually too impatient to get started to want to knit a tension square but experience has taught me that being too impatient to get started often leads to having to start more than once!
Sock Stitch Calculation
Finally before we finish today, let me show you how I use the gauge information to work out the sizing for my socks.  If you search the internet, there are plenty of methods for working out the number of stitches you will need, some of them based on foot width and others on calf or ankle size. A good method, which can be adapted to any sock yarn, is this one which takes into account the size of your feet and the tension that you knit to.
The number of stitches that you choose to cast on must always be divisible by 4, so choose the nearest multiple of 4 to the result that you get from your stitch calculation.
Measure around the ball of your foot (in inches) and multiply that measurement by the number of stitches per inch from your swatch.
In my case, it would be 8 (foot measurement) x 8 (stitches per inch) = 64
Next, you need to allow for the negative ease (stretch in the knitted fabric) so take 10% off the total – in my case, 10% of 64 stitches would be 6.4 but it's easiest to round it up or down to the nearest whole number. This would make the new calculation 64 (original number of stitches) – 6 (10% negative ease) = 58.
Remember that the number of stitches that you cast on needs to be a multiple of 4, so I could cast on either 56 or 60 stitches – I think that 56 would be just bit too tight so I am going to choose to cast on 60 stitches. It's generally better for your sock fabric to be tighter than, say, for a jumper as that makes it more hard-wearing, but you don't want it so tight that it pulls across your foot.
In the end, the gauge becomes a matter of preference – some people like tighter socks, others prefer looser socks and as you complete more pairs, you will see which you prefer for yourself. The nice thing about hand-knits is that you can try your socks on at every stage to make sure they are going to fit perfectly.
You can use this calculation for any weight of yarn and the pattern and tutorials will also work with any type of yarn, so there is no limit to the socks you can make!
There is now a video to go with this tutorial – click below!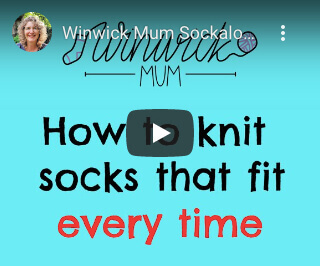 Next week, we'll talk about accessories and then the countdown really begins!  Don't forget to ask any questions – it's helpful for everybody if you've thought of something that I've not mentioned. Thanks again to everybody who's going to join in whether you've commented or not; it's great to think that lots of pairs of socks are going to be ongoing at the same time!
These Sockalong tutorials are free and will always remain so, but if you have enjoyed using them and would like to buy me a brew, it will be much appreciated!  You can find the donation button on the sidebar on the left hand side. Thank you! xx
Basic 4ply Socks pattern copyright © 2014 Winwick Mum All rights reserved.
Sockalong tutorials copyright © 2015 Winwick Mum All rights reserved.
More Sockalong posts:
Sockalong – accessories and matching yarn
Sockalong – Week 1 – Cast on, cuff and leg
Sockalong – Week 2 – Heel flap, heel turn and gusset
Sockalong – Week 3 – Foot, toe and grafting the toes
Sockalong Basic 4ply Socks pattern
Facebook Sockalong group for help, advice and encouragement