Crochet car seat belt cover
Ever since listening to Betsan Corkhill a week or so ago, I have shed any guilt that I might have about the number of projects that I have on the go.  It's fine to have projects to suit any mood or occasion, and sometimes we just need something that's fun.
Cue my latest ta-dah moment.  My husband had bought some seat belt covers for his car to protect his clothes (clearly I am not the only one with clothes with shiny shoulders, disintegrated printing on t-shirts, lines of bobbles and even ridges where the seat belt has rubbed) and it struck me that I could do with something similar.  However, despite the simplicity of clicking and ordering these days, I have always been the type of person to think "I can make that for myself" (sometimes with spectacularly disastrous results, it has to be said, but we don't need to go into that!) and a seat belt cover seemed like just the sort of thing that I could manage in between other projects.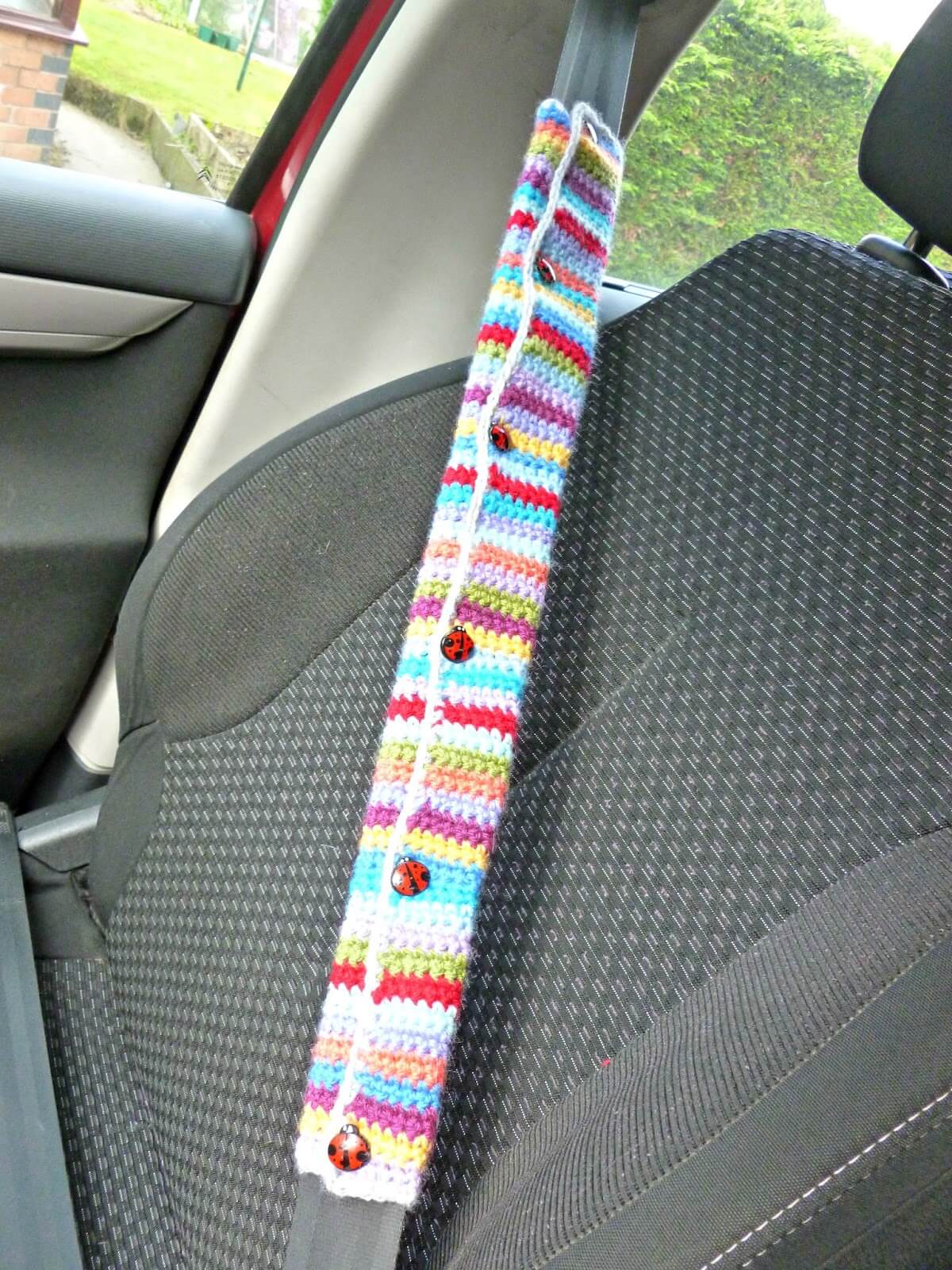 Ta-dah!  Just the thing for a colourful quick-fix project that also made use of leftover yarns and some buttons that came free with a magazine a long time ago that have been waiting to get out of their packet.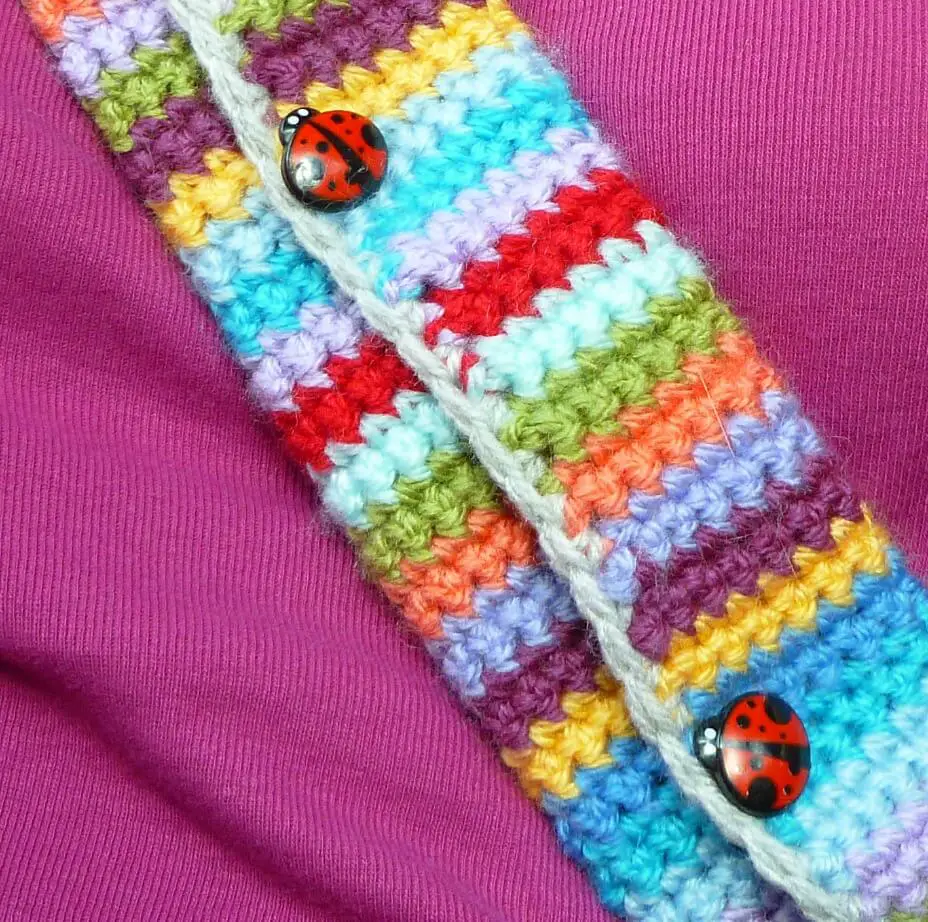 And most of all, it was fun.  I haven't crocheted for quite a while and it's good to swap crafts so that you exercise a different part of your brain and move your hands differently.  And it's very nice to sit in the sunshine and crochet too!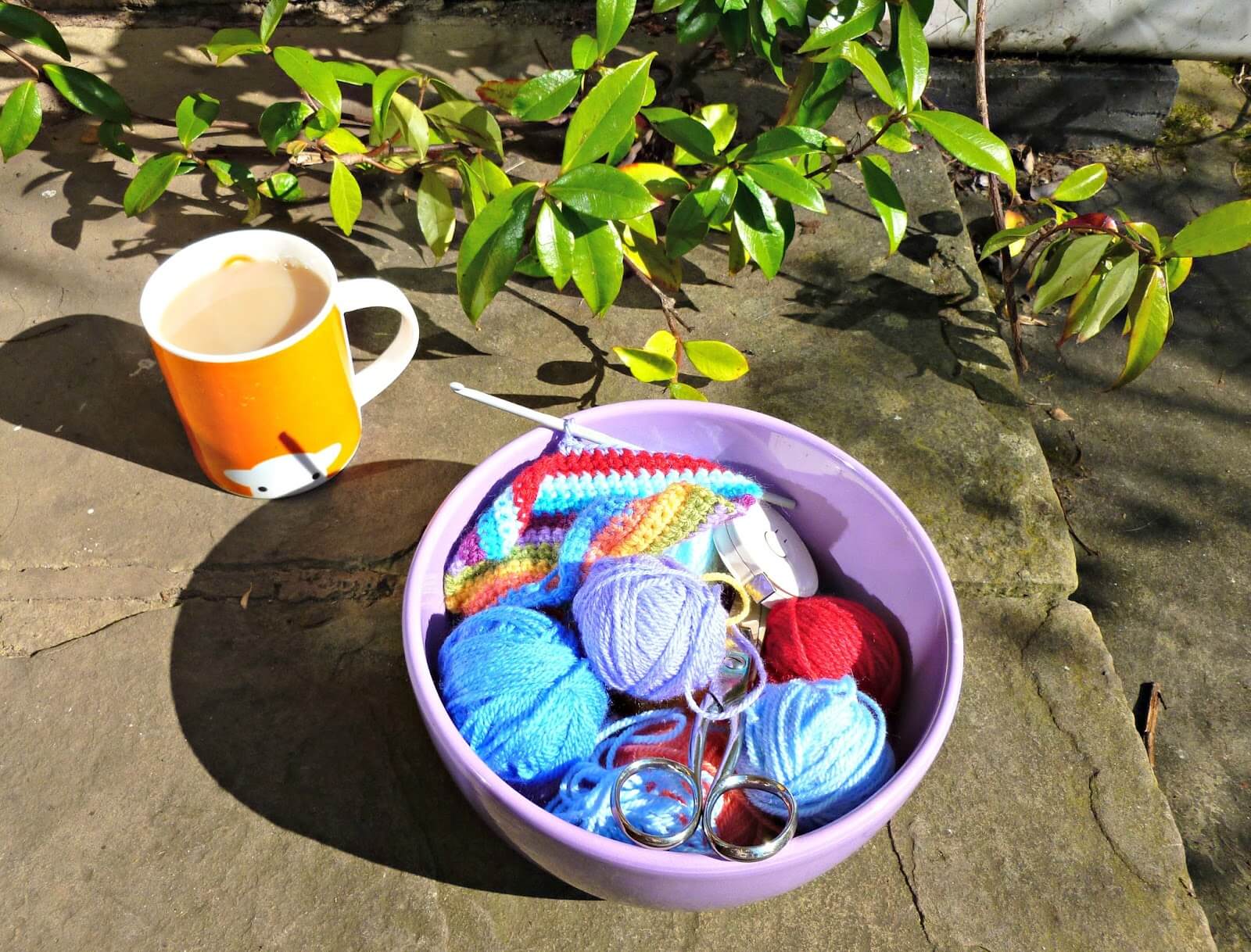 My crochet guru has promised to give me a masterclass on technique so that I can learn another way to hold my yarn and hook (in much the same way that I've been experimenting with other knitting styles) and I think there may well be another blanket in progress over the summer!
So if you need a colourful, quick-fix project for yourself and you think that you can't possibly live without one of these in your car, then here's how I made it J
I rootled out some leftover Stylecraft Special DK from when I made my Neat Ripple blanket
and found the packet of buttons that had been gathering dust for far too long.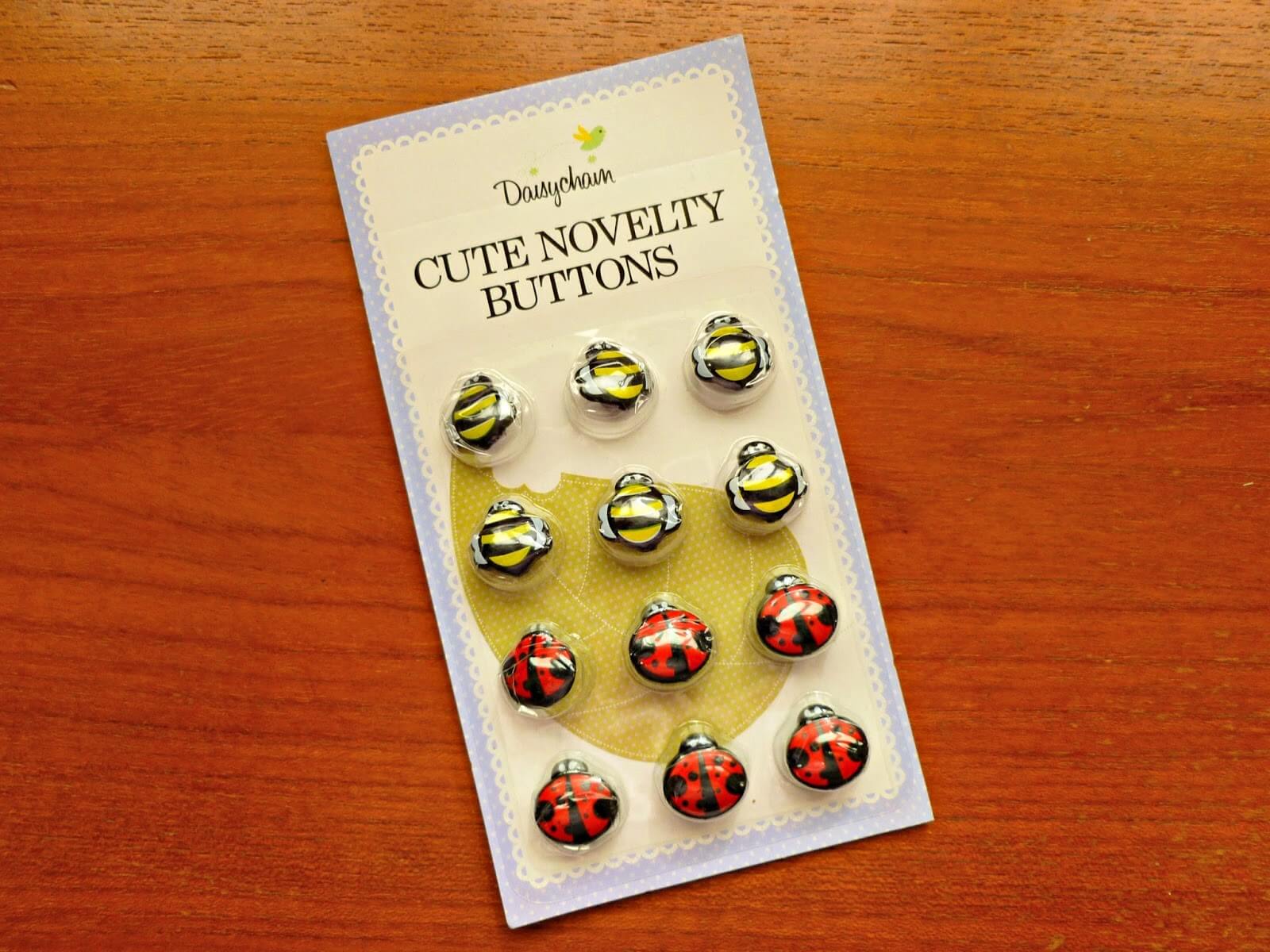 I measured my seat belt (5cm across), multiplied that by 2 to cover the front and the back and then added 2cm for the buttons.  This meant that I chained 24 to get started.  Missing out the first stitch, I put my hook into the second stitch along ready to start on my double crochets (single crochet in the US).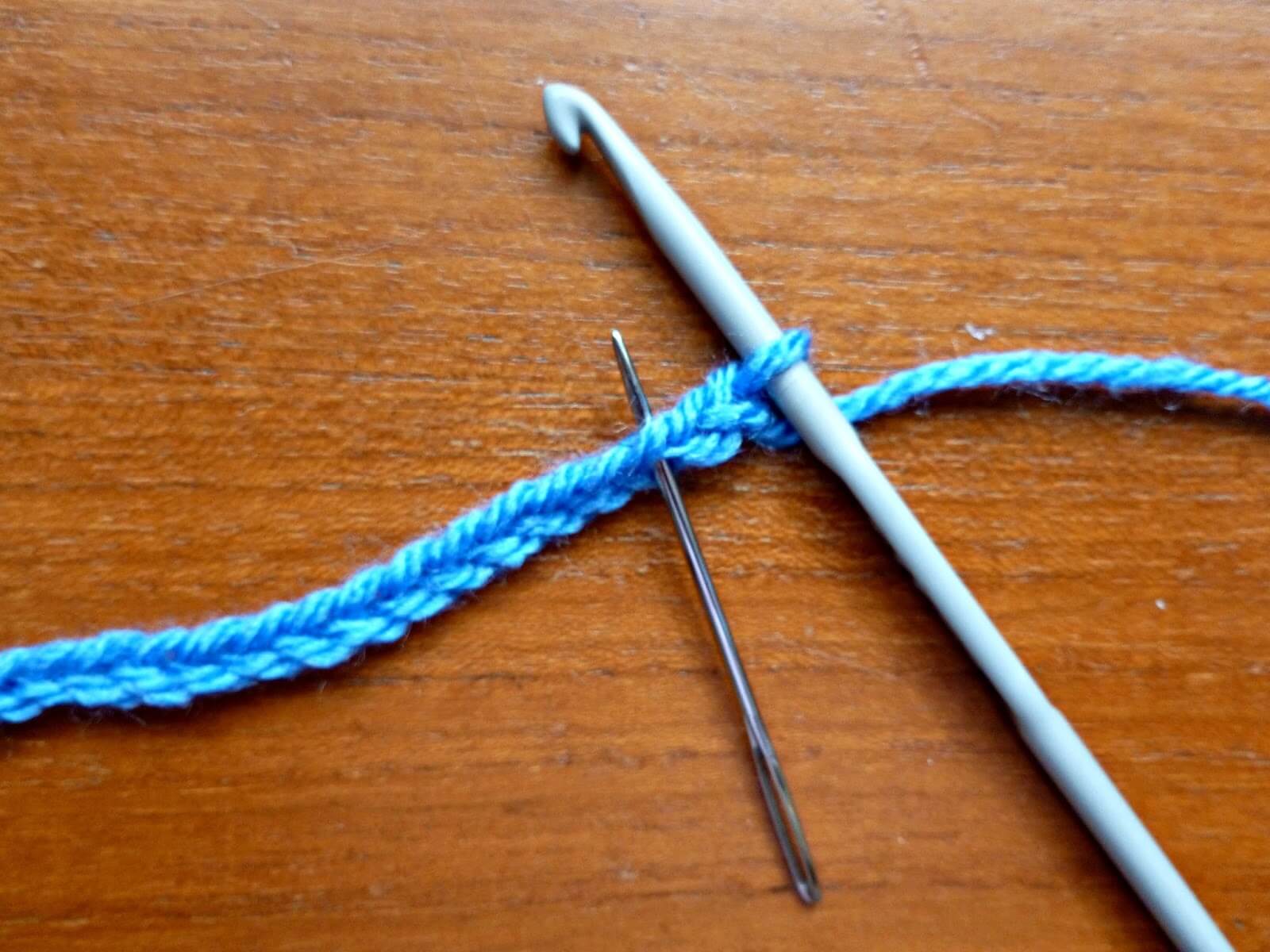 To make a double crochet (dc) stitch, put the hook through the second stitch, wrap the yarn around and pull through to make two loops …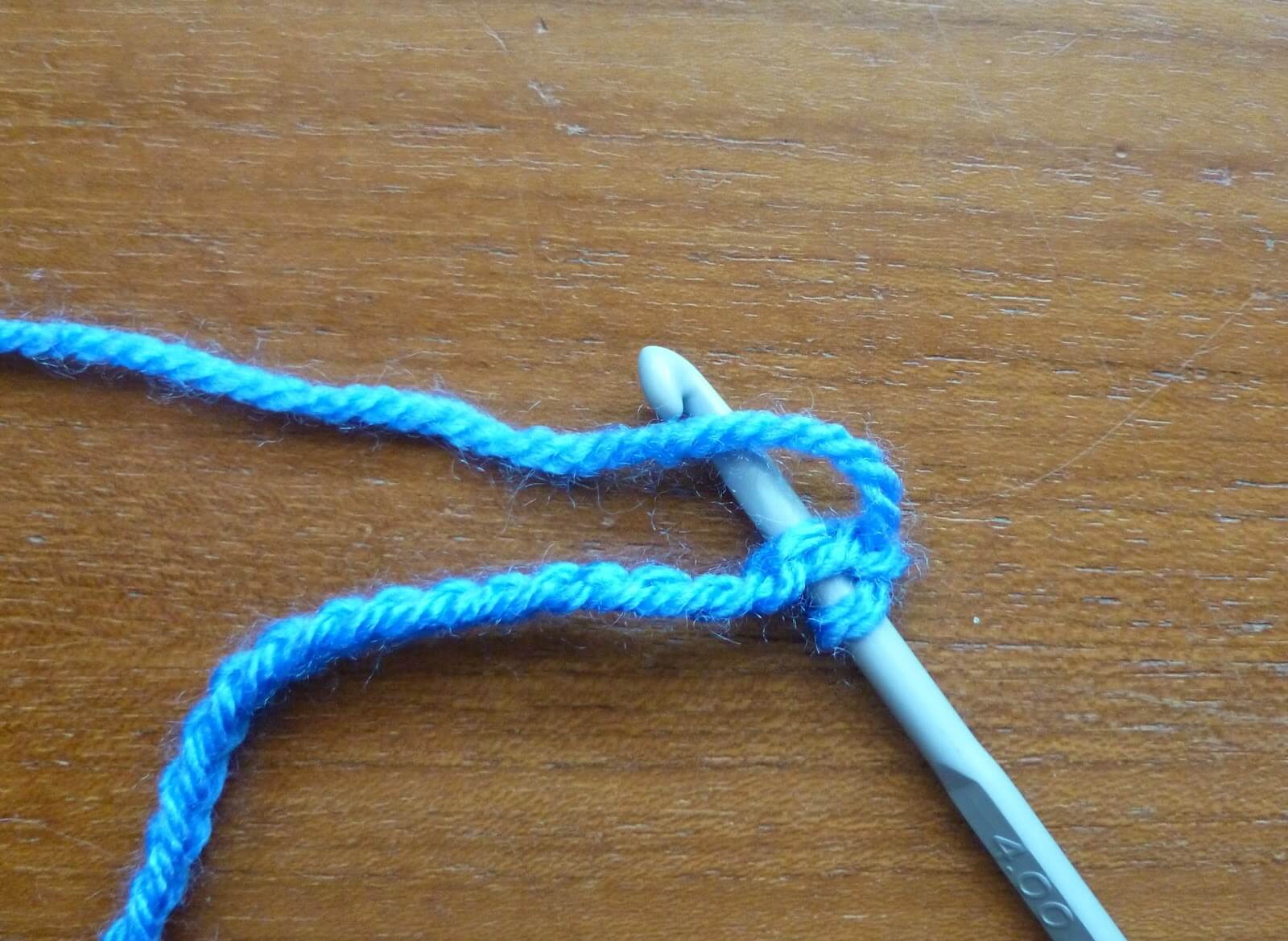 then wrap the hook around the yarn again …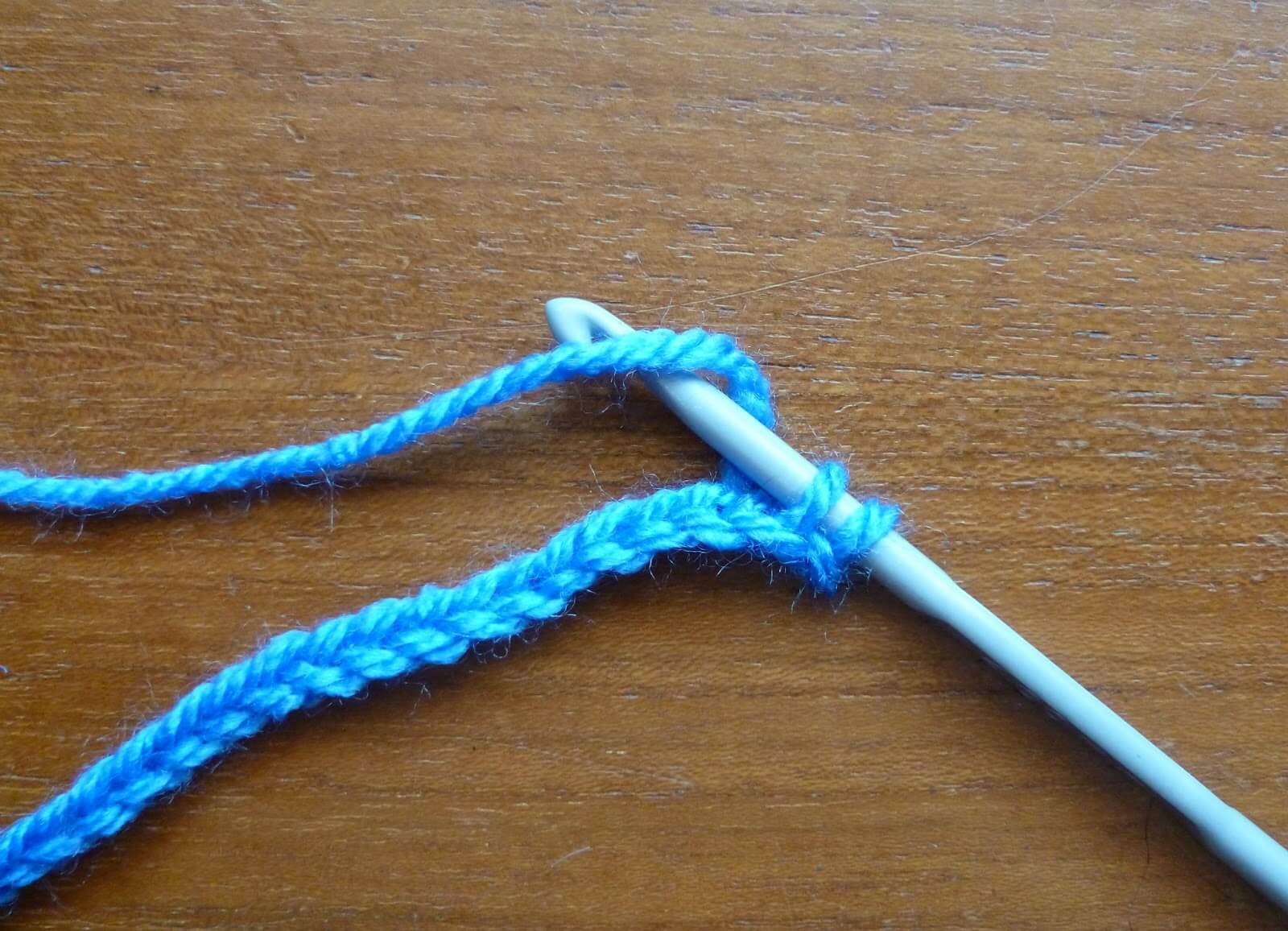 and pull through both loops to make the stitch.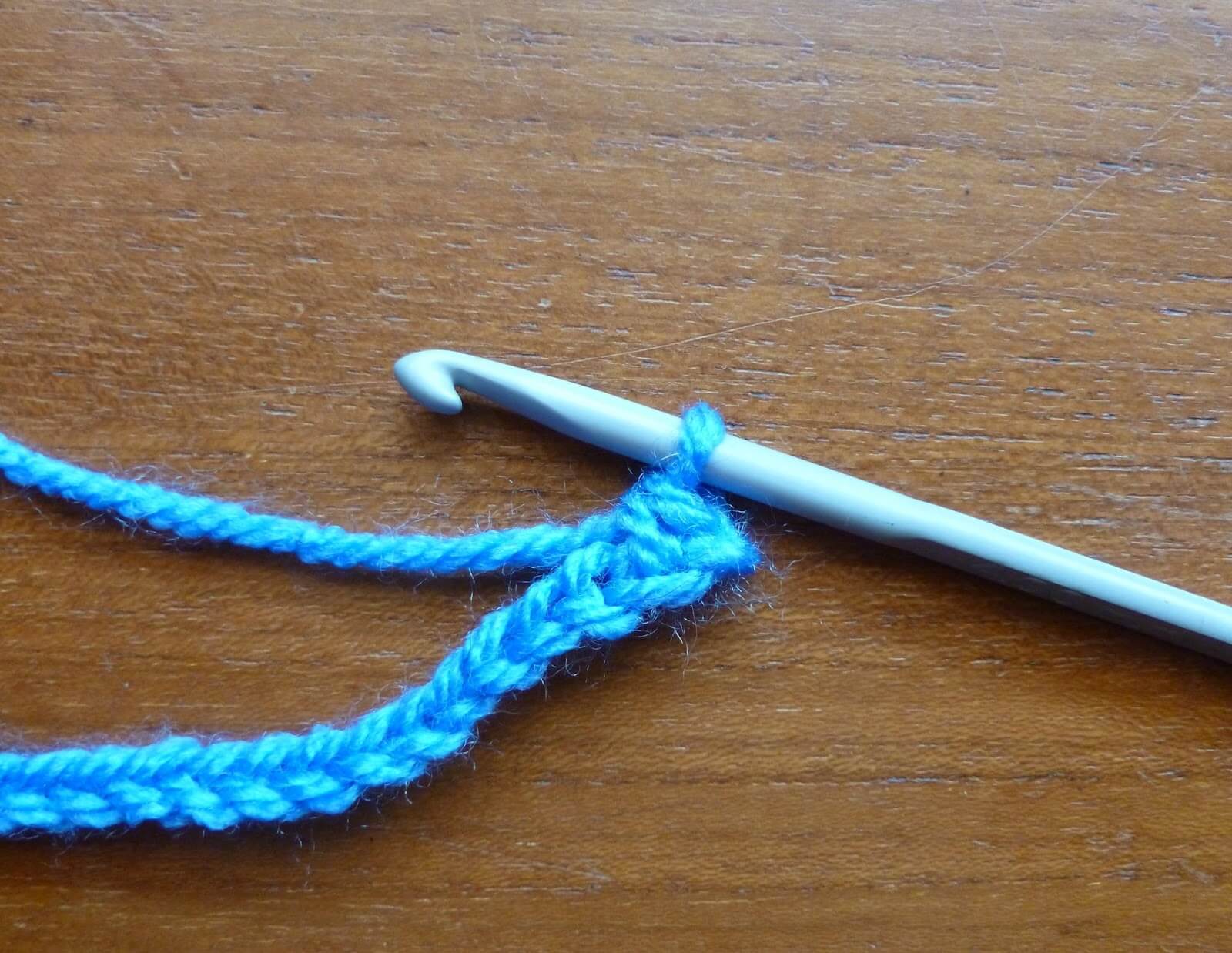 Remember to chain 1 at the end of your round before you turn to go back the other way.
You can make the seat belt cover as long or a short as you want.  I wanted to use up as much of the yarn as I could, and fit in all six of the buttons, and make sure that the cover protected as much of my clothing as possible so mine is 56cm long.  I must confess that I didn't think about the seat belt rolling back up into it's holder when you take it off, so that's something that you might want to take into consideration!
I had 11 colours so to work out the buttonholes I made one after the first two rows, then worked 11 colours (22 rows) before making the next one.  I worked two more rows (1 colour) after the last buttonhole it matched the other end of the cover.
To make the buttonholes, make 1 dc stitch, chain 2 to replace the 2 stitches that are being missed out to create the buttonhole.  You can see the stitches indicated here by the wool needles.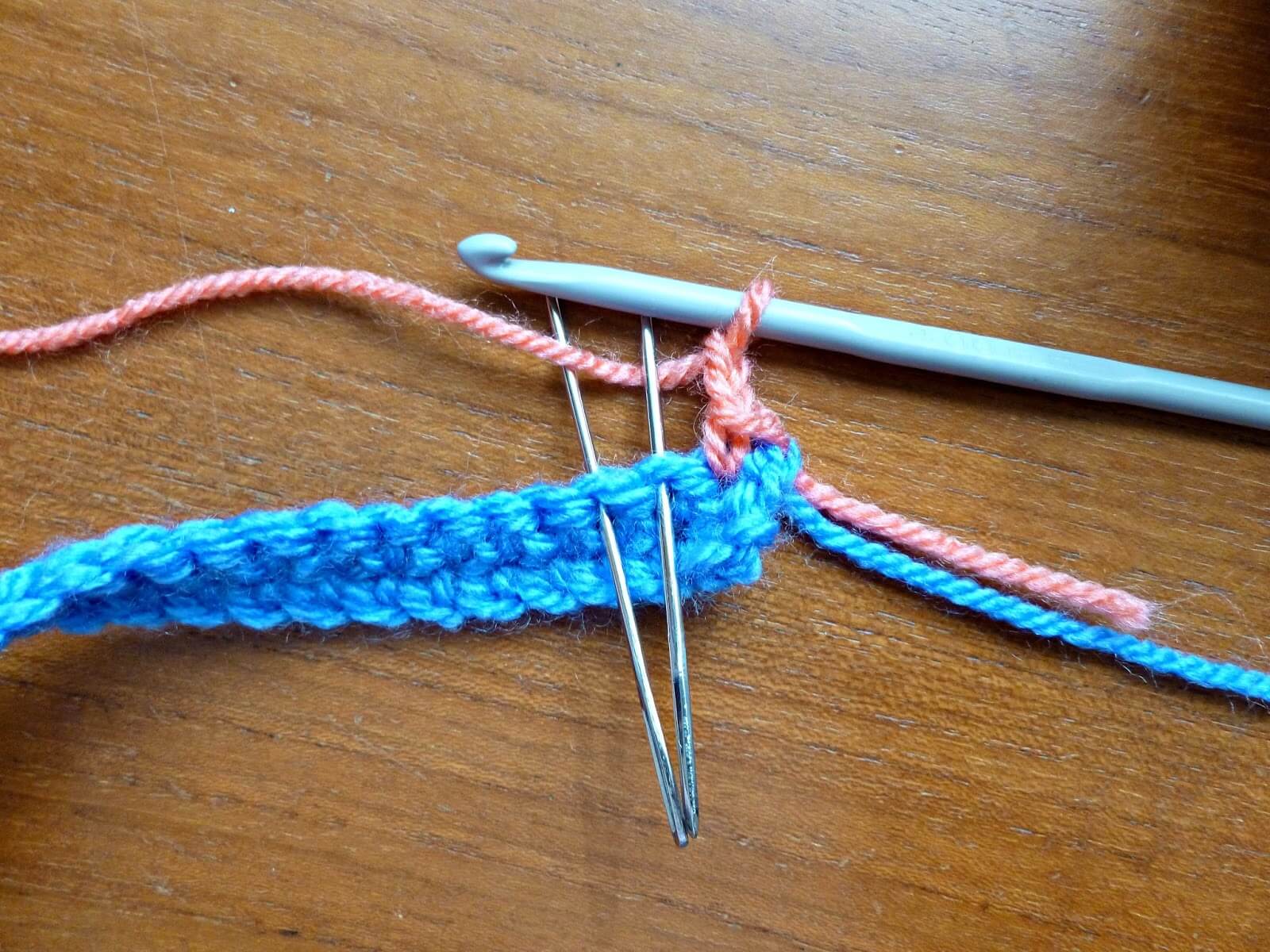 Then work 1 dc stitch into the next stitch along …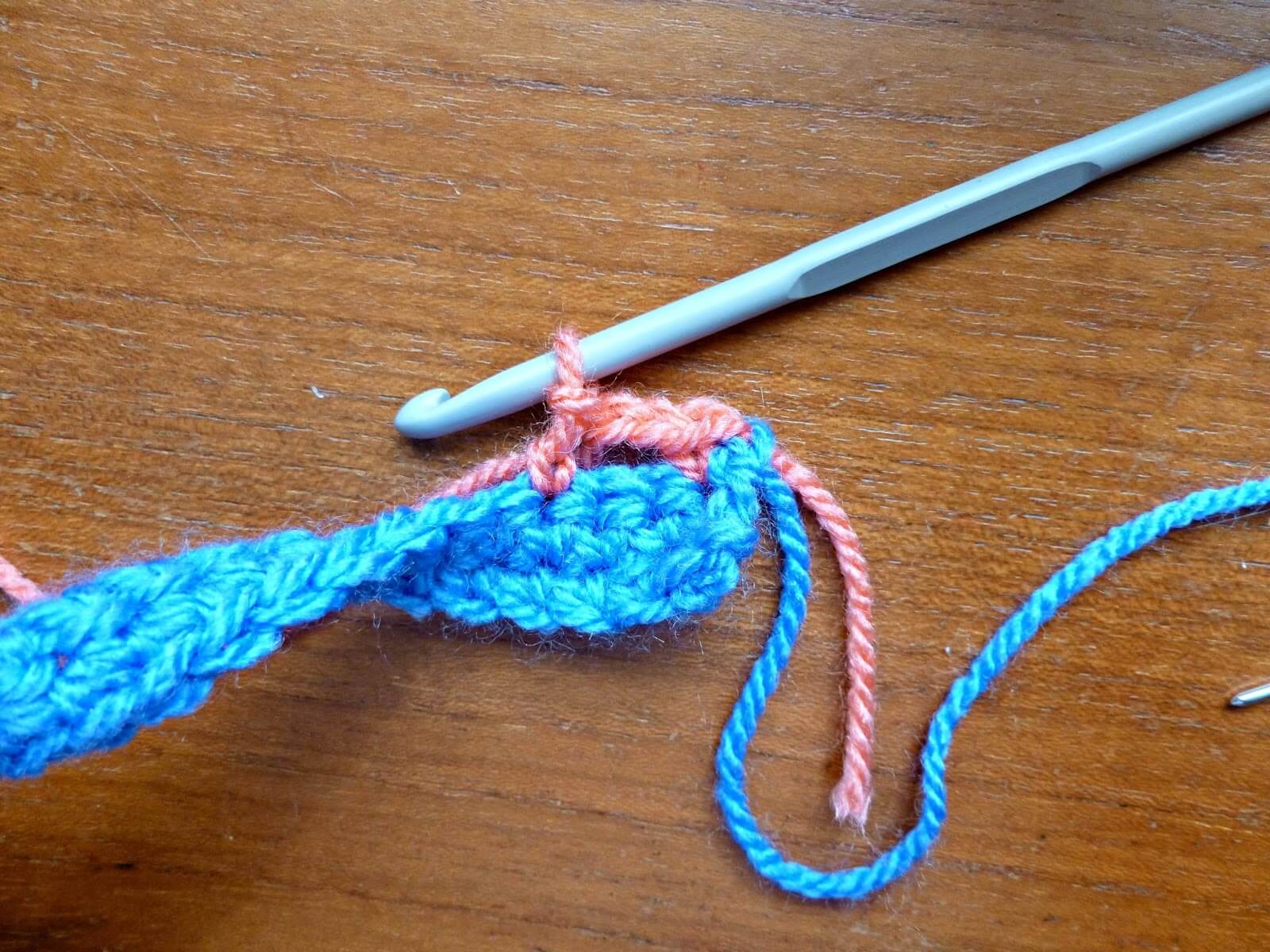 and continue to the end of the round, ch1, turn, work to the 2 chains.  Then insert your hook into the gap created by the chains and work 2 dc into the gap.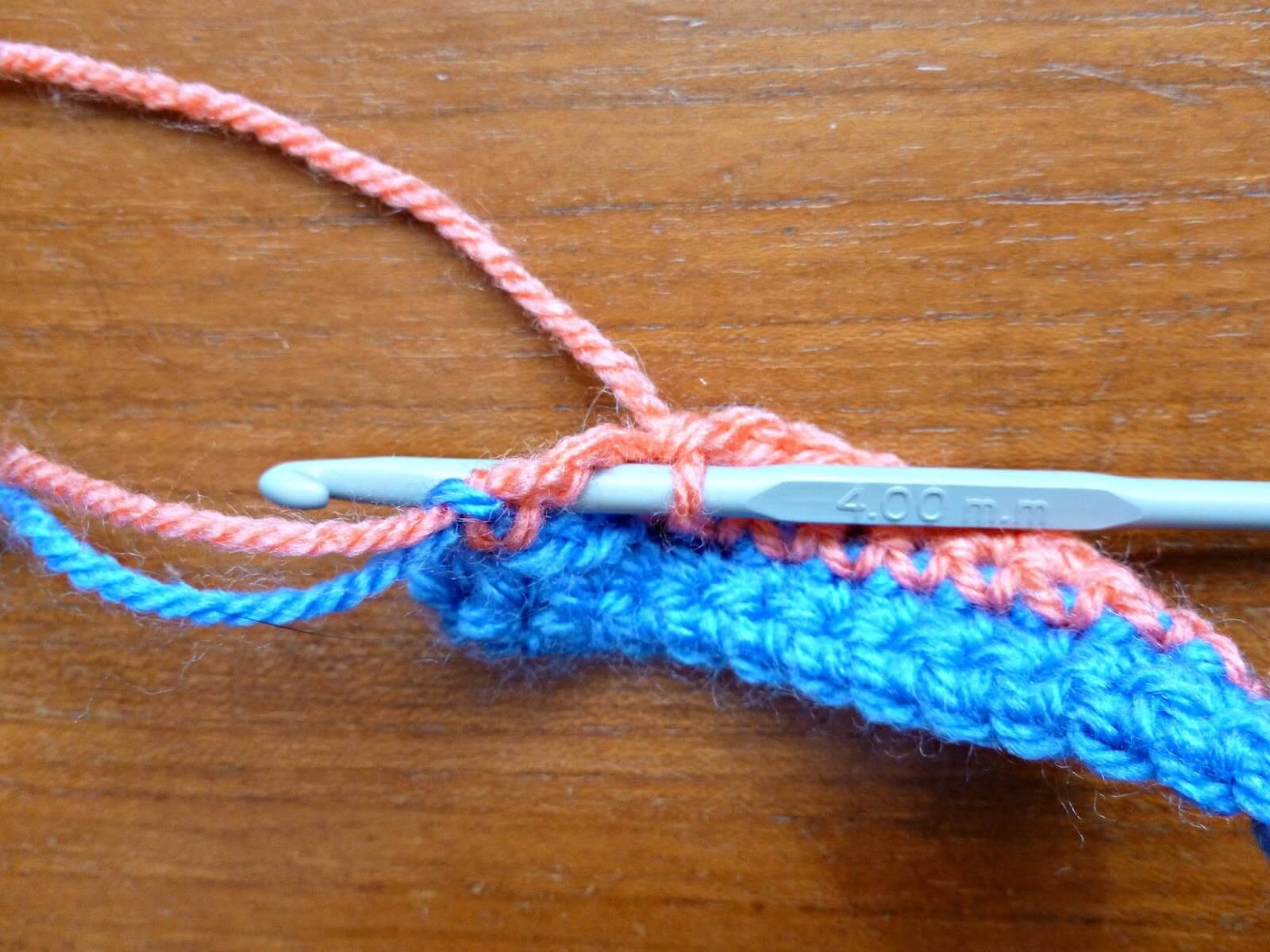 This creates a nice neat buttonhole.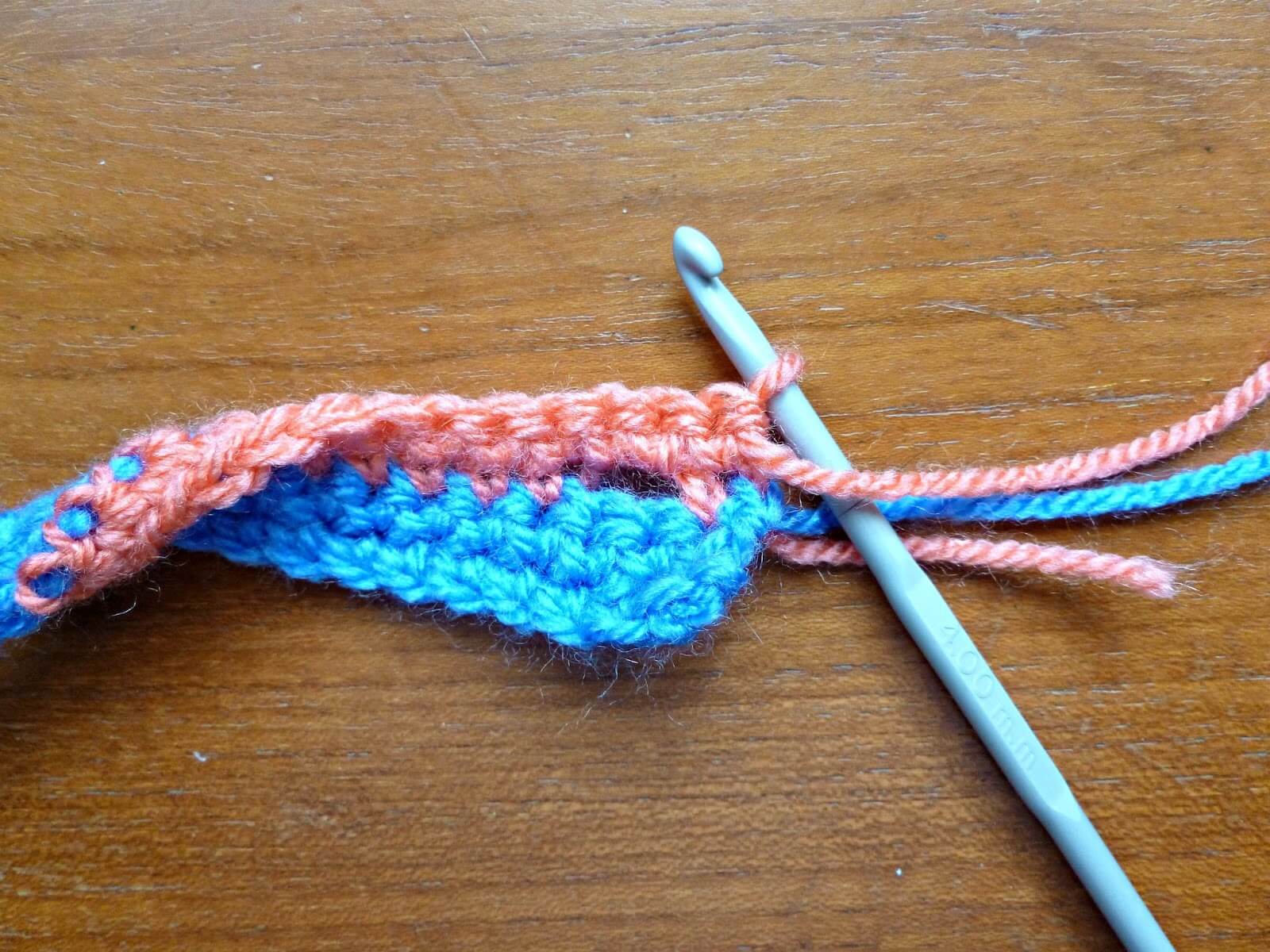 There's no particular sequence to my colours; I just made sure to use each colour once in every block of 11 colours.  You might think that given my obsession with matching socks this seems strange, but I actually like the randomness of the colours in my crochet!
This is what I ended up with.  I worked a round of double crochet in grey to neaten off the edges …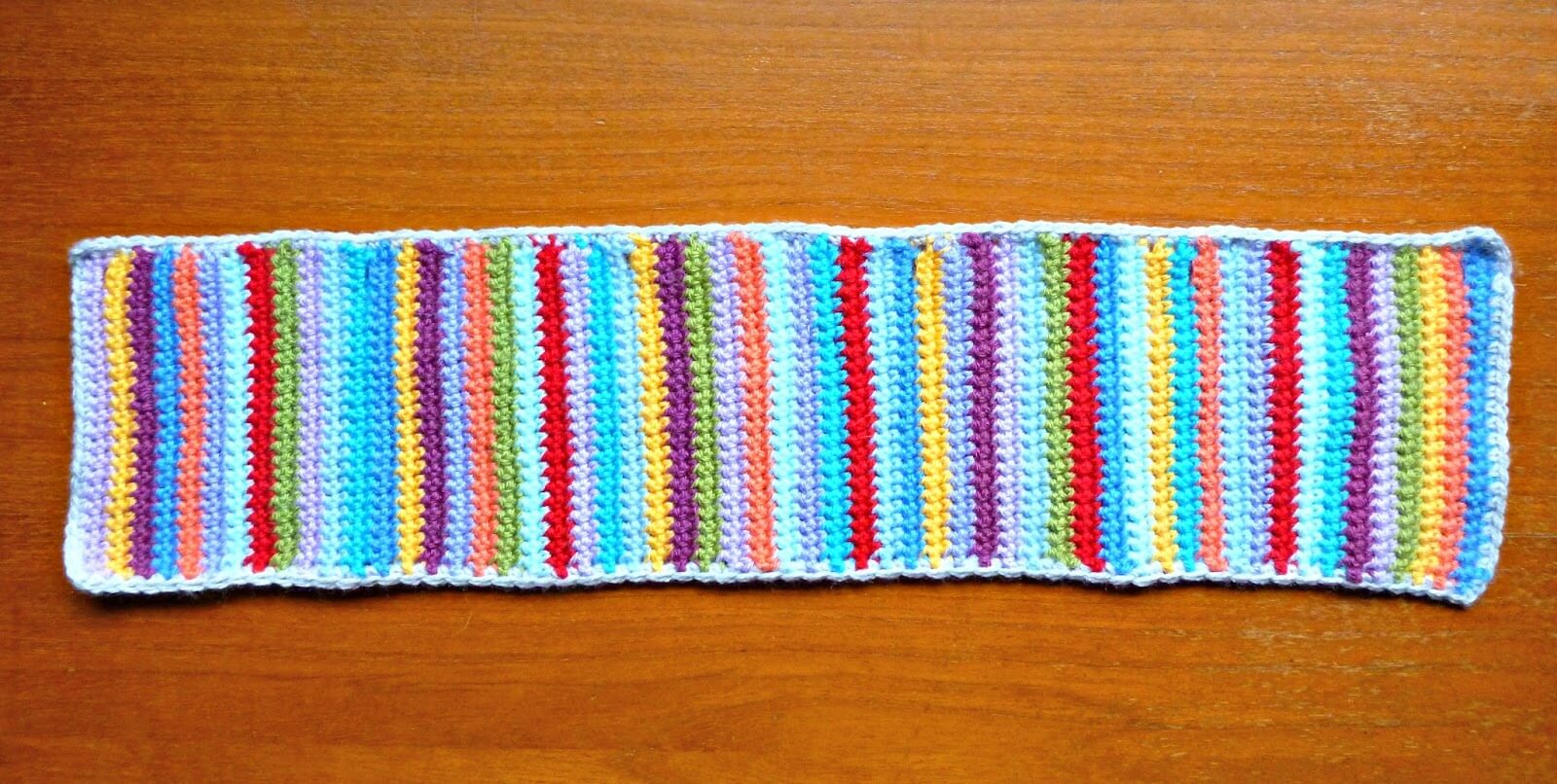 then it was time to sew on the buttons.  This was easy enough – it was just a case of lining them up with the buttonholes (having previously checked where to position them on the seatbelt).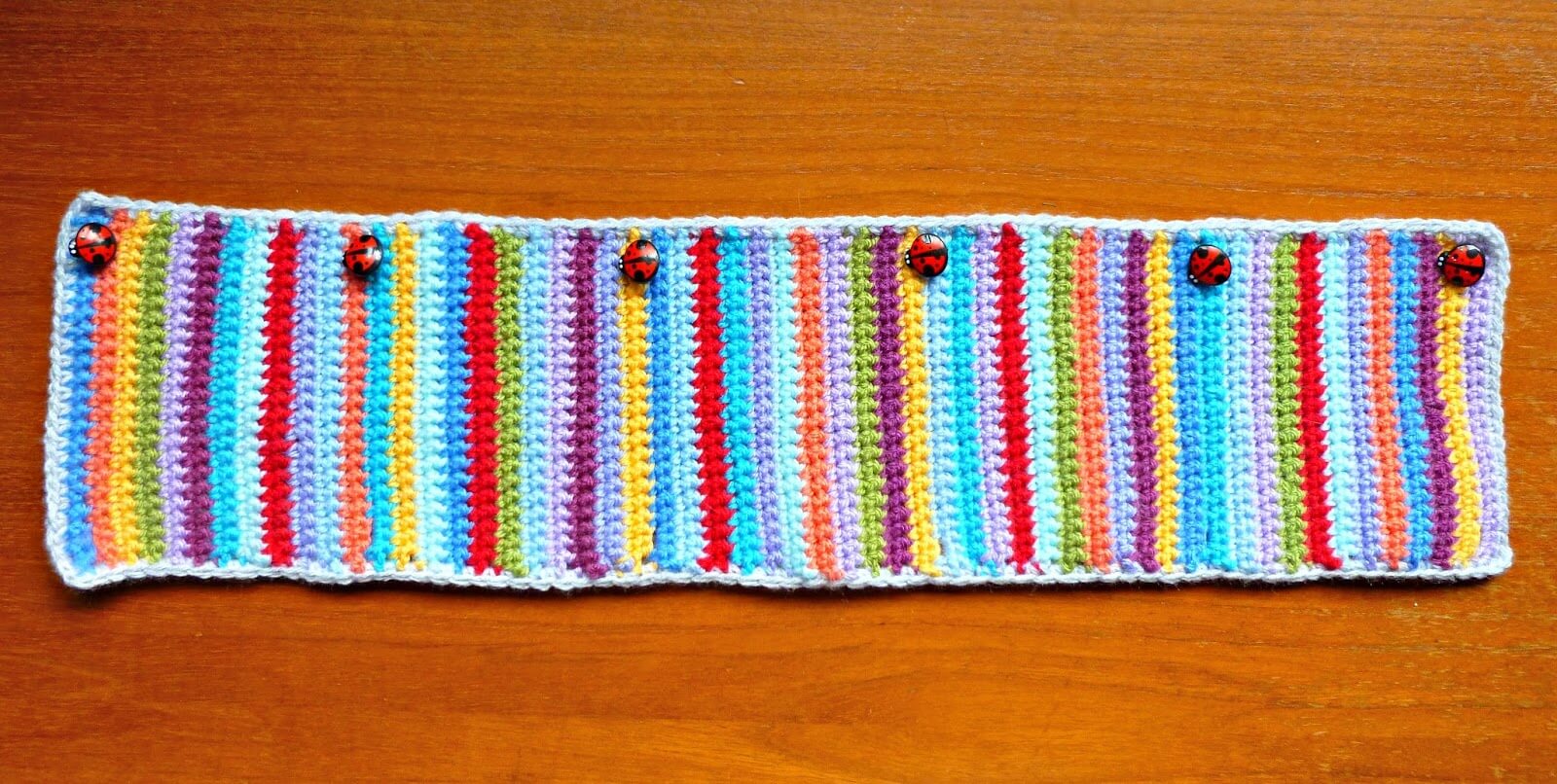 And there we are!
It's just a bit of fun, but there's nothing wrong with that, is there? 🙂
This car seat belt cover pattern is free and will always remain so, but if you have enjoyed using it and would like to buy me a brew, it will be much appreciated!  You can find the donation button on the sidebar on the left hand side.  Thank you! xx
This pattern copyright © 2016 Winwick Mum All rights reserved.
Not to be included in any collection or used for profit without written consent of Winwick Mum.