RHS Harlow Carr
It was a few weeks ago now (Blogtober Day 21, to be exact!) that I drove from Winwick across the moors to Skipton to pick up my lovely friend Lucy for a visit to the RHS Harlow Carr garden.  You may remember that I joined the RHS earlier this year when I visited the newly-opened RHS Bridgewater outside Manchester and one of the benefits of membership is that you get to visit all of the RHS gardens with a friend who can come along for free.  There's nothing nicer for me than strolling around a garden that you don't have to look after yourself with a friend who oohs and aahs at all the plants as much as you do, and I am blessed to have friends to do that with!
It had rained for days before our planned visit and I've got to say that it was with some trepidation that I opened the curtains on that Thursday morning, fully expecting to have to put on full wet weather gear and be ready to see a garden washed out with the rain.  But no!  By some miracle, the rain had stopped and the sun shone and the drive into Yorkshire "over the tops" was a beautiful as any I have made before.  Empty roads, blue sky, my heart was singing as loudly as I was singing along to the radio!
Harlow Carr is just outside Harrogate, about a half hour drive from Skipton.  After fortifying ourselves with a farm shop breakfast and buying picnic supplies, Lucy and I set off and it wasn't long before we had parked up and were standing at the entrance ready to go in.  That sky!  There is absolutely no filter on this photo, it really was that blue!  You could swim in it, couldn't you?
Now this is the point where I need to warn you before it's too late that there are A LOT of photos in this post (we visited shortly before Hallowe'en so I feel like there should be some kind of shivery B-E-W-A-R-E-! sound that comes out of your computer 🙂 ) so now is the time to get yourself a brew or a biscuit if you think that you might be needing a snack before you reach the end of the post 🙂
One of the things that I was really hoping for was to see some Autumn colour.  I had been bemoaning the fact during my Blogtober posts that the leaves hadn't been as colourful as the previous year and certainly in Winwick there hadn't been much to see at all.  Over in this part of Yorkshire though, further North than Winwick and probably a little higher in altitude as well, it had obviously been a bit colder which is just what you need for Autumn colour.
We set off from the entrance building, past the pumpkin display and admired the borders full of late Dahlias, Verbena bonariensis and Cosmos.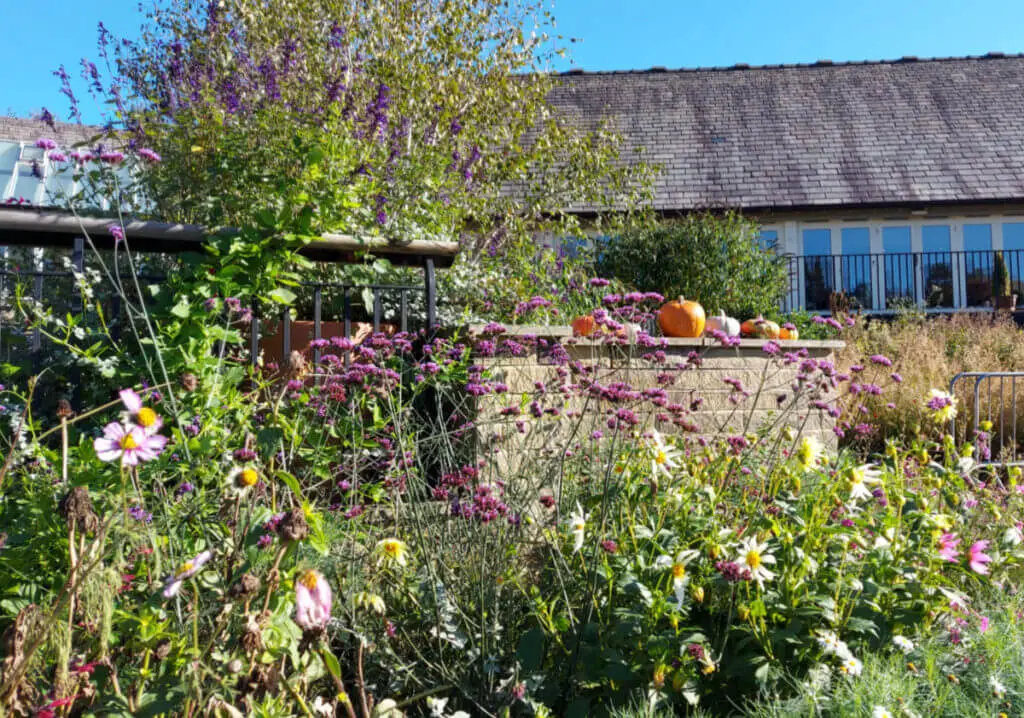 And then, we set out through the gardens to the woodlands and there, there, was my Autumn colour.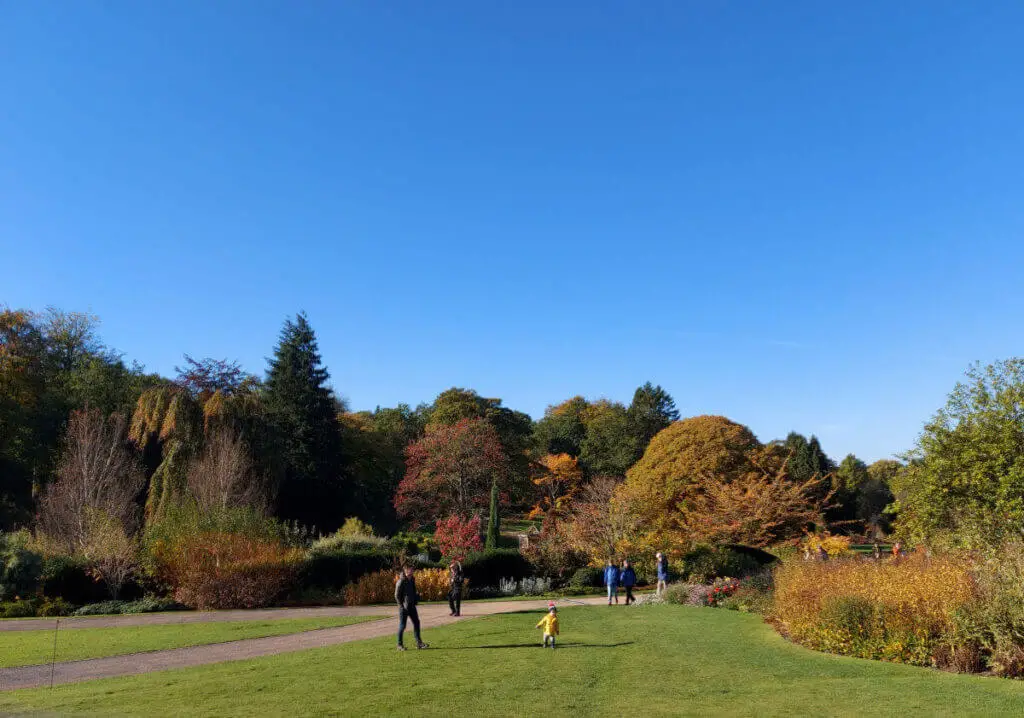 And not just there – everywhere!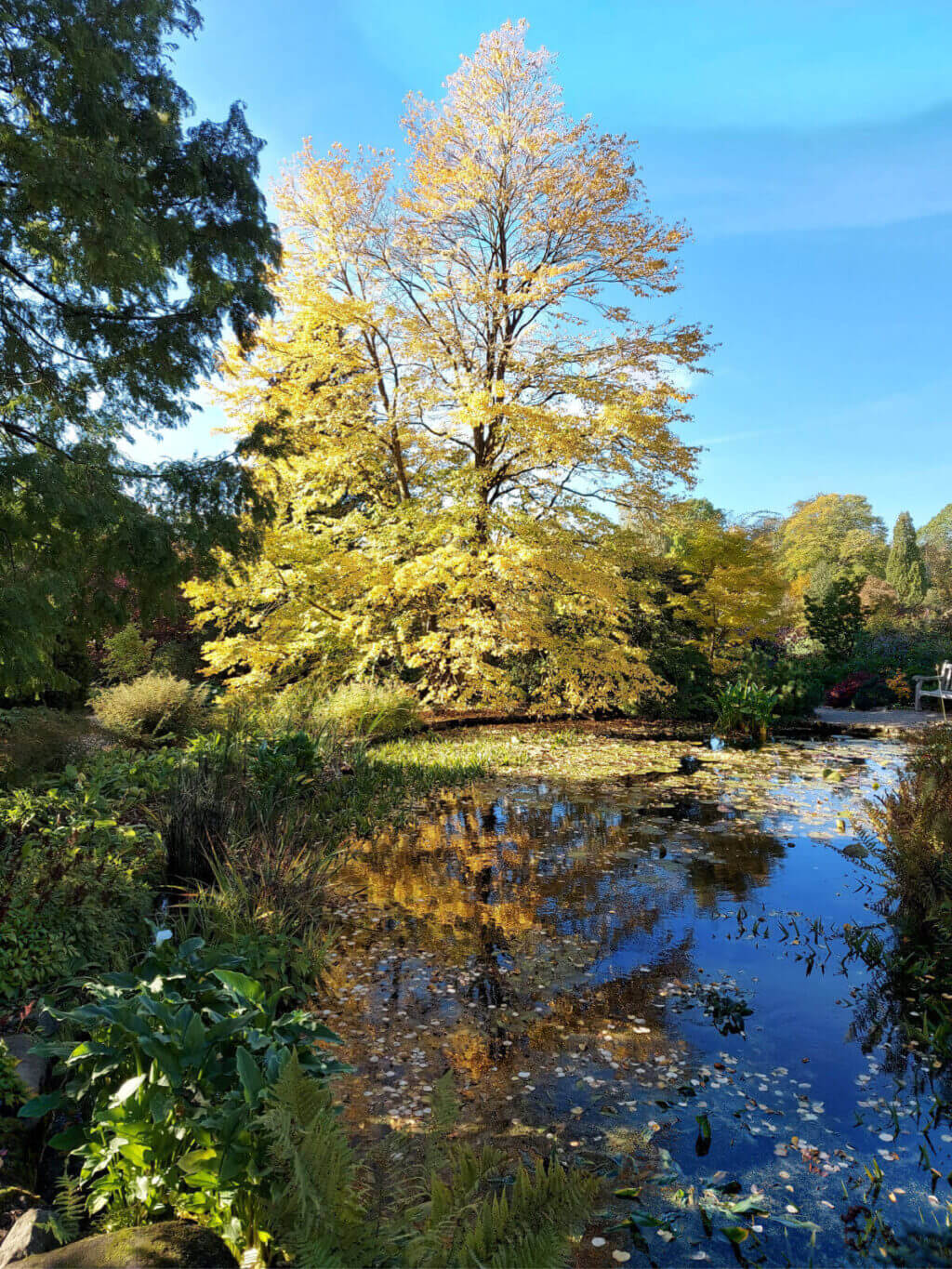 Oh, the leaves were just beautiful.  And the sun, that round ball in the sky that we hadn't seen for weeks, warmed our faces as we walked and chatted and there was nowhere else in the world right then that I wanted to be.
Each of the five main RHS gardens feature different sections within them, so there's a waterside area, a woodland area, walled gardens, kitchen gardens and depending on where the garden is in the country, there might be sub-tropical or exotic gardens with plants that you might not otherwise see or be able to grow in your own garden.
There are often garden exhibits and the one at Harlow Carr which is there until Summer 2022 is the Four Seasons sculpture trail; four faces representing the seasons created by American artist and film maker Philip Haas, and based on Renaissance paintings by 16th Century Italian artist Giuseppe Arcimboldo.  You might have seen these paintings of people with faces made of fruit – and here they were as 4.5 metre (14.7ft) fibreglass heads which are quite peculiar things to come across!
I don't think I'm going to put one of those in my garden!
We took a circular route around the gardens, passing these sycamore key sculptures which swayed gently in the breeze.  I have seen things like this at the RHS gardening shows in the past and have always thought how wonderful they looked (until I saw the price ticket and then they didn't look quite so good! 🙂 ), and these were no exception as the metal keys twisted and turned.
The path took us into the Teaching Garden where there were lots of little garden plots and garden sheds designed to inspire would-be and experienced gardeners alike.  I was very taken with the pond in the Teaching Garden, not least because of the beautiful curve to the wooden boards around it.
Can you see the plant over to the right?  The one with the huge leaves that looks a bit like rhubarb?
This one …
It's a Gunnera manicata and is in fact a form of rhubarb – it's common name is giant rhubarb (no prizes for guessing that one!) – and it's HUGE!  Never mind giant, I always think of it as prehistoric rhubarb and I would never be surprised to see a dinosaur munching its leaves.  It grows up to 2.5m (8ft) tall and wide so isn't really a plant for a smaller garden, but it looks amazing here where it is very happy with damp feet next to the pond.
We also spotted water snails in the pond and once we'd seen one, we could see plenty of them, balanced on the vegetation and minding their own business, as snails do.
We walked on into the Lakeside garden and sat for a while on a bench in the sunshine.  I was never very good at sitting down on benches and taking in the surroundings when I was younger but I've practised hard over the years and now I am excellent at it; at taking in all the things that I can see, hear and smell, at feeling the wooden bench against my back and realising that it is actually more damp than we had first thought and it was time to move on.
There was a Clematis by the archway as we left to continue our way along the path and although the flowers had gone, there were masses of woolly seed heads.  I think this is known by the common name of "Old Man's Beard" but I'm not sure if that's for a specific Clematis variety and I don't know which one this was.
The sky was still amazingly blue with not a cloud to be seen.  Look at those colours!  I am so glad that I have been able to take photos because these are images that I want to be able to remember for a long time!
We passed some pots full of Rudbeckias.  Oh, I do love their cheery orange faces, they're right up there with Calendula marigolds for me as happy flowers and it was a delight to see so many of them still in bloom.  There were lots of them in the borders at Harlow Carr in different varieties as they come in sizes small to large and shades of yellow to deep orange and red and I love them all.  I have plans for lots more of them in my borders next year!
We walked on around the lake and towards the woodland area.  Despite the recent rain, the path wasn't too muddy at all and the air smelt of that wonderful mix of leaves and damp earth.  The stream running alongside the path actually looked quite low considering how wet it had been, but we could see that there were other parts of the garden where it was distinctly boggy.
You can see that it's later in the year from the low sun and the long shadows through the conifers.
From the shady woodland, we headed up towards the Kitchen Garden and the Alpine House.
There was still plenty growing in the Kitchen Garden …
and of course we were there at the right time of year for the apples!
The greenhouse was full not of late tomatoes or other fruits but pumpkins, squash and chillies!  So many varieties of them in one place!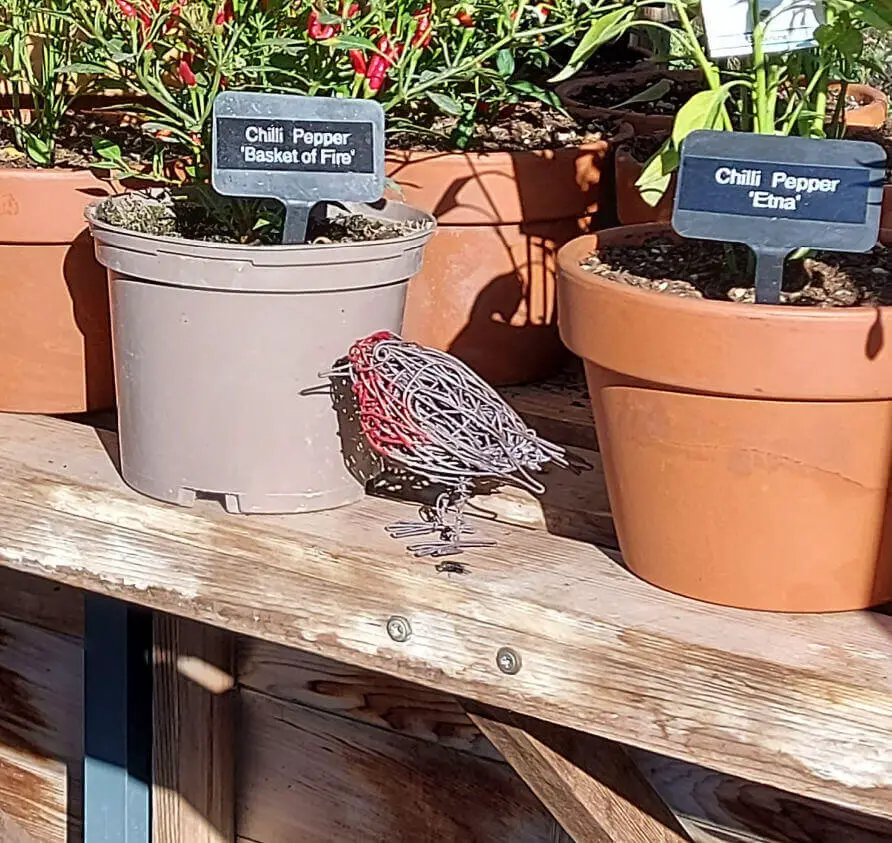 It always makes me happy to see a robin in the garden!
And this geranium was just outside the greenhouse (I think it's a lemon geranium) – aren't the leaves beautiful?
The RHS is working hard to encourage gardeners to be as sustainable and ecologically-friendly as they can with their gardens and I loved this little insect house with its green roof full of Sempervivum (house leek) – oh I do love a house leek plant!
Round to the Alpine House and there were more varieties of Sempervivum and other alpines than you could shake a stick at.  I was very happy looking at all those little (sometimes) spiky plants – I can't begin to tell you what it is that I like about them but I can remember bringing some home from my Grandad's garden when I was small and growing it in our garden so maybe that's the connection that makes me happy.
At this point, we realised that it was lunchtime so we found another bench and unpacked the picnic we had brought with us.
In case you're interested, Lucy has a Mediterranean vegetable slice and I've got a sausage roll (both very good, we were pleased with our choices!), we've got cherry tomatoes, fruit and yes, those are raw mushrooms because I like eating them raw 🙂
Our bench was behind a hedge and we sat in the dappled sunlight with another robin bouncing around our feet for a long time (no wet backsides this time!).  It's not often that we get those times when there's nowhere that we need to go and nothing that we need to do other than be exactly where we are, and I am doing my best to notice and appreciate them whenever they occur.  In our fast-paced technological world, not much stands still for very long and these fleeting moments when it feels like time really has stopped are, in my view, a gift to be treasured.
Eventually, though, it was time to move and we took a last stroll around the perennial borders before heading towards … ah, I'll tell you that in a minute!
Oh, the colours were glorious and what I liked was that many of the plants that were still flowering are ones that are easy to get hold of through garden centres and even supermarkets.  I have a lot of plants waiting to be planted out in the garden and a fair few of them were here in these borders.  I just need to get my act together and get my borders planted up now!
This gorgeous feathery grass is Pennisetum villosum and I have tried on countless times to grow this but it never survives the Winter.  Seeing it in a garden further North than mine gives me hope that I perhaps could do if I was able to cover it during the colder months … it's definitely something for me to consider!
Cosmos … these are lovely flowers; they always look a bit like a child's drawing of a flower to me, and they come in lots of bright colours.  Unfortunately, snails and slugs also think they are lovely and I've not been able to grow them without them being munched into oblivion very quickly, although I have noticed this year that the ones I grew in pots in the borders seem to have survived, and I've also seen a frog and a hedgehog in the garden this year too so perhaps I have a slug patrol to help now!
This is an Oriental poppy (Papaver orientale) – so late in flowering but how lovely that it is!
At last, we decided that it was time to leave the garden and we followed the little path that took us to the exit gate.  One more look over our shoulders and then the gate closed behind us.
We hadn't quite finished our visit to Harlow Carr as it was just about time for a treat at Betty's Cafe Tea Room.  Betty's is well-known in Yorkshire as a traditional cafe where you can have tea or coffee, always served in on a tray with silver pots, tea strainers so that you don't get a mouthful of tea leaves (no tea bags here), cakes (including their famous Fat Rascals), full meals or an afternoon tea of sandwiches, scones and cakes on a tall stand.  There are several locations of the cafe and they all have the same atmosphere of quiet sophistication and generally being rather posh.  It always feels very grand when you're in there and I felt very under-dressed for the occasion in my walking boots and jeans – but nobody minded at all and after a longer wait in the queue than we had expected (although it did give me time to nip to the cafe shop to buy my husband a Fat Rascal as he really likes them), Lucy and I found ourselves seated at a marble table with our tea pots.
We also had a toasted scone which neither of us had had before – I expected it to be a warmed up scone but this had actually been toasted and slathered with butter which had soaked all the way through and it was really difficult not to snaffle it all in two enormous greedy bites!  Oh it was so good, I can highly recommend that you try toasting a scone sometime, it's definitely worth the effort!
And then, with all the tea drunk and not so much as a crumb of the scones remaining, we left Betty's and Harlow Carr and drove back to Skipton.  Ah, it had been such a wonderful day, full of colour and good company and I enjoyed every minute of it.
I'd really like to go back again and see how the garden has changed in a couple of months, and I think that to make sure I get the most out of my RHS membership I should really do that – it would be a waste otherwise, wouldn't it? 🙂