Let's talk about … short circular needles
It seems like a very long time ago now that I picked up my first set of short circular needles, the promise of my sock knitting being "revolution-ised" ringing in my ears and proving to be absolutely true – for me, at least!
When I bought my 30cm (12′") short circular needle, that was pretty much the sum total of what was on offer.  I wasn't presented with a range of other choices as easily as you might be today, and when my needle first arrived through the post, it looked so unbelievably tiny that I had no idea how it was going to replace my DPNs.  I just knew, though, that this was the needle for me and I was determined to get to grips with it.  There was a slight flaw in this plan as I couldn't work out how to cast on and make it join (this might sound familiar to you!) until I realised that casting on with straight needles not only solved that problem but also stopped the stitches twisting.  I put my DPNs to one side and the short circular became my needle of choice.
I used this short circular needle as one of the three methods shown in my Sockalong tutorials and this post is an addition to my tutorial on needles as there have been considerable changes to the number and even style of short circular needles available since I originally wrote the Winwick Mum Sockalong.  The plan with the tutorials was always just to get people started knitting socks and I showed the needles that I used and how I knit my socks, always intending that the tutorials would be a springboard to discovering more.  It has both surprised and delighted me that for many people, the Basic 4ply Socks pattern along with the Sockalong tutorials has been enough.  There are so many fabulous self-striping yarns around these days that you often don't need any more, and instead of delving further into more complicated patterns, people have stuck with what works for them, and that's just lovely!
What I have noticed, though, is that people are investigating their needle choices more.  That will be because, since I wrote the Sockalong tutorials, there really is more choice, and also because the way we get our information through the internet has improved too.  It's second nature to many of us now to simply put our questions into a search bar and hey presto, we have a hundred answers to scroll through!  It's enlightening – and sometimes overwhelming – so I thought that this morning, I'd add my own thoughts to the questions that I see most often: what's the best size of needle for socks, and what's the best size of short circular to buy?
Now there's a question!  The three needles that you can see in the photo above are the ones that tend to be referred to most often.  From the outside in, the lengths are 30cm (12″), 25cm (9.8″) and 23cm (9″) – there's quite a difference, isn't there?  (There's an even smaller one which I don't have in my collection – 20cm (7.8″) – if you want to get really tiny!)  I think it can be hard to imagine that there is a whole 7cm (2.75″) difference in length between the longest and the shortest, but they are all suitable for knitting socks; which one is suitable for you is the next thing to consider.
I think the question of "which needle" is the one that is asked most often in my Facebook group and I think it's interesting that the overwhelming majority of answers point people in the direction of the 23cm or 9″ circular – the smallest one of the three in the photo!  Yes, you can sometimes get right to the end of the toes using that needle, but there are other factors to consider before making a purchase, the main one of which is how you actually knit.
If you're an English knitter, holding your yarn in your right hand and flicking or throwing it to make the stitch, the tiniest tips don't give you much to grip onto whilst you're doing that.  If you're a Continental knitter, holding your yarn in your left hand whilst you scoop it to make the stitch, the longest tips can get in the way as they don't bend enough (my very first 30cm needle had bent tips as you'll see in the Sockalong tutorials; Addi no longer make them but they are still available in the ChiaoGoo red range).  At the end of the day, though, whichever way you knit, the chances are that there is a size of short circular needle that will suit you.
This photo gives a better indication of how your knitting style will identify which short circular needle will suit you:
You can really see the difference in the tips in this photo, and this is why I always wince at the generic "you need a 9″ circular" answer.  The top tip is 7cm long (30cm/12″ circular), the middle tip is 6cm long (25cm/9.8″ circular) and the bottom tip is 5cm long (23cm/9″ circular) and that's a whole 2cm (3/4″) difference between the smallest and the largest!  That might not sound like much but can make a huge difference to how you hold your needles and your posture in general.
For me, the 9″ circular is actually too small.  It makes my hands cramp up and I find myself hunched over in a most uncomfortable way.  As an English knitter, it's just not the one for me.  If I use the Continental method, I get along better but it's still a bit too short and the pleasure of knitting my socks reduces considerably.  I find it much easier to hold the bigger 7cm tips, my stitches are spaced out more on my cable and I relax my shoulders BUT this is the thing that I always talk to people about – it's personal preference.  Plenty of English knitters love the 9″ circular and I think that's brilliant.  Now that there is so much choice, you can do a bit of research and not be saddled with anyone's choice but your own!
(Important point: knitting is for pleasure so whatever your needles, if you do find your shoulders pulling in and your hands cramping, make sure you that you take plenty of breaks and try out some knitters' exercises (YouTube is your friend here).  If you're using a short circular, try angling your wrists out slightly, especially if you are an English-style knitter, as that helps.)
I also need to add here that many people find the 30cm (12″) needle too big and their stitches stretched.  I have to say that this doesn't happen to me.  This will, of course, be down to knitting tension (and there's a whole other tutorial on that here!) and I will say that if the first few (maybe more) of the rib section are stretched on a particular sock, that soon loosens off once I get into the leg of the sock.  However, the fewest number of stitches that I can knit with on that size needle is 60 – any less and they really are stretched too tight so I drop down to a 25cm (9.8″) needle for those socks.
You'll also see if you look in the photo above that the needle tips are made of different materials.  Addi needles come as metal tips which suit me fine, but many people prefer wooden ones.  The KnitPro Symphonie tip in the centre is wooden, but it is also available as a Nova metal tip.  You might prefer bamboo needles; HiyaHiya and ChiaoGoo both offer bamboo versions of their needles, and you'll find other brands which also make short circular needles but do be very careful of the quality of the joins.  More than any other size of needle, if your short circular join isn't beautifully smooth, it will drive you mad very quickly!
Recognising the need for yet more choice in needle style, Addi developed the Sock Wonder (SockWunder) needle which is 25cm long (better for smaller socks than the 30cm (12″) but not as small as the 23cm (9″) and that needle has one 7cm tip and one 5cm tip.  You can choose which way around you want the tips; I found that it was most comfortable with the longer tip in my right hand (and speaking to other people, I think that's the most common way around to use it) – but again, that's down to my knitting style and if I wanted to try it the other way around, that's absolutely fine!  There are bamboo versions of this needle available in other brands.
If you think that a 25cm (9.8″) needle might be a good compromise,  you'd be right and I don't find that it feels a great deal different in my hands to the 30cm (12″) needle.  If you don't fancy the 7cm/5cm tips, you can buy them with two 6cm tips instead.
There's one more thing about knitting style that is crucial for your choice of short circular needle, and that's how you hold your needles in your hand.
If you are someone who rests your needle across your thumb, as in the picture below, then a short circular may not be for you at all.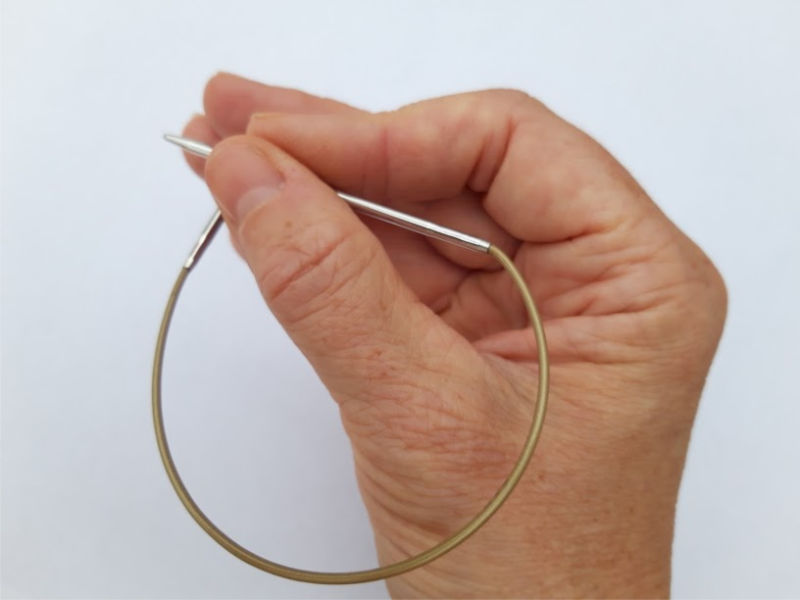 If you imagine that your sock is growing longer and longer, it's bunching up around your thumb and whilst I have seen people who knit like that use short circulars very successfully, it's definitely something to consider.  Whenever I have been out and out with my needles for people to try, the ones who knit in that style often find that magic loop is more comfortable for them so if that's you and you've not considered magic loop, that's something else to add to your research list!
I've given some suggestions on the Sockalong Shop page but do remember that these are just a starting point.  If you can try the needles out in your hands before you buy them (and support your local yarn shop), that's always going to be the best thing, or given the nature of the world at the moment, if you are able to buy and return them if they didn't suit you, then that would be the next best option.
I really hope this has been helpful!  This post has been all about knitting with one short circular needle so I haven't mentioned DPNs, knitting with two short circulars, magic loop or Crasy Trio (FlexiFlips) which are all available as methods to create your socks – the best part about sock knitting is that there are so many choices!  There are choices of needles, choices of sizes, of fits, of heels, of toes … there's no reason at all why you can't mix and match any of the styles to get your perfect fit and wear the best socks that you've ever had on your feet.
Do let me know if the comments if you've got any thoughts to add!