Beginner sock knitting: Sockalong – anatomy of a sock
We're on countdown now … this is the last pre-Sockalong post and there are only 4 more sleeps until the Sockalong!
Today, we're going to take a look at the parts of a sock, how we're going to go about creating our pair of socks and how the Sockalong itself is going to take shape.
There's really not a great deal to how a sock is put together.  As we're going to make a pair of top-down socks, we're going to cast on for the cuff and work our way down the sock, turning the heel as we go and finishing at the toes.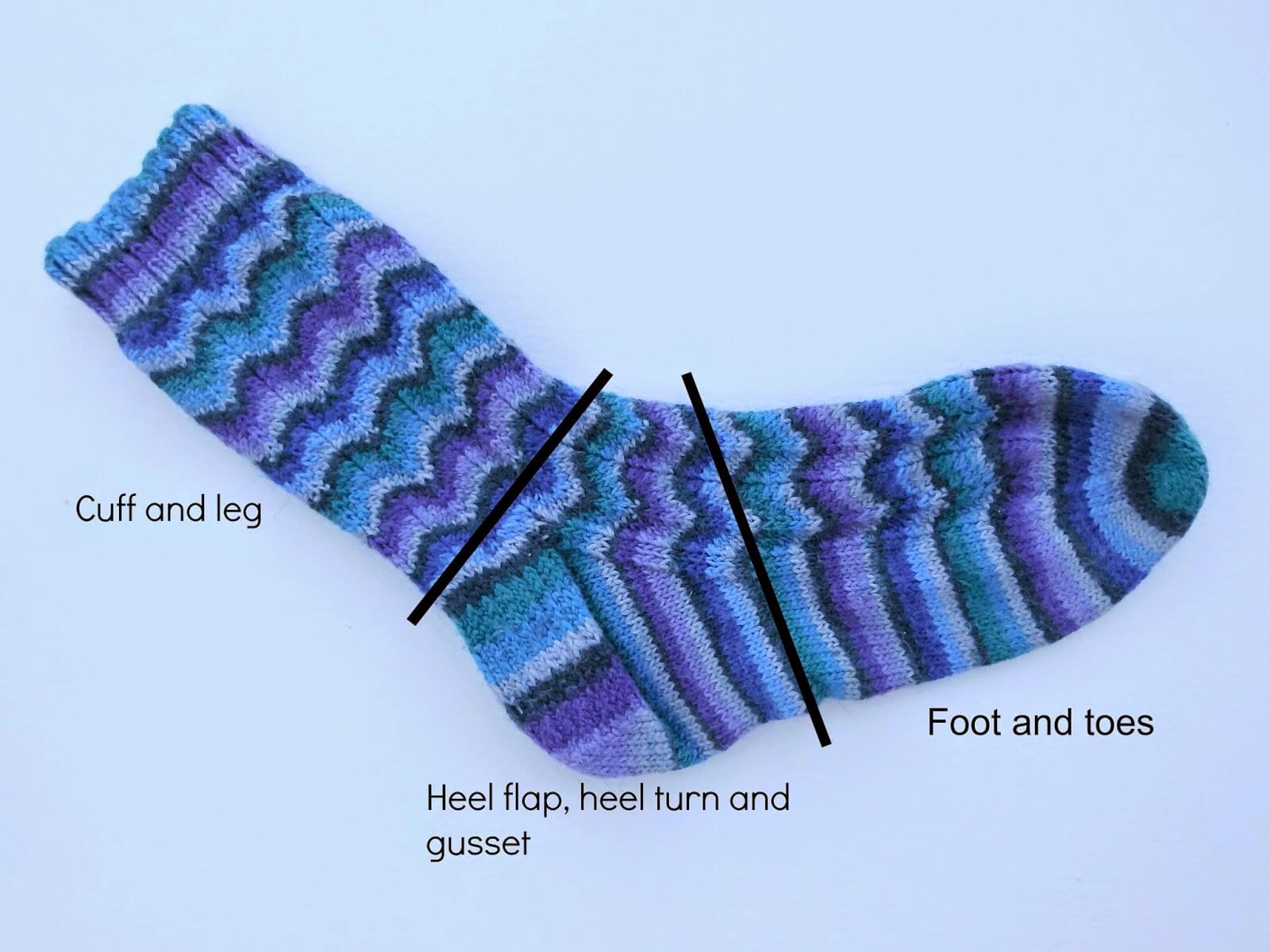 The majority of the sock that we're going to make is just plain knitting (as opposed to the patterned version pictured), and I'll be posting lots of pictures with the tutorials so that you can see exactly how I'm doing everything as we go along.
I'm going to split the tutorials up over three weeks to give everybody plenty of time to work on their socks without feeling that they're having to rush to fit it all in or are being left behind.  Don't worry if something comes up and you have to put your knitting aside for a while; you can still continue to follow the posts as and when you can as they will all be available on the blog on this page.  Even if you've found the Sockalong way after the "official" start date, feel free to follow along anyway and ask questions – I'm always happy to answer them.
This is how we're going to divide the tutorials: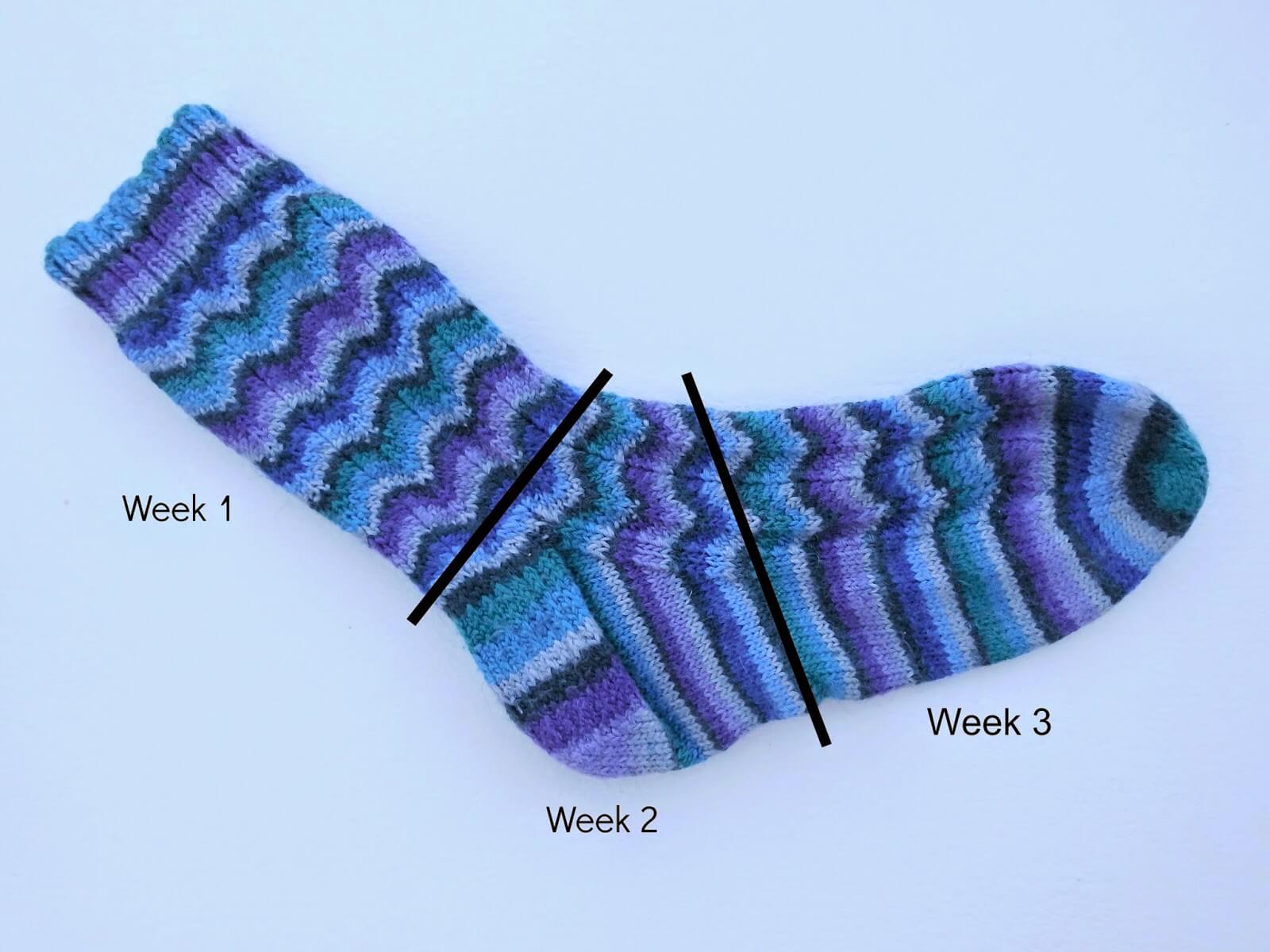 Week 1 – casting on for the cuff, working the rib section and then knitting the leg
Week 2 – creating the heel flap, turning the heel and creating the gusset
Week 3 – working the foot section, creating the toes and grafting them with Kitchener stitch to make a seam-free toe.
My plan is that if you can knit this sock, you can knit pretty much any sock that takes your fancy because you'll be confident with the basics.  At some point, you might even feel confident enough to design your own socks, and wouldn't that be wonderful?  The sock pictured is my Neat Ripple sock and although it involves pattern stitches, it's still created in exactly the same way as the basic sock pattern that we're going to use for the Sockalong.
For those of you on Facebook, I've created a Winwick Mum Sockalong group to ask questions (although please do continue to ask questions through the blog as well) and share pictures – the great thing about the group is that everybody can share their experiences so don't be shy about joining in.  It's a closed group to try to stop spammers but feel free to add friends who want to knit socks as well – let's get as many people knitting socks as we can!
There is now also a Ravelry group too so if you would like to join that one, then please do!
Don't forget that it's Yarn Shop Day (have I mentioned that before? 😉 ) so I'll be at Black Sheep Wools if you've got any last-minute questions before our first tutorial Sockalong post on Sunday 3 May 2015.  I'll be taking a few sock samples on different needles with me for people to try out so if you've still not decided which needles are for you, then come along and give them a go!
Right, I think that's us done now until Sunday.  Any questions?  Ooh, I'm itching to get started now!
These Sockalong tutorials are free and will always remain so, but if you have enjoyed using them and would like to buy me a  brew, it will be much appreciated!  You can find the donation button on the sidebar on the left hand side.  Thank you! xx
Basic 4ply Socks pattern copyright © 2014 Winwick Mum All rights reserved.
Sockalong tutorials copyright © 2015 Winwick Mum All rights reserved.
More Sockalong posts:
Sockalong – tension squares, casting on and stitch calculations
Sockalong – accessories and matching yarn
Sockalong – Week 1 – Cast on, cuff and leg
Sockalong – Week 2 – Heel flap, heel turn and gusset
Sockalong – Week 3 – Foot, toe and grafting the toes
Sockalong basic 4ply sock pattern
Facebook Sockalong group for help, advice and encouragement