Sofa Snuggle Socks
Of all the words in the English language, I think the word "snuggle" must be one of the nicest.
Snuggle, snuggle, snuggle.
It's woolly blankets, big enough to wrap yourself up in completely; oversized jumpers that come down past the ends of your fingers; a purring cat on your lap; a baby in your arms, or a small child on your knee.  It's being close to your very favourite person, sharing warmth and comfort.  It's cosy socks on your feet, the thicker the better, keeping the cold at bay.
Socks just like … the Sofa Snuggle socks.
Sometimes, you need socks for snuggling in, not for walking about in.  Socks that are perfect for wearing when watching TV or a film, when you're reading a book or even to sleep in.  Socks that don't need to be hard-wearing because their job is to keep you cosy and warm. The Sofa Snuggle socks are perfect for that – they are DK (8ply) socks knitted to a simple pattern and ideal for that special skein or ball of yarn that you've been saving which should really be insulating your feet and not your house!
With so many concerns about the coming winter and cost of living rises, I wanted to think about how we could use our sock knitting skills to create something positive.  We all know how those little stitches slipping across our needles help to calm our worries and anxieties and instead of focussing on what might be around the corner (and what may or may not ever happen), I wanted to create a pattern that would help to make us feel good – good about our knitting, good about using yarn that makes our hearts smile and good about having cosy socks at the end of a quick knit to wear or gift.
Because they're knitted in DK yarn, the Sofa Snuggle socks are a quick knit – you'll certainly notice the difference if you've only been using 4ply up until now!  As always, even though the yarn weight is different, the pattern is based on my Basic 4ply Socks pattern which is used in the Sockalong tutorials so the good news is that if you're brand new to sock knitting, there's plenty of help.
However, they're not exactly the same so let me show you around!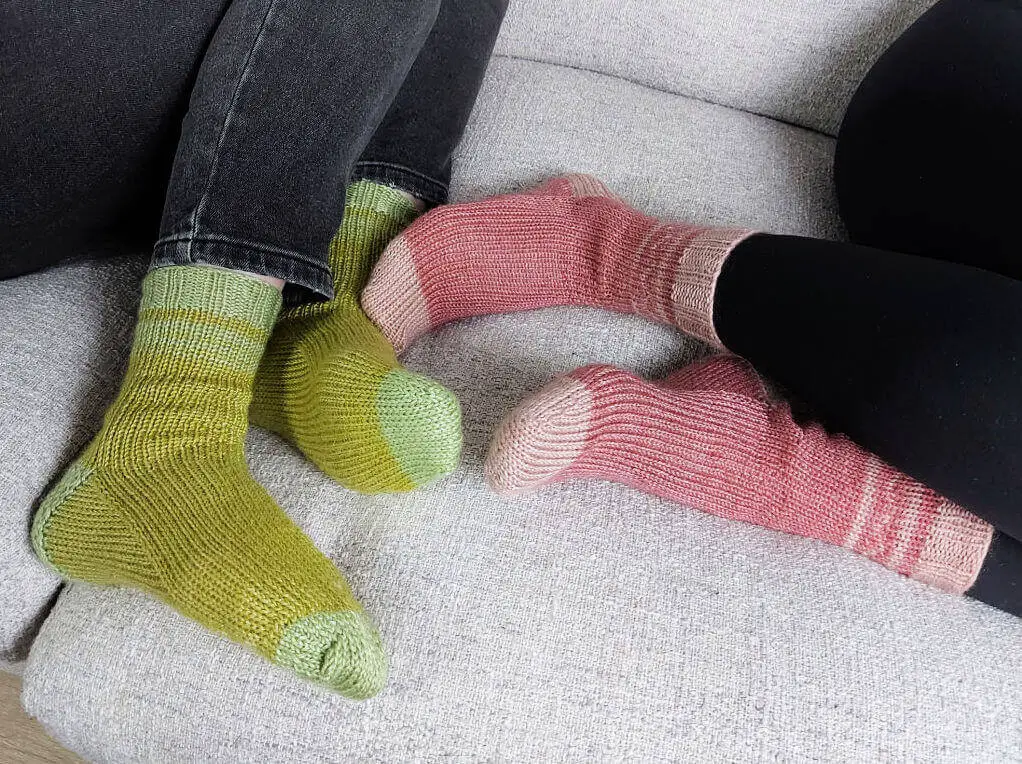 The idea of the Sofa Snuggle socks is that they are for exactly that purpose – for just sitting around being snuggly in and not doing any hard work at all, so you can use yarns that you might not usually consider for socks and they will work beautifully because their only job is to keep your feet warm.  I've used West Yorkshire Spinners Elements DK yarn, a blend of wool and Tencel (a nylon alternative) which is gorgeously soft and shiny to knit with.  I did think these would make interesting no-nylon socks to test out but I realised quite quickly that this yarn really isn't designed for hard-wearing socks and they would make much nicer "admire me" socks instead!
There are two styles of socks in this pattern.  Both are written for four sizes of foot circumference from 7½ to 9½ inches;  (19 to 24.5 cm) but if you have ever used the Sock Stitch Calculation before then you'll know that it's possible to adjust the sizing to fit other feet, and I have created the patterns with this in mind.
Elements DK comes in 50g balls so I wanted to add in contrast cuffs, heels and toes (you can find help with that here if you've not done that before) and a contrast pattern for each pair to make sure that there would be enough yarn for the socks (bigger sizes than my feet will need more than 1 ball of the main colour).  You don't have to knit the socks in this yarn, though, and I think that using a special stash yarn and leftover oddments for the contrasts would be lovely.
The green pair (using Elements DK in Palm Leaf and Cool Aloe) have a stripe pattern at the top of the socks …
The stripe is a 3-2-1 stripe which is very easy to work and looks very effective in the contrasting colours.
The heel flap is worked in Eye of Partridge stitch, and if you've made a pair of Basic 4ply Socks with the heel stitch heel flap then you can manage this one as it's the same stitch but offset on every other row.
If we're knitting socks to show off our yarns, we should show off our heels as well, shouldn't we?! 🙂
Oh, and our toes … the toes are also knitted in Eye of Partridge stitch to give a textured effect …
It's not as hard as you might think to knit the Eye of Partridge stitch and work the toe decreases so if it's not something that you've tried before, I'd definitely recommend giving it a go to show off your knitting superstar skills!
The pink green pair (using Elements DK in Cherry Blossom and Seashell) have a zig zag pattern at the top of the socks …
This pattern is worked over 4 stitches so even if you want to make socks that aren't in the sizes given in the pattern, you will still be able to incorporate the zig zags as they will fit with any size of sock that has a stitch count divisible by 4.  I've tried to think of everything! 🙂
The heel for this sock is another heel flap and gusset heel (I like these ones best as I think they give a good fit and are easy for new socks knitters to get to grips with) but this time, I've used the Ribbed Heel stitch, something that I came up with a few years ago to make the heel flap a bit stretchier as it can feel a bit tight on broad feet using the standard heel stitch.  It's really easy to work and gives a nice stretchy heel flap which should fit pretty much every size of foot.
I've also made an adjustment to the toes as DK sock toes can end up a bit boxy sometimes, especially on the smaller sizes, so I have designed a tapered toe so that you can admire your elegantly shaped feet as they stretch you in front of you on the sofa 🙂
There's absolutely no reason why you can't mix and match the toes, heels and even the patterns on these socks so suit the yarns that you're using and the people that you're knitting for if you decide to make these socks for someone other than yourself.
Now, if you remember, back up at the top of the post I said I had wanted these socks to do something positive and whilst I hope these socks will be a cosy extra layer during a winter when we will all need to find ways to stay warm, I am also going to make a personal donation from the sale of each pattern to the Trussell Trust.  If you've never heard of it before, the Trussell Trust is the charity behind food banks which are places where people who are struggling financially can go to get supplies of food and other essentials.  There are other organisations which provide food banks too and many are linked to churches or local communities, but my donation to the Trussell Trust will mean that the money goes into the pot to support food banks around the country and not just here where I live.
We shouldn't need food banks in this day and age.  Nobody should have to decide between buying food or paying bills, but the number of people who need help is growing.  These aren't people who are refusing to work or insist on relying on "handouts", they are people like you and me who, by a twist of fate, have found themselves between pay cheques, without work for a few shifts thanks to zero hours contracts, people who just can't manage on the wages they earn even though they might have two or more jobs … it's heart-breaking and although I've donated food and hygiene products to food banks for a long time, so many people need help that I wanted to do more.
If you choose to buy this pattern, you are helping me to help someone else, and I thank you very much for it.
You can find the Sofa Snuggle socks pattern here on Ravelry and if you're not a Ravelry member, you can use this button:

You can also find the pattern on Payhip here and on LoveCrafts here.
I'm going to donate £1.00 from the sale of each pattern to the Trussell Trust, and because there's no end in sight to people needing to use food banks, I'm planning to keep the donations going for the foreseeable future.  I'll update this post with the amount that I've donated so that you can see.
The pattern is quite long as it is two patterns in one; it's 11 pages but you won't necessarily need to print it all out so do take a look through it first.   The pattern has been tech-edited for errors so any remaining are entirely mine as I created the PDF, although I've checked it very carefully!
Thank you so much if you choose to buy the pattern, and I hope you enjoy knitting the socks!
Donations
November 2022           £435
December 2022           £45
January – October 2023           £35
You can find an errata for the pattern here.