LikeMinded Socks
Design inspiration comes in all sorts of different forms for me.
Sometimes, the idea pops into my head like a lightbulb going on and it's so bright that I have to do something about it straight away.  At other times, I might see or hear something and think, "Ooh, that would be a good idea for … whatever" and I will turn it over and over in mind until it forms into the shape that I want.
At other times, the idea is like a ghost at the back of my mind, slipping in and out of my thoughts, always just out of reach until the moment when it is ready to step forward into my consciousness and say "Now … now I am ready".  And that is what happened with this pattern.
It's inspired by social media, which might on the face of it seem to be an odd thing to base a sock design on.  It's not based on the technical wizardry and computer coding that makes it all possible, however, and it's definitely not based on the downsides of scrolling and trolling and media overwhelm – but on the good, positive, human side of it.  The side that outweighs all the nonsense, that connects us, uplifts us, teaches and inspires us.  That side of social media.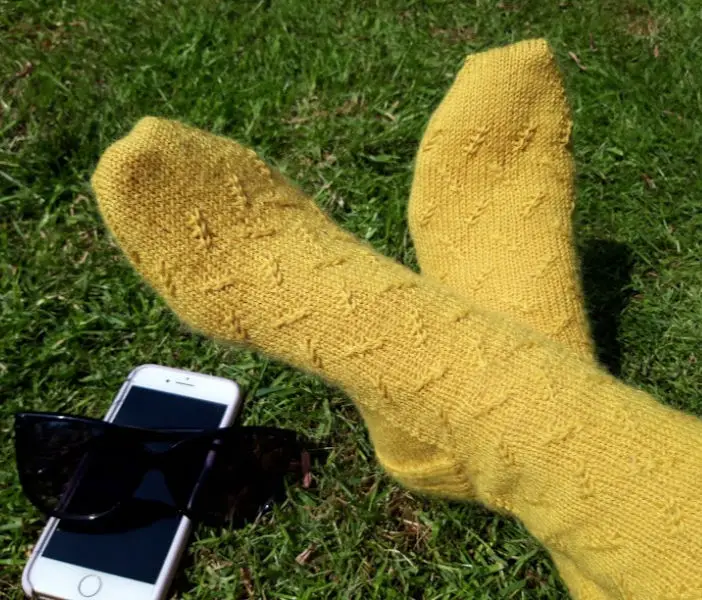 I spend a lot of time on social media; in fact, my whole Winwick Mum existence is based on it.  My blog, my Facebook page and groups, my Instagram account, my YouTube channel – it's how I connect with the world and it's how you connect with me.  It never ceases to amaze me that somebody, somewhere, is awake at any given moment.  Or that they are looking at weather that is completely different to mine – heck, they might even be in a different season.  There are birds in the trees and animals that I have never heard of but I can see pictures of them, and not just pictures from nature programmes but pictures from somebody's back garden.  It makes the world smaller, it brings us closer, and we are truly never alone.
It's these connections that have inspired these socks.  I've called them LikeMinded because that's what the connections speak of to me.  We choose to connect with people who like what we like, think how we think, share our interests or with whom we can exchange knowledge; like-minded people who enhance our lives, whatever our circumstances.  True, the internet is a double-edged sword, but the gift it can potentially give us is beyond measure.
The socks are knitted as top (or cuff) down socks, based as always on my Basic 4ply Socks pattern so if you can knit that one, you can knit these – or if you've never knitted socks before and these are your first foray into sock adventures, the Sockalong tutorials can help you along if you get a bit stuck.
They are a combination of plain knit stitches and twisted stitches which are easy to master, and the pattern fits perfectly with what I see in social media.  Look closely, what do you notice?  Knitting stitches that travel in zig zags or inter-connecting paths as our lives touch, even momentarily, and we are linked to people and places we might never otherwise know about?  And those twisted stitches?  Seeds knowledge, planted and freely shared across different countries and time zones … oh call me fanciful, but that's what I see!
The heel flap is knitted in Ribbed Heel Stitch which creates a slightly stretchier heel flap; another option for those who generally find them too tight.  Oh, and that lovely golden buttery coloured yarn?  West Yorkshire Spinners Signature 4ply in the shade Butterscotch.  I have to say that seeing the colour in the ball doesn't really do it justice, but when I was knitting it up, I absolutely loved the golden glow and it made me very happy!  The colours in the photo are very much as the colour is in real life.  Small daughter has her eye on these socks as it's her favourite colour – actually, I must just check where they are …
Unlike most of my blog patterns, this pattern is not available for free here on the blog, but is for a paid-for pattern which you can find on the Ravelry project page here.  If you're not a Ravelry member, you can use this link:

You can also find the pattern on Payhip here and on LoveCrafts here.
This is because money from the sale of each pattern, inspired by friendships on the internet, is being donated to the charity chosen by the family of Janice, an online friend whose own generosity with her seeds of knowledge helped more people than she probably ever realised.
£2.00 from the sale price will be given to Fitzroy, a charity dedicated to transforming the lives of people with learning disabilities, for the month of May 2020.  A donation of £400 was made to the charity – thank you! xx
The pattern is a 7-page PDF with written instructions and charts for the pattern.  It has been tech-edited for errors so any remaining are entirely my handiwork as I have created the PDF – although of course I have checked it very carefully!
Thank you very much if you choose to buy it, and I hope you enjoy knitting it! xx