WYS Christmas yarns and socks 2020
Well, have I got something lovely to talk to you about today!
I haven't been able to say much about what I was knitting over the Spring and Summer this year, but now all can be revealed … in fact, you may have seen what I was up to and started to knit it for yourself!  (It's such fun to be cryptic sometimes! 🙂 )
Have you guessed?  It's the West Yorkshire Spinners Christmas 2020 yarn!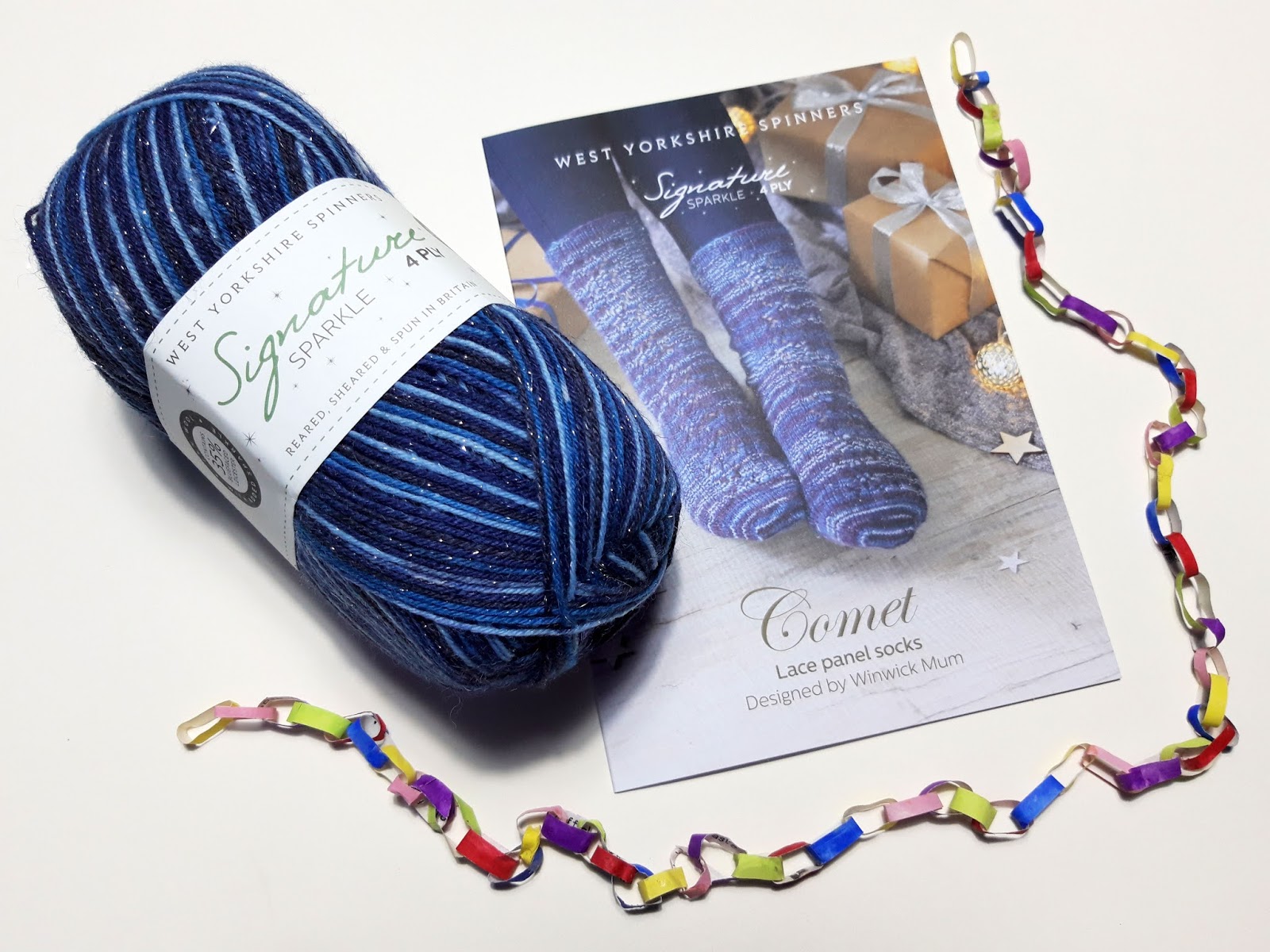 I know it's only October but we knitters have to work to a different timescale sometimes and especially if we're gift knitting.  That's why West Yorkshire Spinners released their Christmas yarns in September – I was thrilled to be asked to design their Christmas sock pattern again this year and that's why I needed to be knitting Christmas socks during these long hot weeks we had over the Spring and Summer!
Not just one sock pattern, though … this year is a bit different.  Read on – although do be warned, this is a long, picture-heavy post!
Every year for the last 5 years, West Yorkshire Spinners have released a new yarn especially for Christmas.  First was Holly Berry, then Candy Cane, Fairy Lights and Robin (the Robin pattern has been renamed Blitzen – I'll explain later), and each of them came with a free sock pattern – still available on the WYS website if you click the links above for each sock colour.  I designed the patterns for Candy Cane, Fairy Lights and Robin, and every year it's been a joy to see how these special Christmas colours knit up and to explore what I could do with them.
Holly Berry and Robin became permanent additions to the WYS Signature 4ply range and have been very popular, as you can imagine.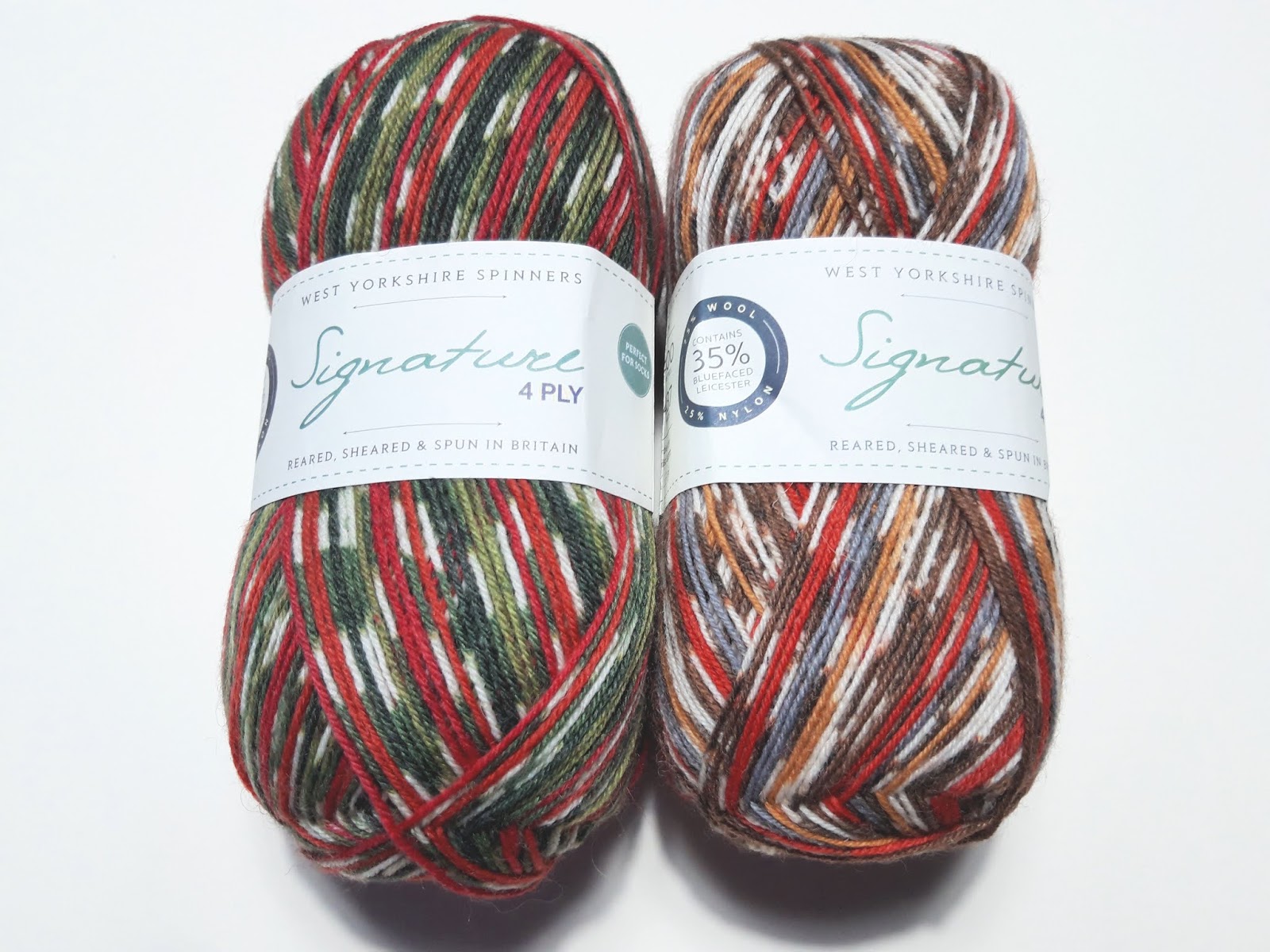 Candy Cane and Fairy Lights were produced as limited edition yarns and both were again very popular.  They're quite different to the more muted colours of Holly Berry and Robin, aren't they?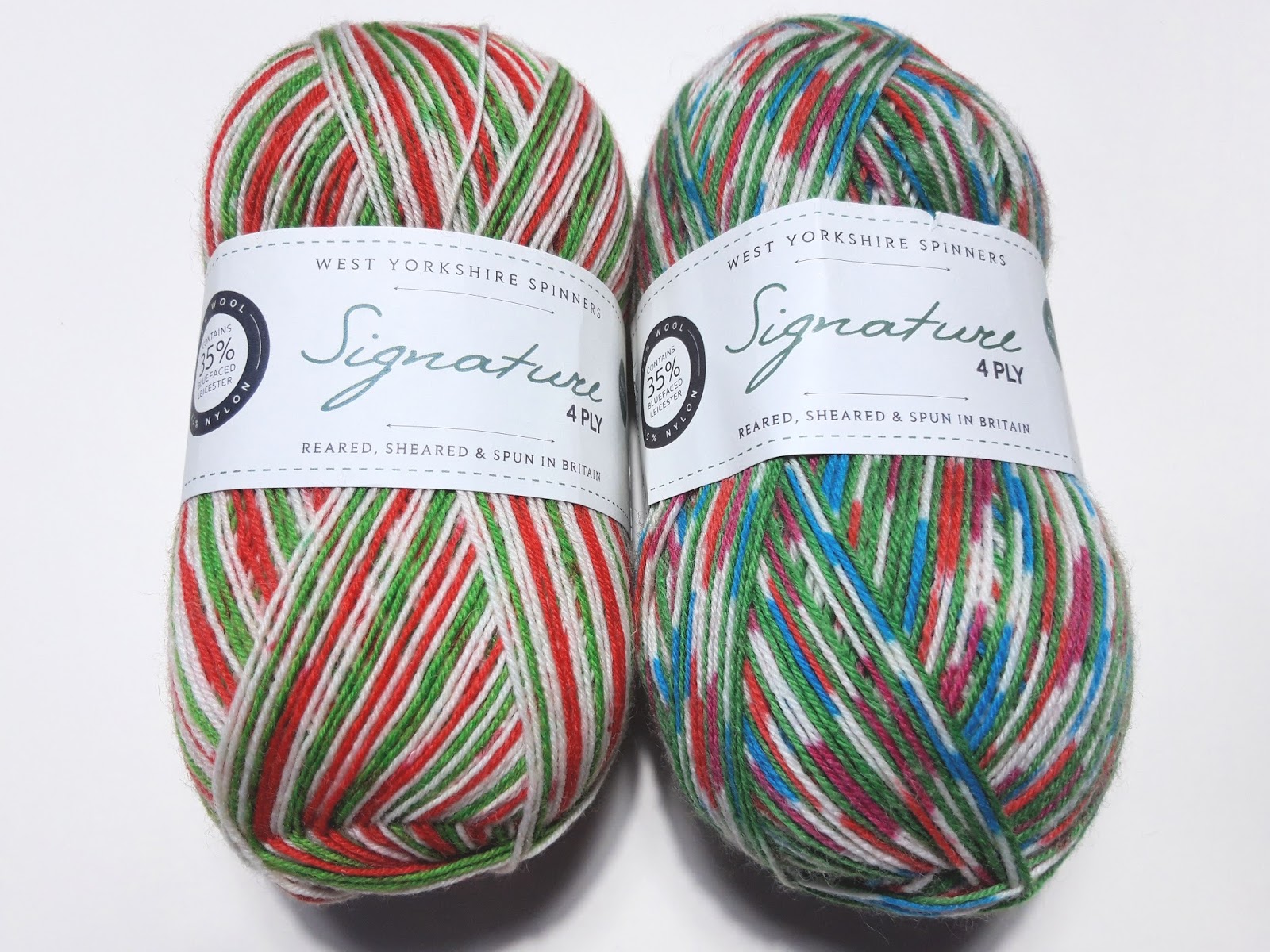 All of the yarns are striped; Robin matches the other yarns in the Country Birds range, Candy Cane is made up of just three colours which looks very effective, and Holly Berry and Fairy Lights are also striped in a way that will be familiar to those who have knitted with WYS yarn before.  Oh, they are so good at creating striped yarns!
This year, the WYS Christmas Elves were looking to do something a little bit different.  Waaay back in the Spring they asked whether I would be able to design the new pattern for them, and of course I snatched their hands off!
"What's the yarn going to look like this year?" I asked.
"Ah well, it's still in production so we can't tell you," they said (producing yarn is a secretive business and I'm only told what I need to know!)  "But we can tell you that it's called "Silent Night" so imagine a Christmas card …"
Oh, I could see it in my mind's eye immediately – a dark night with a bright star above a stable.  Shades of blue and silver; a thousand images from a childhood growing up with Christmas traditions and stories.  Can you see it too?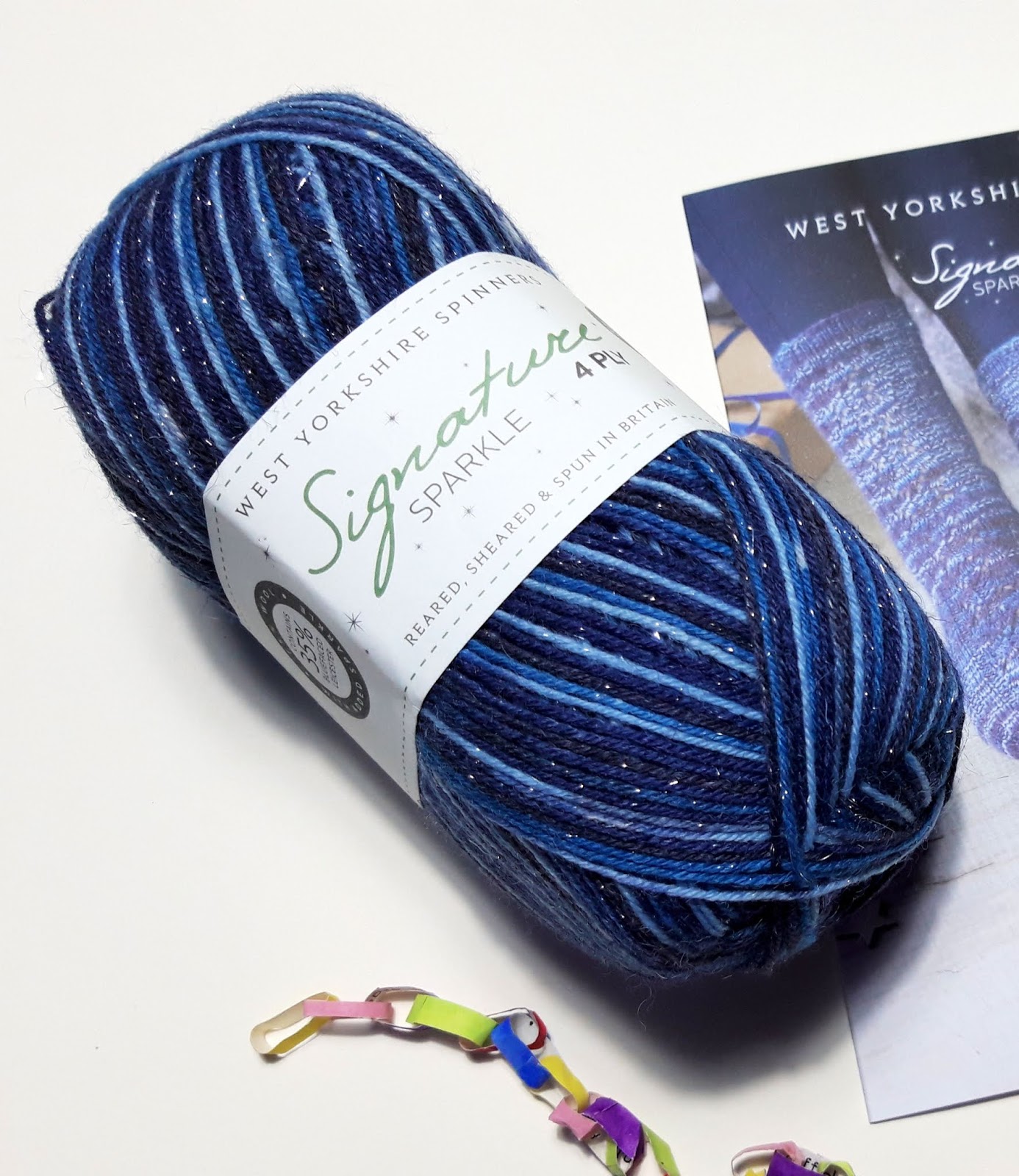 What's special about the yarn this year is that it's got a sparkle to it (it's called Signature Sparkle), a silver thread that runs right through the yarn and catches the light when you knit.  And what you also need to know – most importantly – is that it's not scratchy at all (scratchy sparkly yarns are not nice to knit or wear!).  It was the first thing I asked about, and the WYS Elves said that it was most definitely not scratchy because that was high on their list of priorities too.  This is what I like, a yarn company on my wavelength!
It's also not striped, or rather, not striped in the same way as the others.  The lines are much more subtle and I think it makes a lovely change.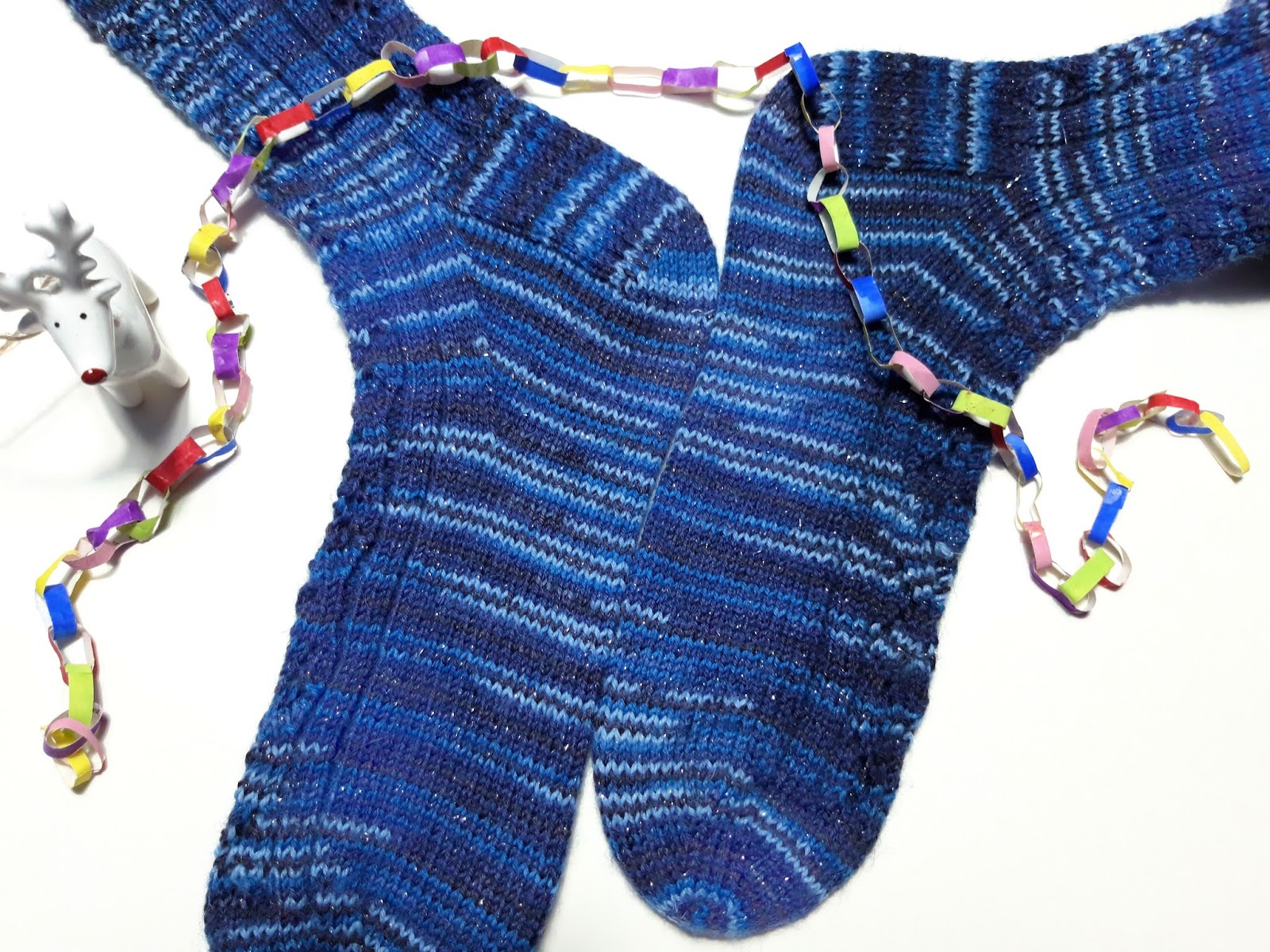 I made a grab for my stitch dictionaries.
"Wait, there's more," said the WYS Elves.  "We're going to bring back Candy Candy and Fairy Lights this year because we know that people have missed using them – and we're going to make Fairy Lights in Signature Sparkle too!"
Oh wow!  TWO sparkly yarns!  And a new pattern for each of them … I went to get some more ice for my drink and sat in the shade to think about it all 🙂  This year, there would be FIVE Christmas yarns to choose from, a new free pattern for Silent Night and a pattern book with patterns for each of the yarns.  That was just Christmas-tastic! 🎄
And now, in October, I can tell you about them all.
I've already shown you the yarns, but now I can talk to you about all the knitting I've been doing and show you the patterns too!
As you'll know, I always try to write my patterns so that they're not beyond anybody who wants to give them a go.  Having knitted a basic sock helps, but I firmly believe that when a pattern calls to us then we're much more likely to give it a go and finish it, no matter whether we might think it's beyond us or not.  It's good for us to be fearless knitters and step out of our comfort zones once in a while!
Here's the pattern for the Silent Night yarn, first of all.  It's called Comet, as all of the patterns are named after Father Christmas's reindeer (I told you I would explain!).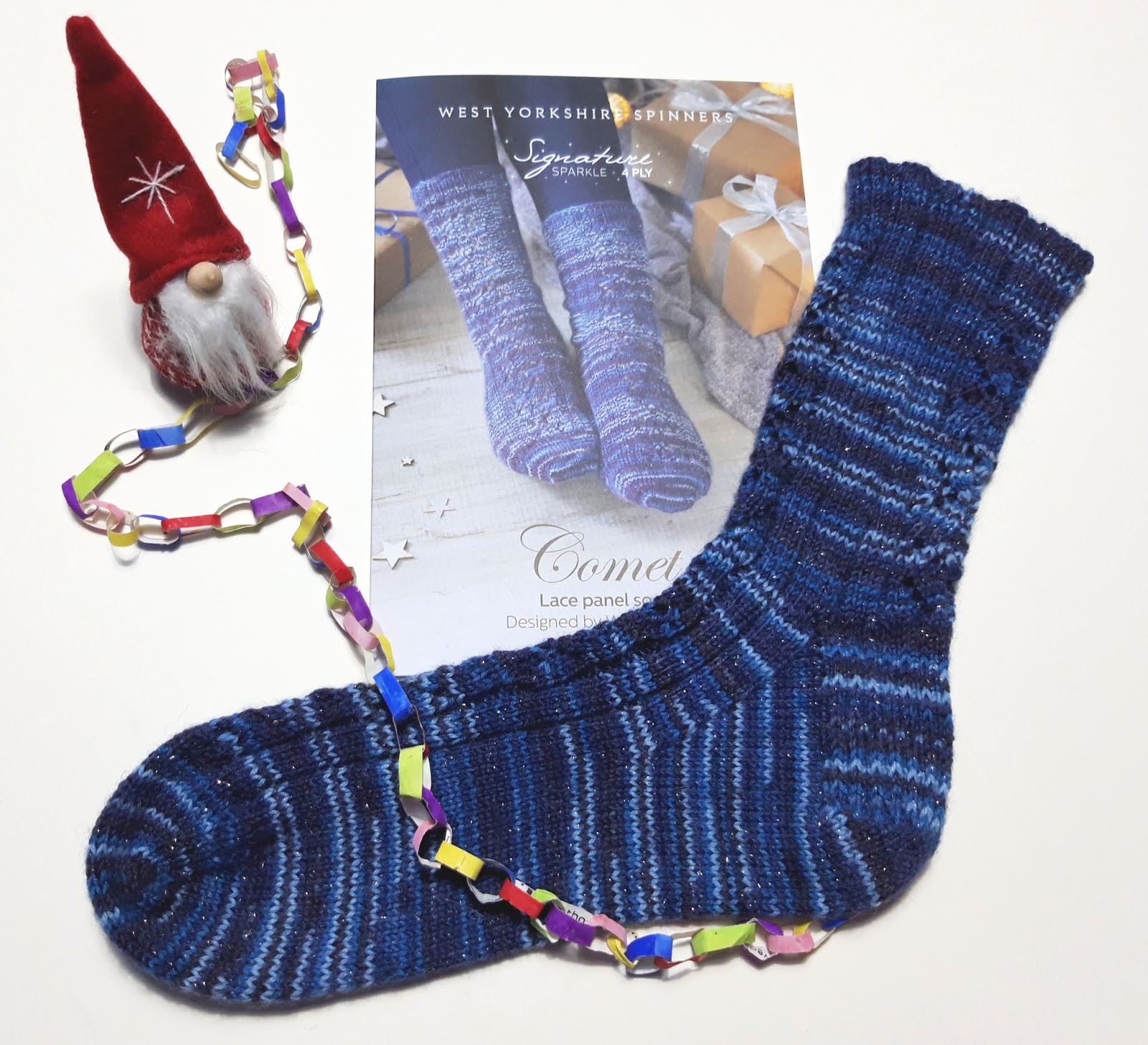 It's a mid-calf length sock with a lace panel down the centre which is repeated on the back of the sock, although of course you could knit that plain if one lace panel was enough for you.  There are rib sections down the sides to give a good fit and the lace panel is 20 rounds long which means that whenever you've completed a panel section, you've knitted a fair portion of your sock too which is always encouraging to see on your needles!
A physical copy of Comet is free with each ball of Silent Night purchased (whilst stocks last) but you can also download a copy of the pattern from the WYS website here.  I designed it to work with Silent Night, but of course it would look good with any of the Signature 4ply colours, and also the solid shades too.
Now let me tell you about the pattern book!
I love this little book!  It's A5 sized so is a great size to fit into a project bag or sit next to you wherever you are knitting, and in an inspired move, WYS now produce their pattern books in spiral bound format so that it's easy to keep the pages flat whilst you're working.
It contains seven patterns, including the free Comet pattern for this year, so there's plenty of knitting packed into a small space!  They're all written for four sizes, and there's something new in there as well so read on …
Dasher is knitted in Holly Berry.  It's a simple rib and texture pattern, ideal as a first step away from a basic sock into something that takes a bit more thought, but the pattern is so easy to remember that you'll fly through this pair.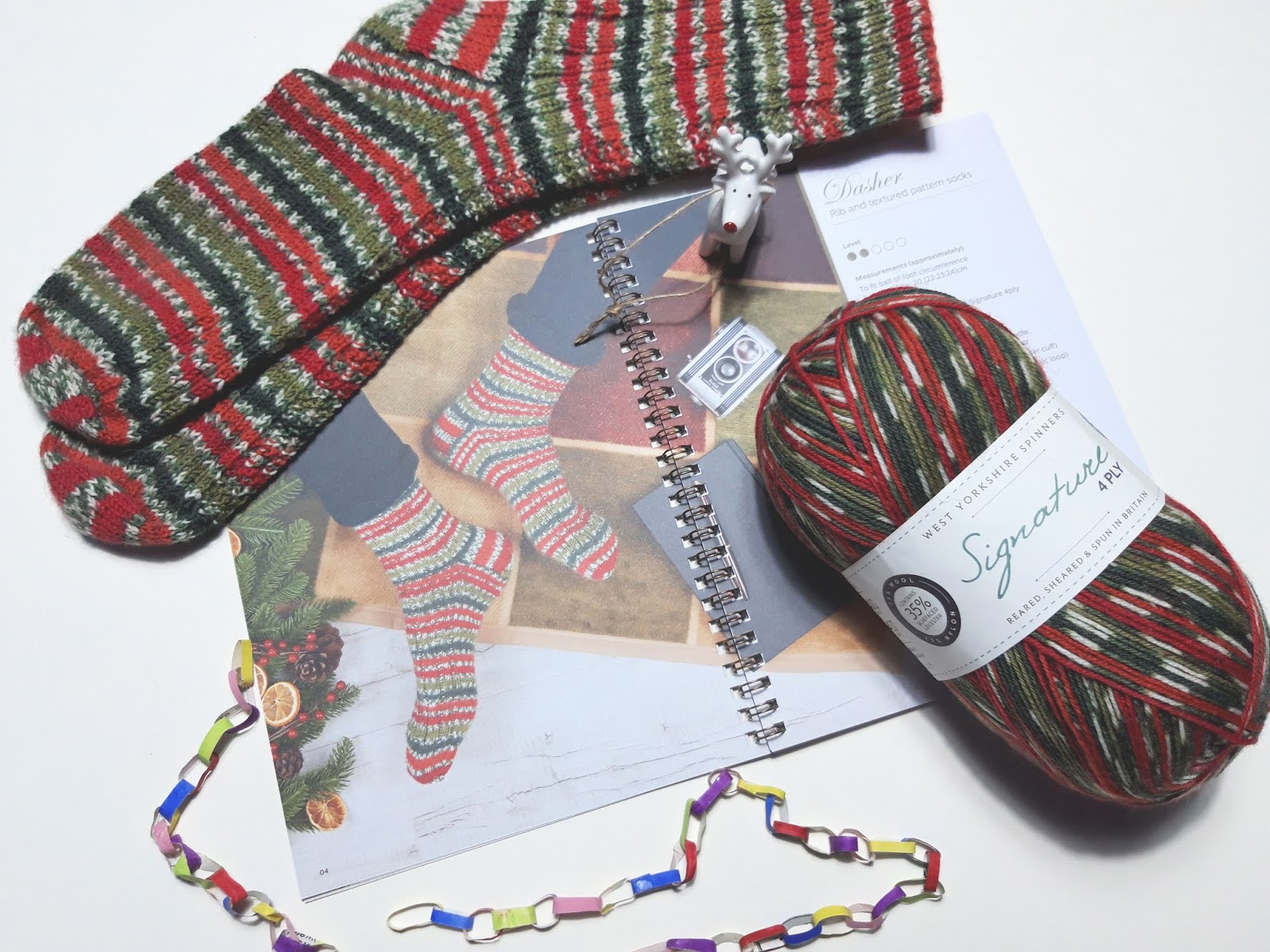 Here's a close up of the pattern so that you can see how easy it is …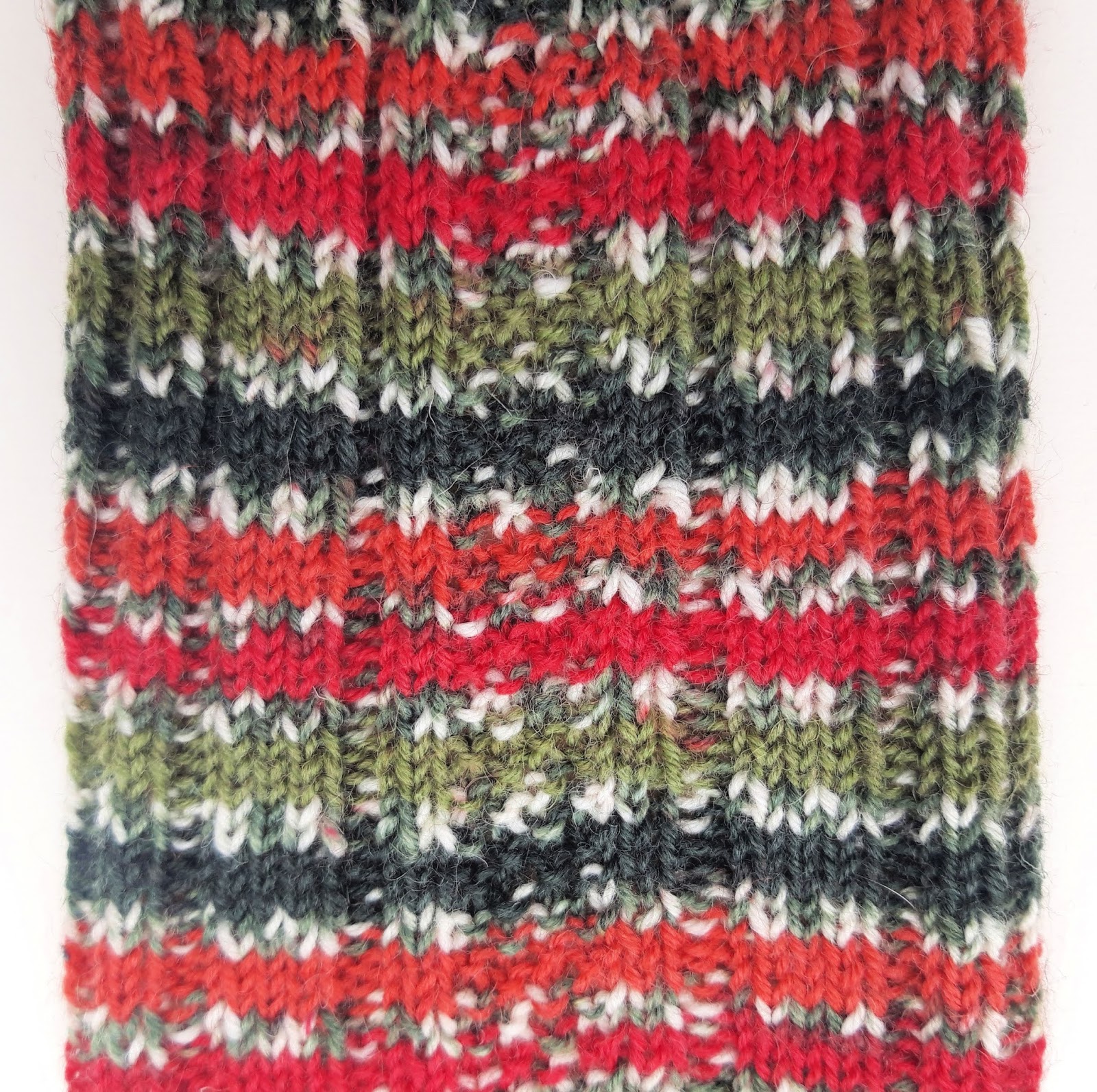 The pattern reminded me of tyre tracks on snow, and they'll be super-comfy inside wellies and walking boots during the colder weather.
Prancer is knitted in Candy Cane.  Ooh, those delicious colours!  I wanted to create something that reminded me of the twisted sweeties that the yarn is named after, so I used twisted stitches to create stripes of texture between the knitted rib sections.  This pattern is only 4 rounds so you'll soon have it memorised and be twirling your way down your socks!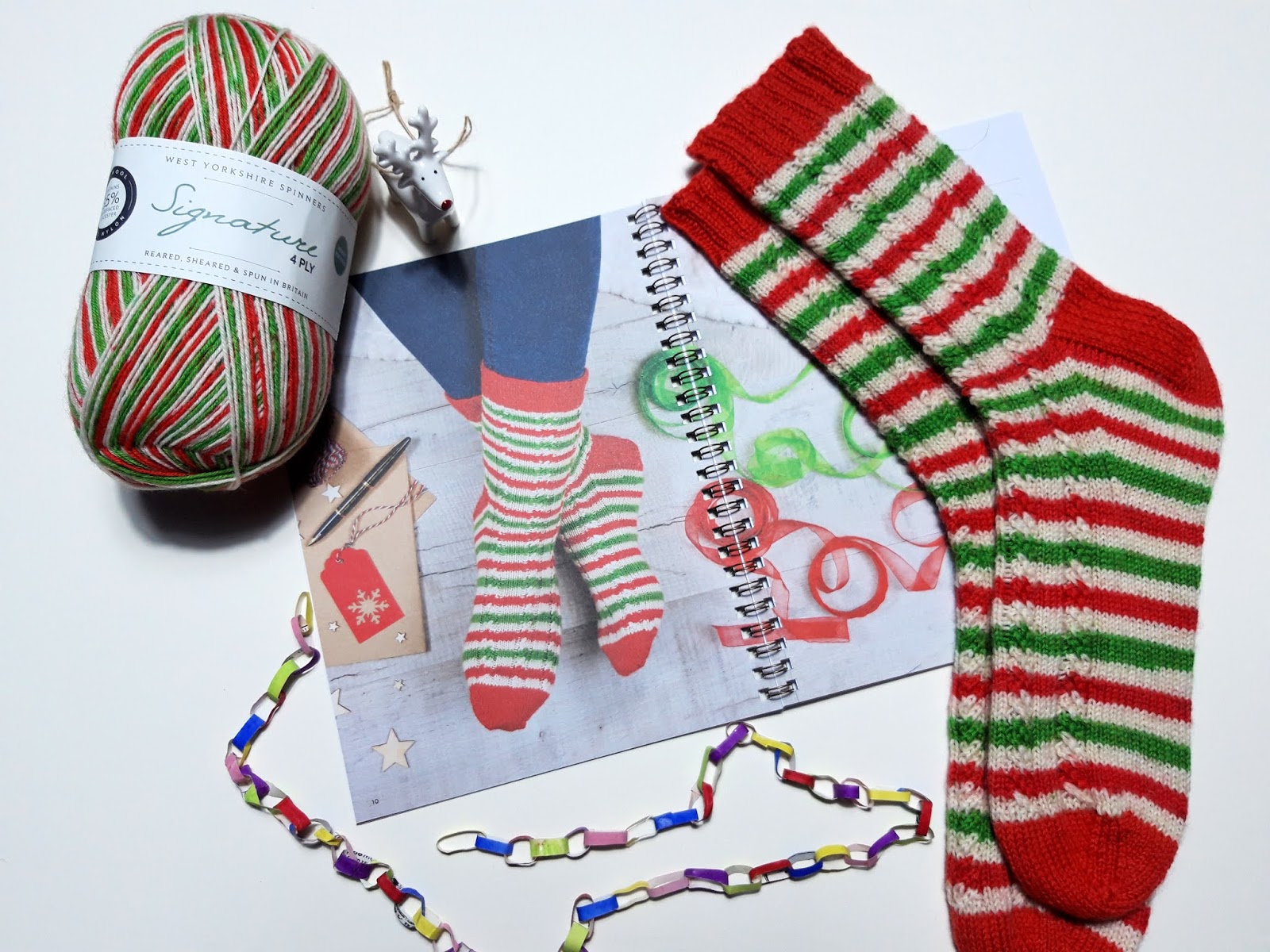 Here's a closer look at the twisted pattern …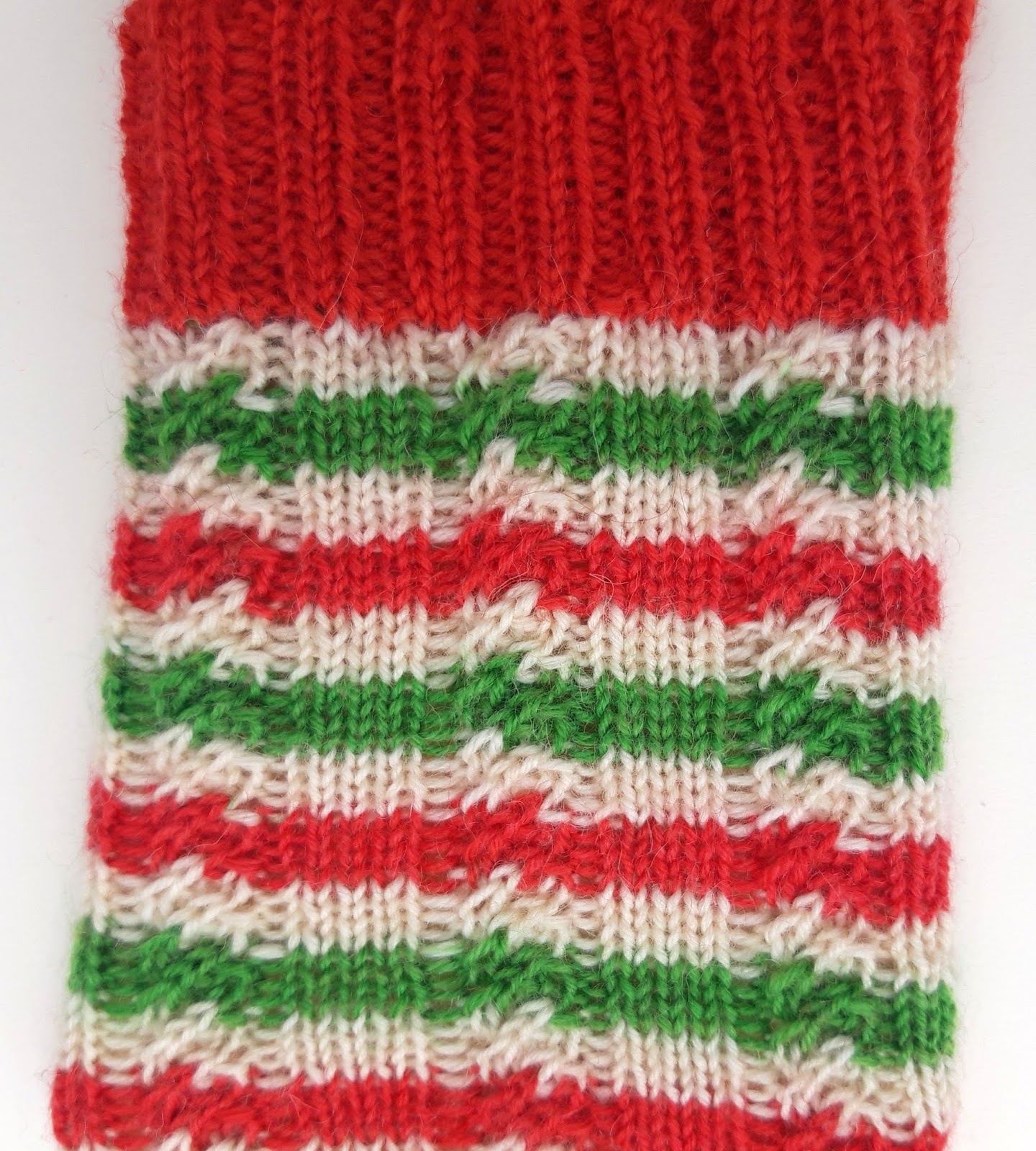 Both socks are knitted the same but the heel is worked on opposite sides so that the twists run in opposite directions on both feet.
Blitzen is knitted in Robin.  It's a paperchain cable design – you may well have knitted it last year as it was the pattern that came with the yarn, but the WYS Elves wanted to include it here as well because it's been such a hit.  What's not to love about paperchains?  I think they used to be one of my favourite things about pre-Christmas preparations – colouring in strips of paper and then sticking them together to make the chains.  When I was very small, I can remember seeing them strung across the ceiling in our house with other paper decorations, and sometimes we would come downstairs in the morning to find the whole lot on the floor and my Dad would have to stick them back up again.  I bet he was always very glad when it reached Twelfth Night!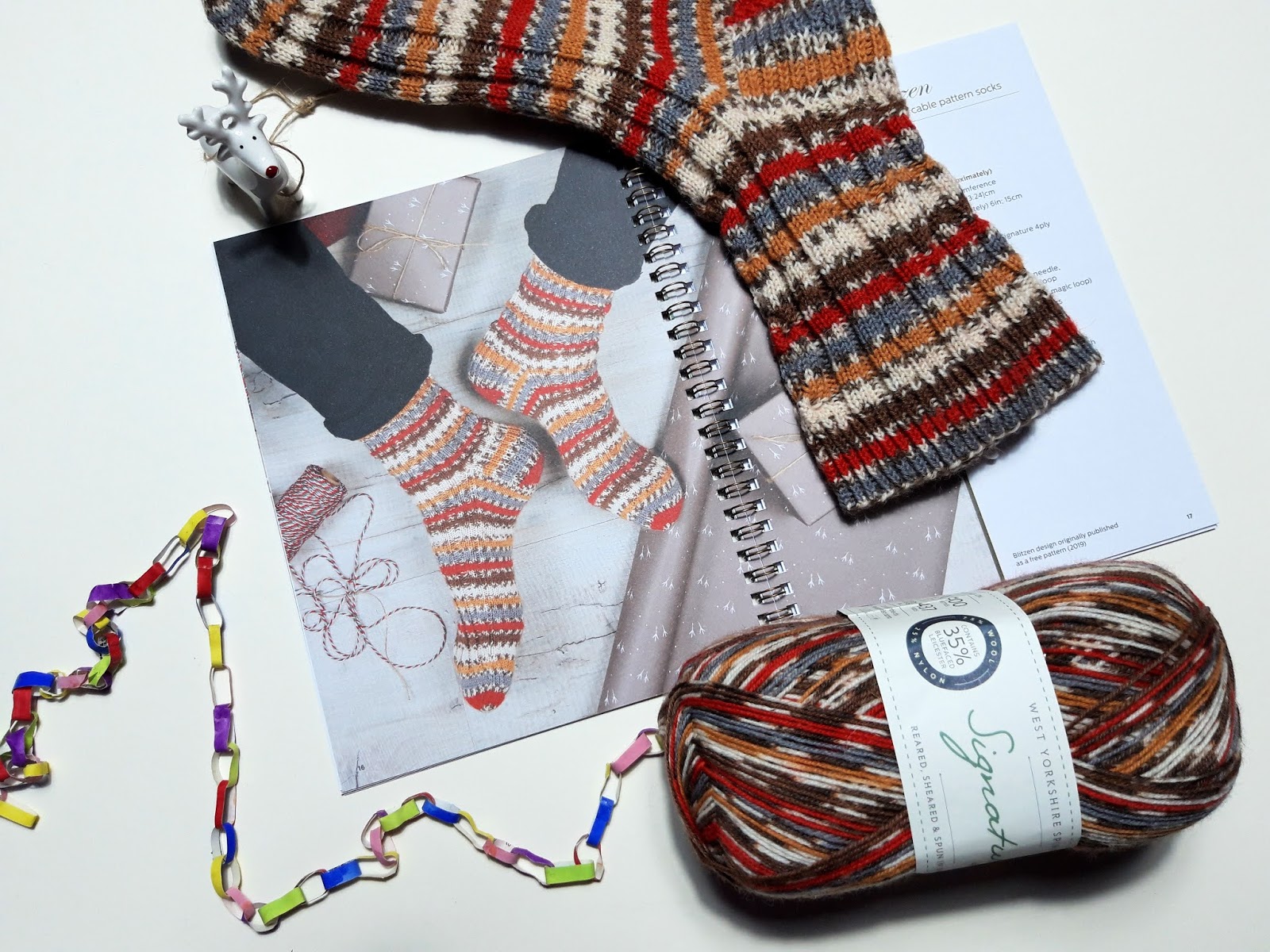 The cables are worked on the front and the back of the sock, but again you could choose just to work them on the front if both was a bit out of your comfort zone.
Dancer is knitted in the new sparkly Fairy Lights yarn.  Oh what fun this was to create!  I spent a long time searching for just the right stitch to evoke the idea of fairy lights but without all the tangled cables and testing each bulb to see that they worked!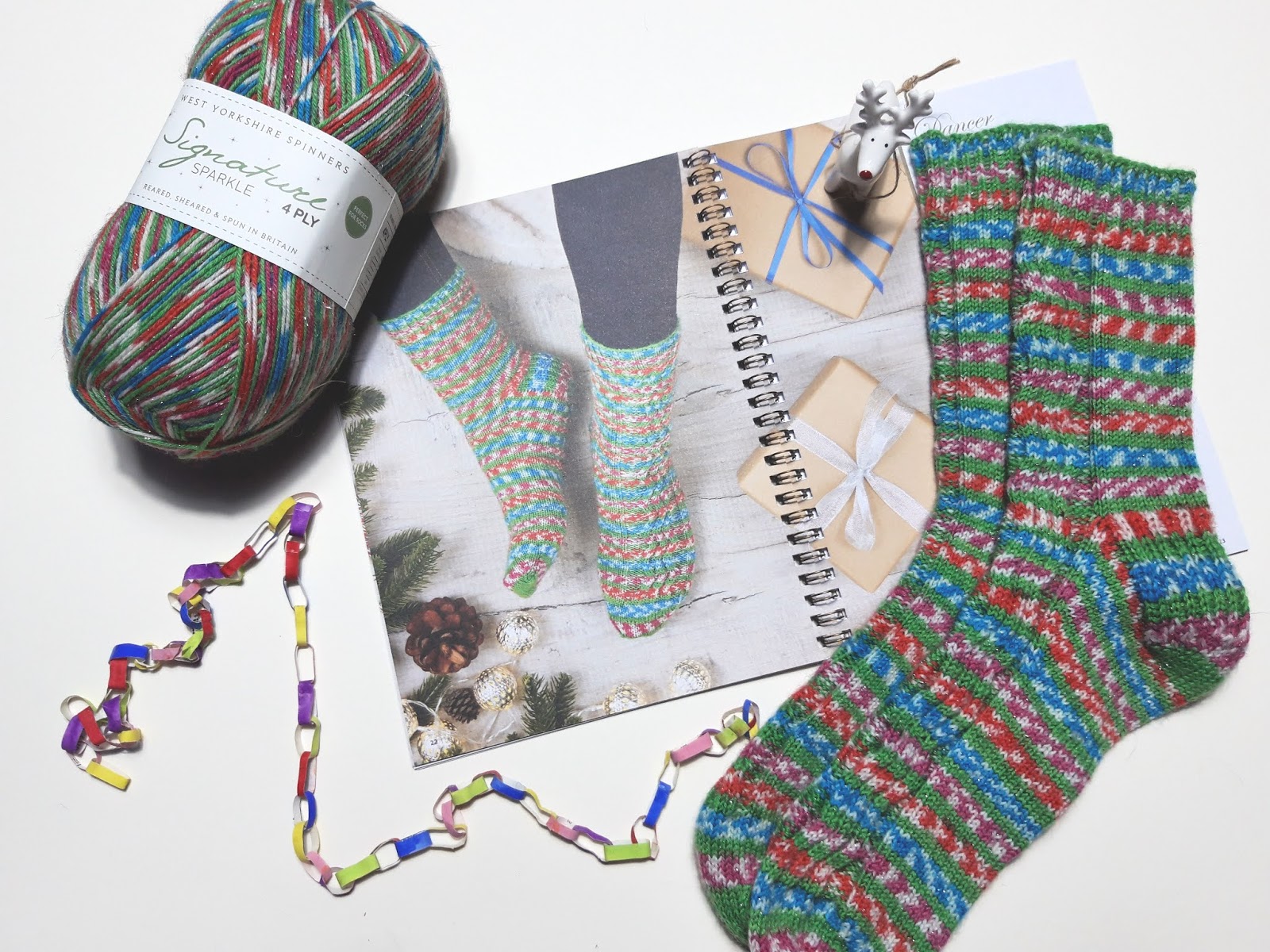 The cables are designed to flow in opposite directions on each sock so that it doesn't matter which way round you put your socks on, the cables will complement each other.  I loved the way that they turned out, zig zagging down the socks but still keeping the colour stripes in line.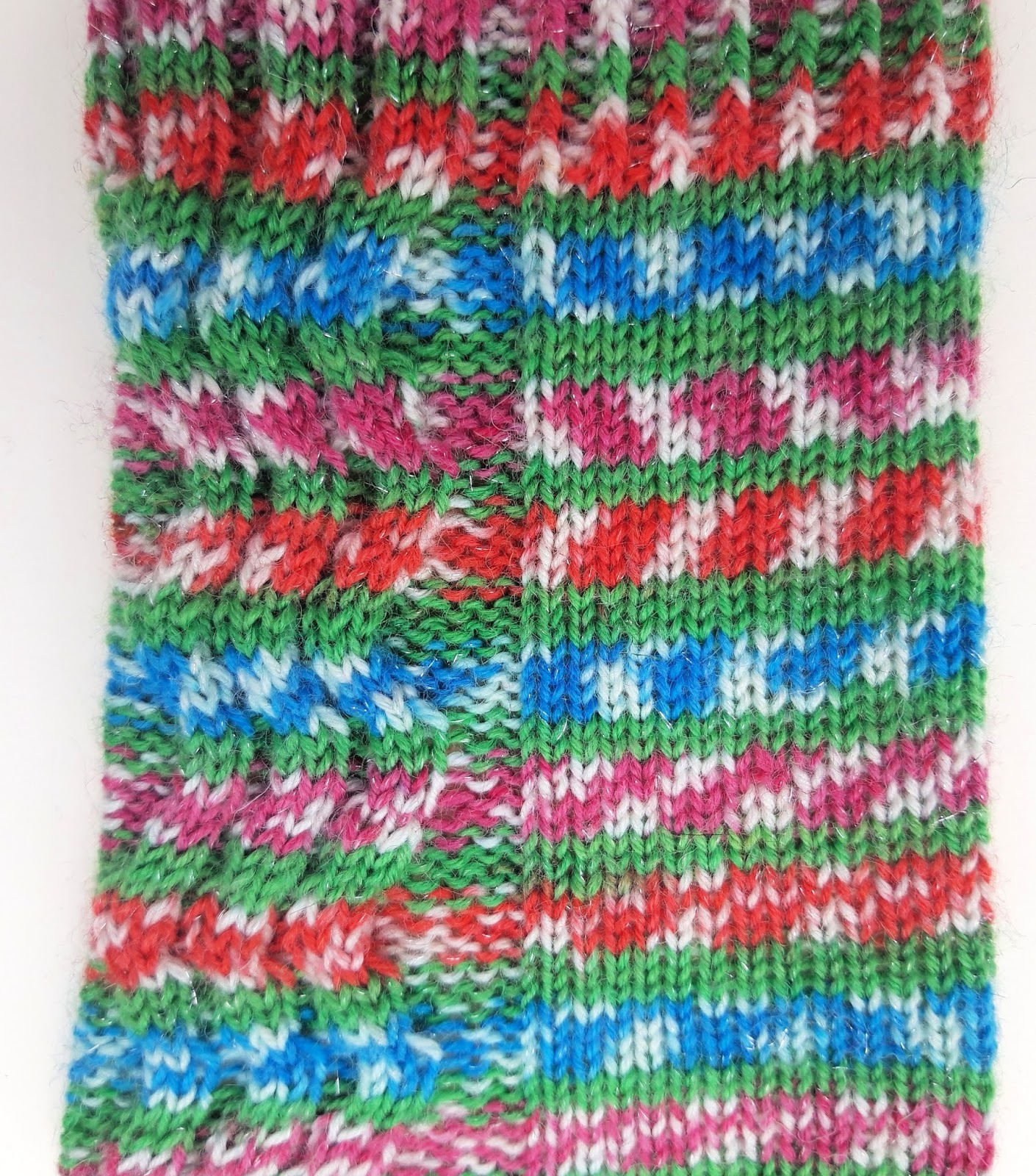 And finally, there are two more patterns in Silent Night.  Yes, you read that right – TWO more patterns!
The first is something completely different … a knee high sock!  At first, when WYS mentioned that they would like a longer sock, I wondered who would wear them because I haven't worn knee high socks since I was at school – and almost as if you had heard me, I suddenly got a flurry of messages and posts in my Facebook groups asking me about them!  It was definitely a sign, I thought, and reminded me that just because I haven't worn knee high socks for 30 years, it doesn't mean that other people don't wear them either!
Well, always up for a knitting challenge, I set to work!  The main design element of knee high socks is getting them to fit your calf.  I knew the theory of it because I'd talked about it with people before, but now I had to work out the maths to go with it – and the result is in the pattern book!  I have written the patterns for four calf sizes so hopefully there should be one that fits, even if you have larger calves as many people told me they had and that was what put them off.  And then I wanted to make sure that there was a longer sock version for those who might not want to go all the way up to their knees, so there's a slouch version too.
Vixen, the knee high and slouch sock pattern, is written with the same lace panel as Comet down the front of the sock, but with ribbing down the back to accommodate calves of different sizes – if you don't want to go knee high, you can use the slouch version and it will still go higher up your leg than the mid-calf version because of the ribbing.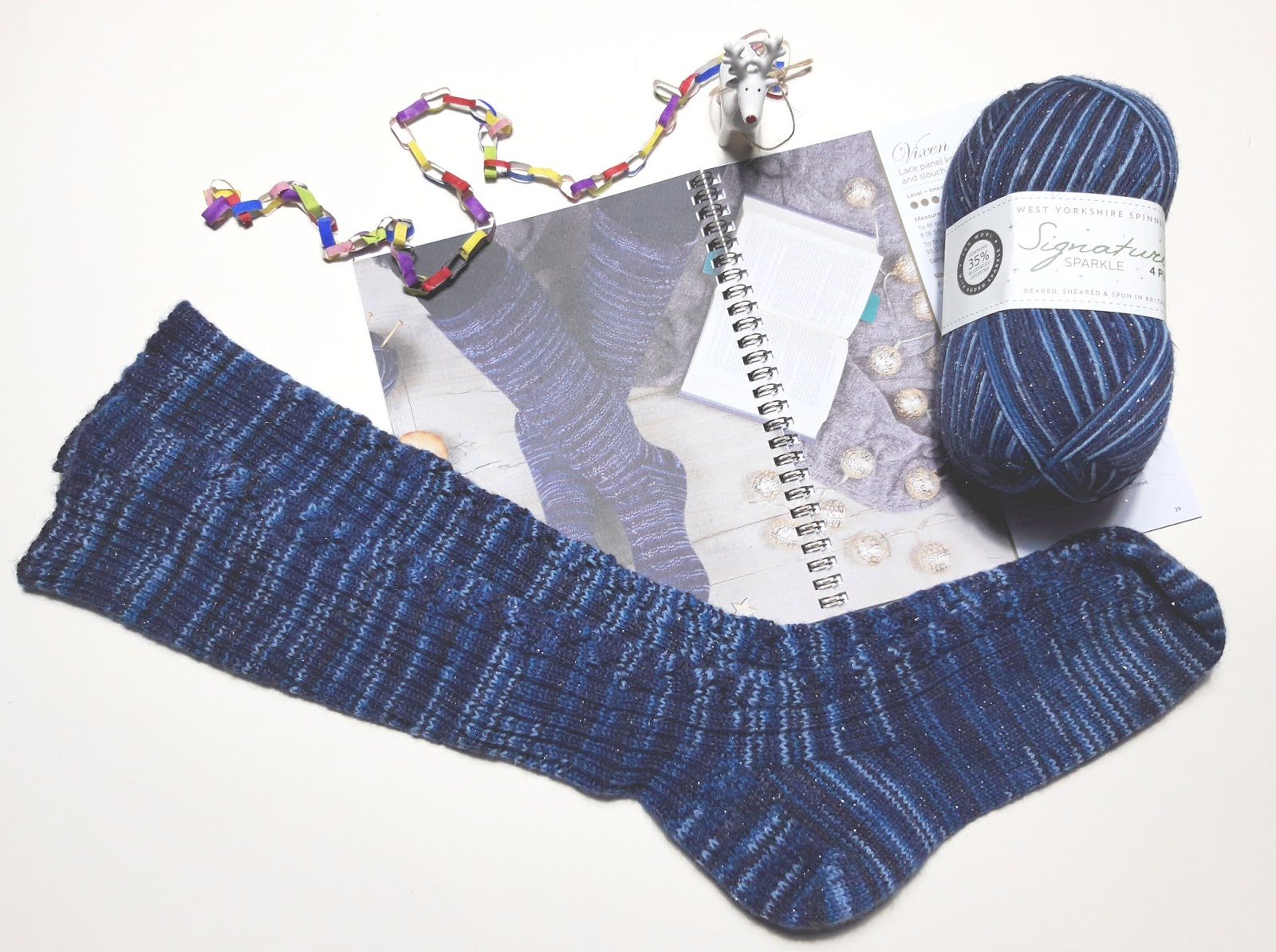 There isn't a photo of the slouch version to show you as it's very similar to the other two, but this is what the decreases look like on the knee high version so you can see how they work.  I was very pleased with the way they turned out – they reminded me of branches of a tree (a Christmas tree, perhaps? 🙂 )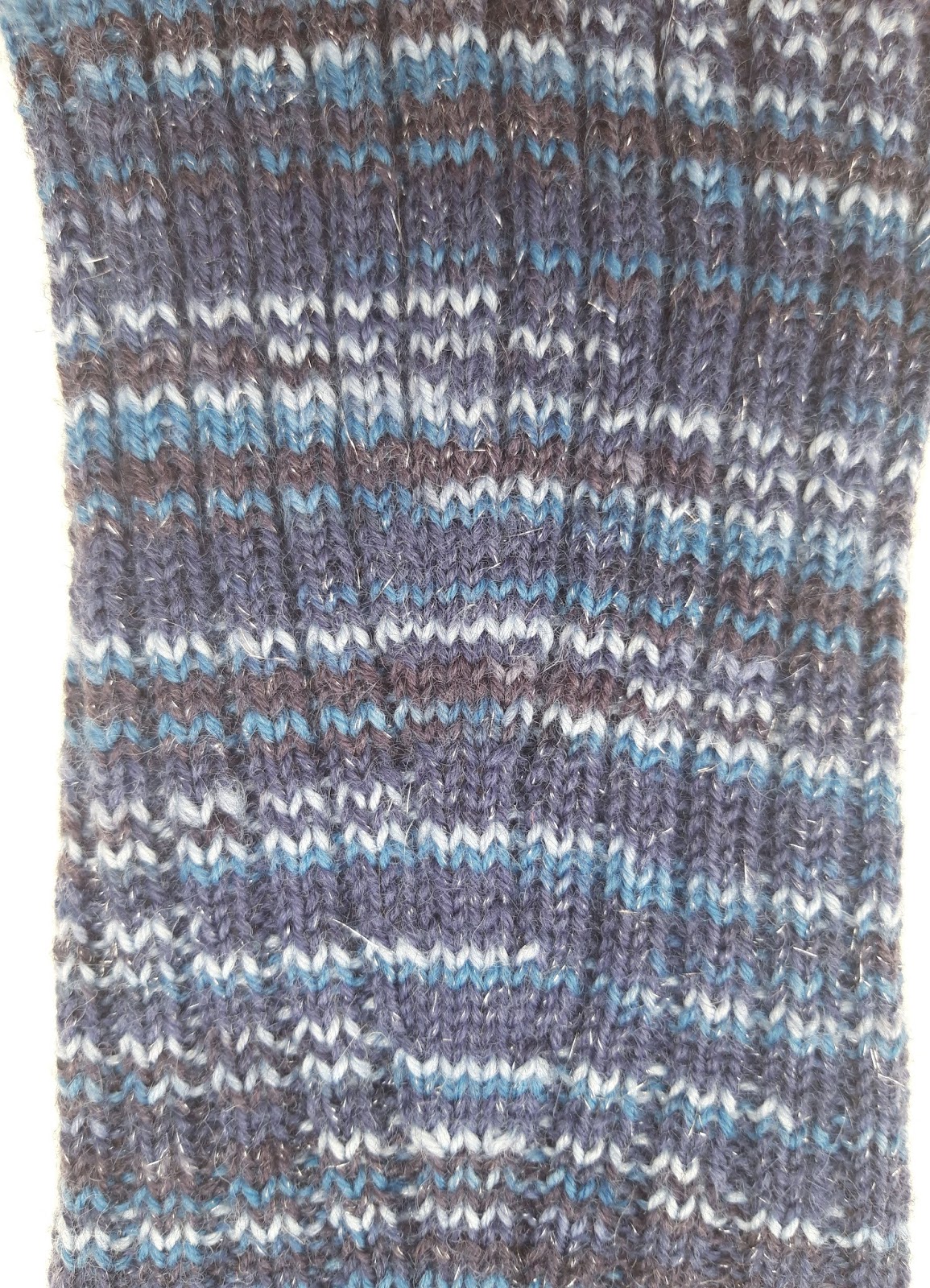 Phew, that's a lot of Christmas sock knitting right there!  It's been lovely to see so much of it around on social media already, but of course there is still time to get started if Christmas socks were on your list, either for you or someone else.
Now, the next question is where you can get all of these luscious yarns and the patterns from!  Well, any WYS stockist should have them – they've been selling like hot cakes so far, from what I can see, so I don't think you should have trouble finding them if you've got a WYS stockist near you.  Here's the link to the stockists page so that you can see if there's anyone near you in your country, as WYS yarns are also available overseas.
Alternatively, you can buy online – try the stockist list to see if there's anyone in your country who could post out to you, or one of the UK stockists – CityKnits*, Northern Yarn*, Black Sheep Wools and Wool Warehouse usually have stock and it's worth trying the smaller yarn stores too as all of the yarn shops need our support (especially now!).
You can also enter my FABULOUS giveaway!  YES!  You really did read that right and let me tell you what I've got to post to one lucky winner …
My lovely friends at West Yorkshire Spinners have been very generous and I have one of each of the five balls of WYS Christmas yarn, a copy of the Comet free pattern and a copy of the pattern book containing the seven sock patterns.  Woohoo!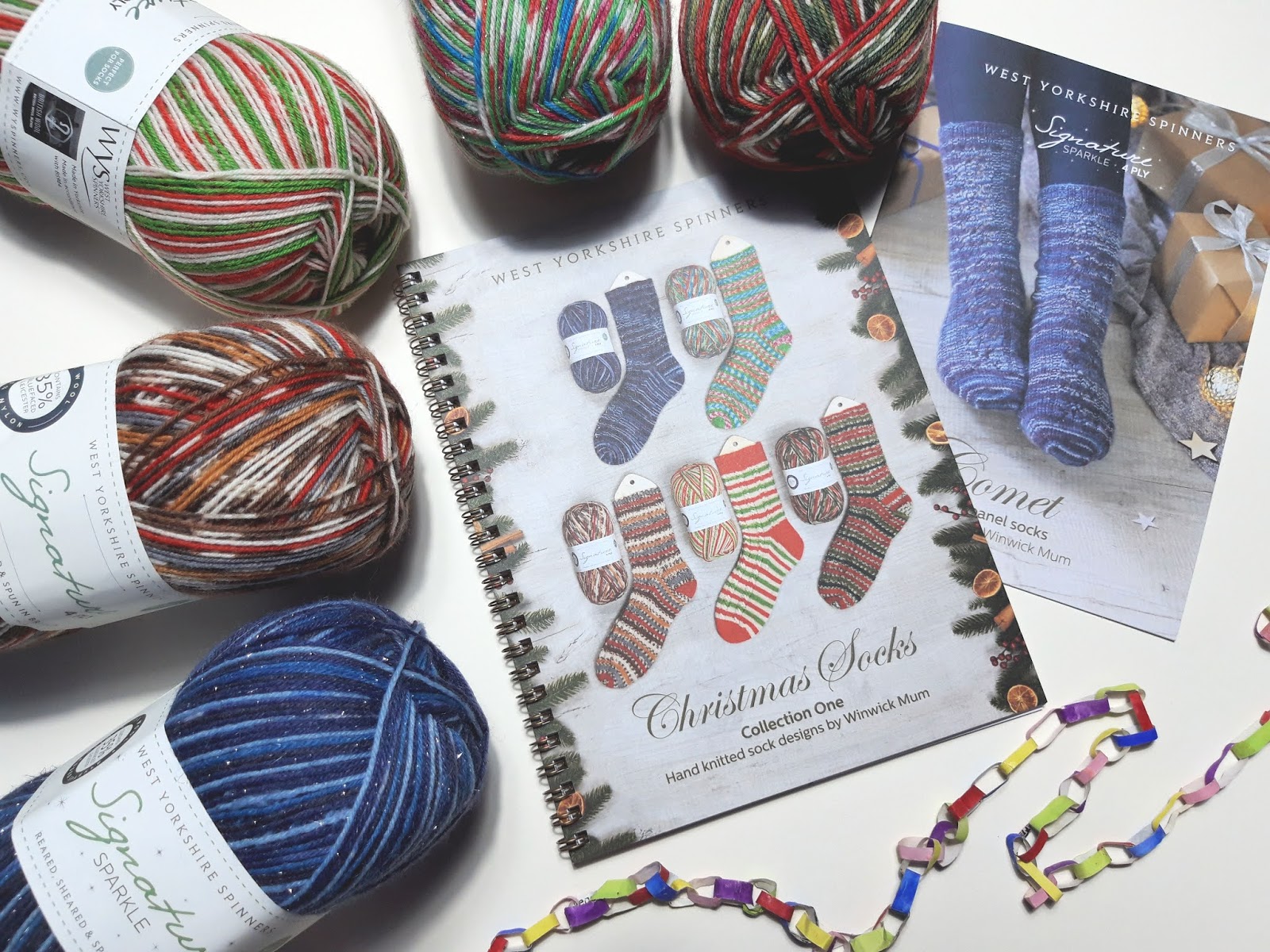 To enter the giveaway, please tell me which of the Christmas colourways is your favourite.
Entries to the giveaway will close at 8pm BST on Wednesday 28 October 2020 and I will let you know the winners as soon as possible after that time (it may get to Saturday but I won't have forgotten! 🙂 ).  I am happy to post the prizes anywhere in the world so don't feel that you can't be part of this because you don't live in the UK.  Don't worry if you don't have a Google or blog account to leave a comment, you can leave it as "anonymous" but don't forget to put your name in the comment so that when I post the winners I'll be able to identify you so that you can get in touch for your prize (and please do come back to check if you're a winner)!  Oh, and also don't worry that your comment doesn't show straight away – the comments are set for me to check them before they upload to the blog to make sure that no spam gets through so they are all safely stored in my blog messages until I've seen them.  I'll make sure they're all uploaded on time!
There will be another giveaway over on Instagram and it's OK to enter twice if you would like to – and I know that some people struggle to leave comments on Blogger so that might be an option for you instead.
Good luck with your entry – and with your Christmas knitting, whatever you've got lined up to finish before Father Christmas and his reindeer make a landing on your roof! 🎄
*affiliate link