Peru socks update
Now that we're into August, it's quite amazing how quickly the time has gone since the beginning of June when I started knitting socks for big daughter to take to Peru with her.  She was only allowed to take 4 or 5 pairs with her for the whole month that she was away and much to my delight had asked whether some of those pairs could be hand knits.
I decided to use it as an opportunity to do some research into British yarns so that she could take a bit of where she came from with her, and whilst I was at it, I decided to look more into the idea of using yarn that didn't contain nylon but instead used a blend of different fibres to create a natural alternative.  Just because I could, really – I'm learning more and more about different yarns and how they work and I'm interested.  There's always something new to learn!
I eventually chose Hebridean Wool with Mohair from Blacker Yarns and you can read more about it and why I chose that yarn in this post.  I was able to knit two pairs of UK size 6 socks from three 50g balls with yarn left over for less than the price of one hand-dyed skein of yarn so I was very happy with my choice.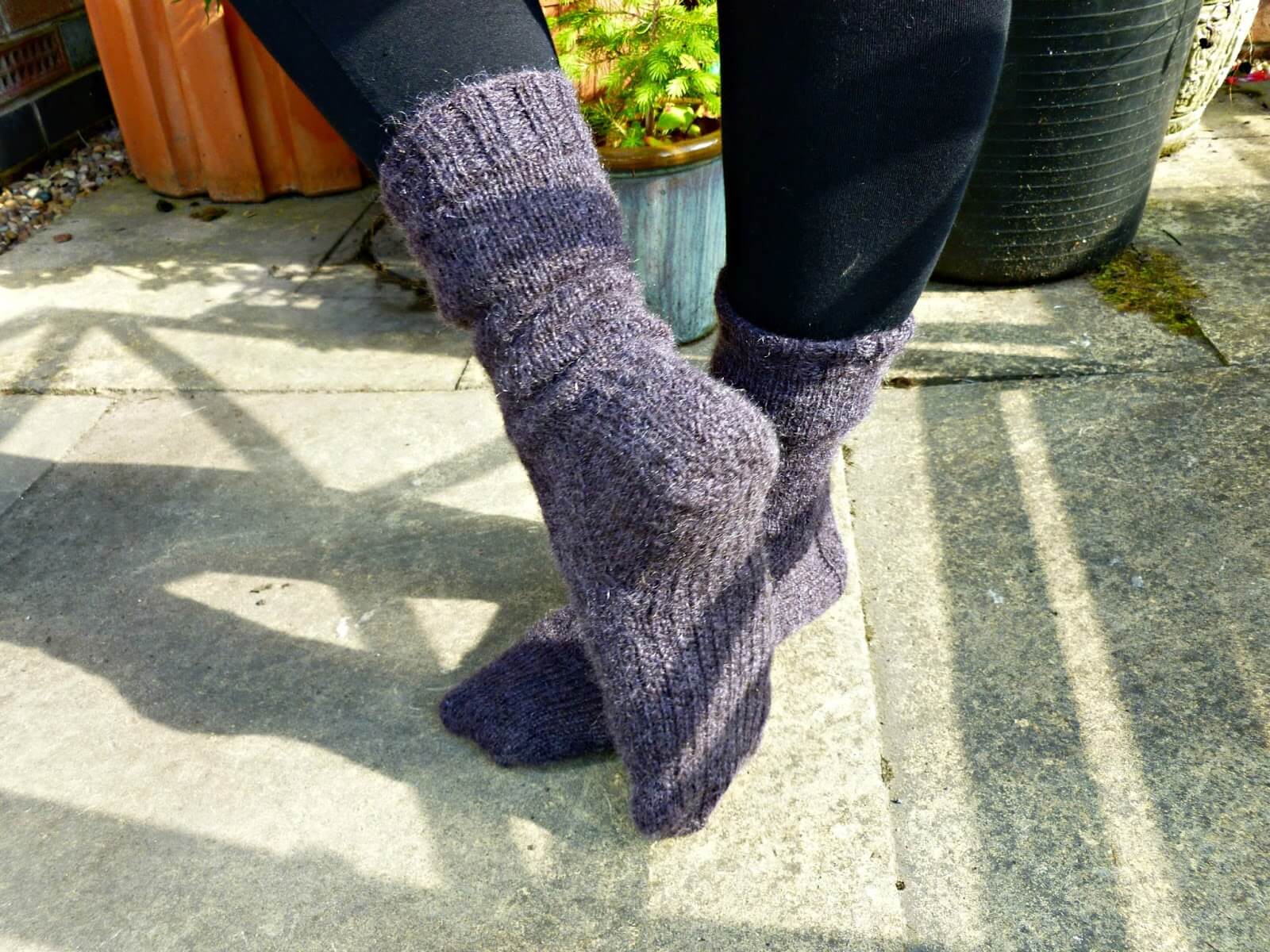 Big daughter was very happy with her socks too, and wore one of the pairs to travel in as she made the long journey to South America.  I tried not to ply her with too many care instructions for the socks (this wasn't a trip just to trial yarn, after all!) but did make sure to tell her to wash them in cool water and to reshape them whilst they were still damp – this yarn isn't superwash and whilst I think they would probably be all right in a cool wool wash in a machine, I wasn't sure she'd have the opportunity to do that and the last thing I wanted was for her socks to shrink to a size small enough to fit only the nearest llama!  
When we picked big daughter up from the airport, she was wearing her socks and on first glance once she'd taken her boots off (I wasn't going to interrogate her within minutes of getting her home, whatever the temptation!) they seemed to have survived the trip very well.
So, now that big daughter has finally taken them off and I've been able to have a good look at them and ask questions, I'm ready to give you an update on how these nylon-free socks made with Welsh wool and mohair stood up to a month of being worn.
This is how the socks looked before she left.  The top pair isn't blocked but the bottom pair is.
I knitted a few rounds of purl just below the cuff of one pair (on the left in this picture) so that big daughter would find it easy to know which pair she was wearing (and even that she was wearing a pair, not just random odd socks!).  You can see here what a difference there is between the blocked and non-blocked pair.  The pattern was my basic 4ply sock with a few adjustments.  I needed to alter the stitch count to accommodate the slightly thicker yarn …
and I also continued the heel stitch down from the heel flap and across the whole sole of the foot to try to make it more hard-wearing and also do what little I could to try to prevent blisters.  It's easy enough to do this and it didn't use significantly more yarn so there wasn't a worry about me running out.  I'm planning to write a tutorial on how I did this in case you'd like to try it on a pair of your socks.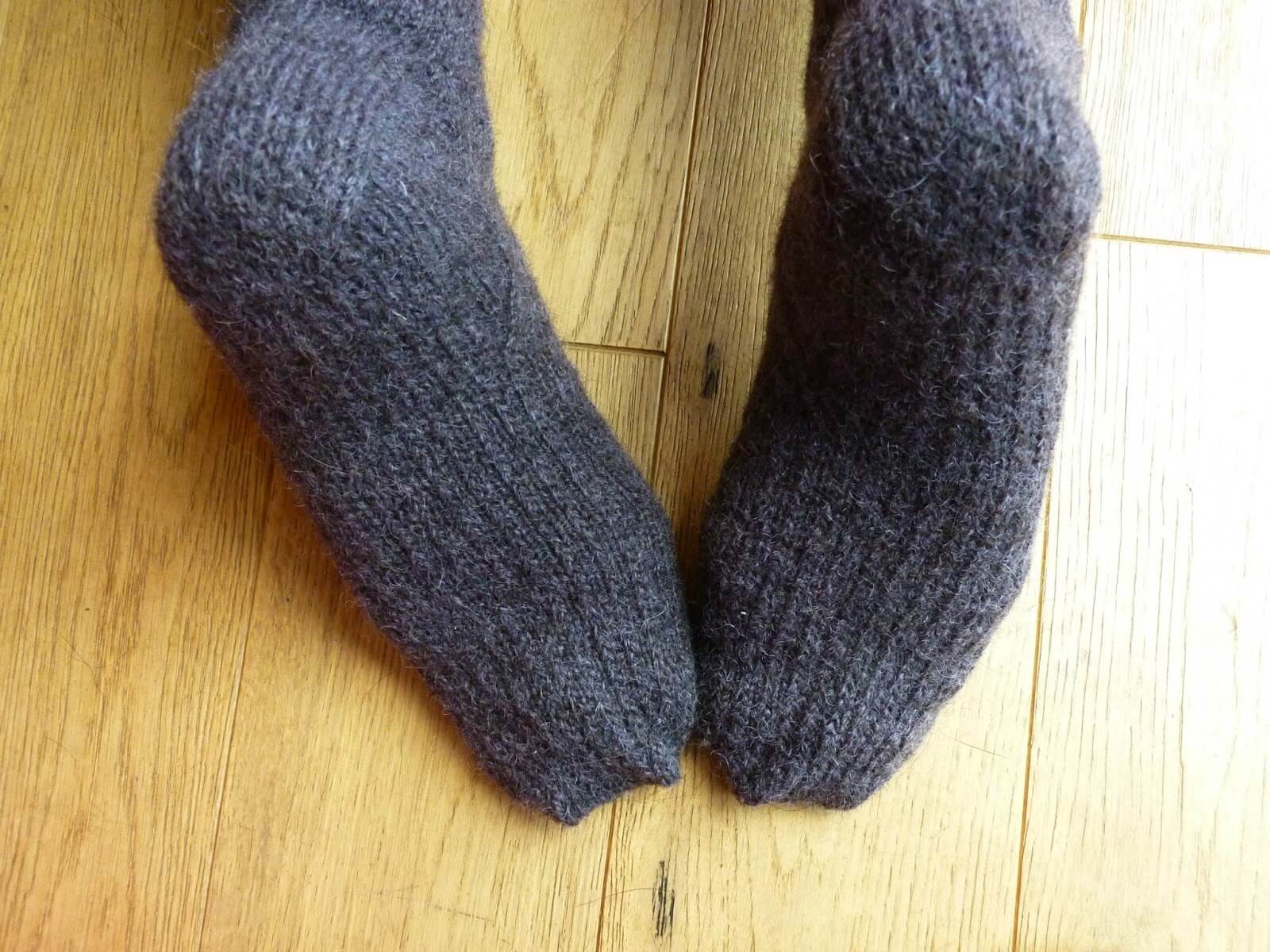 This is a close-up of the heel with the heel stitch across the heel turn and down the foot – I don't know how easily you can see it.  It made the whole of the bottom of the foot more cushioned and I was pleased with how it turned out, although I did have to remember not to pull the yarn across the slipped stitches and pull the whole sock in tighter.
I also used the heel stitch across the toes as I made the decreases – again, with the yarn being the dark blackberry colour I don't know how easily you can see it here …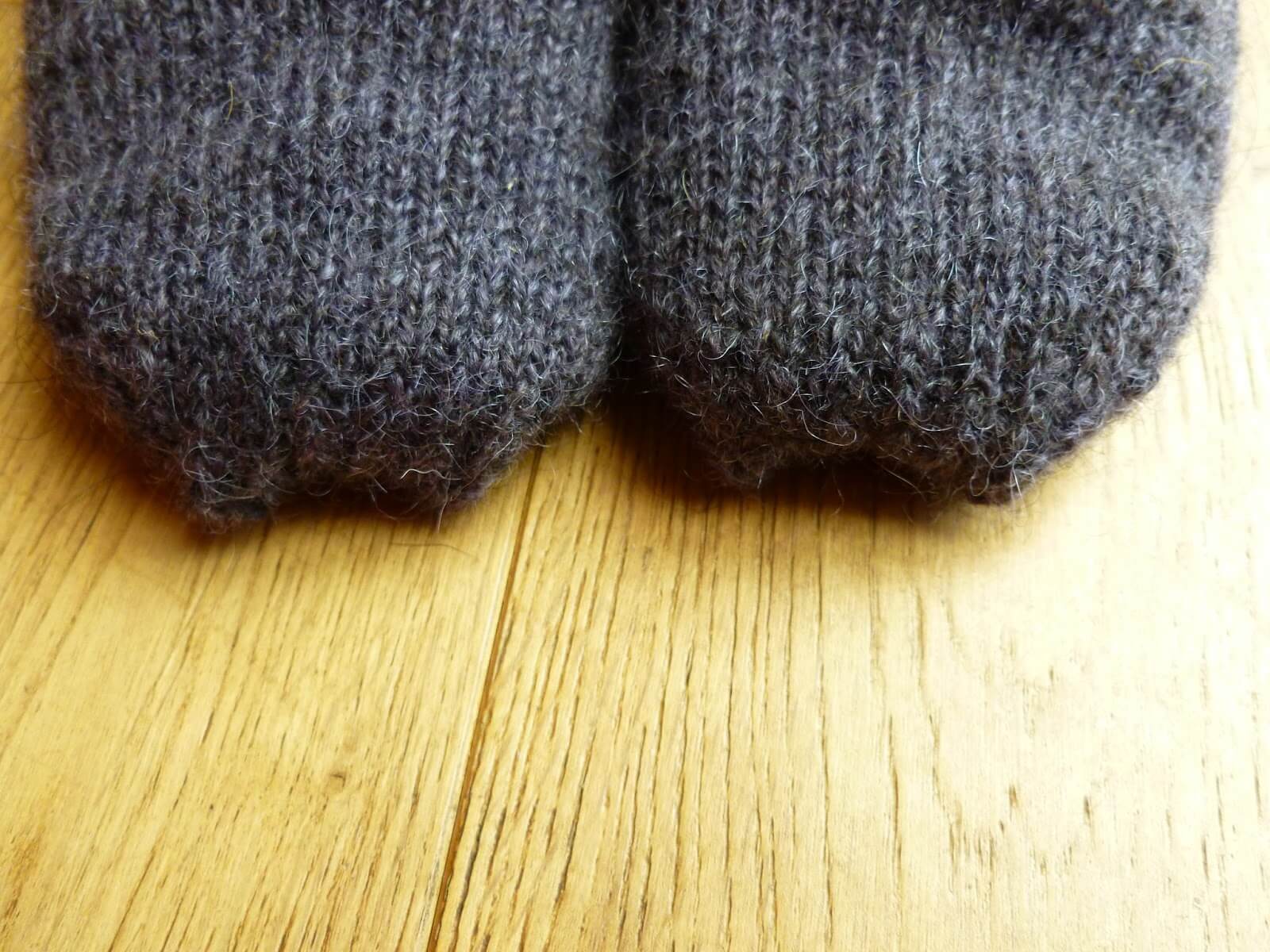 so I've circled the heel stitch in this picture so it might make it easier to see.  I wanted to try to avoid big daughter's toes rubbing on her boots if I possibly could.
Here are the "after" photos.  This pair had been in big daughter's bag for quite some time so they're a bit crumpled but they still look like a pair of socks!
This is the pair that we peeled off her feet when she arrived home, and I think you'll agree that they look in remarkably good shape.  Big daughter said that they were very comfortable, and she often wore the same pair for a few days at a time before changing them.  This was one of the reasons that I chose this yarn, because I was told it had natural anti-bacterial properties and I had thought that the washing facilities might be a bit limited at times!
It turned out that big daughter hadn't washed her hand knit socks at all whilst was away, even though she did wash her bought socks.  She told me that she kept her clothes at the bottom of her sleeping bag overnight so that they would be warm when she put them on the following morning (especially whilst on her trek and right up in the mountains) and would usually just pull on whatever she had been wearing the day before.  She found that her bought socks quickly became smelly and a bit damp whereas her hand knit socks were good for a few days before she changed them – no smell and no dampness so she hadn't felt the need to wash them.  In fact, now that I've got them in my hands I've given them a cautious sniff (the things I do to give you all the facts!) but they don't smell at all.  A bit woolly, perhaps, but certainly not as if they've travelled many miles in a pair of boots.
There aren't any holes in the socks, no places where they seem to have rubbed thin and no other obvious damage to them at all.  They're in remarkably good shape.  What has happened is that the yarn has started to full (produce a felted fabric) on the soles where it has been worn.  This does happen more with woollen yarns than worsted yarns (there's a good explanation of the difference here) because the fibres in the woollen spun yarn lie across each other and rub against each other with the movement of the garment being worn, hence the fulling, whereas with worsted yarn the fibres all lie in the same direction so that doesn't happen.   This yarn is 50/50 woollen and worsted spun so there are fibres in the yarn (which give it it's woolly look) which have rubbed against each other to produce the thicker layer.  The sock on the left is one of the crumpled ones from the rucksack and the one on the right is the one that big daughter was wearing.  You can see that she's worn this pair more often!
This is what it looks like on the inside.  There's quite a bit more wear to the right hand sock …
which you can see more clearly in this photo.  This tends not to happen with the commercial sock yarns that I've used before, presumably because they are totally worsted spun so less likely to full and turn to felt.  That's something that's important to manufacturers who produce yarns that be made into garments that will often be thrown into the washing machine along with everything else – the last thing they need is customers complaining that their garments have felted when they were supposed to be machine washable.  However, we knew all along that there would probably be limited chances of these socks going into the washing machine (although big daughter did find a launderette in some of the places she stayed) so we were less concerned about that.  What was more important for us was a pair of thick boot socks that would protect her feet.  Because the wool has begun to turn into a thicker and even sturdier fabric, it actually made the sock more comfortable and big daughter didn't get any blisters at all.
The top of the sock hasn't really changed; you can still see the individual stitches and the fabric has just worn where the extra woolliness was needed most.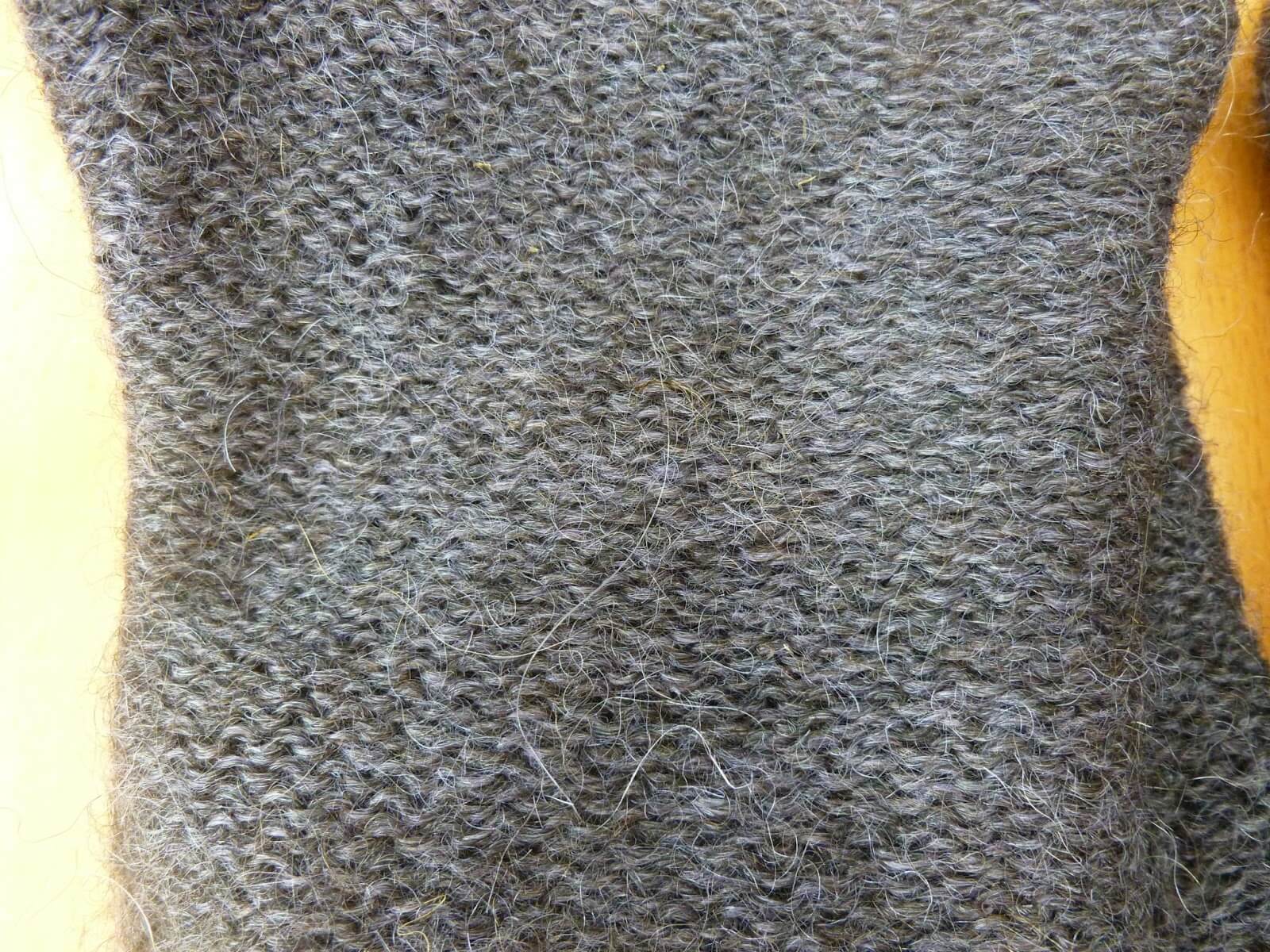 I thought it might be a good idea to give the socks a wash now that they're home and this is what they look like after they've been washed and dried.  I didn't bother to block them again, and if you think that this photo looks very similar to the one higher up the post then you'd be right. I'm quite stunned by how they have sprung back to their original shape, how the fabric is even softer (weeks of wearing have helped with that too) and how the yarn has retained it's shine.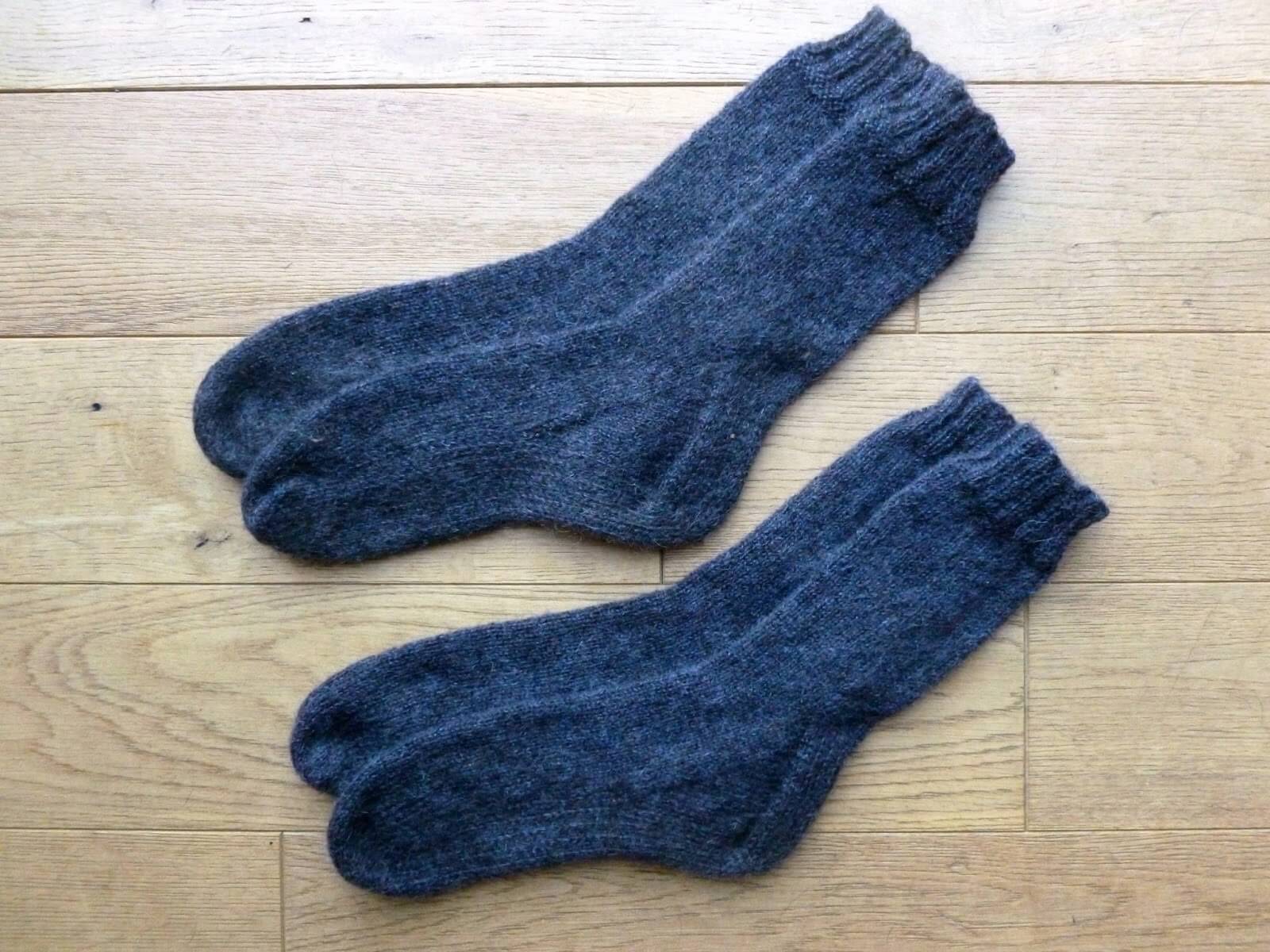 I didn't know what state the socks would be in when they came back and I didn't really mind too much as long as they'd done their job – but these socks will continue to do their job for some considerable time to come.  Big daughter had no hesitation in saying that she'd put them back on her feet (she'd go back to Peru tomorrow so I guess she'd be glad of them!) and they have worn much better than I ever imagined.  They've been across Peru, walked the 19 miles of the Huarocondo Trek, been up to 4,500 metres and back down again so no easy flat walking going on there and were worn on both flights because they were so cosy.  I think that's a pretty good test of the yarn!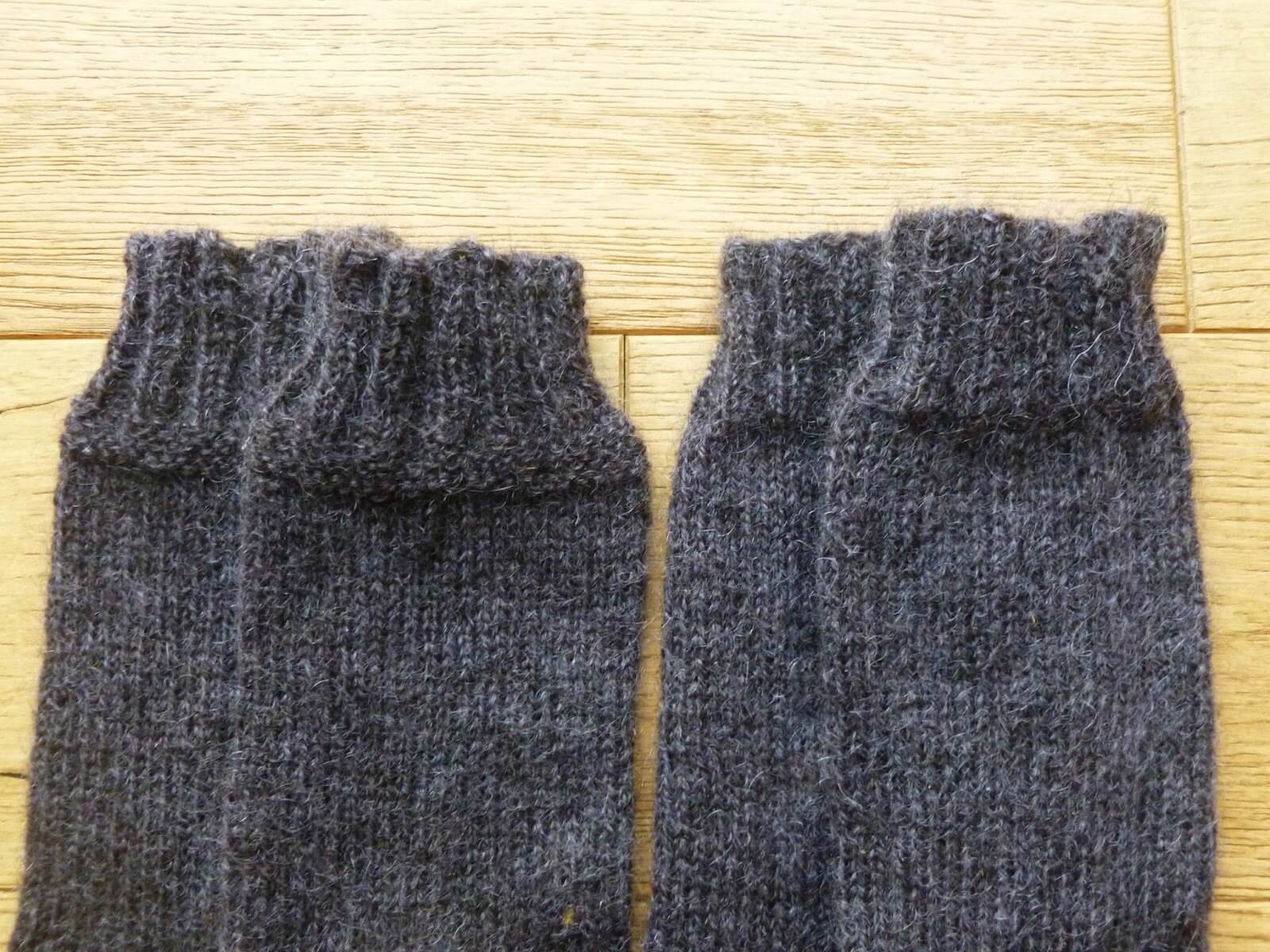 This yarn may not produce the type of socks that you'd choose to wear in your everyday shoes – it's thicker for a start than regular 4ply – but without question I would consider using it again for boot socks. I like that it's grown thicker in places where your feet need the extra support, so I don't consider that to be a problem, and some gentle pulling back into shape whilst they were wet meant that the fabric hasn't shrunk out of shape where the yarn has fulled.  I'm really delighted with the way that these socks have worn and I'm also delighted that the skills and knowledge from the farm to the mill have contributed to an experience that would have been much less wonderful for big daughter if her feet were uncomfortable.
I'd say that as sock experiments go, this one is definitely a success!

If you are interested in no-nylon sock yarns, you can find my other reviews on the No-Nylon Sock Yarn Reviews page.