The end … or the beginning?
It's 7.00pm on 31 December, New Year's Eve, here in the UK.  Elsewhere in the world, it's already the start of a whole new year and by this time tomorrow, we'll all be standing in January 2021 and I hope that it is a better year for us all!
I always think of the year as a clock and the hands are almost back at 12 o'clock.  This might not be the usual way to think of a calendar (or so my husband tells me!) but I've always seen time like that, and I love that moment in January when it's a whole new year with the hands at the top of the clock face and the new year in front of you ready for you to do something with it – a bit like snow on the ground that's waiting for you to walk on it and put your mark where nobody else has been.
Oh yes, we've had snow – I'm surprised you couldn't hear me cheering from where you are!  Big daughter woke me up early a couple of days ago to tell me look out of the window (she'd got up in the middle of the night and didn't want it to have melted before the alarm clock went off) and I spent a long time looking out of the window into that snowy, orangey half-light, grinning from ear to ear, until I realised that I was really cold and got back into bed.
It was good news for the sprouts which had their first dusting of frost on Christmas morning (sprouts always taste better after frost!) …
I never thought I'd be so excited about sprouts at Christmas, but home grown ones taste so much nicer than bought ones and it's a happy memory of my Dad who always used to grow his own sprouts and then bring them over to whichever house we were eating Christmas dinner in (we usually take it in turns to host between our family – although not this year!).
Christmas Day was for us, as for you as well no doubt, a low-key affair.  No rushing around to get dressed to go out or to get food ready on time for guests.  We lit the fire and opened our presents in our pyjamas, taking our time and enjoying each other's company and delight in the gifts they received.
I asked for books this year – well, I asked for two but got more which was lovely! – and I have every intention of making more time to read them.  I suspect that big daughter has her eye on the Milly Johnson book (I love that she's of an age where we can swap books now!) so I may have to start on that one first, but there's something about a new book, isn't there?  I haven't been reading properly for such a long time (don't ask me why, I got out of reading for pleasure quite a few years ago after finishing my Master's degree and I've never really been able to get back into it) and I've only been re-reading books that I know I like and I've forgotten what it's like to have a brand new book to open.  This little pile, though, is making me feel very happy and I'm looking forward to working my way through it!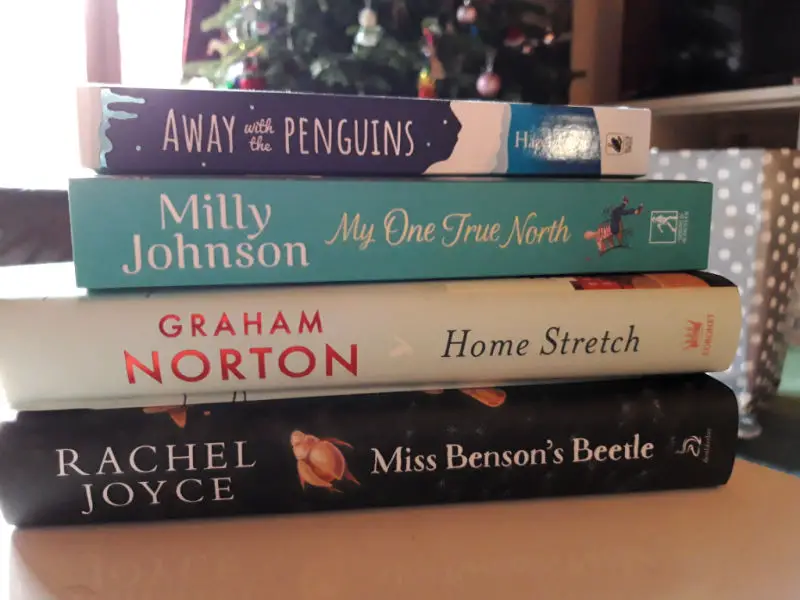 Here's another pile that I'm looking forward to working my way through …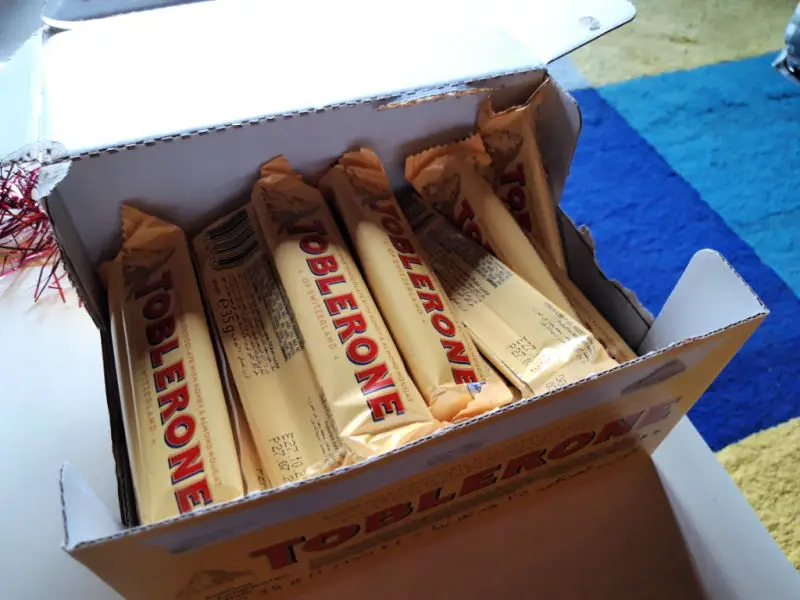 Ooh, I LOVE Toblerone and my husband knows it!  Yes yes, of course I'll share it, but there might be a few bars squirrelled away to a secret stash for emergency needs later on … 😀
I also asked for a sourdough lame – it's basically a razor blade on a handle that you use for scoring sourdough (and perhaps other) bread before it goes into the oven.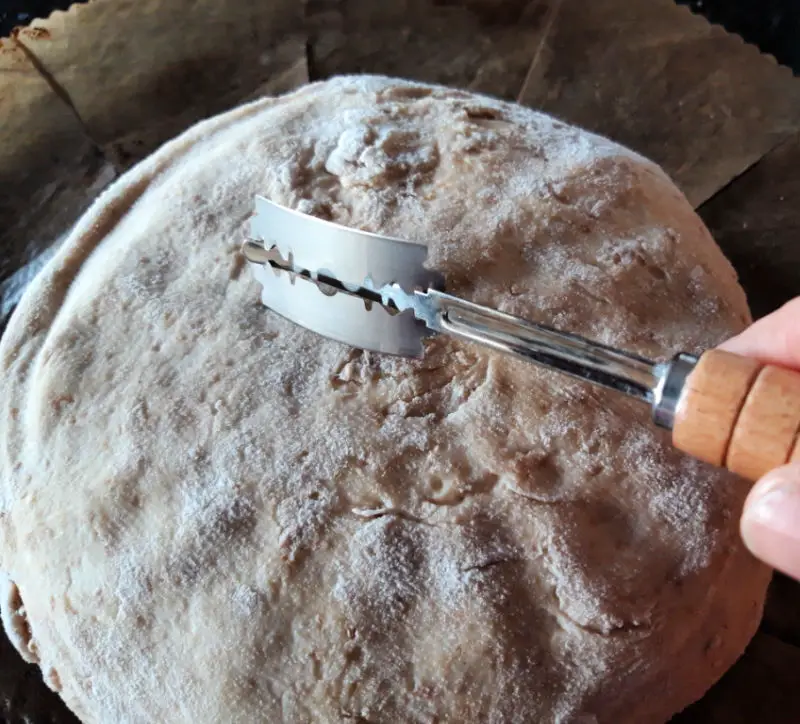 Up until now, I've just used a kitchen knife and it worked well enough … but oh my life …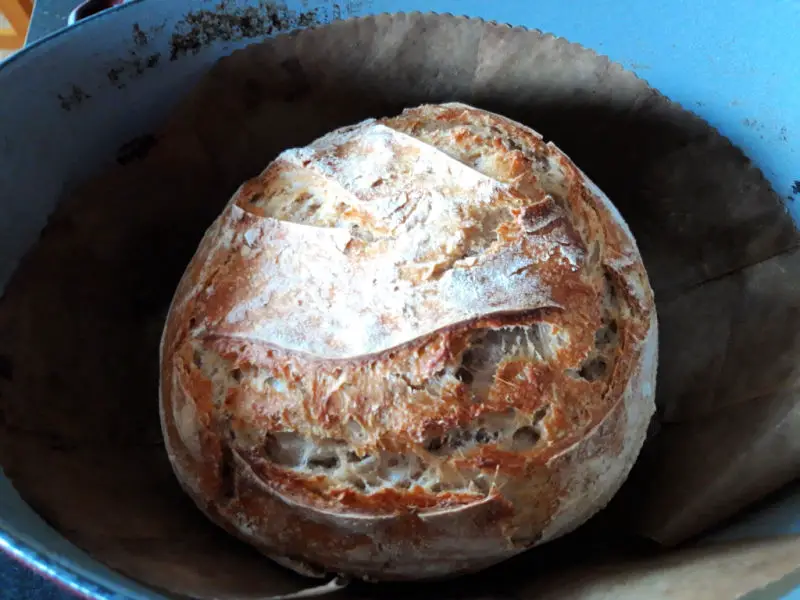 Look at me!  I look like I know what I'm doing!
Sprouts, Toblerone and sourdough bread … sounds like a healthy diet to me! 😀
My brother and sister-in-law sent us a jigsaw.  How long is it since I did a jigsaw?!  It must be years!  My Dad used to get one for Christmas every year (it was a tradition – my brother bought him a jigsaw and me the Broons or Oor Wullie annual – it's Oor Wullie this year) and I'd put a few pieces into that when I went round to his house – it would be out on the dining room table on a big board for a few weeks (he used to like ones with huge numbers of pieces) – but I probably haven't done a jigsaw myself since the girls were small.  Probably not even then as neither of them were particularly interested in them.
This one, however, is out of the box!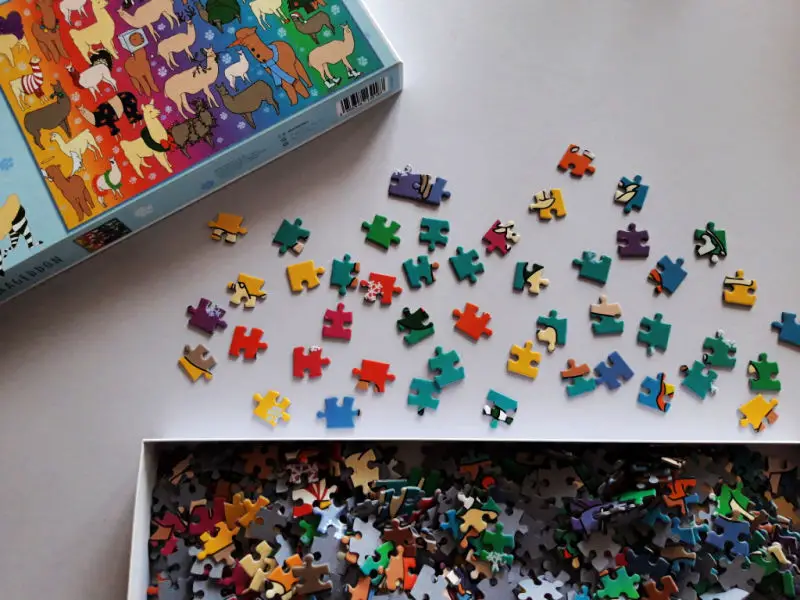 It's called Christmas Llamageddon and has lots of pictures of llamas dressed up as Christmas sprouts, snowmen, in pyjamas, with angel wings … I'd forgotten that you can spend as long looking at the picture details as doing the jigsaw itself!
Oh, it has been so good to shuffle around in that box of pieces looking for the right one!  I'd definitely forgotten the feeling of the pieces against your fingers, that rustly noise as you swirl them around and turn them over, hoping that the exact one you need will magically appear on top.  I did wonder whether me making a start would attract extra help … but no.  Big daughter has put a sum total of two pieces in, but nobody else is remotely interested so I've had a lovely time on my own, not feeling guilty at all about spending time doing a jigsaw instead of something more "productive".
I used to feel that the world stopped in those few days between Christmas and New Year – back before the days of email, mobile phones and internet shopping – but I don't feel that it does so much now, and it's easy to think that you've got to keep on going; planning for the next year, pushing yourself to finish things before that (imaginary) cut off date of 31 December, working, working … it's been quite an effort to tell myself that it's OK to spend an hour here and there on a jigsaw but I'm definitely feeling better for it!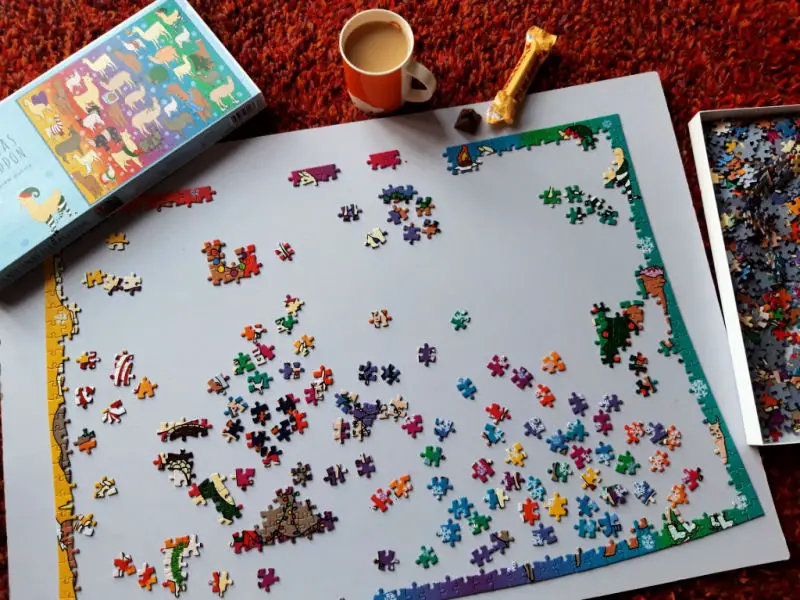 I'm going to shock you now by telling you that I've also cast on a new project.  Ha!  Bet you never expected that!
Actually, you won't have expected what I've cast on … it's a jumper!  I haven't knitted myself a jumper for … ooh … twenty-odd years (how am I that old?!) but I've got some lovely purple alpaca blend yarn that's been at the bottom of my stash for a looooongg time and I've been looking for a way to use it up for a while.  It's a long-discontinued Sirdar yarn and I originally bought it to knit a cowl for my sister-in-law one Christmas and liked it so much that I bought more of it … and then realised that the gradient in each ball would give me stripes that I perhaps wouldn't like so much in a jumper so I put it away.  Anyway, I've finally given myself a good talking to, found a pattern that I like (I think this is the third one that I've started) and cast on for the eight hundred billionth time … how does anybody knit with such big yarn on such big needles?!  They're 6mm and feel like chopsticks!
I've not much to show you in the way of the jumper itself right now, but I can show you the needles which were a gift from KnitPro (thank you very much!).  It's their new Knit & Sip interchangeable set – I've used a set of KnitPro Nova interchangeables for years so I was very pleased to have an updated set.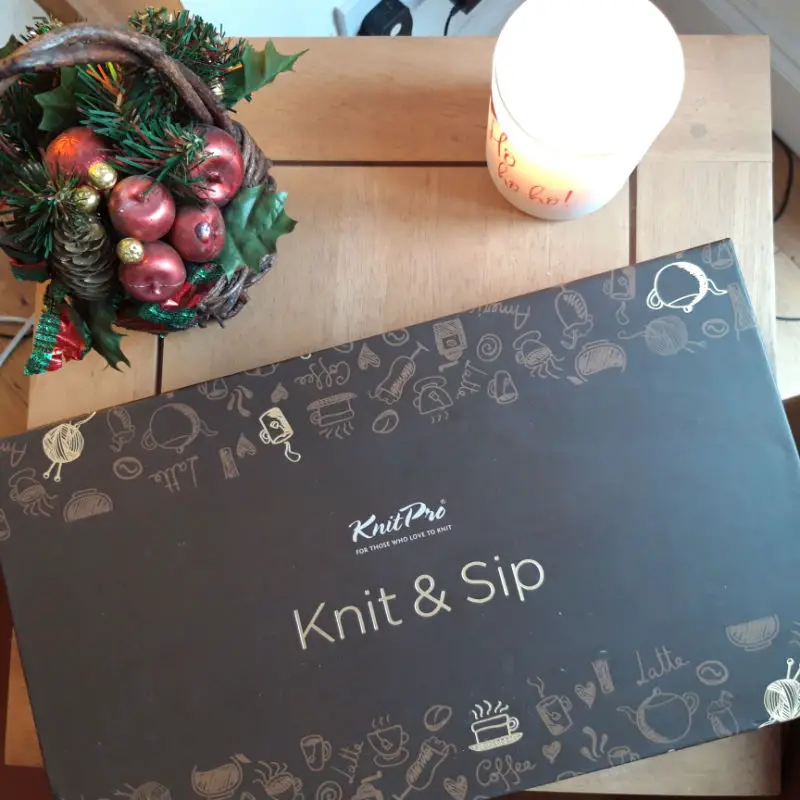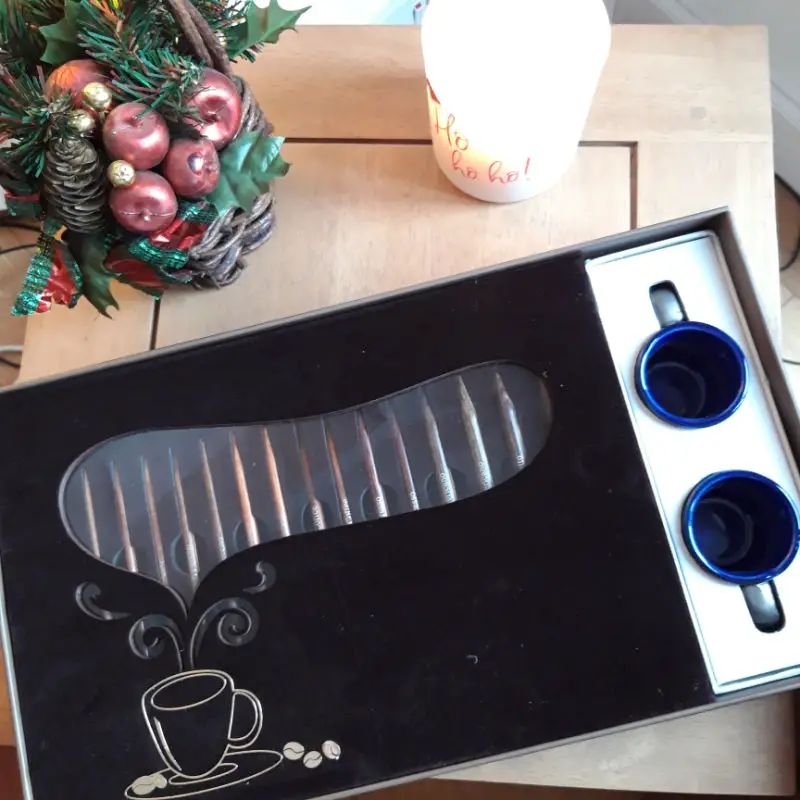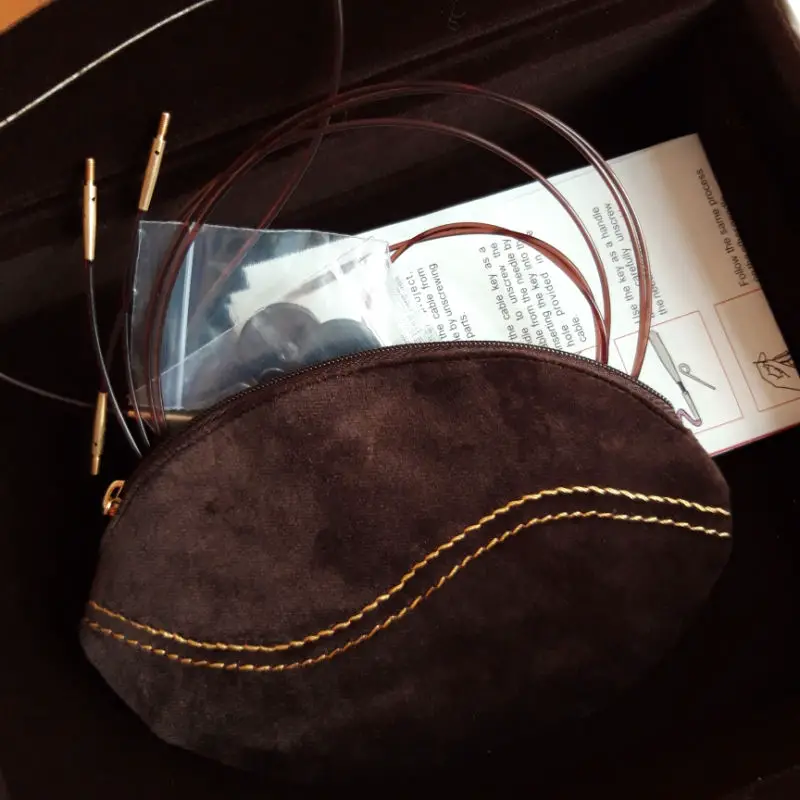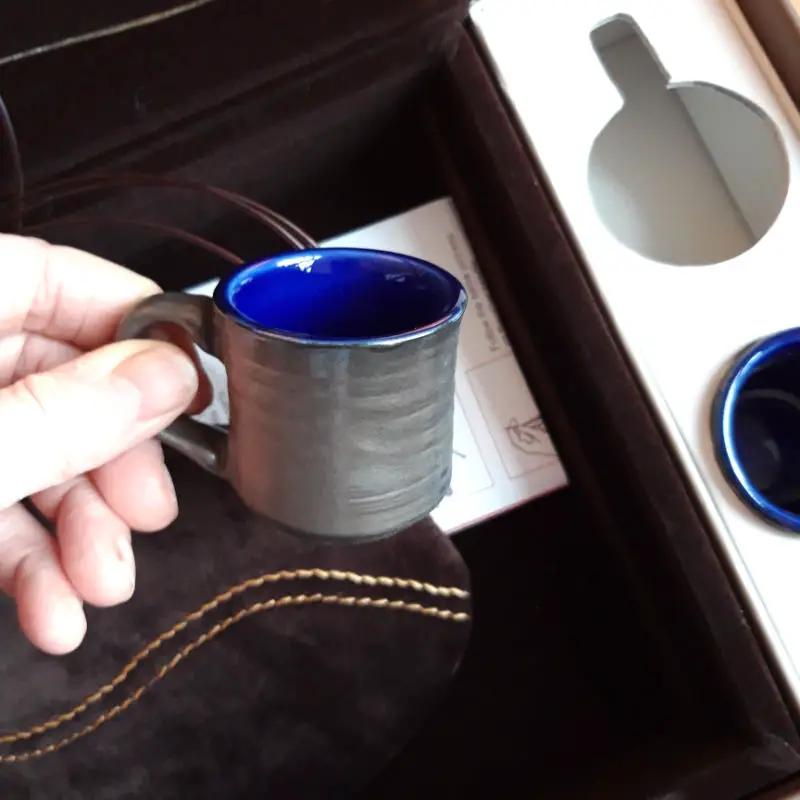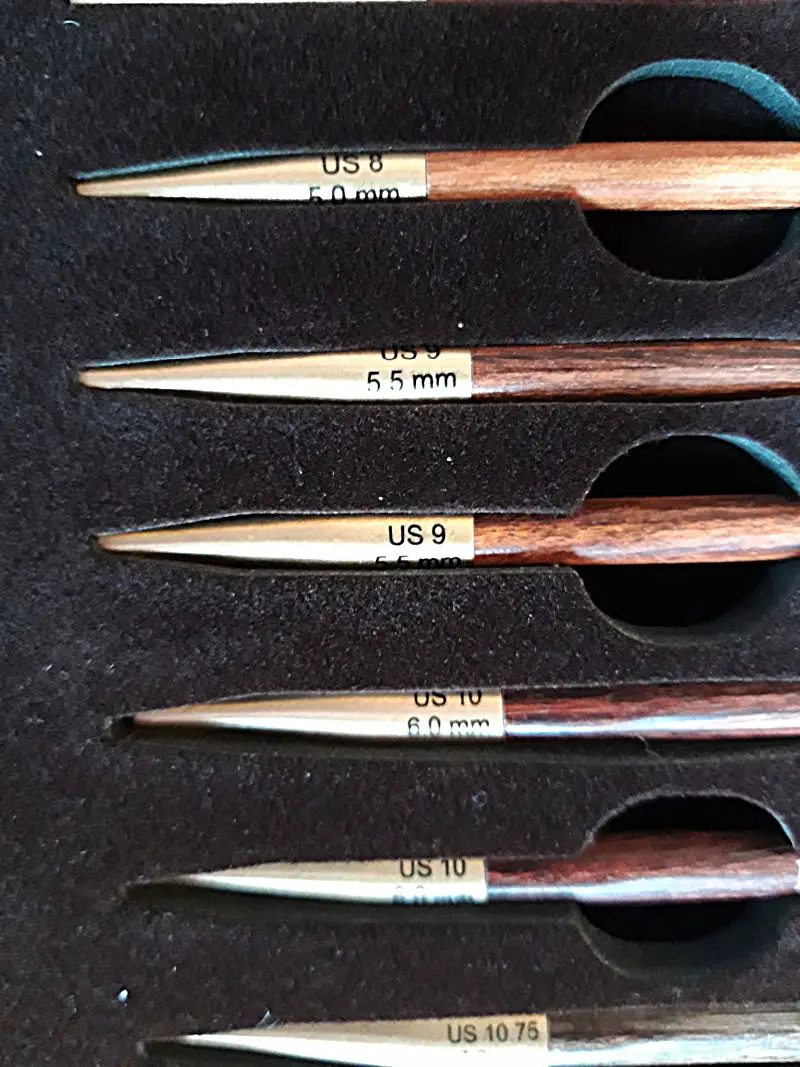 As you can see, they're wooden tips and I was a bit worried that they would be too light in my hands compared to the metal ones that I have but actually, they're a decent weight and I've been fine knitting with them.  I like that the sizes are stamped onto the tips too; I have to use a needle gauge with my Nova tips when I forget which size I've used, but these all sit snugly inside the box in their own little slot.
They're coffee-themed which makes me laugh as I don't drink coffee so those dinky espresso cups are wasted on me (although my husband and big daughter might like to make use of them), but each tip size is a different wood (I think, they're certainly a different colour!) and named after a different coffee drink.  The cable pouch (4 cables – 60cm, 2 x 80cm and 100cm) is a coffee bean too, so if you're someone who likes coffee then this set will be right up your street!  It's neatly done and the whole set feels very luxurious and a proper treat – I felt very spoilt to be gifted it, even though it feels rather rebellious to have my mug of tea next to it!
There are more details and stockist info on the KnitProwebsite if you want to take a look.  It's not an affiliate link.
This is where I've got up to with my jumper so far …
I promise I'll show you more as I get a bit further on with it.  I'm using the Painted Hills pattern by Kay Hopkins and it's a top down knit with short rows on the yoke which have taken me a few goes to get right, but I think I'm just about sorted now.  It's quite strange having such a big project to work on, but I'm sure it'll be good for me to do something different!
So that's about it for this year.
Thank you for being here with me through this peculiar year.  It's certainly been a strange one, hasn't it?  I hope you have got something good from it as well as all of the things that we seem to have lost along the way.
Thank you for taking the time to write your lovely comments, for giving me advice when I've needed it and for letting me know that you're there – it's an incredible thing that we're able to do, having this online conversation, isn't it?
Fancy doing it all again next year?
Happy New Year to you – wishing you a very happy, healthy and successful 2021 in everything you do! xx