A socky kind of week
Last Sunday, I posted a picture on Instagram of three of socks that I'd just cast on.  Whilst not unheard of for me to have more than one (or two, or three) pairs of socks on the go, it is quite unusual for me to cast on for three socks all at the time same.
The socks are:
top – the second sock of a pair of DK socks knitted in West Yorkshire Spinners Colour Lab which came from my Knit Now awards treat bag.
middle – the second sock of my husband's new Mind the Gap socks (I tried to pretend they weren't for him but he wasn't fooled!)
bottom – a brand new commissioned sock which I can't tell you about just yet … shh!
I like to have my socks cast on then I can pick them up whenever I have time.  The DK and Mind the Gap socks are easy knitting so I can do them anywhere, but the commissioned sock takes a bit more thinking about so I need to be able to sit down with that one.  It doesn't worry me in the least to have so many pairs on the go (and there are more pairs out of sight, sulking because they didn't make it into the photo) as I know that I will get them finished and they all have their time and place to be knitted.  If you're needing a bit of justification for having more than one project on the go, this information from Betsan Corkhill's therapeutic knitting workshop is very useful!
I took the Colour Lab socks with me to see my friend Lucy on Tuesday.  I also took the commissioned sock but quickly put it away after going wrong early on – I just can't concentrate and chat at the same time and it's certainly very sociable sitting and knitting and chatting with a HUGE hot chocolate right in front of you!
Lucy's working on her new Dune blanket which is coming out as a pack very soon.  It's lovely – if I hadn't cast on so many socks and still have her Moorland blanket on my crochet hook, I think I'd be seriously tempted by this one!
Anyway, I'm digressing … I got a fabulous amount of knitting done whilst I was with Lucy and all down to the fact that DK yarn knits up so much faster than 4ply.  You've seen where I was up to on Sunday – and this is where I was up to by the time I got ready to drive home on Tuesday!  Wow!
Imagine if I knitted all my socks in DK!  How many pairs would get knitted throughout the year?!  I won't lie to you, this thought did cross my mind for a few seconds but then I thought how much I would miss all the gorgeous 4ply yarns (not to mention my own which are still on schedule to be in the shops this month – don't worry, as soon as I have an exact date I'll be sure to let you know!) and that there's more scope for pattern detail with 4ply as there are more stitches to work with.  Still, it's nice to have a pair knit up so quickly once in a while!
And here they are!
As you can see, I've carried the heel stitch right under the foot and down to the toes, and I've used it across the top of the toes as well.  This yarn is 100% wool which means there's no nylon in there to make it any more hard-wearing so I'm relying on the stitches to do the job for me.  My weakness is always my pokey toes but I decided to reinforce the rest of the foot on this sock as well just to be on the safe side.
If you fancy having a go at this yourself, there's a tutorial right here (you can click on the picture too).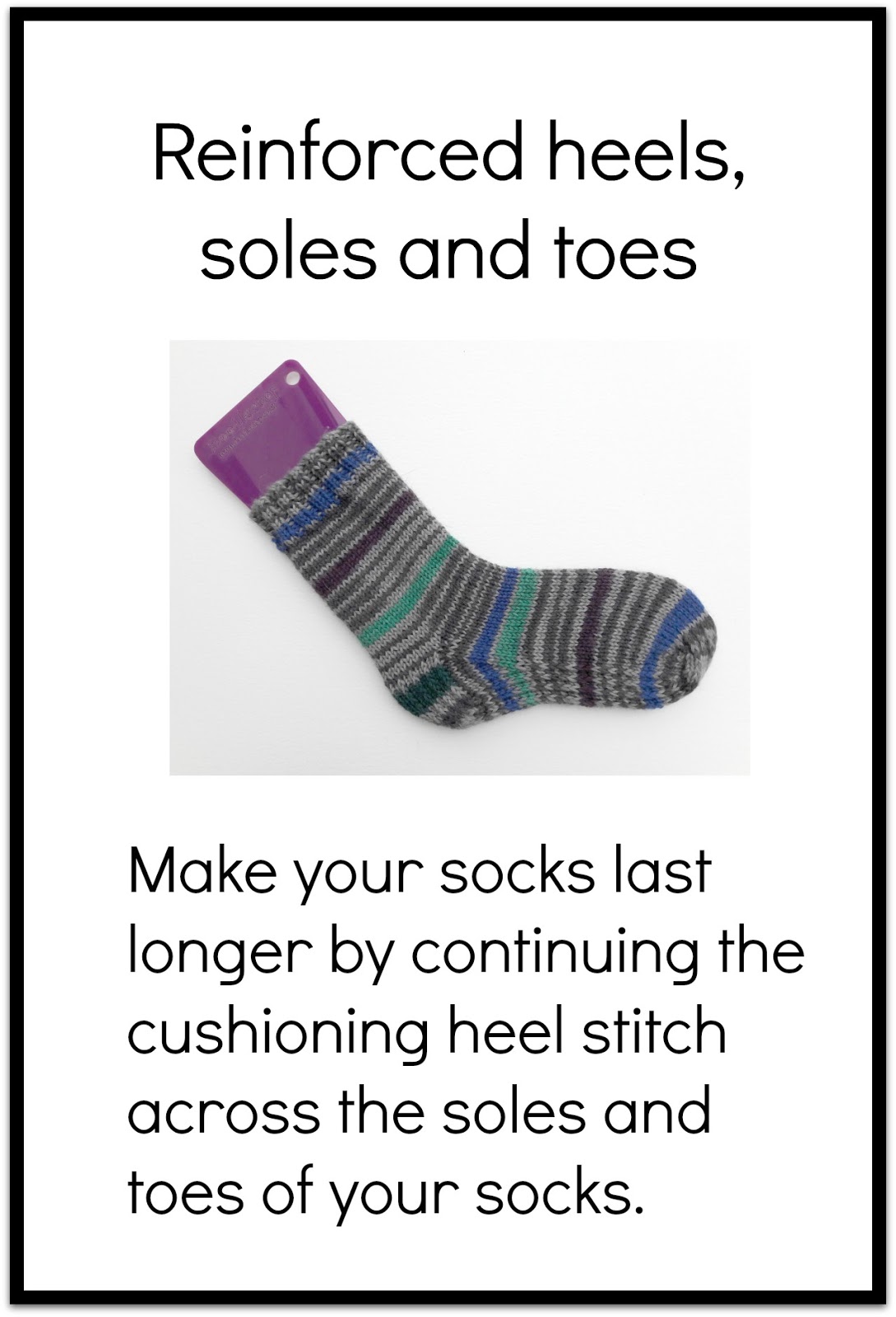 I've made good progress on the Mind the Gap sock too.  That's now up to the point where I've got to do the heel and I've been putting it off as it's black yarn.  My husband told me the other day that a lot of his plain black socks are starting to wear out (they are about ten years old and get worn pretty much every day so I think that's been a good innings for them) and the thought of knitting more plain black socks is not appealing, I have to say!  I'm going to see if I can distract him with more stripes!
Now that the Colour Lab socks are off my needles, I've got time to go back to my Skeinheroine Dorset Horn 6ply yarn.  I was doing very well with them (again, a quicker knit than 4ply!) and I was really enjoying the cables  …
until I discovered that I couldn't get the sock over my foot!  Drat, drat and double drat!, as the cartoon character Dick Dastardly used to say.  It's all had to come out whilst I adjust the pattern but hopefully this time it will fit!
And that will mean another free pattern to share on the blog, as well as another no-nylon review.  I've still got one from last year which I need to post (I must check that the yarn is still available, it's taken me that long to get round to it 😳), and there's a pattern to go with that too so I really need to get myself in gear!
For now, though, it's a lazy Saturday morning in our house and I'm going to take my brew and my sock outside to sit on the step in the sunshine for a bit.  Plenty of jobs to do later this weekend, plus a meet up with college friends that I've not seen for over 30 years so that should be fun (these are lovely friends so I am sure we will all be kind about how we have aged!).
I hope you've got a lovely weekend planned too! xx