Winwick Mum Sockalong 5th birthday giveaway results
Hello to you, I hope you had a lovely weekend!
I'm here at last with the Sockalong 5th birthday giveaway results – wow, it was so lovely to hear from so many of you!  I'm sorry to those of you who weren't able to leave a comment – the comments are moderated anyway because of spam, but apparently my blog platform has eaten a few of them before I could even get to read them.
What I love most about reading your comments every is that they give me an insight into how knitting socks is as much as part of your lives as it is mine.  It's that thing that I talked about in the Winter Haven KAL about us being connected by yarn and intention – our socks keep our feet warm, give us joy to knit, give us pleasure to give away, give us pride to wear ourselves, keep us calm, keep yarn shops in business … and reading all your comments about how you have done all of that, and how your socks have created special memories, means more to me than any download figures or statistics that we bloggers are supposed to be interested in.  Knowing that you are knitting socks for whatever reason, and that I might have been able to help you do that, fills my heart to bursting, and I hope that I will be able to continue to help people to knit socks for many years to come!
Please do me a favour, though – I read so many comments that said "I've only …" and there should never be an "I've only …" about anything!  It's like those people who tell me "I've knitted this pair but they're not perfect".  It's absolutely OK to be proud of whatever you have done and we are all far too good at putting our achievements down (and I can say this to you because I do exactly the same thing until I realise what I'm doing and pull myself out of it!).  So this next year, whatever you are making, embrace your knitting imperfections as "design features" that make your knitting unique, and if you have to say "if only", then it should be "I've only gone and knitted [whatever it is]!"  We should all be more Mike from Monsters Inc! 😀
Anyway, you don't want to read me rambling on, you want to know if you've won!
I'll remind you of this year's prizes …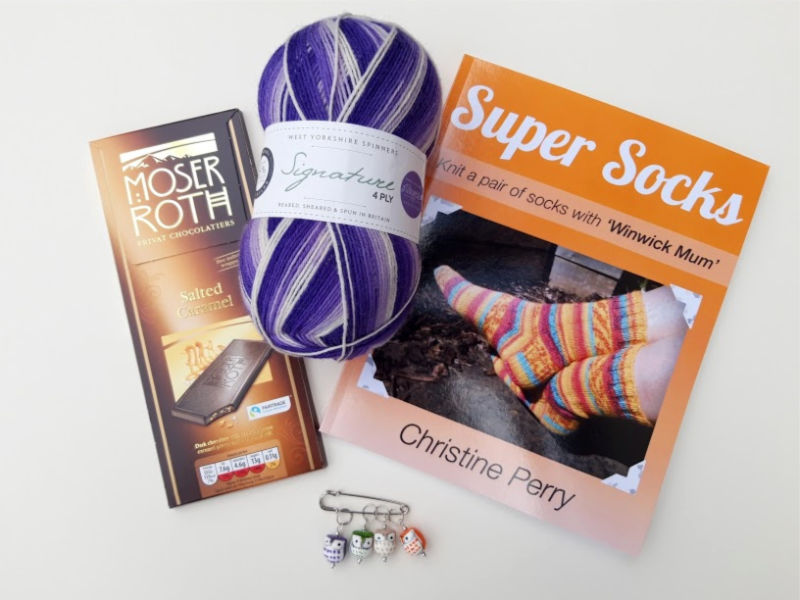 There's a signed copy of Super Socks, a ball of WYS Winwick Mum yarn in either Hidden Gem or Seascape, some chocolate to keep your energy up whilst you're knitting (very important!), owl or llama stitch markers and a Winwick Mum Sockalong badge.
I've put the number of comments into the Random.org generator which has given me two numbers, one for each of the prizes – but I'm going to make you wait just a little bit longer whilst I tell you how many pairs of socks I've counted up this year 😀
This is never going to be an accurate figure, it's only for fun because it's the one time of the year that I can ask you – but it's a bit of fun that I do enjoy very much!
In 2016 there were 3,500 pairs, in 2017 there were 4,500 pairs, in 2018 there were 3,360 pairs, in 2019 there were 1,040 pairs and this year you've told me about
1,385 pairs
giving a new 2020 total of
13,385 pairs of socks!
Wow wow WOW!  That's a phenomenal number of pairs of socks that you've been able to tell me about!  And have you noticed that the number has dropped over the last couple of years?  I actually think that's because there are so many of you now who have been able to show others how to knit socks rather than that there are less people knitting them, so I think we can be quietly confident that we sock knitters really are taking over the world.  It's an over-excited high five moment!
And now, let me tell you who I'm going to be sending these prizes to.  You've waited quite long enough!
The Hidden Gem prize goes to …
and the Seascape prize goes to …
Congratulations Pam H and Ann – please can you email me at winwickmum (at) gmail (dot) com so that I can arrange to send your prizes out to you?
Thank you again to everyone who has knitted socks using the Sockalong pattern and tutorials whether you commented or not – I'm just so pleased that I've been able to celebrate this socky birthday with you!