Winwick Mum Sockalong 4th birthday giveaway results
Well, here I am with the results of another birthday giveaway!  Thank you so much for all your lovely comments and for letting me know how many pairs of socks you've knitted.  It's fantastic to see so many new sock knitters as well as those of you who are still using the Sockalong pattern for your socks.  I love that the pattern works so well for you!
So, onto the important part – who has won?  Firstly, let me remind you of this year's prizes.  There are two of them: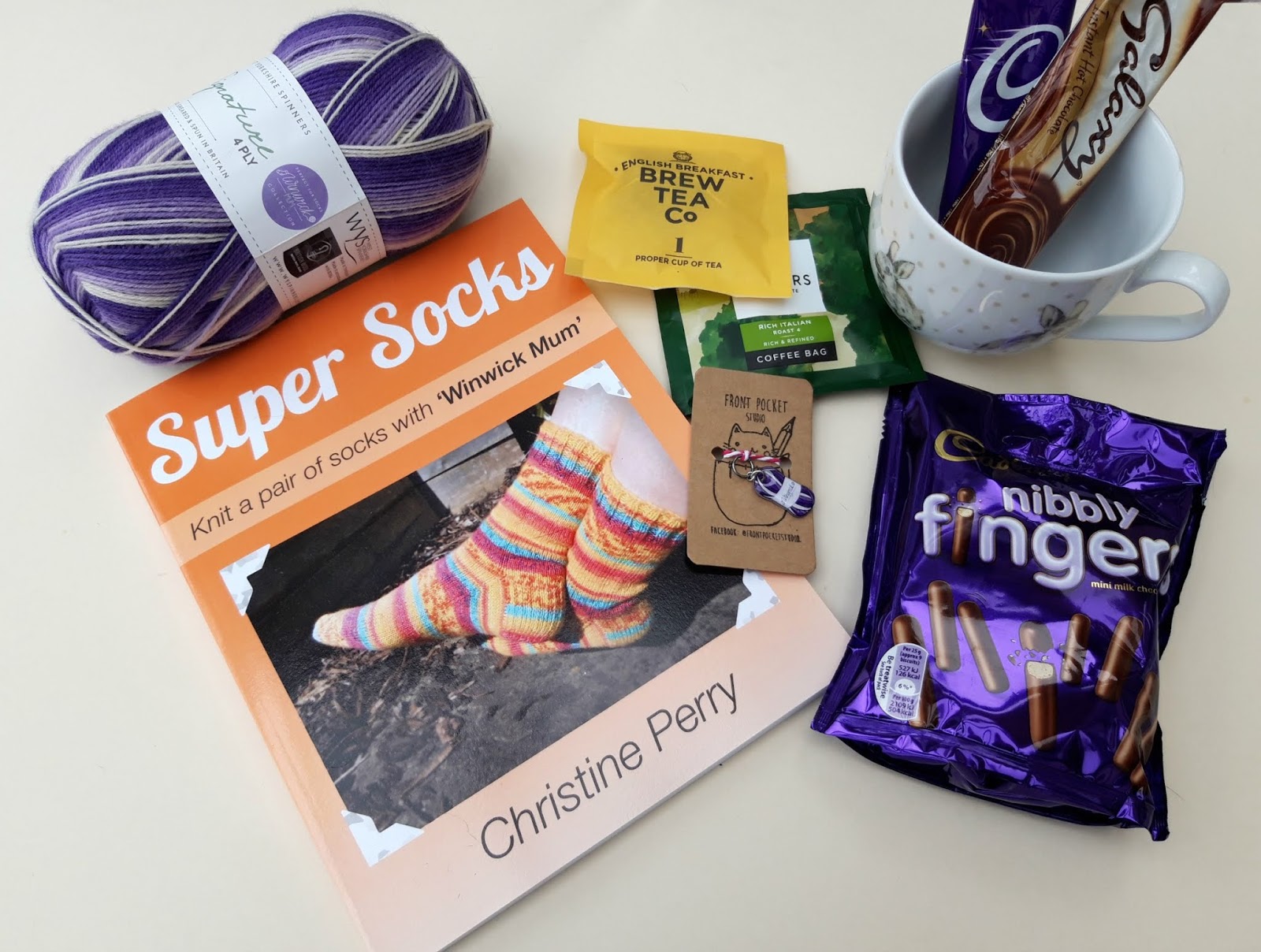 They both comprise of a signed copy of Super Socks, a large mug decorated with rabbits with tea, coffee and hot chocolate so that we can have a brew together whilst we're knitting, a bag of Cadbury's Nibbly Fingers (mmm, soooo good with a cup of tea!), a ball of your choice of the new Winwick Mum yarn colourways (I've shown Hidden Gem and Seascape here but it was up to you to choose) and a specially-made stitch marker by Indi of Front Pocket Studio to match the yarn that you chose.  Oh, and a Winwick Mum Sockalong badge too!  
Before I tell you the winners, though, I'm going to give you an update on the numbers of pairs of socks that have been knitted with the Sockalong basic sock pattern.  This is never going to be an accurate figure as not everybody who has used the pattern will be looking at the blog to add their numbers to the total, but it's a bit of fun for this birthday time of year.
In 2016 there were 3,500 pairs, in 2017 there were 4,100 pairs, in 2018 there were 3,360 pairs and this year you've told me about …
1,040 pairs 
which gives a new total of 
12,000 pairs of socks
Woohoo!  That is just fabulous! Isn't incredible to think that we have all contributed to that total number of socks?  They're out there in the world – all over the world – keep feet toasty warm, being knitted and received as gifts, or brightening up sock drawers, keeping our fingers and our minds moving – and keeping yarn producers in business!  We should all be super-proud of the part that we are playing in keeping sock-knitting traditions alive – and for being another step closer to taking over the world one sock at a time! 😀
And without further ado, let me tell you who has won the prizes for this year.  I've counted up the comments (deleted comments and multiple comments haven't been counted) and I've used the draw generator at random.org to find the winners.
Hooray! Congratulations Curlygill and Beverly!  Can you email me at winwickmum (at) gmail (dot) com please, so that I can organise sending your prizes out to you?
Thank you so much to everybody who took part – it's been great fun again and I've loved counting up how many socks have been knitted!
PS  If you took part in the Winwick Mum yarn giveaway a couple of weeks ago, please do take a look here to see if you were a winner.  I've got some unclaimed prizes!
Big thanks to West Yorkshire Spinners for having given me so much yarn to give away recently! 🙂