Looking back
Well hello to you!  It feels like an inordinately long time since I wrote a post about everyday stuff instead of about yarn or giveaways, so I thought that today I'd do a quick catch up post.
When I came to upload all the photos that I've been storing on my phone from the last couple of weeks, there were tons of them – but you'll be pleased to know that I'm not going to make you look at them all!   I was quite surprised by just how many there were, but it's been a nice reminder for me that there have been moments worth photographing instead of just having my head down and getting on with stuff!
💚 In the garden
Marigolds (Calendula officinalis) have been in bud for a long time and they're all opening now that we've got a bit of sunshine.  Oh, I do love their sunny faces!  I usually have orange ones in the garden but for some reason these ones are yellow – quite probably a different variety as I will grow any marigold seeds I can get my hands on!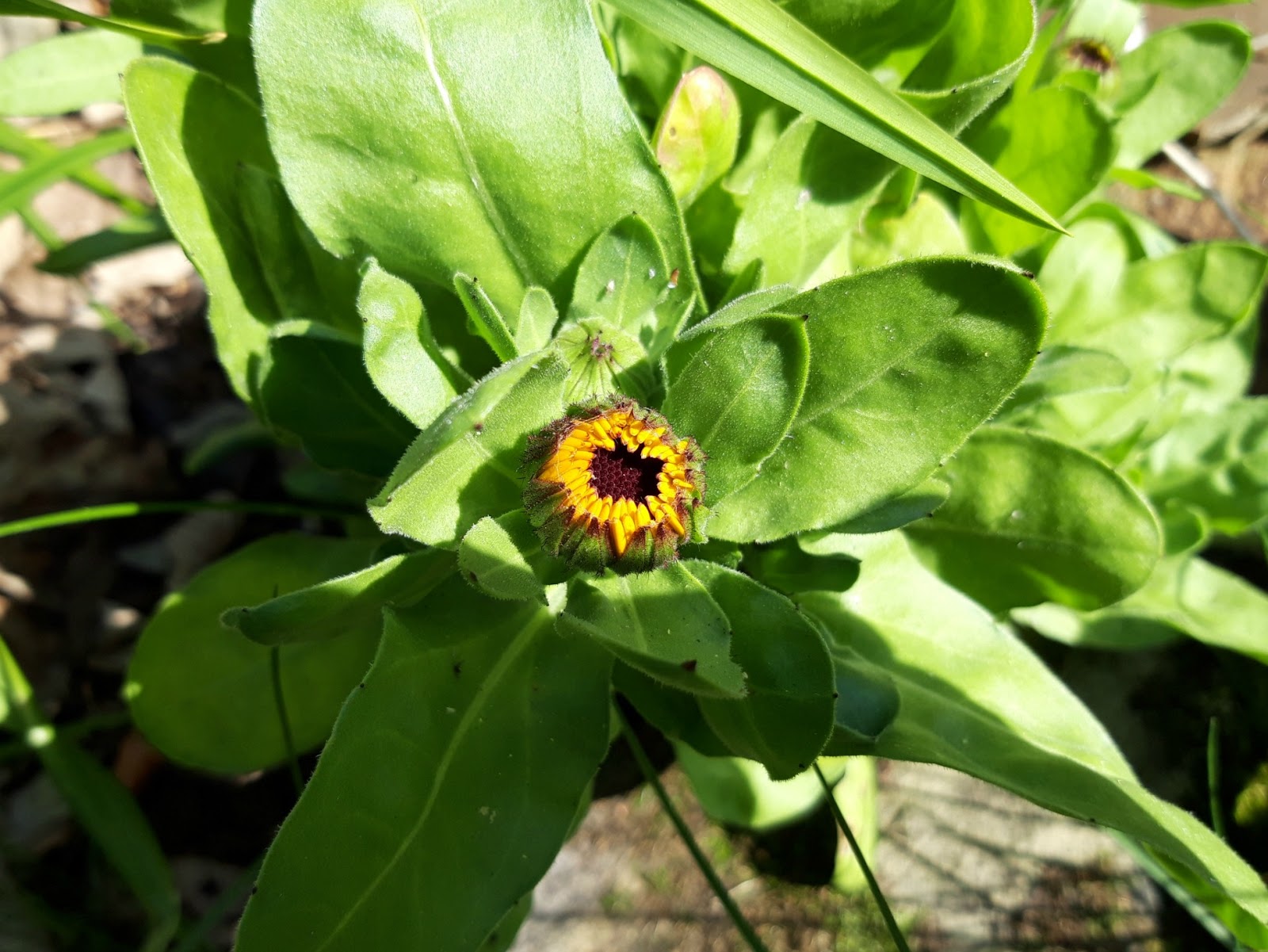 We've got dog violets (Viola riviniana) all over the garden – they pop up in pots, between the paving flags, anywhere there's a tiny space.  I usually can't bring myself to pull them up as they're so pretty, which probably explains why we have so many of them!
The magnolia (ours is Magnolia stellata) has only just stopped flowering, it's been amazing this year.  
We've got three peonies (Paeonia) in the garden; we bought one, the second came from my late mother-in-law's garden and the third was originally my Grandad's from my Dad's garden.  I seem to be as attached to inherited plants as I am to my inherited "stuff"!  This one is the one that we bought as the other two are still sulking and refuse to flower.  Peonies are a bit like that, but I have faith that one day they will!
Inspiration for my Wildflower yarn is right here in the garden – aquiligia (Aquiligia vulgaris) … 
cowslips (Primula veris) …
and primroses (Primula polyantha)!
It's also the time of the year for the first of my Oriental poppies (Papaver orientale) to put in an appearance.  I absolutely adore these poppies, although I noticed last year that some of the varieties I had have disappeared.  Of course I forgot to order them in from the nursery in time for this year, but I have that on my list of things to do.  This one is called "Coral Reef" and I'm so pleased to see it every year as I originally grew it from seed.  I had one called "Mrs Perry" too, which always made me smile, but that's one of the ones that has disappeared which is a shame.
Floral in a different way are small daughter's chalk mandalas.  Are you ever too old to want to chalk on the paving stones?  I'm certainly not going to tell her that she is, and although these didn't last long as we had heavy rain not long after she'd finished her artwork, her "canvas" is now clear for more.
💛 Out and about
If you've had bluebells near you this year, I'm sure you'll agree they've been stunning.  I've taken so many pictures but as I'm assuming you don't have a spare few hours to see them all, we'll just make do with this one.  The scent of the flowers as I was walking through the trees was almost overwhelming, and the sight of all those nodding blue heads is not an image I will easily forget.
The horse chestnut "candlesticks" are in full bloom too.  These pretty flowers will grow into the spiky cases that contain the chestnuts – it seems hard to imagine that they'll change so radically!
The dog and I have also been taking some walks closer to home, although he's not so impressed with these ones where he has to stay on his lead!
It was the Northern Yarn 3rd birthday on 3 May (the same day as the Sockalong birthday! 😀) and I went along to the party that Kate was holding in her new shop.  The last time I was up at Northern Yarn was when her old shop first opened and it's really lovely to see how her business has grown.
Janice, the sales manager from West Yorkshire Spinners was there too, and Fay from Knit it-Hook it-Craft it with lots of her gorgeous and conscientiously-sourced crafting accessories.  The three of us gave a short talk on WYS and the sheep breeds they use, Fay's Proximity Principle and the story behind Winwick Mum and my new yarns.  Here we are – it was obviously my turn to talk in this picture and I'm in full flow! 😀 
Source: www.northernyarn.co.uk
That night also saw my first experience of Lancashire butter pie. I'm originally from Lancashire but have to say that I've never eaten that before – although I will certainly be eating it again when I have the opportunity!  It's pretty much just a potato pie with onions in it but it was really good – and especially as a late-night snack on the way home!
I found this recipe but haven't had chance to try it out yet.  It's definitely going on our menu list, though!
A trip up to see my friend Lucy in Skipton last week saw me driving through fields of sheep and lambs up on the moors.  We're very lucky in this country to have such a "green and pleasant land" and to generally never be that far from the countryside.
💜 On the needles
This a "just for fun" sock, although there is a certain urgency to it as I've poked my toes through most of the other pairs in my sock drawer.  The yarn is Cascade Heritage Paints in shade 9876 (Tropical Sunset) which originally came from Wool Warehouse although I'm not sure if the shade is still available now.
I'm not going to defend 3 shortbread biscuits with my brew other than to say that I like shortbread and they were very small.  Big daughter brought them back from a trip to Edinburgh and although they were allegedly to share, nobody else in the house is that bothered about shortbread biscuits and it would have been rude to have let them go stale.  Well it would, wouldn't it?!
And because I am not good at not having All The Socks on my needles at once these days, this is another pair that I cast on at the weekend.  
These ones are a gift, they're made with the rest of the balls of yarn that produced these socks and I've just reversed the colours so that I'll have enough …
The pink is WYS Sarsaparilla and the grey is WYS Dusty Miller.  I think they'll look good the other way round!
Here's another pair – although these ones are off the needles and have been for some time!  I am long overdue a no-nylon review for the yarn that I knitted these socks in, and there's a pattern to go with them too.   These are my Calcite Socks in New Leaf Yarns Alpaca/BFL/Teeswater 4ply – more information coming very soon!
Right then, I think we're all caught up … oh wait, I still have two unclaimed prizes from the recent giveaways.  I'm looking for Bevk for the Winwick Mum yarn giveaway and Curlygill for the birthday giveaway – please email me at winwickmum (at) gmail (dot) com so that I can post your prizes to you!
Have a lovely rest of the week!