Winwick Mum Sockalong 4th birthday
Happy birthday to you,
Happy birthday to you,
Happy birthday dear Sockalong
Happy birthday to you!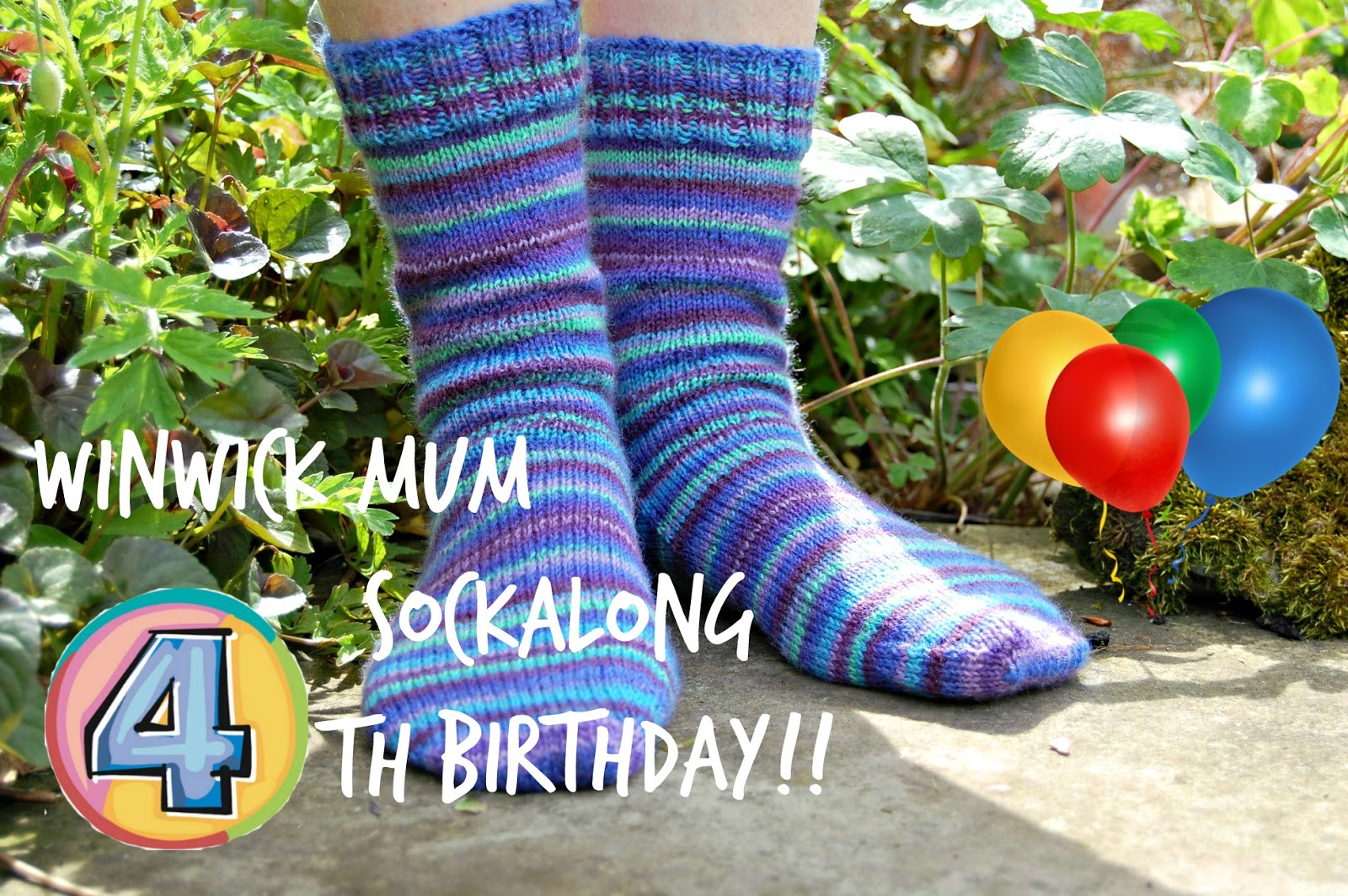 If you're new to the blog, you might be wondering what all the fuss is about and the fact is that four years ago today, I published the first of the Winwick Mum Sockalong tutorials to help beginners knit their own pair of socks, never once imagining what pressing that "publish" button on my blog would start.  
Nope, never ever did I imagine that I would be writing this post and that the Sockalong would have taken on the life that it has.  I never expected that tens of thousands of people would be in the Winwick Mum Sockalong Facebook group, learning and helping each other on a daily basis, or that they would still be chatting in the Knit n Natter Facebook group.  I certainly never expected that I would have written and published two books (Super Socks is the paperback version of the online tutorials and More Super Socks builds on those skills) or winning awards or that four years later, I would be seeing the Winwick Mum name on the ball bands of my favourite West Yorkshire Spinners 4ply yarn.  
Most of all, I never imagined that those Sockalong tutorials would still be helping so many people in so many countries to knit their first pair of socks four years on.  But oh my life, am I glad that they are!  It's truly amazing to be part of the sock revolution that seems to be sweeping the world now, to be cheering sock-knitting beginners on from the sidelines and to know that the words that were written in my little corner of the world here in Winwick have played such a part.  I love knowing that people are knitting socks for themselves, for others, to support their own health and because it's just a lovely thing to do.  
No, I really had no idea at all that the Sockalong would bring all of this – and it's all thanks to you for your support, for knitting the socks, for sharing the tutorials with others, for being part of the Facebook groups, for reading my blog and buying my books.  I am very grateful.
It's always a very special pleasure for me to show my thanks on the Sockalong birthdays by being able to give some treats away.  In what is now the usual tradition, there are two prizes and you can see them below.
There's a signed copy of Super Socks; a mug and some tea, coffee and hot chocolate so that we can have a brew together whilst you're knitting; a bag of Cadbury's nibbly fingers (little chocolate biscuits) as I think a chocolate biscuit goes very well with a brew; a ball of WYS Winwick Mum Collection yarn (courtesy of my friends at WYS – you can choose any of the four colourways, I've just shown two here in the pictures so you can see the yarn included), a very special Winwick Mum stitch marker and a Winwick Mum Sockalong badge (I forgot to photograph that but you can see it below).
The mug is a big mug decorated with rabbits in case you're wondering what the picture is.  I wanted a big mug so that you wouldn't drink your brew too quickly – or risk it going cold in a smaller mug whilst you were concentrating.  It's important to get your brew right! 😀 
I mentioned a very special stitch marker too …
I bought some stitch markers back in February from the very talented Indi at Front Pocket Studio and had the idea of asking her to make some for the Sockalong birthday.  Amazingly, she was able to make sense of what I was asking for and this is the result – stitch markers that match the yarn!  Oh these are super-cute, I am absolutely thrilled with them and if you're a winner, I'll send you the one that matches the colourway you choose.
And this is the  Winwick Mum Sockalong badge which I'll also put in with the prizes so that you can pin it to your project bag (or you!) and tell the world you're a sock knitter 😀
Would you like to win one of these prizes?  It's really easy to enter …
For the last three years, I've been asking you to tell me how many pairs of Sockalong socks you knitted since the last Sockalong birthday.  I'll never know how many pairs of socks have actually been knitted using the tutorials but it's nice to get at least some idea, so this year will be continuing the tradition.  So far, our running total stands at 10,960 pairs – how many more have been knitted this year?!  It's not a competition with previous years, it's just a bit of fun (and might also tell me how close we are to really taking over the world with hand-knit socks 😉)
To enter the giveaway, please comment how many pairs of basic Sockalong socks (not other patterns, please) you have knitted since May 2018.  Don't worry if you're still making you first pair or are about to cast on, just write that information and your comment will count too.  Because there's a choice of yarn, don't forget to tell me which one you would like!
Entries to the giveaway will close at 8pm BST on Wednesday 8 May 2019 and I will let you know the winners as soon as possible after that time.  I am happy to post the prizes anywhere in the world so don't feel that you can't be part of this because you don't live in the UK.  Don't worry if you don't have a Google or blog account to leave a comment, you can leave it as "anonymous" but don't forget to put your name in the comment so that when I post the winners I'll be able to identify you so that you can get in touch for your prize (and please do come back to check if you're a winner)!  Oh, and also don't worry that your comment doesn't show straight away – the comments are set for me to check them before they upload to the blog to make sure that no spam gets through so they are all safely stored in my blog messages until I've seen them.  I'll make sure they're all uploaded on time!
Happy birthday Sockalong, here's to many more years of socking all over the world!