Super Socks book – and a giveaway!
Well, here it is!  Amazon have excelled themselves and the 3-5 days they told me it would take for my book to be available has been less than 24 hours – pretty great service!
Ta dah!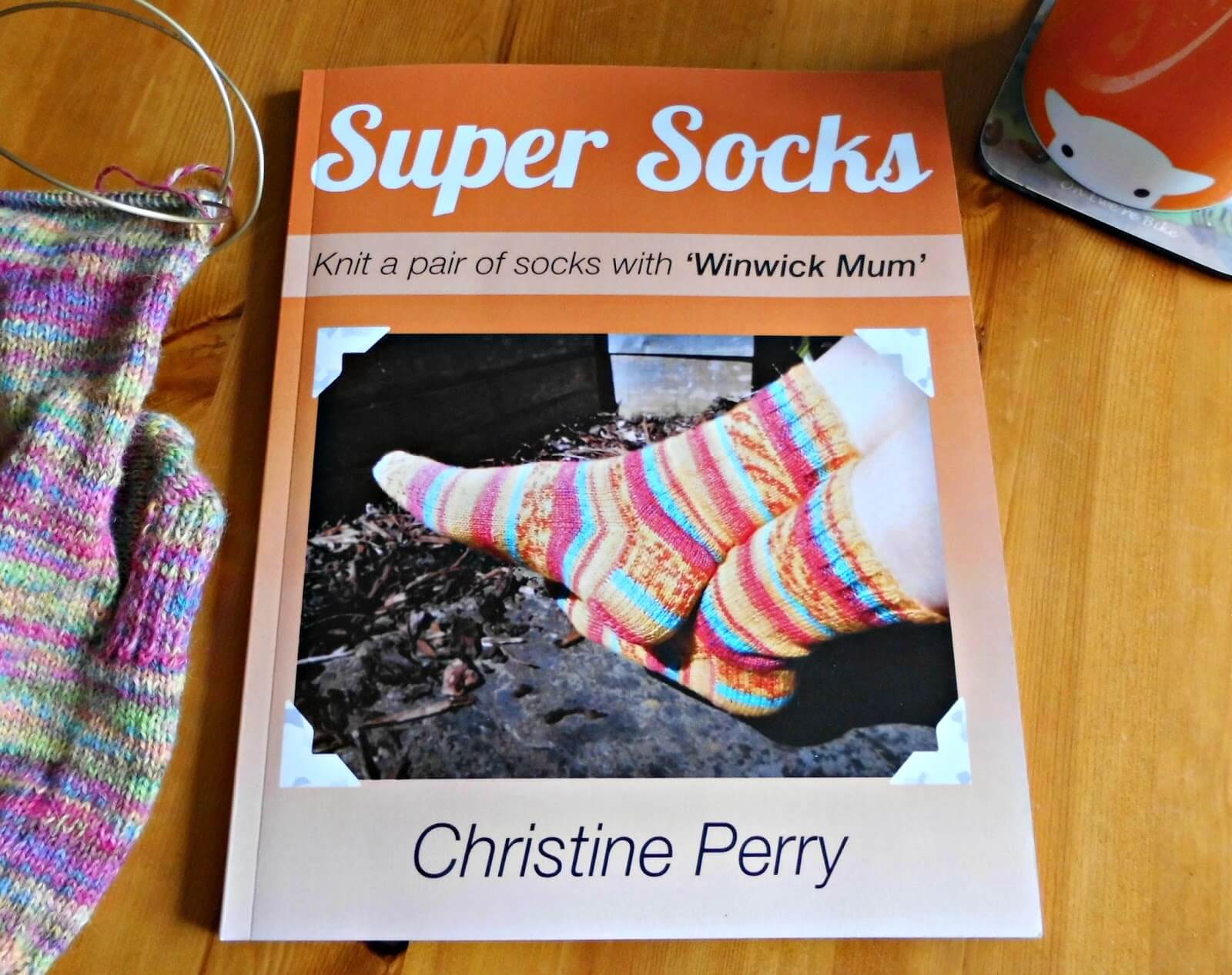 I wanted to turn the blog tutorials into a physical (and Kindle) book so that it would be an easy reference for people to use – either people who can't or don't use the internet, people who prefer to read a book rather than look at a screen or people going on holiday or somewhere without computer access but still want to knit socks, or perhaps as a gift instead of sharing a link.   Sometimes, it's just nice to have a book.
It seems incredible to me that all the thinking, knitting, photographing and writing over the last few months has resulted in this.  I love the accessibility of everything online and would be lost without the internet (YouTube in particular has been a lifesaver during some technical hitches), but actually holding a book your hands – especially one with your name on it – is really quite something.  It makes all the months of work worth every minute.
It feels like a seed has grown, or a caterpillar has emerged from a chrysalis – from this …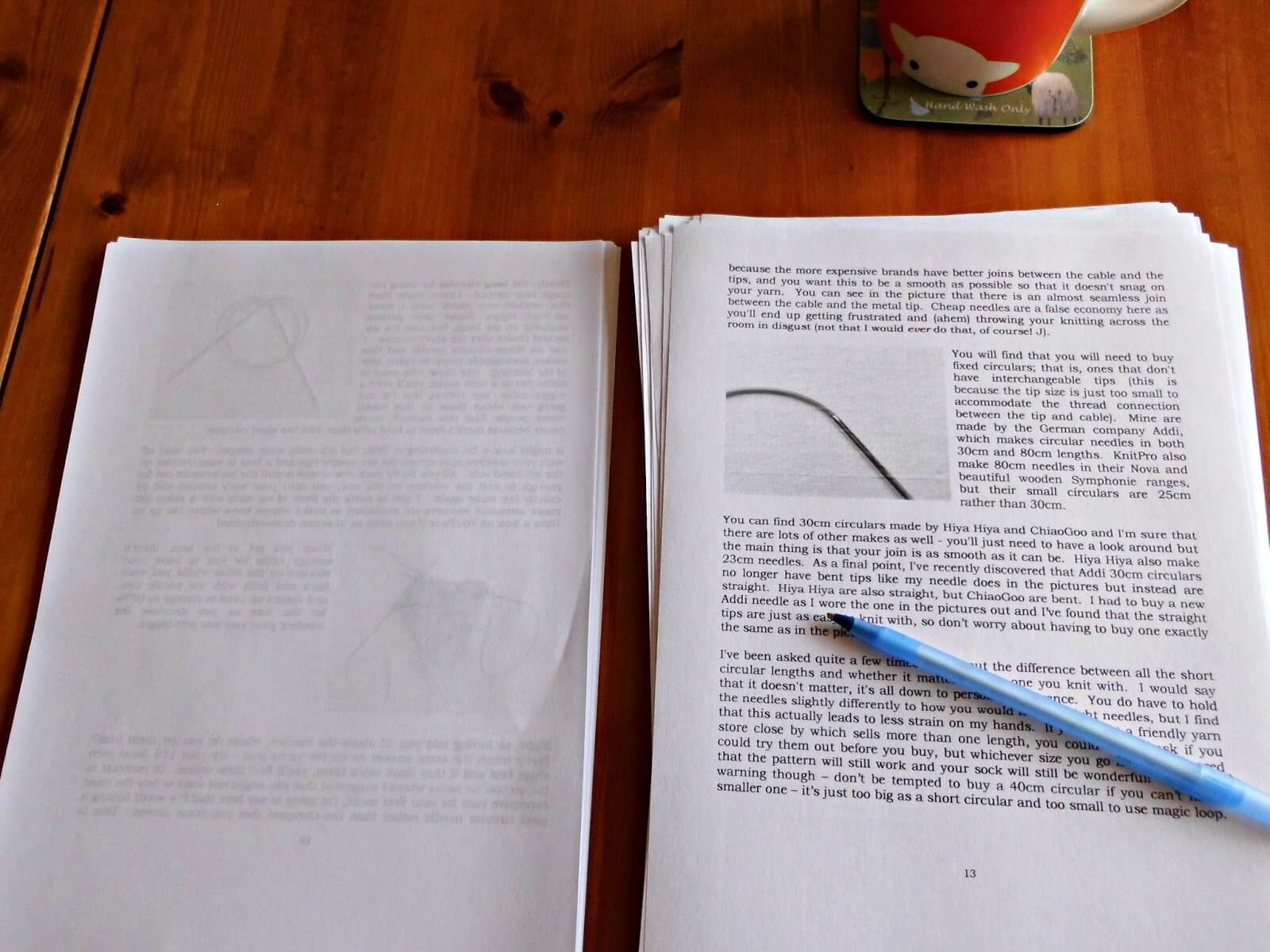 and this …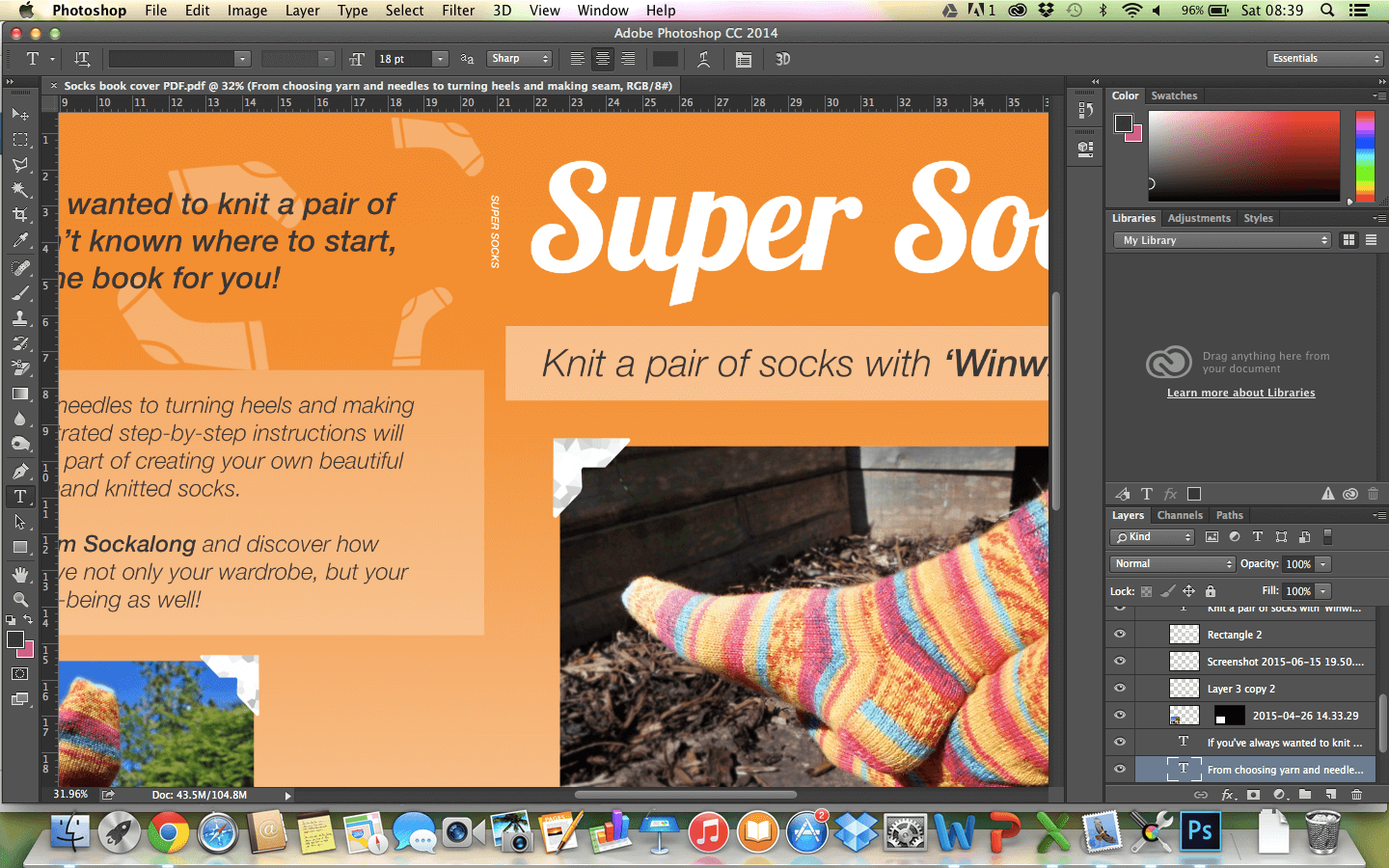 to something tangible with a picture of big daughter's feet on it (and one of the few blue skies we seem to have had this summer)!  I'm grinning like a Cheshire Cat!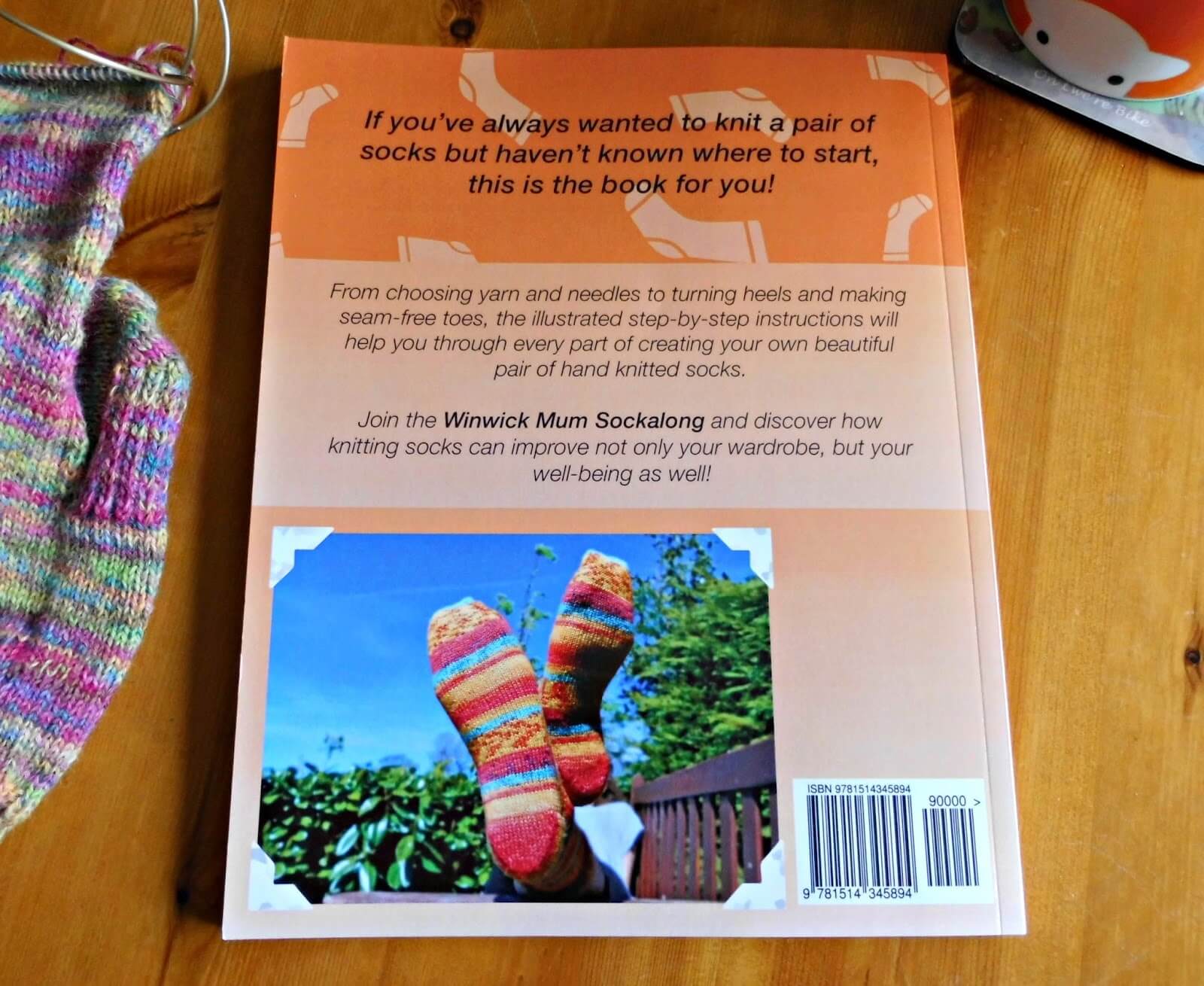 Would you like to have a look inside?
The book has a paperback cover, is 8″ wide by 10″ tall and is 108 pages long.  I wanted it to be a decent size so that it would be easy to prop it open whilst you're using it, and also so that the pictures could be of an easily viewable size as well.  The nice thing about the blog tutorials has been how big the pictures are so I wanted to try to replicate that.  You can't follow illustrated instructions if you have to put your knitting down every two minutes to pick the book up and squint at the pictures!
It contains the same information as the blog tutorials, from choosing yarn and needles, swatching and matching yarns to the instructions themselves.  I've chosen a font that's easy to read …
and offset the pictures with the text so that you can always see where you're up to.  The tutorials are set out for each needle type – short circular, DPNs and long circular – so that you can work on your socks from start to finish without having to search around the book for the next section. There are also the patterns for the 4ply and 6ply socks without the illustrations.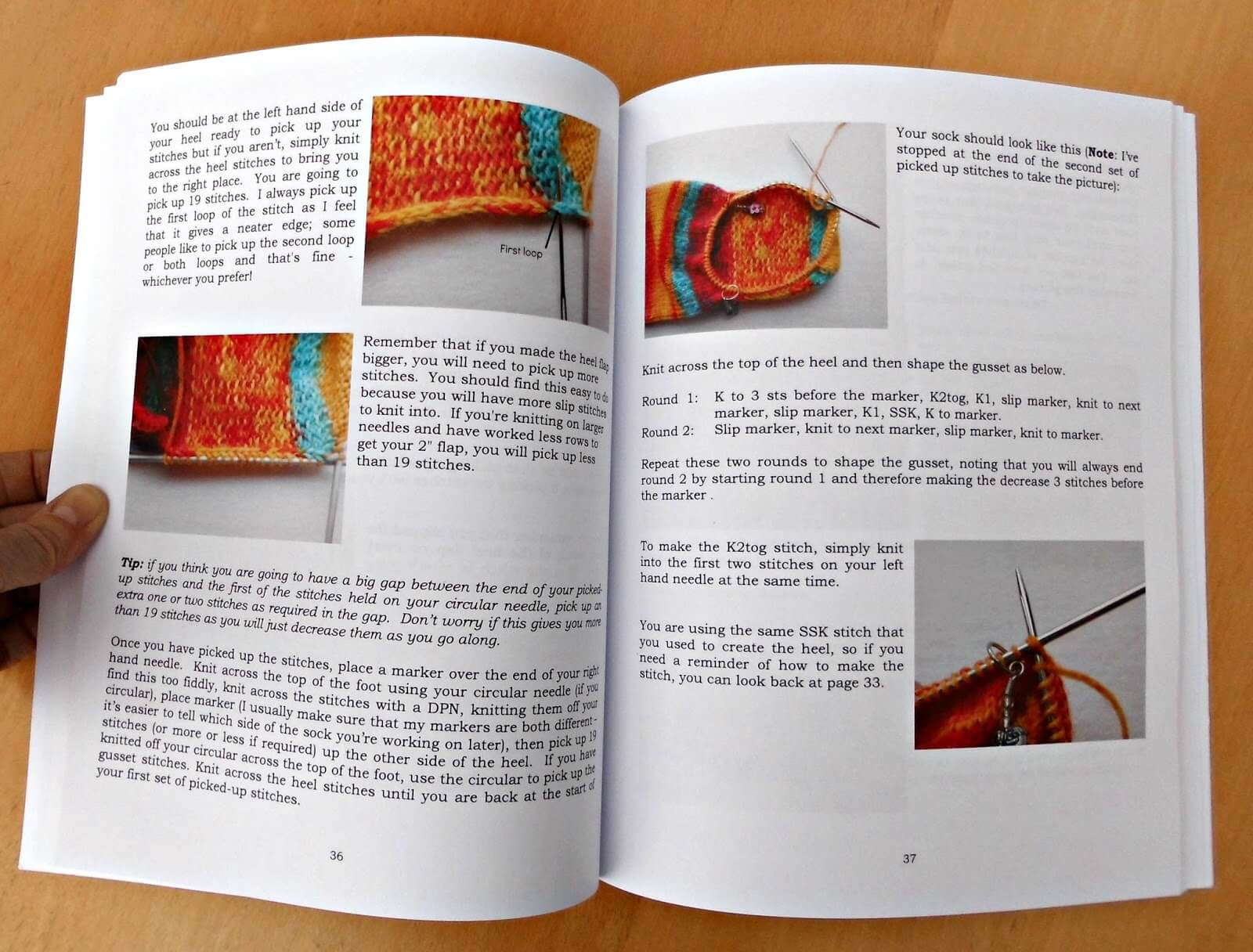 At the back of the book is an index – because there's nothing worse than wanting to check up on something and not remembering where you saw it!  That's where the search facility comes in very handy on the blog, but it doesn't work with paper!
The Kindle version is exactly the same but works on a Kindle instead.  These pictures were taken from the previewer that I was using – here it's set to show a Kindle Fire HD preview but the book works on any Kindle (although the photos change size).
As a Kindle works like a small computer, you can jump from any of the headings in the contents straight to the chapter
and I've also created an index at the back to allow you to jump to any of the specific sections that you might need.
I'm very grateful for all the support and encouragement that you've all given me over the Sockalong and no book would have been complete without mentioning this in the acknowledgements …
so thank you once again.  It really wouldn't have been the same experience without you!
And finally … what does it cost to have one of these books of your very own?  Well, as you've probably guessed, they're not free like the blog tutorials are, although I have tried to keep the cost down as best I can.  Most of the cost is the printing, especially as the book is full-colour throughout, and then Amazon's fee.  The profit that there is will be going towards the cost of big daughter's Peru trip which is less than a year away now.
In the UK, the paperback book costs £12.99 (less than a skein of hand-dyed yarn!) and the Kindle version is £6.40.  There's free shipping in the UK (thanks to Amazon's policy of free shipping for books over £10) and of course the Kindle version is an immediate download.  In other countries, it will be priced in the currency for that country and the shipping will be whatever Amazon's policy is there.  If you're a member of Amazon Prime, you can borrow the Kindle book for free.  If you don't have a Kindle, you can download a free Kindle viewer from Amazon which will let you read any Kindle book on a computer, and also a Kindle app which will let you read books on an iPad.
(If you do buy a copy, perhaps you'd be kind enough to leave me some nice feedback on the Amazon site as that way Amazon will share the book with other people who are looking for something similar – thank you!)
To celebrate the launch of the book, I'm going to give a copy away – either paperback or Kindle, whichever you prefer – and I'll sign the book if you'd like me to (providing you can read my rather untidy writing!).
All you have to do to enter is tell me who you would knit a pair of socks for and why.  It can be anyone at all, living or dead, real or fictional, so just add your comments at the bottom and I'll enter you into the draw.  I'll be picking the winner on Tuesday 4 August at 8.00pm (BST) using the random.org generator so that it's fair.
In the meantime, you can find the UK paperback here on Amazon (my husband is laughing at me because I keep going to "check" that it's still there), the UK Kindle version here, the US paperback here and the US Kindle version here.  If you're in a different country you'll find it through the search bar – exciting stuff!
I really hope that publishing the tutorials as a book will help even more people to discover that knitting socks isn't beyond them, and that it will be just the start of their sock knitting adventures! You can never have too many socks!
Edited on Tuesday 4 August, 9.00pm:  The giveaway is now closed, but thank you so much to everyone for entering the giveaway and leaving your comments – I've loved reading them all!  xx