Thunder and sunshine
In the last week, we've had ALL the weather from the most amazing thunderstorms to lovely warm sunshine again.  The British weather has always been – shall we say – unpredictable, but the way it's changing at the moment is enough to give you whiplash!
I've been writing about the garden a lot recently but this post is all about socks – hooray!
First up, let me tell you about a brand new pattern that is available now.  This pattern is called Hometown and I designed it especially for Wiseheart and Wild's Northern Alchemy New Mylne 4ply yarn – you might remember I first talked about the yarn back in November (here and here) last year, doesn't that seem a long time ago?!
The socks are called Hometown because when I designed them, I wanted to incorporate as much as I could about the place that Kate and Annie from Wiseheart and Wild call home.  They talk about the place with such affection and the yarn is the culmination of Kate's extensive knowledge of spinning and local sheep breeds, so it seemed only natural that the pattern should try to reflect that.
The Wiseheart and Wild studio is in a town in the Peak District called New Mills; it's surrounded by fields of sheep and the central cables represent sheep horns to celebrate all the local breeds of sheep that are included in the yarn (I think there's about six of them!), and the round cables represent sweeties called Refreshers which are actually made in New Mills.  If you're in the UK, you'll probably have eaten Refreshers at some point – coloured fizzy sweeties which dissolve on your tongue – they're basically compressed sugar so not particularly good for your teeth, but they're fun to eat!
The back of the socks is a textured pattern to represent the tussocky fields that the sheep live on – and also helps to keep the sock fabric  flexible so that you don't have to worry about resizing for the cables.
The yarn is available on the Wiseheart and Wild website (this shade is called Perry's Pink 🙂 ) if you fancy trying out the local yarn along with the pattern.  It is 4ply yarn but it's a bit thicker than commercial yarns so do be ready for that if you've never tried knitting with this type of yarn before!
It's lovely to see the socks in their home town and I am sure they will be very happy in the land of the round sugary sweeties!
Last week, I spent some quality time with dog in the boot of the car.  This is something that we've been doing on a reasonably regular basis this year as he's been seeing a dermatologist at the local animal hospital since before Christmas as we think he has a form of doggy hayfever.  We're not allowed into the hospital so after booking in we have to wait in the car park and I sit in the boot with the dog and we watch the comings and goings until it's our turn.
On Thursday, there weren't many other people waiting but oh boy, did it rain!  There was a thunderstorm right overhead that rolled around and around, with lightning flashes that lit up car park like floodlights.  The dog watched the rain bounce like marbles on the ground, we both breathed in the ozone from the storm and listened to the crack of the thunder overhead.  There was nowhere to go and nowhere else to be.  For the fifteen minutes or so that we waited, it was the best place in the world.
Just me, the dog and the sock.  That was enough.
The sock is the Scheepjes sock that I started quite some time ago – the striped yarn is Downtown 4ply in shade South Hill and the pink is Metropolis in shade Jaipur.  I've just about finished this sock now, just the Kitchener stitch to do, and then I can do that thing that we all like to do (come on, don't tell me you don't do this!) where we put on our one sock and hop up and down feeling very pleased with ourselves 🙂
Lots of people ask me about the softest yarn to knit socks with and this yarn really is very soft.  It's a merino blend and I think it's been superwashed so it actually feels more like knitting with cotton than wool, and the fabric feels lovely.  It is a little bit splitty, though, so you do have to be careful with it, especially if you've unravelled it at any point otherwise you catch a thread from the round below.  I'll be interested to see how it wears – but I've got another sock to knit first!
One last thing before I leave you to your weekend, and on the subject of Kitchener stitch … thank you so much to everyone who has joined my mailing list!  I do appreciate your support of my ramblings! 🙂
If this is all new to you, to thank you for joining the list there's a free download of my Kitchener stitch guide and you can get a copy for yourself either through the sign up form in the left hand sidebar or by clicking the photo below.
You'll get an email asking you to confirm that you want to join the list – I have to send you two emails to make sure that I comply with GDPR but sometimes the second one doesn't go straight into your inbox and I'm not able to re-send it.  If you've recently signed up and you're wondering where your Kitchener Stitch guide download is, please go and check your spam folder for the second opt-in email and click the button!   As soon as you click the "join the list" button, the guide gets sent to you immediately so that's the only thing that's causing the hold up!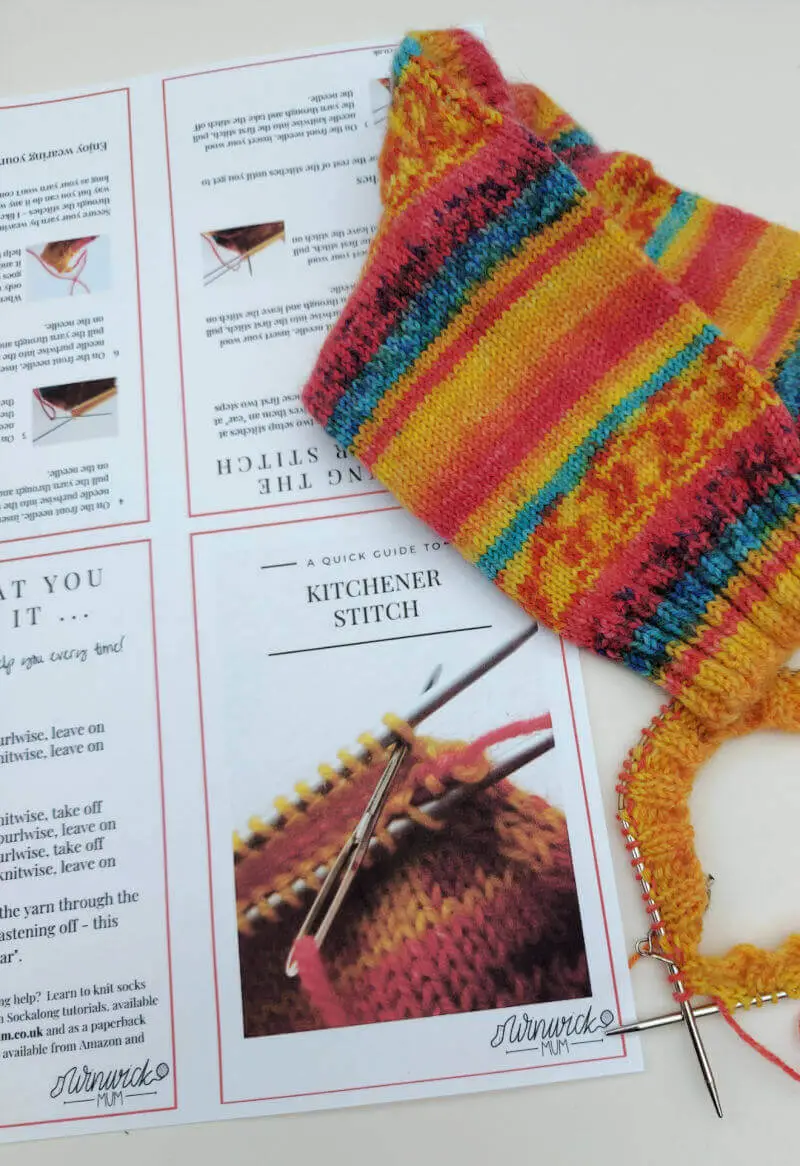 Have a lovely weekend – I hope it's full of everything you want to do! xx