Gift IOU – free printable download
There's nothing nicer than a hand-made gift – after all, as a character from the one of my girls' favourite Christmas story books Angelina Ballerina's Christmas by Katharine Holabird said, "A home made gift comes straight from the heart", and I think she's right.  Something that you have made yourself tells the recipient that you have thought carefully about them, chosen yarn to suit them and given your precious time to make something that you believe they will love.  It's wonderful to make decisions and lists and cast on, knowing that your hard work will be much appreciated.
A hand-made gift can also be super-stressful.  It doesn't matter whether it's for Christmas, a birthday, a baby gift or any other event that you can think of, there are times when you realise that you're just not going to get finished in time.  I have been that person knitting till way after midnight on Christmas Eve so that I can have something wrapped and ready for the next morning, and it's not fun.  We've still got a few weeks to go, but if your to-do list is longer than the number of hours left in the days before Christmas, that won't be making you feel that "all is calm"!
A year or so ago, I didn't quite finish a pair of socks that should have been ready for Christmas morning.  No amount of late-night Christmas Eve knitting was going to solve this, so I decided that I would give one sock and an IOU.  To my surprise and relief my Dad, who should have been wearing new Christmas socks, spent the day laughing every time he looked at his IOU note and suggesting that perhaps he should hop in his one sock until the other one was ready.  In the end, I had to remove the lone sock from his grasp and put it away!
It made me realise that sometimes, it really doesn't matter if we don't finish in time.  Our intentions in making something are clear and the gift recipient is often as pleased to know that it is coming as they are to have it in their hands.  Sometimes, we just don't have enough time for a variety of reasons and frantically knitting when you know you should be doing something else is not the way to a stress-free gift.  Sometimes, it's OK not to be finished.  If you find yourself in this situation, you might find this useful – feel free to download and print out this IOU to give to your gift recipients and take the pressure off yourself.  After all, it is the season to be jolly!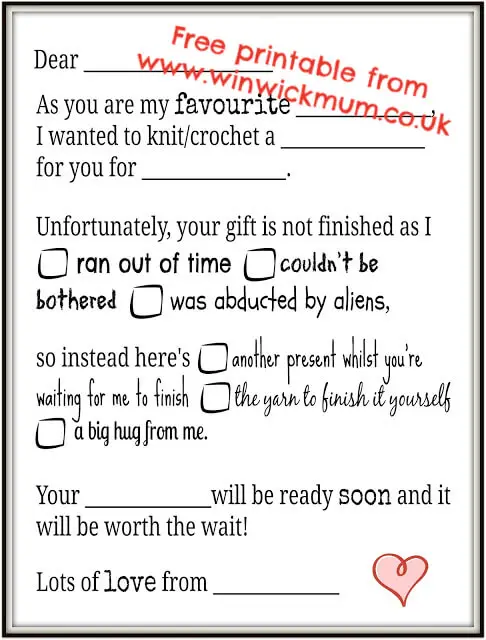 Click HERE to download your IOU!