A Woolly Community – Visit to Wool N Stuff, Wakefield
Thank you so much for all your comments and conversations after my last Monthly Musing post about communication and loneliness.  I never expected that it would touch such a chord with so many people, but I'm glad that it has started conversations and, by chance, it fits perfectly with today's blog post.
Back at the beginning of October, I travelled up to Wakefield to spend the day at Wool N Stuff.  It's always great to see the spaces that yarn shops occupy and this one is a little different from the usual as it used to be a nightclub!  This explains why there's no shop window, although you certainly can't miss the pink exterior … or the yarn ball Christmas tree!
Yes, that really is a Christmas tree made from lots and lots of balls of yarn – now that's something that lots of us would like to see on Christmas morning!  😀  And can you see something else in the back of the picture that looks interesting?  Come and have a look!
Like me, you've probably realised very quickly that this is no ordinary yarn shop and seeing Poseidon sitting here by the front door with his mug of Yorkshire tea confirms that!  Vickie, who owns Wool N Stuff, had mentioned to me that there is a strong knitting community based at the shop who do a lot of charity knitting, and Neptune is just one of their creations.  You won't be surprised to know that there are more, but for now, let's take a look around inside – I bet you want to know what a former nightclub looks like as a yarn shop!
Are you ready for this?  It looks like this!  It feels like there are acres of space, taken up with yarn, fabric, books, kits, accessories – pretty much everything you would need to work on pretty much any crafting hobby you chose!  
You would never guess from the outside, but this place is a real treasure trove and definitely a gem of Wakefield's high street store offerings.   


Can you see a table right at the back of the shop in this picture?  That's Wool N Stuff's knit n natter and workshop space, but more of that in a minute.
In this shop, you'll find lots and LOTS of yarn – familiar brands such as Sirdar, Rico, Hayfield, King Cole, West Yorkshire Spinners, Stylecraft – along with needles and accessories and lots of sock yarns (oh yes, you'd expect me to make a beeline for those!) …
And yes, those are Winwick Mum yarns on the shelves, thank you for noticing! 😀  
A really good range of fabrics for a variety of uses …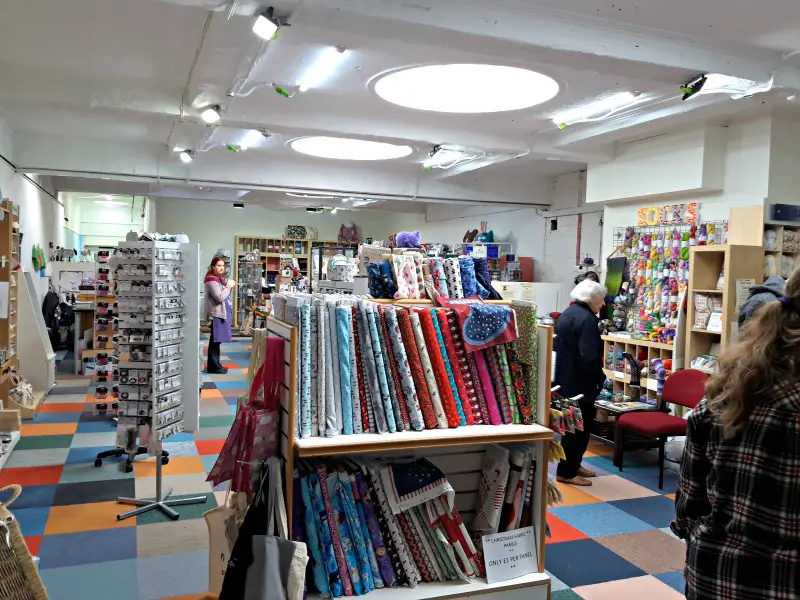 There were some lovely "make your own Christmas stocking" fabrics in stock – ideal for this time of year! – along with notions, zips, cottons and a huge selection of buttons. 
Pattern books – oh so many of them!  I can't remember the last time I saw so many craft books displayed like this, and you're certainly spoilt for choice – there's such a good selection of the up-to-date releases too (I spotted my friend Emma Varnam's recently published Crocheted Succulents book in there!) that you'd be sure to find whatever you needed.
I set myself up by the sock yarns (there's my little table of books and sock samples at the front there) …
but to be honest, I didn't spend a great deal of time there at all … let me tell you why.
This is Vickie, who owns Wool N Stuff, and she's lovely.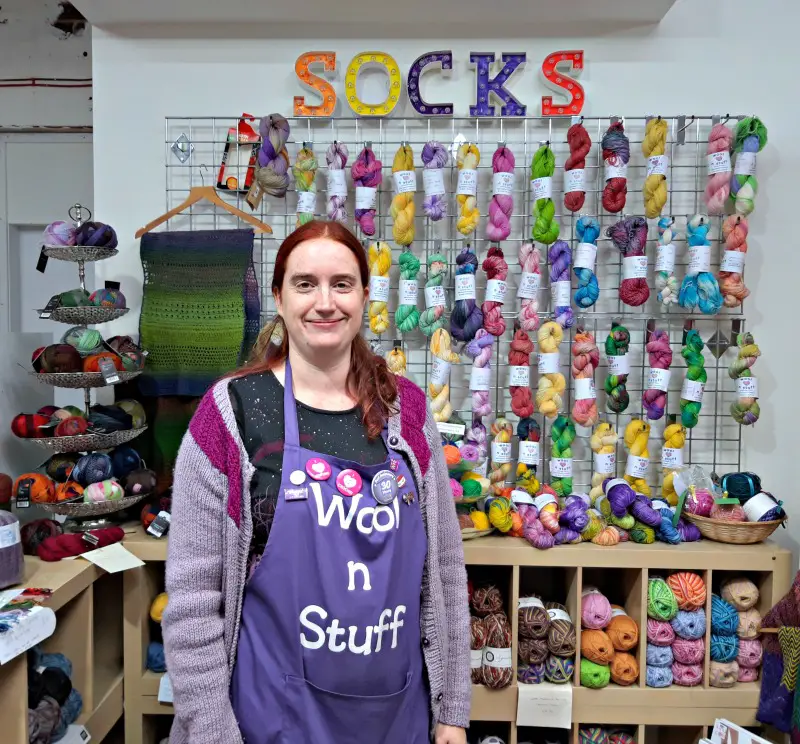 Talented too – those gorgeous skeins of yarn hanging behind her are her own hand-dyed sock yarn.  
She's got a very definite vision of what a yarn shop should be about, and for her, it's not just about what the shop sells.  Those skeins aren't on the shop website because Vickie wants to encourage people to come into the shop to look at them for themselves – not just because they'll buy things (and let's be honest, not many of us leave a yarn shop empty-handed) – but because Vickie is building a community here.  She absolutely understands the importance of making connections, of bringing people together and her four-times-weekly full-to-bursting knit n natter sessions reflect that. 
It wasn't long after the shop had opened that people started arriving, seating themselves around that huge table (also used for Vickie's extensive workshop programme), making sure they all had a brew and catching up with their latest "doings".  Before I knew it, a mug of tea was in my hand (thanks, Catriona!), a chair was pulled up for me and I was absorbed into so many conversations as if I'd only been chatting to them all yesterday.  
I got to talk about socks (well, I was going to do that whether anyone wanted to or not, wasn't I?), to admire so many yarns, to be astounded at the speed that some people knit (Helen, I'm looking at you and your speedy socks!), to learn a new ribbing technique from June which I am already incorporating into my own knitting, to re-arrange the tubes of buttons with Cammy's little one whilst his Mum took a well-deserved break with her knitting, and was wrapped up in Wendy's hoody when I discovered that I hadn't put enough layers on when I left the house.  I realised very quickly that this is a group of people who see themselves almost as a family; they look out for each other, give each other support and this generosity of spirit is extended to everyone around the table.  It really is something that money can't buy.
More people arrived, welcomed whether they were regulars or newcomers, and more chairs were magically squeezed in around the table.  Beginners sat with experienced crafters, new skills were learnt, advice was shared, new friends were made across generations.  It felt like a giant woolly hug, and there were more than a few moments when I needed to put my knitting down and just absorb what was going on around me.  
Have you heard of the Five Ways to Wellbeing?  They are to Connect, Be Active, Take Notice, Learn and Give.  Every single one of those was in play here; I can see why people travel a fair distance to be part of this group and if only Wakefield was a bit nearer me, I would be there too!
I felt very grateful to be part of the day, and to be so welcomed, and particularly when it was time for cake (expertly made by Nicola – thank you)!  Oh, I do like a piece of cake – and you can't go wrong with a cake that looks like a sock, can you?! 🙂
It went down really well with another brew, I can tell you! 😀
Sometimes, needs must and a trip to the loo took me past the knitted sarcophagus …
After I'd got over my double-take moment, Vickie explained to me that it was part of a display that would be going to the Wakefield Library and Museum, and that the mummy to go inside it was elsewhere in the shop.  Of course!  Where else would it be? 
(In case you're intrigued, as I was, by how you'd even start making this, it was knitted in the round as a giant cowl and then fitted over the sarcophagus frame which Bryony told me she had "just put together" – our crafting skills take many forms! 😀)
Here's the finished display at the Museum as part of their Ancient Egypt exhibition – doesn't it look great?
There is so much to see in this shop, I haven't really done it justice with my photos so that's a good excuse for you to go and take a look for yourself!  The table displays are fabulous …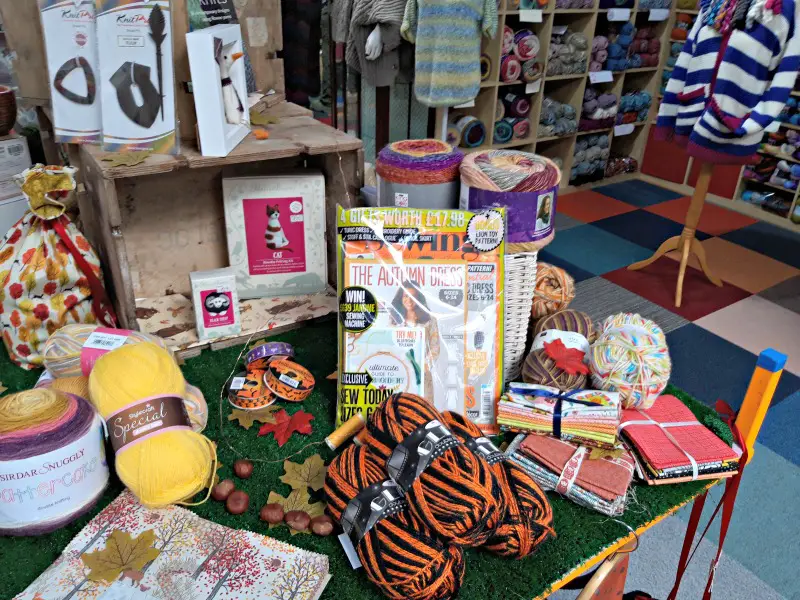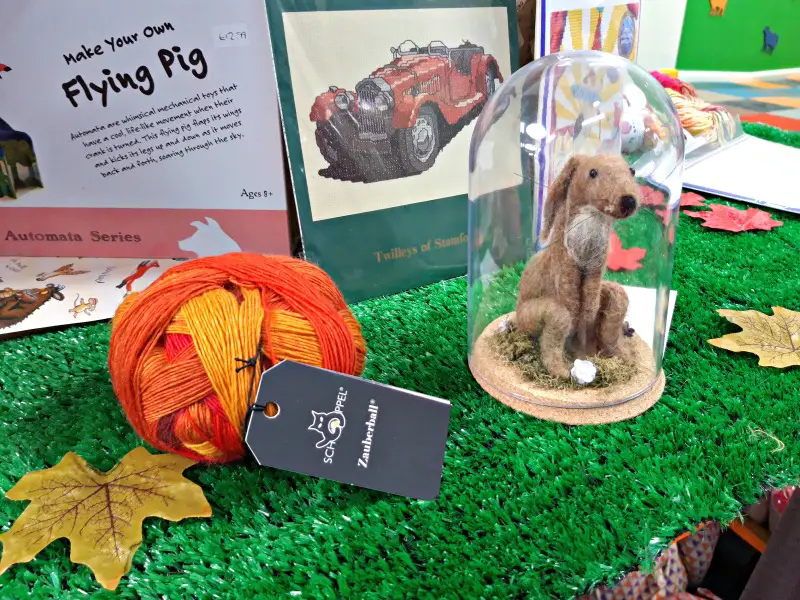 It was only after I got home and looked at my photos that I spotted the "Make your own Flying Pig" box in the background of this one – there really is something for everyone in this shop, not just knitters and crocheters! 😀
By the time I left to drive home, I was warm inside as well as outside (thanks to the hoody!) from spending the day in Vickie's fabulous shop with so many lovely people.  The quirkiness of Neptune in the doorway and a sarcophagus by the loo suits the quirky former nightclub surroundings perfectly, and the strength of the community that has formed around the shop is a joy to behold.
If you're close enough to visit Wool N Stuff, I can't recommend it highly enough. 
Wool N Stuff, 46 Upper Kirkgate, Wakefield, WF1 1TQ    Telephone 01924 565740
Knit n natter sessions are free and take place every week on Monday 12.30 – 2.30, Tuesday 12.30 – 2.30, Wednesday 4 – 7 pm and Saturday 10 – 12.
Thank you so much to Vickie for inviting me to Wool N Stuff and also to Catriona for looking after me so well!