British Craft Awards
It's not long now until the end of the year – we can count the weeks on one hand – and it's been a pretty amazing year for me in terms of the Winwick Mum blog and the Super Socks book being recognised in national awards.
First there was the Knit Now Online Knitter of the Year award which had a prize of a fabulous day out at the Sirdar mill and a chance to look behind the scenes both at what goes on at Sirdar and at Knit Now magazine.  
Then, later in the year, I found out that I'd been nominated for the British Knitting Awards in two categories – Favourite Book 2015 and Best Knitting Blog.  Super Socks was awarded third prize in the Favourite Book category which was hugely exciting, and I was over the moon to be able to go to the awards ceremony with Lucy of Attic24 and Emma and Kate from Yarndale and meet up with fellow award winners at Alexandra Palace in London.  
These awards were organised by Let's Knit magazine and in case you missed it in my earlier post, here's me and my cheesy grin with Sarah Neal, the editor of Let's Knit, again J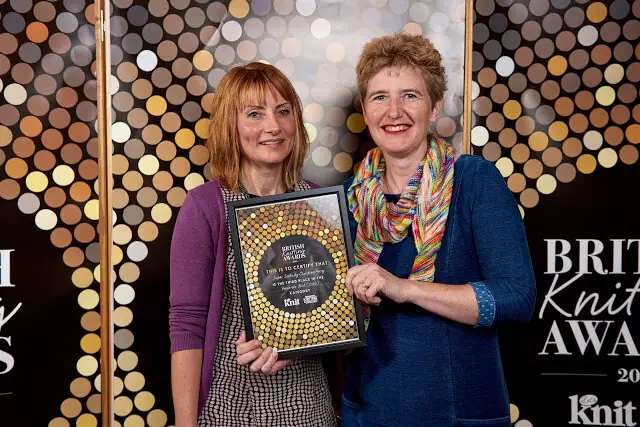 Now – and I could hardly believe this – I am unbelievably proud to be able to tell you that I've been nominated for another award, this time the British Craft Awards organised by Immediate Media who publish a whole host of crafty magazines including Simply Knitting, Simply Crochet and Simply Sewing magazines.  Oh wow!  
There are five different categories – Sewing, Quilting, Papercraft, Cross Stitch and Knitting & Crochet – so there's an opportunity to vote no matter what or how many crafty hobbies you have. You can find my nomination in the Knitting & Crochet section.  I'm in the Knitting and Crochet Blog of the Year category and I'm blown away to be listed with the other people in the category – as far as I'm concerned, I'm a winner just to be there!  
I'm absolutely delighted that my little blog is considered to be a "must-read for crafty inspiration" and my heartfelt thanks go out to everyone who has nominated me.  Blogs by nature are quite self-indulgent – I choose what to write and I write about what interests me – but I do try to write about things that I hope will interest other people too, and in doing that I am discovering more about the knitting and wool industry which is a hugely fascinating subject in itself, and about me too.  None of us exist in isolation and just as I am inspired by what I read and see every day, I always hope that what I write will add to the collective yarny inspiration.  I know there are a lot more warm feet since I wrote the Sockalong tutorials, at least!
If you've got time in around your Christmas preparations to vote in these awards (and perhaps win a prize of a £100 Amazon voucher if you're in the UK) then you can find the voting form here: http://www.britishcraftawards.com/ so that you can have a look for yourself.  The voting closes on 20 December 2016.  I'd love it if you wanted to vote for me – thank you! xx