Whoop whoop!
Well, have I got some exciting news to share with you today!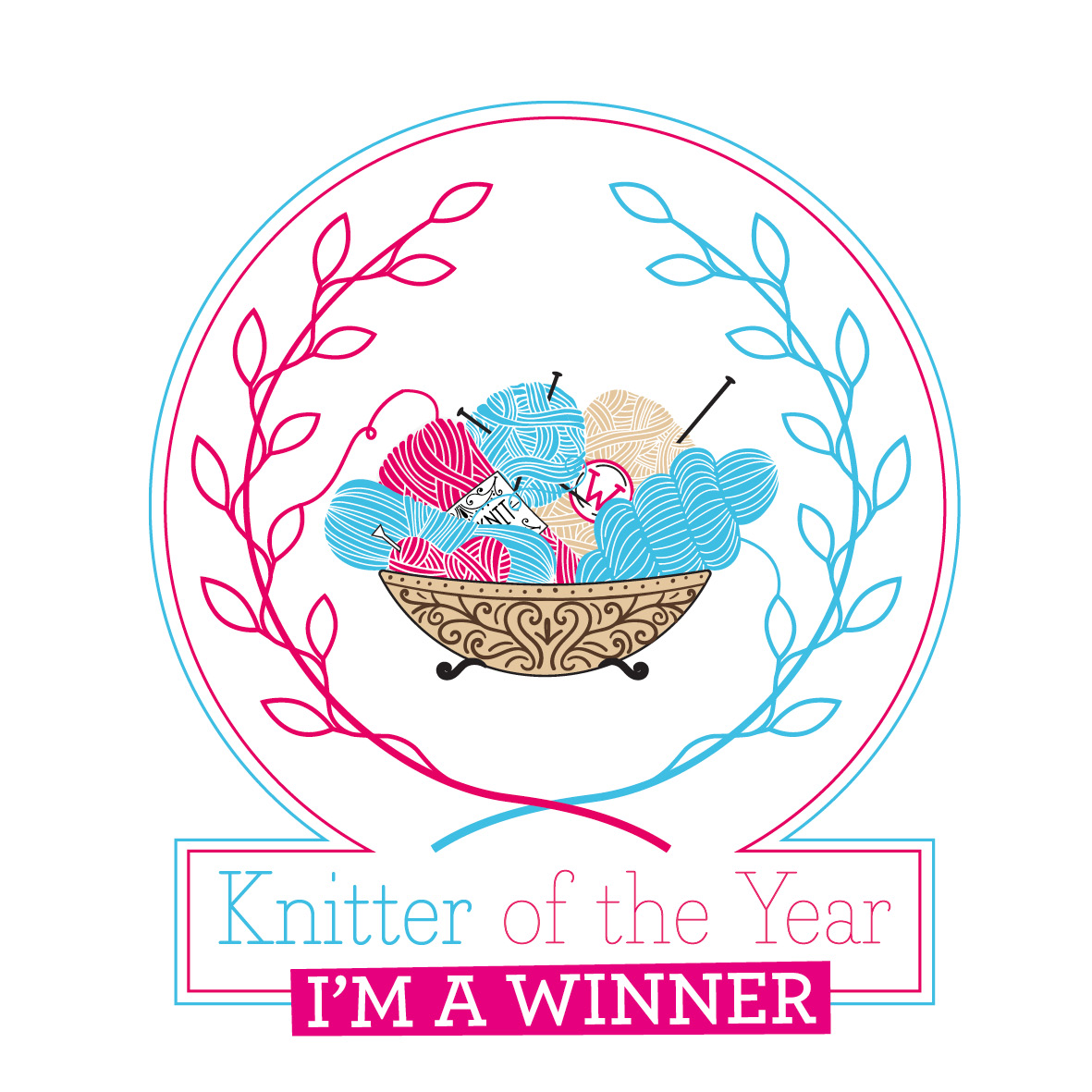 Thanks to your votes, I've been named as an Online Innovator in the Knit Now Knitter of the Year awards – whoop whoop indeed!  
Thank you so much for voting for me, I'm absolutely thrilled with this award, not least because the very first award that I ever won for Winwick Mum was a Knit Now Knitter of the Year one, so it feels very special to be awarded a second one.  
There are lots of other winners – five in each category – and you can read all about them here.  The prize is a visit to West Yorkshire Spinners mill in Yorkshire and I'm hugely excited about that.  Not only will I get to see the lovely people at West Yorkshire Spinners again, but I'll get to meet the other prize winners and I don't mind telling you that I'm rather in awe of some of them so that will be super-exciting.  And you can be sure that I'll tell you all about it when I've been, so you can get to meet them too!
It's been a week for illustrious company as I went to Skipton on Friday to meet up with Lucy and Emma Varnam at the knit n natter at Coopers Cafe Bar.  We try to get together a couple of times a year to catch up with each other as our paths don't often cross and we'd all been looking forward to this meet-up for some time.  There was snow forecast when I left on Friday morning but I didn't see any signs of it, not even when I drove across the moors before dropping down into Skipton. 
I did see sheep though, and lots of signs warning drivers that the sheep were in the road as there are no fences or walls to keep them contained on that particular section of the moors.  These sheep didn't even bat an eye when I stopped the car to take a photo – it's been a while since we've had a sheep photo, hasn't it? …
and this one was standing in the ditch next to the road.  It stood and stared at me for a long time until I got my camera out and then it decided to turn it's back on me.  Ah well.  You might like to see a photo of a sheep's bottom 😀
I don't usually manage to get to the Friday sessions at Coopers as they start at 9.30am which is just a bit early for me to get to from Winwick.  Everything was in full swing by the time I got there (a bit late as I'd been photographing sheep) but I managed to squeeze into a spot at the end of the table next to Tracy (who dyed my cowl yarn – I'll show you that in a bit), Donna and Samantha who has just finished knitting her first sock (and an excellent job she has made of it too).  You can see Betty in the picture too – she's the dog at the top of the photo – who regularly comes along with her owner and sits happily under the table out of the way of everyone's feet, and Sharon from Cottonpod (actually, you can just see her hands, she's taking a photo of Betty) who was also visiting for the morning – it was a busy session!
Lucy was busy working on her Sweet Pea Crochet Along blanket – she decided to offer two versions of the stripes this year so it's been full-on crocheting for her just recently.  It's a gorgeous blanket and if I didn't have a Moorland blanket that I started – ahem – back in 2017 still on the go then I might be tempted to think about joining in with this one.  One of Lucy's many talents is putting colours together that blend irresistibly and she's certainly done that with her Sweet Pea palette.  These colours are stunning!
Source: www.attic24.typepad.com
Emma is a genius at crocheting toy animals and has a real talent for giving them "proper" faces.  This is her book (or one of them – she's a prolific designer and author): Cute Crocheted Animals …
and Donna had brought along Emily Rabbit which she made from Emma's book to meet Emma in person …
Source: Instagram  @creative_mummy_bear
Isn't she cute?  I love her little bag, too!  Oh, if only there were more hours in the day!  I want to make All.The.Things!  I may not resist one of the projects in Emma's soon-to-be-published book on crocheted cacti and succulents, especially as big daughter is busy filling her student flat with houseplants and I think a few crocheted cacti would fit in very nicely …
Oh I'm telling you, that Emma is super-clever when it comes to designing things like this.  She's got the knack of turning something that I wouldn't even know where to begin designing into a physical creation that is perfect down to the last detail – even the soil!  I had trouble spotting the crocheted plant from the real thing in some of the photos she's shown me!  She's also a winner in the Knit Now awards and I am delighted for her.
You might have noticed from the photo above of the crowded table that I'm still working on the Pink Sock.  I actually managed to get a fair bit done on Friday, including the heel flap and turn, and this is where is I was up to by Sunday morning – not bad at all considering the amount of chatting going on!  I'm heading down the foot now so there's not long to go and no, of course I didn't at all the chocolate, I did share it, and I didn't eat it all for breakfast either! 
I decided that it would be a mistake to try to do any more on my cowl at the knit n natter which is coming along very nicely and I'm very pleased with it …
Past experience has taught me that trying to do anything other than very basic knitting at a knit n natter group is a Very Bad Idea as I am so busy chatting that I don't watch what I'm doing and then have to spend ages afterwards unpicking what I've done.  The colours have come out very well in this photo and I was pleased that I'd done enough for Tracy to see how it was working out.  She explained that with her eco-printed yarns it's never easy to guess how they're going to knit up because of the dyeing process so she was delighted that the colours had come out so clearly.  I'm about half-way through the skein now so hopefully with a good couple of evenings' knitting I may be nearly done by the weekend.  It's much slower-going than knitting socks and isn't helped by the fact that my needle tips are very sharp so I keep skewering the ends of my fingers and having to go and find plasters, but I am enjoying knitting it very much.
Anyway, enough of that – back to Friday and after the knit n natter was over, the chatting between Emma, Lucy and I went on.  And on.  And on.  All afternoon and into the evening and yes, they are wine glasses that you can see there – the sun was well over the yardarm by point so it was deemed acceptable.  Lucy and Emma were deep in conversation here; we'd bagged armchairs by the wood burning stove and we could have happily sat there all night!  
The drive home the next morning was quite different to the drive up the day before.  (No, I'm not going to tell you what time we stopped chatting but it was late and just as well that Emma and I were staying over in Skipton!)  It had been snowing on and off throughout the afternoon and evening and although there wasn't anything on the ground in Skipton, there was a little bit as I headed back over the moors.
And fog!  I wasn't expecting that as I drove up the hill – it appeared from nowhere and was quite eerie to drive in.  There was nothing to see on either side except for stone walls; no sheep, no hills, no trees.  Fortunately, it didn't last for long and as I came down from the height of the moors the clouds lifted and the day brightened up.
It's always a joy to spend time with like-minded friends, isn't it?  I'm very fortunate to have quite a few of them in my life and it's truly a blessing.  Definitely food for the soul.  I'm looking forward to the next time already!
I've one last thing to show you before I sign off today … plans afoot … I've been to a photo shoot!
Not long now and I'll tell you all about it 😀