WYS Winwick Mum Collection yarn – samples 'n' socks
Are you ready for the next instalment of the Winwick Mum Collection yarn adventure?  Yes?  It's been a-g-e-s since I showed you the yarn and now I can finally show you what it looks like knitted up!  Do be warned – there are a LOT of photos in this post!
You may have seen a few preview pictures of the socks from the Stitches trade show where – I am delighted to tell you – lots of WYS stockists very much liked the look of the yarn and are keen to have it in their shops, and I'll be able to show you the gorgeous pictures from the photo shoot very soon, but for now you get to see … drum roll please … new and exclusive photos taken in the exotic location of Winwick and modelled by big daughter and small daughter (both of whom now have bigger feet than me – how does that happen?!).  Yes!  Vogue has nothing on us!
But first, let's roll back just a little bit to my last posts on choosing the colours and what goes on at the West Yorkshire Spinners mill …
It all started off with a conversation about colours.  I'd chosen the four sets of colours for particular reasons, as I talked about in my colour inspiration post.  By the time I left the mill that day, we had all the individual shades for each yarn picked out and it was all over to Sarah in the dye house to work her magic.  I drove home in a state of high excitement and not a little impatience to see what she was going to produce!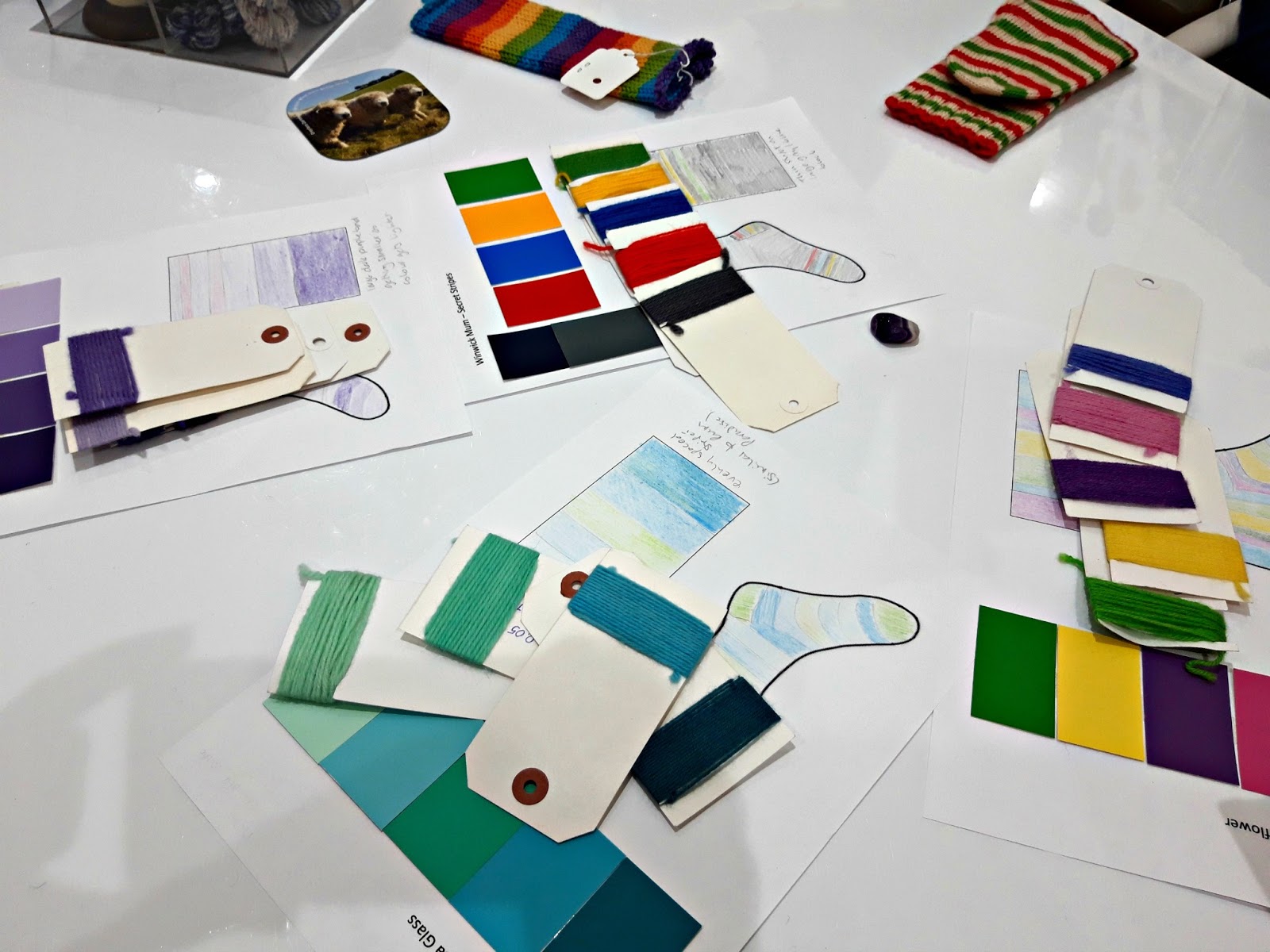 I didn't have to wait very long.  Within a day or two, there was a packet for me with the first sample of Hidden Gem inside; it was very good but something about it wasn't quite right.   However, it was a starting point and after a long phone conversation, a few photos emailed back and forth and some discussion about how the colours went together, the postman brought another packet of samples a couple of days later.  The note inside read: "we think number 3 is the best" – and it was!  Oh, have you ever had one of those moments where you catch your breath and the emotion hits you?  It might sound crazy to say that about a yarn sample but this was definitely one of those moments!
When I talked to Sarah about the colours for Hidden Gem, I showed her the amethyst pebble that I carry around in my pocket and we talked about the stripes of colours that occur in the stone.  Here's my pebble …
and here is the sample that Sarah made using the amethyst-inspired colours that I chose …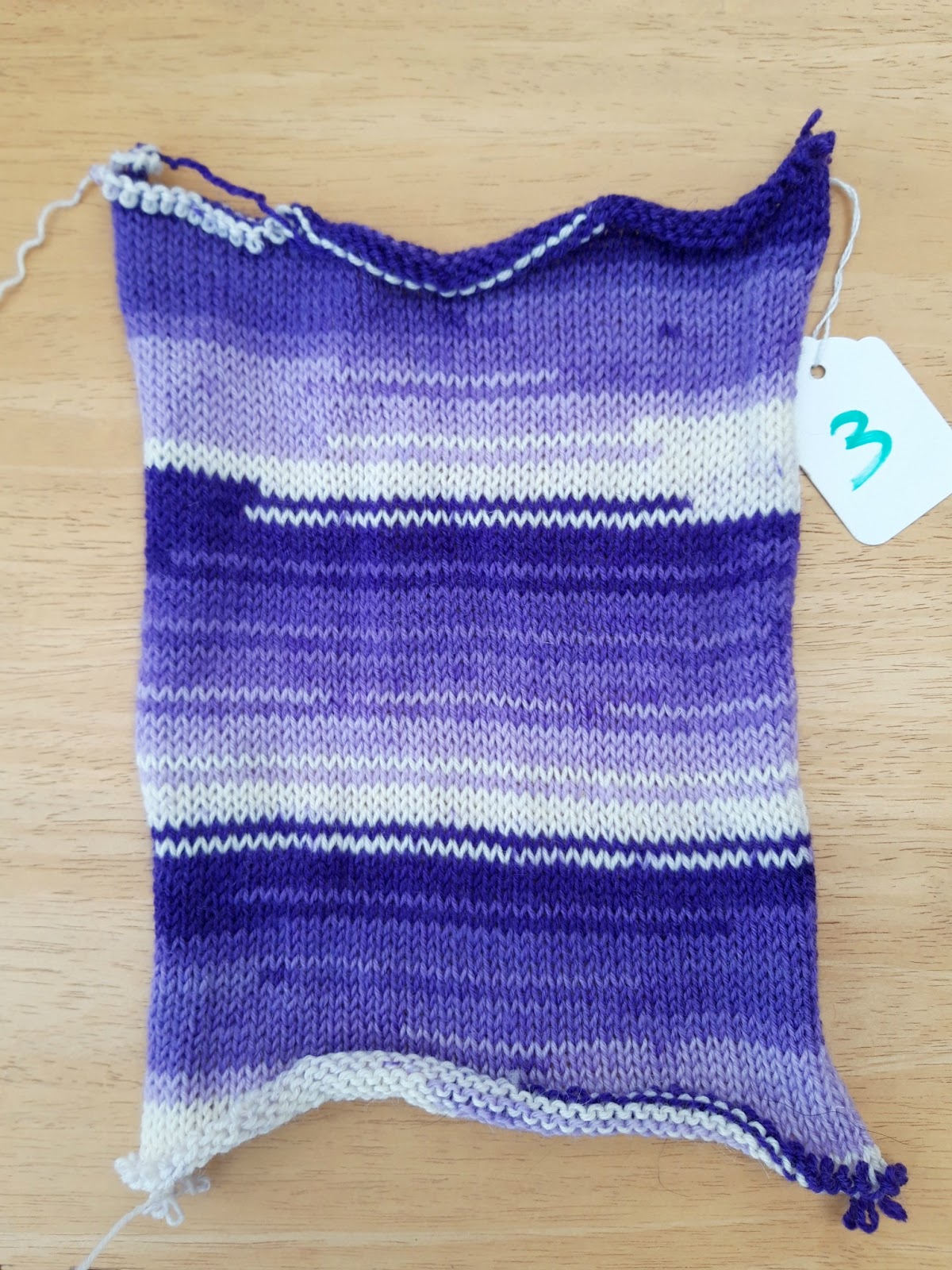 The stripes look different at the top because the sample is knitted flat
It was my amethyst pebble – in a yarn!  I was absolutely thrilled with this sample, and Hidden Gem became the very first yarn in the Winwick Mum Collection.  What I also like very much is that the stripes are different to the existing Signature 4ply stripes: I had originally expected them to be the same and I was looking forward to seeing my colours in those regular stripes, but when I saw this and how closely it matched the vision in my mind's eye, I couldn't have been happier.  These are now "Winwick Mum stripes" and as you'll see, all of the yarns follow the same pattern even though the colours change.  Most importantly, it's very easy to match these yarns so even though the stripes might look irregular, you can still wear matching socks.  Phew!
Back at t'mill, sample balls were produced (just as you saw in my post about the mill) but on a much smaller scale so that if any last-minute tweaks were needed to the colours or the pattern there wouldn't be a warehouse-full of yarn to deal with.  The very first balls were produced just in time for Yarndale weekend and as I was up in Skipton anyway, it was only a short hop over to the mill to collect them so that I could get started.  You might even have noticed me knitting away with it at Yarndale (hidden in plain sight! 😉), although it was so busy that I didn't get much knitting done at all!
Here it is!  One of the very first balls of Hidden Gem (my yarn!) in a photo taken outside the Woolly Sheep pub in Skipton.  Luckily, I was on my own in the car park or I might have got some funny looks, but I really didn't care!  The yarn is so new that it doesn't have a label, and it's hugely exciting to knit with a yarn that you know nobody else in the world is knitting with, I can tell you! 😀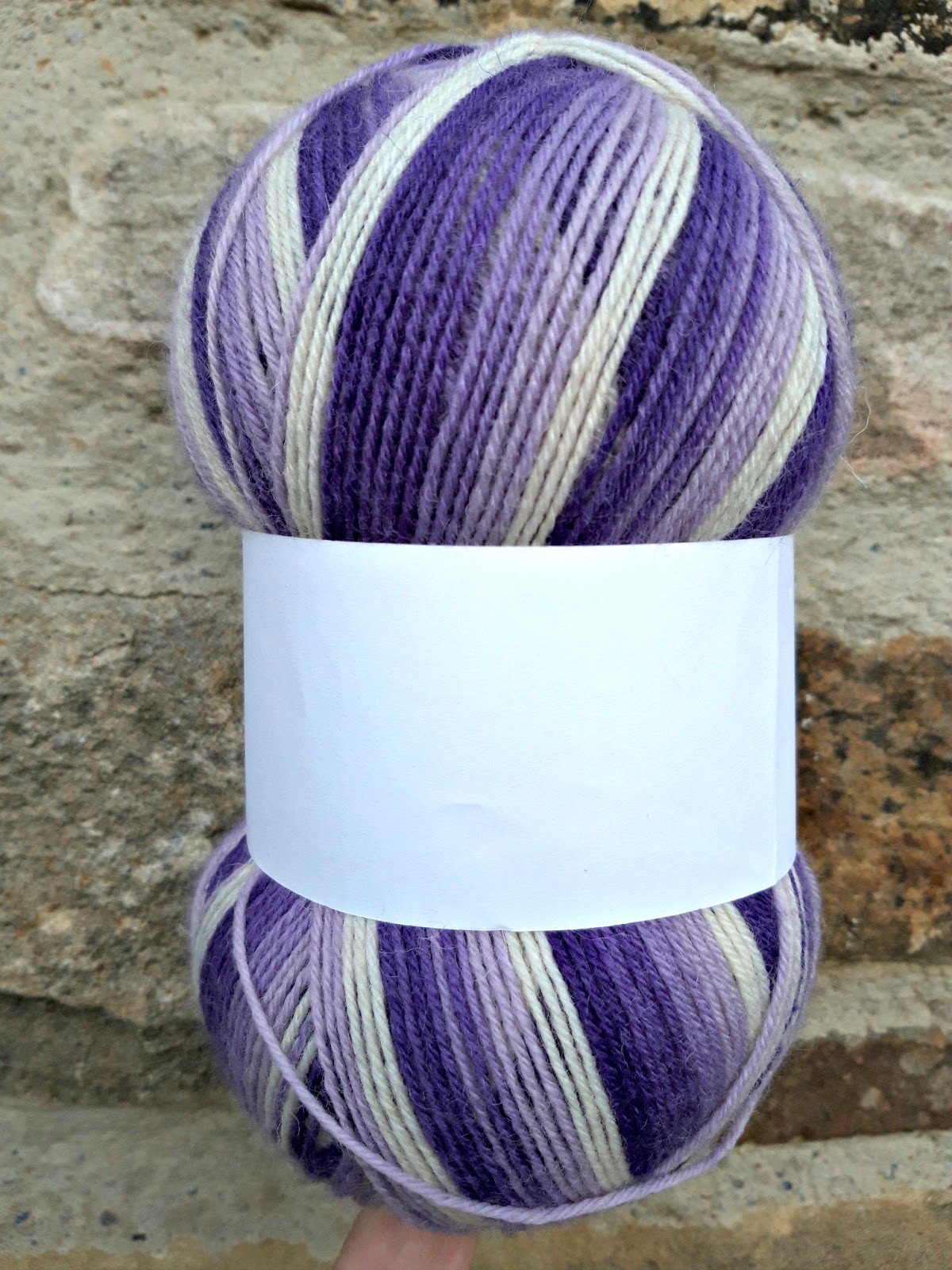 I don't have a sample to show you for each of the colours as there were some later tweaks to Seascape and Brightside, but I can show you Wildflower …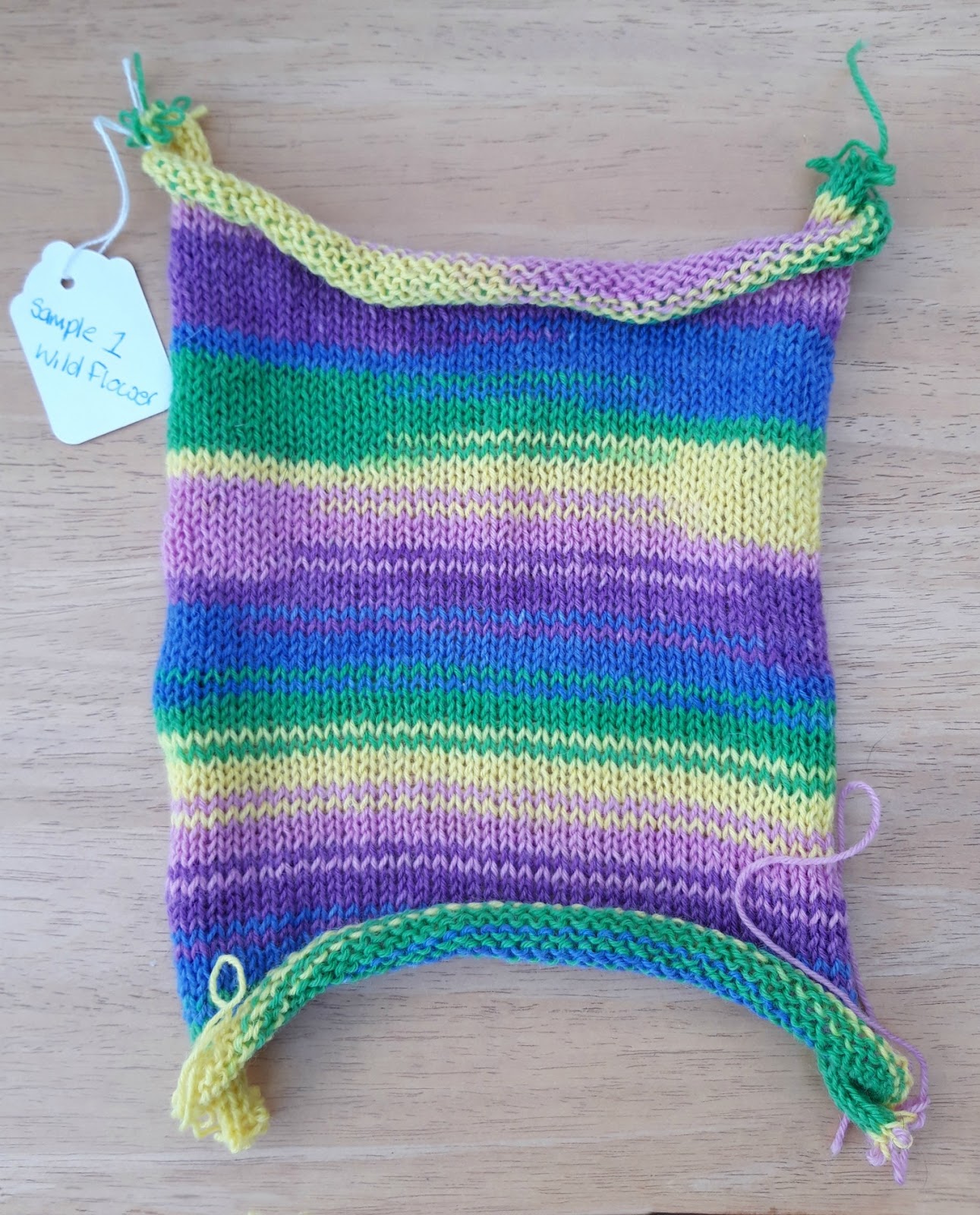 As you can see from the photo, this was sample 1 and it was exactly what I wanted.  Sarah has put the colours together beautifully; I had no idea when I picked them that the dyeing process can influence which colours can go together and although all these colours work perfectly in nature, there was no guarantee that they were going to look good once they were put together in a way that would work for the machinery.  However, I had absolute faith in Sarah's colour wizardry and it was not misplaced!
So having given you a glimpse of the yarn knitted up, would you like to see how it looks in a sock shape? 😀
There are five patterns in the Winwick Mum Collection: there's one patterned sock for each of the individual colours and there's a basic sock pattern with mix and match heels so you'll have everything you need in a West Yorkshire Spinners go-to sock pattern book.  Each of the socks are based on my Sockalong pattern so if you're quite new to socks, you can use the Sockalong tutorials to help you as well.  As you'll know, I always write patterns for beginners and encourage beginners to be more adventurous (bring on the fearless knitters!) so there's nothing in these patterns that I would say is too hard for anybody to try out, although if you've never knitted socks before, I'd suggest that you give the basic socks a try first so that you can get to grips with how a sock is constructed.  I can recommend a very nice yarn for beginners too …
Now four pairs of pattern socks plus four pairs of mix and match heel socks adds up to a LOT of socks and of course there's always a deadline for these things … 
I knitted on the train … I unravelled and started again on the train … 
(Yes, my stitch marker is a Cornish pasty!  It came from here 😀)
I knitted in cafes …
I knitted in the car, at the hairdressers, at friends' houses with a brew – I knitted everywhere!  My husband said I was even talking about knitting in my sleep which just confirmed to him that socks really are an obsession – although I think he already knows that!
There were sparks coming off my needles but I managed to finish all the pairs of socks in time to meet the deadline (it was the photoshoot, so there really wasn't any option of not meeting it!).  Before I packed the socks up and posted them off to the mill, I managed to persuade my girls to put them on for me so that I could take some pictures to show you.
Here are all the socks together …
What was that?  You wanted to see more than that?!  
Oh go on then … here goes!
Eight pairs of socks in Winwick Mum colours.  I just LOVE LOVE LOVE them!  Those colours, those stripes – I know I am very biased but I think these might just be my favourite socks EVER! 
I'm not even going to pretend to apologise for the avalanche of sock photos coming next 😀
Here's Hidden Gem.  You'll have realised straight away that I don't have one daughter with four feet but instead had great fun getting the pair of them to contort themselves in various ways so that I could take photos – it's surprising how well chocolate works as a bribe sometimes!
The rib and lace pattern is on both sides of the sock but it's really easy to do – it's created by yarn forward increases and simple decreases so there's nothing that you haven't done already here if you've knitted some of my other sock patterns.
Twisted rib is perfect for showing off patterns, I think, and this sock uses the Ribbed Heel flap so that the ridges carry all the way down to the bottom of the leg.  What surprised me is how quickly these socks knitted up – the pattern block isn't as long as you might expect and once you've completed it several times, your sock is finished!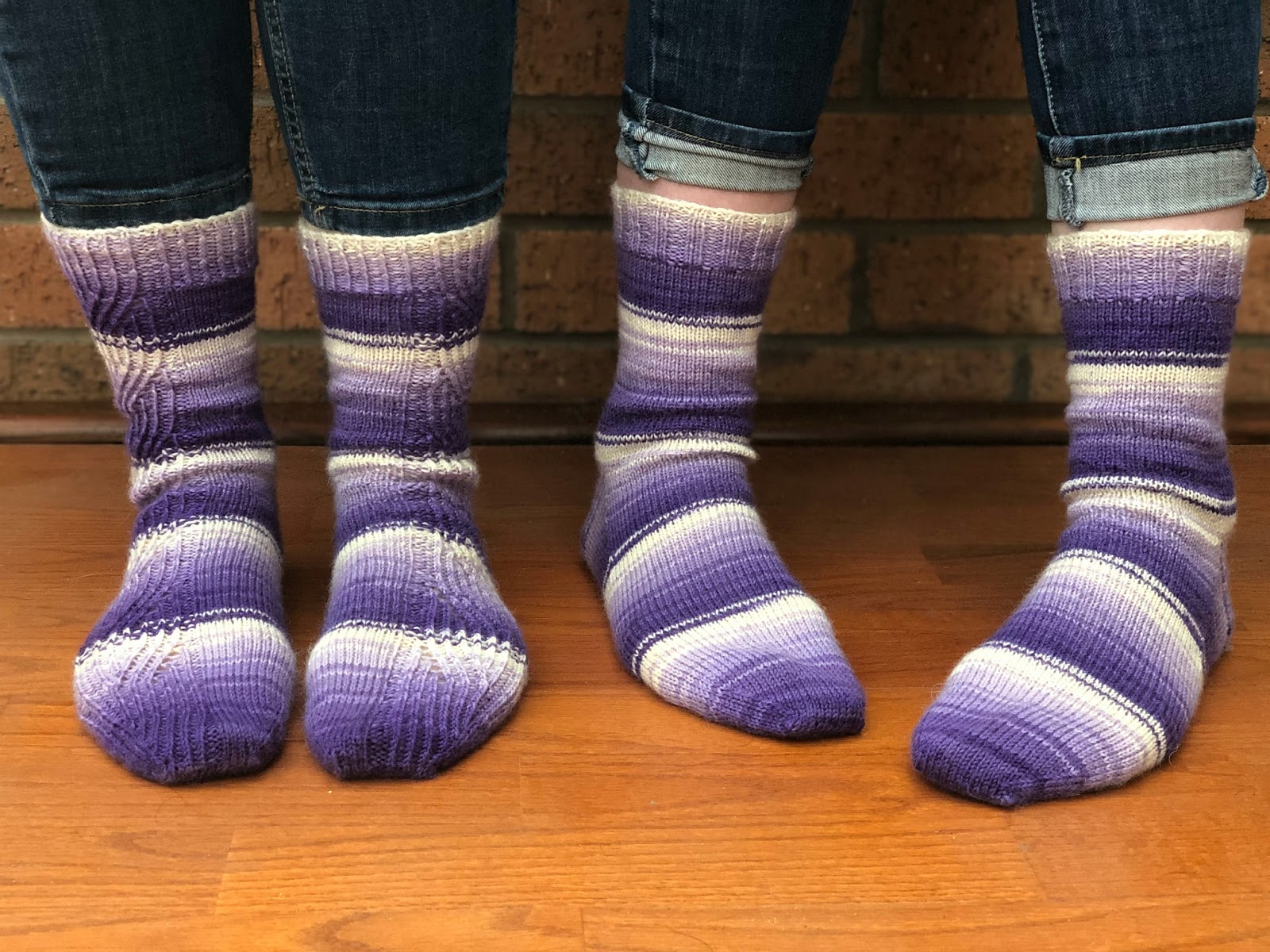 Seascape socks … the glass fishing float that I showed you in my colour inspiration post wasn't just the basis for the colour but also for the pattern for these socks.
The pattern is sections of mock cable which create the balls which run down the leg.  They start at one side and go all the way round to the back of the sock, and then they start again across the foot. 
These were such fun to knit, and I think the Eye of Partridge heel suits them perfectly – the pattern reminded me of sunlight shimmering on water which of course fits with the whole theme!
Next up is Wildflower.  It took me quite a while to settle on a pattern that I thought worked with what I could see in my mind's eye for the yarn, and also worked with the yarn itself.  There's quite a lot going on with all those bright colour changes and sometimes patterns can get lost in the colours.  At last, after a lot of swatching and playing about with pattern shapes, the pattern that I wanted emerged.  The heel is a traditional heel stitch heel flap and gusset, so if you've knitted the basic Sockalong socks, you've made one (two!) of these already.
Don't ask me why, but every time I look at this photo it makes me think of ABBA!
It's a very easy lace pattern that creates small flowers which cover the whole sock.  Just like Hidden Gem, the pattern is created by yarn forward increases and simple decreases so there are no complicated stitches to learn.  
Last but never least in the individually patterned socks, here's Brightside.  I always intended to use cables for these socks, but as these can cause sizing issues because of the way cables pull the fabric in, and worry issues for those who've never knitted cables before, I needed a cunning plan (as Baldrick* would say).  Fortunately, this particular cunning plan worked very well – mock cables which require no cable needle and don't pull the fabric of the sock in either so there's no need to compensate for sizes.  Perfect!
A dusty floor?  Oh no, that can't be right.  It must be your computer screen … 
I've used a short row heel for these socks.  It's not one that I use very often but it's useful to know how to do, and also a good choice if you want to knit contrast socks that look more like the ones you can buy in the shops.  
The turning point for me came when my husband said that he would wear these cables (this is the man who only wants to wear plain black socks, remember! 😀) and I knew that this pattern would be just right for anyone who wanted a little bit of something extra on their socks without having to work a complicated pattern.
The last pattern in the series is a plain sock, but with four different heels to choose from – the same four that have been used in the socks above.  This pattern is called Mix & Match Heels because you can put these heels to any sock that you like – even changing the individual patterns if, for example, you wanted a traditional heel flap instead of Eye of Partridge for the Seascape socks.  
Finally it was time to say goodbye to the socks and pack them up ready to go over to Yorkshire so that they were there in time for the photo shoot.  This was harder than you might imagine – I'd been living and breathing these socks for months – but the good news is that there's going to be enough yarn around for me to knit some more for myself 😉 
This photo was taken under electric light rather than in daylight.  What a difference, eh?
The patterns are all going to be produced together in one book which I think is brilliant – that way, you've got everything together in one place so you can easily access it whenever you need to.  
The yarn and the pattern books will be available in yarn shops and online some time in April (I don't have the exact date yet but you can be sure I'll be shouting it from the rooftops when I know!) and it's available for pre-order now for WYS stockists so that it'll be sent out to the shops as soon as it's all ready to go.
So there you go.  The Winwick Mum Collection of West Yorkshire Spinners Signature 4ply yarn.  Ta-dah!  There's still more to show you from the photo shoot and the Stitches trade show so there's no escape from it all just yet (or ever … mwah ha ha!) – oh, I really hope that you love these colours as much as I do, but don't worry if you don't as I would happily buy every last ball and build a house from it – although I'm not quite sure what my family would say about that!   
There'll be more blog posts about the yarn soon, but in the meantime, what do you think?  I'd love to know!
* Baldrick is a character in the BBC comedy TV series Blackadder who always comes up with an invariably useless but always hilarious "cunning plan" to get out of scrapes.