A week of days
What a strange title for a blog post, you might be thinking.  Doesn't every week contain days?  Yes it does, but this week has been a week of days that stand out from your everyday Monday to Friday.
Tuesday was Pancake Day or Shrove Tuesday, the day before Ash Wednesday and the beginning of Lent in the Christian calendar when the original idea of the day was to use up all of those ingredients in the store cupboards that would traditionally be given up for Lent.  Given that the main ingredients of pancakes are butter, eggs and milk, this doesn't suggest that Lent is going to be a time of culinary splendour and nowadays we tend to give up other things such as chocolate or alcohol, or perhaps to start doing something positive instead which is what I prefer to do.
However, we don't like to miss the tradition of Pancake Day which, in our house, is always an experience in eating as many pancakes as humanly possible until you feel that you're going to burst.  Our electric whisk whizzed it's last some time last year but luckily we've got the hand whisk from my Dad's house to see us through.  I originally brought it home through nostalgia but now I'm very glad we've got it in the drawer!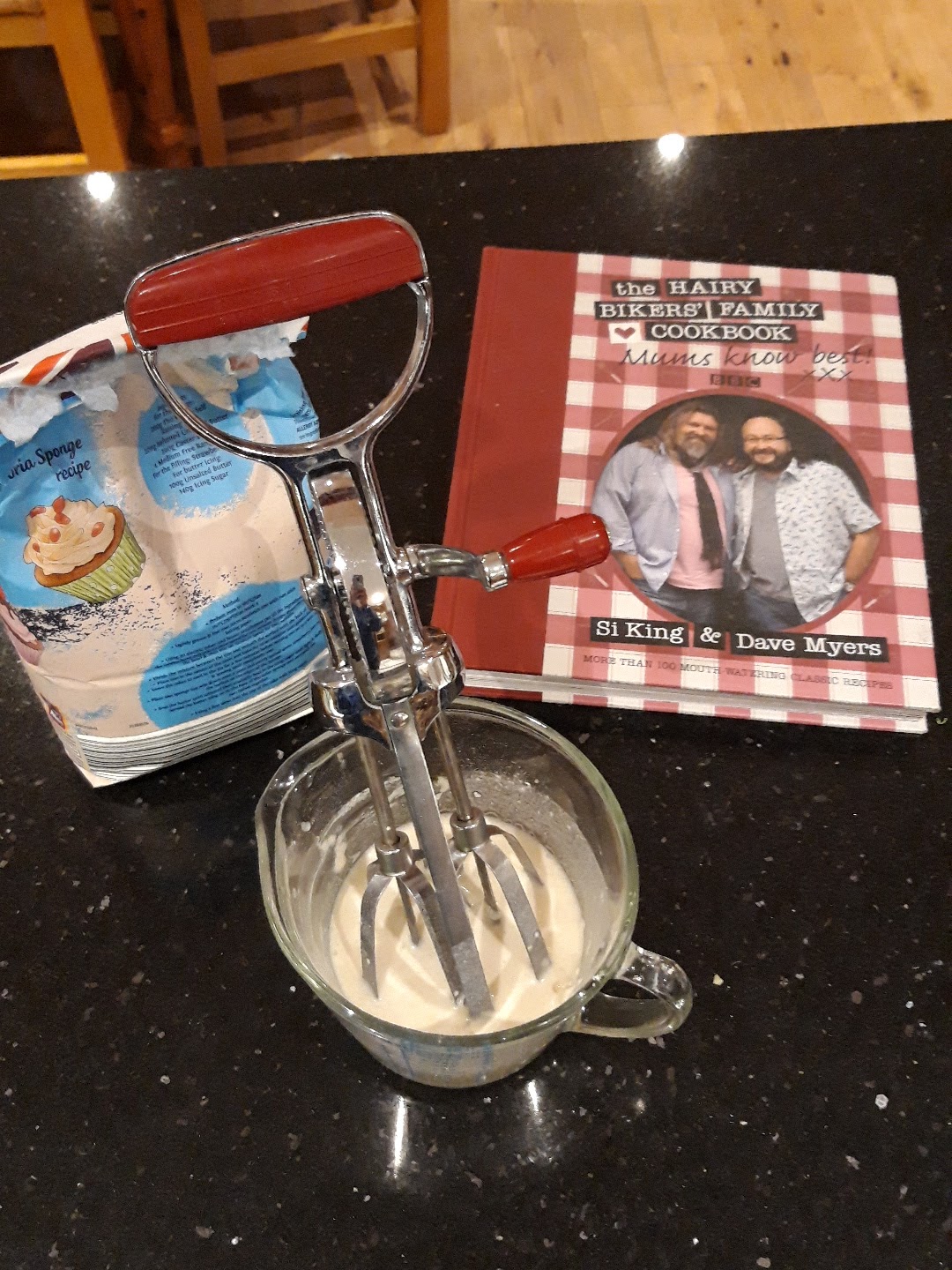 Small daughter requested toad in the hole before her pancakes (batter overload!) which for those who are not familiar with this particular delicacy, is sausages baked in Yorkshire pudding batter (basically a form of pancake mix) which we choose to eat with vegetables and lots of gravy.  My Yorkshire puddings never turned out very well until I started using the Hairy Bikers' recipe but now they are great and we often have them with Sunday dinner even though nobody in the house eats beef.  (Incidentally, the Hairy Bikers' recipes in generally are very good – I've never had a disaster with one yet!)  This is our toad in the hole …
and here's the pancake.  Just one – the last one – because the others didn't stay around long enough to photograph.
This week has also seen the day of the First Ever Winwick Mum talk at a knit night in Ormskirk organised by Cathy Wright from Lazy Kate Textiles.  Fifty people (fifty people!) turned up to listen to me rabbiting on about socks, and nobody slid under the table with boredom or walked out part-way through so I'm calling that a result.  I did see quite a few socks in progress, though, which is always good and quite a few people were knitting as I was talking.  I know this is something that can be quite a controversial issue as some people feel that it's rude and shouldn't be done, whilst others feel that by having their hands busy their minds are free to concentrate better, and also it's a good use of sitting time.  As you might imagine, I was never going to object to people knitting whilst I was talking, but to give you a speaker's point of view, it was something that I was aware of but didn't find off-putting, so if you've avoided knitting in situations like this because you thought it would be distracting, it really isn't.  Seeing people scrolling through apps on their phones, however, would have been …
Here I am in full flow.  The bag on the table was my "prop" bag (no white rabbits involved!) just in case you're thinking that I hadn't tidied away before I started, and the yarn that you can see in the photo is Cathy's hand-dyed yarn (top left) and (bottom left) no-nylon yarn hand-dyed by Becky from Ovis Yarns who was also there.
I don't make too many trips out and about like this because I struggle to fit everything in (sadly, I only have the same number of days in the year as everybody else), but it was lovely to see such a big group of knitters – so often we think that our hobby is a solitary one and it can be, but knowing there are groups around if we look out for them means that we don't always need to be alone.
Thursday was World Book Day (UK and Ireland – it's in April for other countries) and my Instagram feed was full of small people dressed up in costume to represent characters from books.  World Book Day used to fill me with despair when my girls were at primary school as they would invariably change their minds on a regular basis (sometimes even up to the night before) about who they wanted to dress up as, resulting in tears and tantrums (and that was just me!) and I am not sorry at all that it's not something that is continued into high school.  Or university – or perhaps that's just known as Fresher's Week now? 😀
A conversation with Kat Goldin from Gartur Stitch Farm over a story in her Instagram feed prompted me to dig out an old favourite book from the book shelf – The Last Unicorn by Peter S Beagle.  I've read this book so many times over the years but not any time recently and it's time to dust it off and read it again.  This has been my resolution for Lent – not to give something up but to start something positive and I've chosen to get back into reading just before the light goes out at bedtime.  It's too easy to check your phone or your computer, or to dive straight into bed after watching TV and it's important for our brains to have time to switch off.  I've usually got a couple of books on the go and I've put them over in the right hand side bar to encourage me to finish them and change the pictures regularly – there's nothing like making your resolutions public to make you stick to them!
Whilst we're on with important days, this week saw the start of the brand new Make Sure You Mark Your Chart and Use a Lifeline Day …
"I'll just whip up another version of my new cowl to check the pattern – it's so easy to memorise that I won't bother marking the chart and I'm sure I won't go wrong … oh dear."  Enough said.
Today is Friday and it's International Women's Day, a day that celebrates the achievements of women all over the world.  It's a wonderful thing to do, to remind ourselves that everything we do is an achievement even if we don't think it is, and that we don't have to be someone who is more famous, more brave, more political, more anything else that we already are because everything that we do matters.  My husband found this picture online this morning and I think it sums it all up very well …
Happy International Women's Day to you – and I hope your week of days has been a good one!