WYS Winwick Mum Collection yarn – colour inspiration
Hellooo!  It's lovely to see you back again, and thanks once again for all your comments!  I'm doing my best to keep up with replying to them all, and although I'm a bit behind, I promise you that I do read them and appreciate them very much!  As much as it's super-exciting, I've been quite nervous about sharing this new yarn with you as it's something so different from anything I've done before, so I'm really glad that you approve! 😀
I thought I'd tell you a bit more about the colours of the yarn today, and where they came from.  There are four shades in the collection (four!  I'm surprised you couldn't see my grin from where you are when WYS said that's what they wanted! 😀) and I knew exactly what I wanted each of those four shades to be – although that's when I learnt that there's quite a difference from having colour shades in your head to being able to show someone else what you've got in mind!  Luckily for me, Sarah the Colour Genius (seriously, that should really be her job title) at West Yorkshire Spinners has a magic box full of colours and also a magic ability to understand what's going on in my head – but more of that later.
Look at all those colours!  Don't you just want to riffle through them all?  It's incredible to think that there are so many subtle nuances to each of the colours and I could have quite happily have played with those cards for some considerable time, but there was work to be done!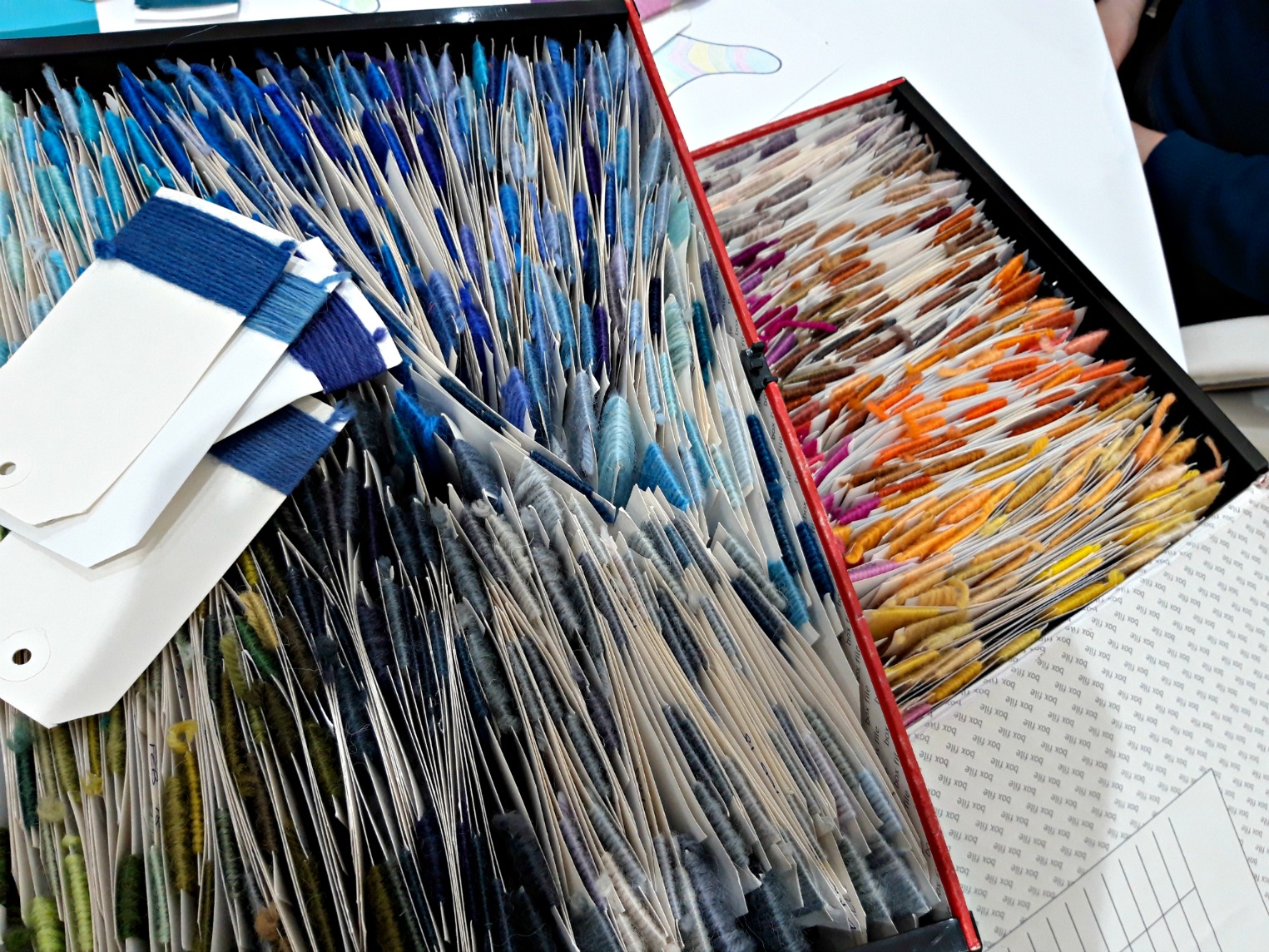 I had put together some sheets with the types of colours that I wanted and we talked for some time about what sort of stripes we'd have, which colours worked well together and what would fit in with the existing Signature range.  It wasn't just Sarah (who's really the Dye House Manager) and me, this was a whole team effort which also included Managing Director Peter, Sales Director Richard, Brand Manager Steph and Senior Marketing Executive Rhiannon, and I have to say that it felt rather surreal and very grand to be sitting around a table having conversations about my yarn!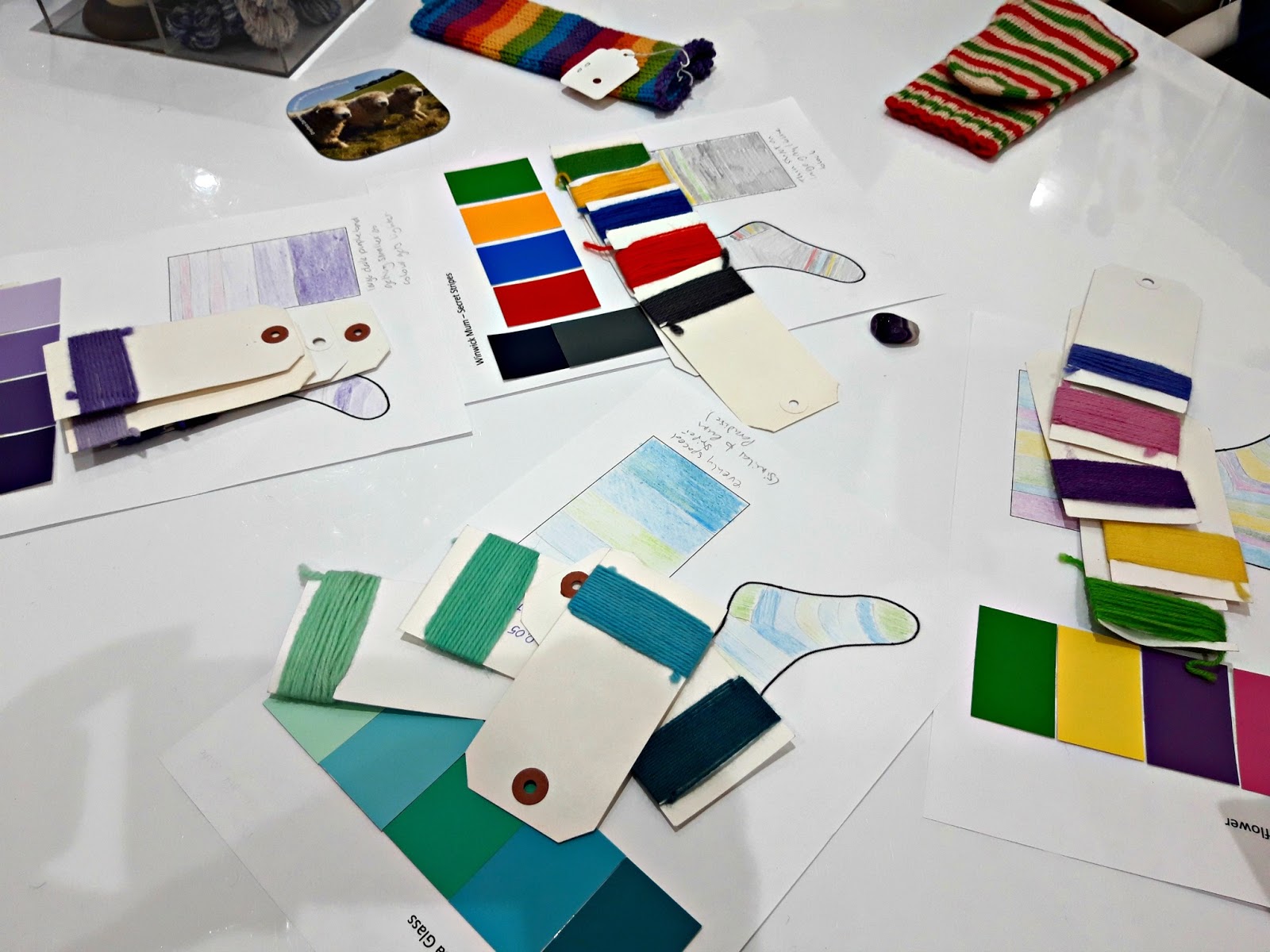 I wanted the colours of the yarn to reflect the overall theme of Winwick Mum; that is, looking for the extra-ordinary in the everyday, and you might wonder how this would translate to yarn colours.  If you're a regular reader, it'll come as no surprise to you that my first choice was purple, and in particular the purples that are in the amethyst tumblestone that I have carried around in my pocket for as long as I can remember.  I can't tell you why I even started doing it, other than that I love the colours.  (I also carry a rose quartz and a hematite pebble – an excellent worry stone! – and I like the weight of the three of them together in my jeans pocket.)  
What I love most about my amethyst stone is the way the bands of colour ranging from deep Roman Emperor purple to white are perfectly ordered by nature.  All that's been done to this stone is that it's been polished up and there the bands are, as if all they were waiting for was the moment when they would be put in rock tumbler and they could appear – ta dah! – as if by magic.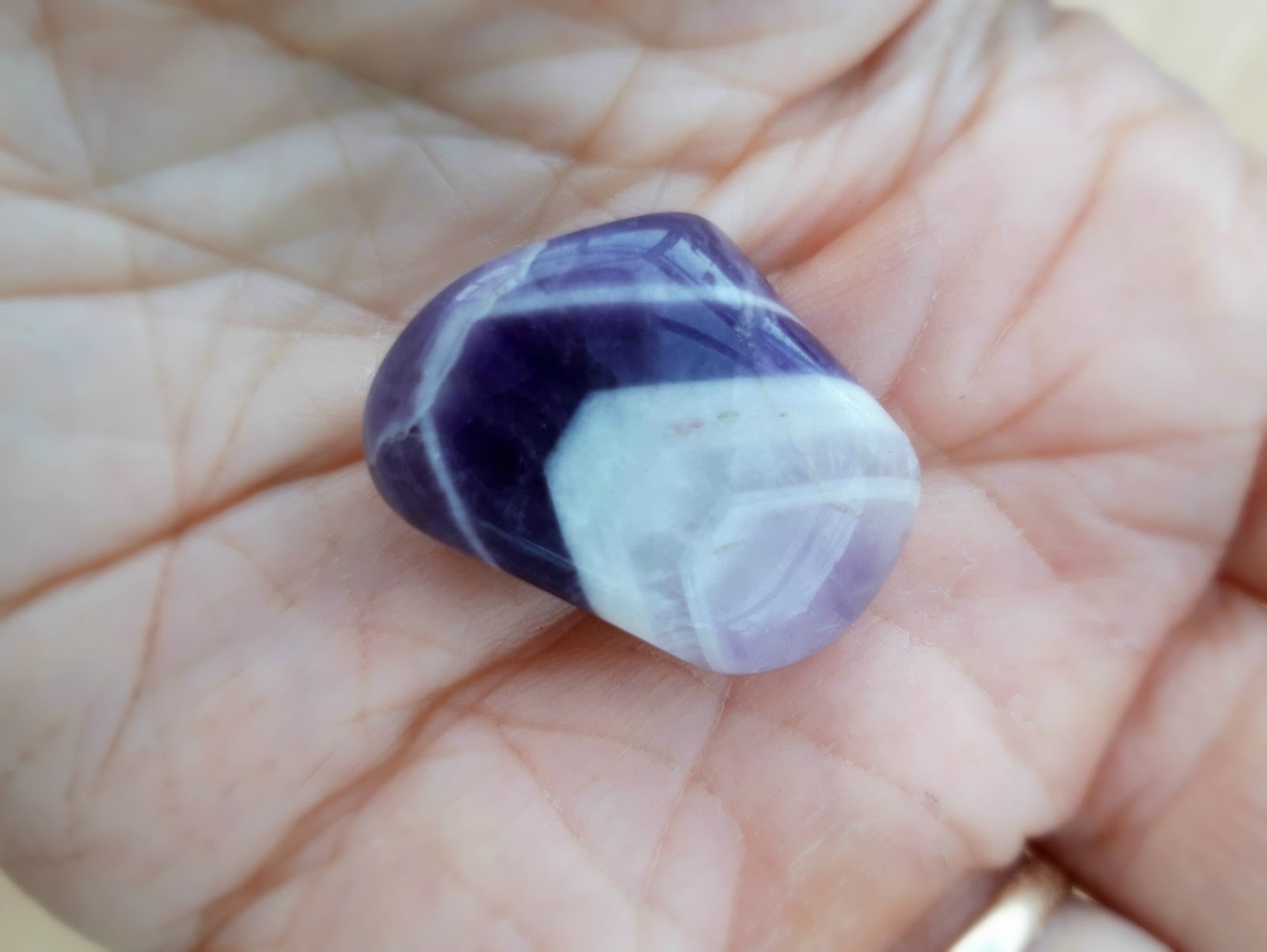 Sitting at the meeting room table at the West Yorkshire Spinners' mill in Keighley, I did wonder if I was going to sound as if I was completely off my rocker as I explained that I'd like a yarn shade to look like a pebble I carried in my pocket, but Sarah simply turned the stone over in her hand and nodded.  "I can do that," she said.
See?  Colour genius!
This shade is called Hidden Gem, because that's what this amethyst stone is with it's bands of colour hidden inside an ordinary-seeming rock, but also as a reminder that there's always something beautiful to see if you look for it.  "Look up at the buildings, look at the architecture," I was always told.  "Look about the world around you, see what you can see."  I definitely consider myself to be a noticing kind of person, and the name "Hidden Gem" sums up my blog perfectly: looking for the extra-ordinary in the everyday.
And you can't see it yet, but this is perfect amethyst yarn.  It sounds a bit cryptic – but all will become clear!  I don't mind telling you that when I saw the sample that became the ball of yarn you can see here, it brought tears to my eyes.  That's how good Sarah is at knowing what's going on in my head.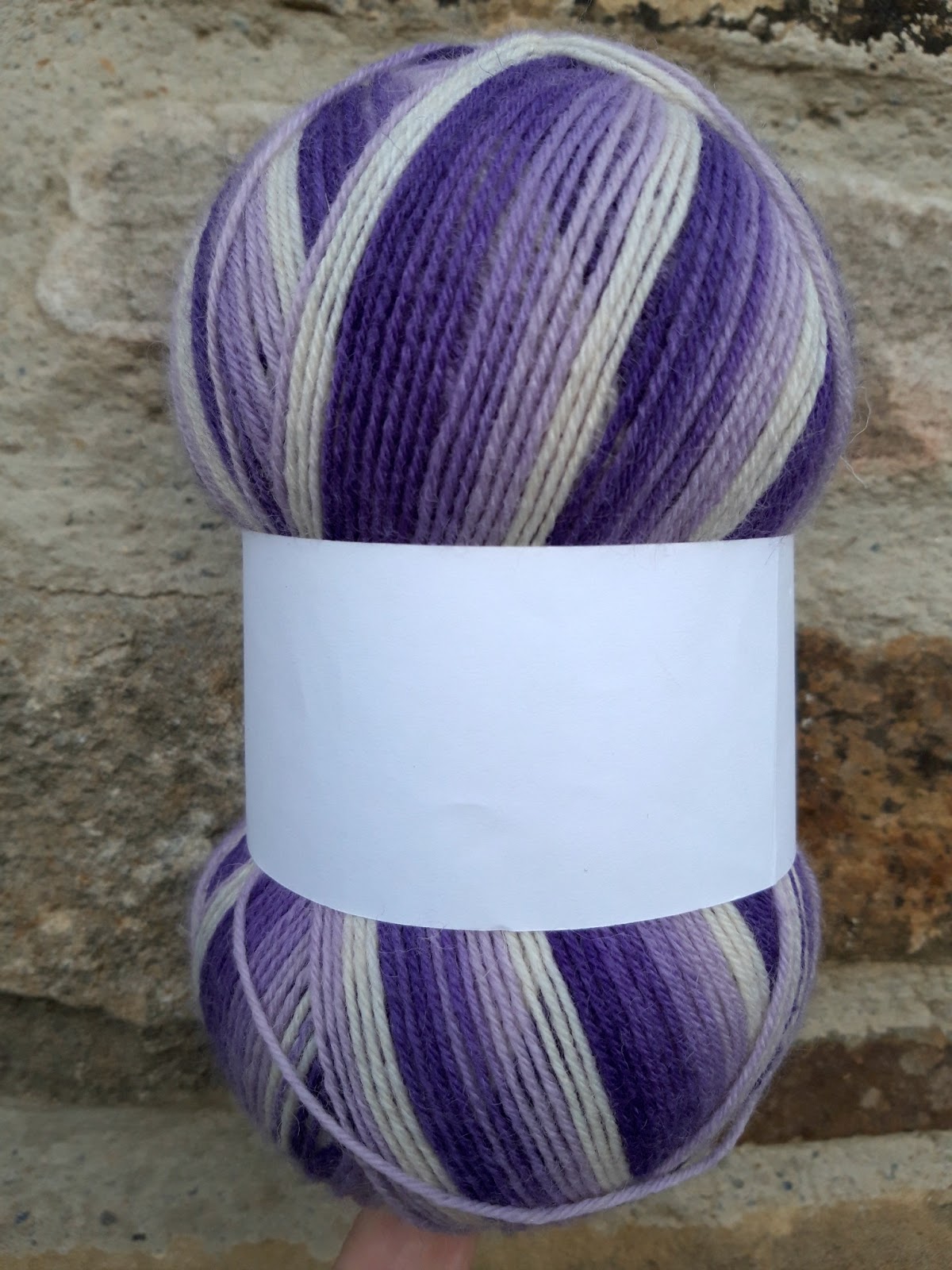 It's so new, it doesn't have a label!
The next shade is Seascape – blues and greens, the colours that you'd find in sea-glass, in the sky and in the sea all along the coast.  All of my childhood holidays were spent in the same seaside town in North Wales and I have such fond memories of the town, unmodernised and with few other tourist visitors; of long walks along the cliffs after our dinner in the evenings and being able to sneak out of our guest house and down to the beach before anybody else was up in the mornings to walk along the unmarked sand and listen to the waves and the seagulls.  It was another time, long before the internet, mobile phones and even before there were more than three channels on the TV and whilst I wouldn't change my life today, I make no apologies for my nostalgia.
And because Wales is part of this island that we live on which is not known for it's endless summer sunshine, I also remember paddling in the sea in my wellies because it was so cold and wet and we weren't welcome back at our guest house before 6pm (that's the 1970s for you!); my Dad making igloos out of windbreaks and tarpaulins which we huddled under and tried to make sandcastles around the doorway without actually having to go outside, and flasks of tea steaming up the car windows as we sat admiring the view from clifftops (or in the case of my brother and me, being bored and wanting to know how long before we could go back down to the beach).  Ah, the good old seaside holiday! 
One particular inspiration for this shade came from the blown glass fishing floats that were very popular as interior decorations in the 1970s.  Ours hung in the bathroom at my parents' house for years and years until it became unfashionable and my Mum decided she no longer wanted it, so I gave it a home instead.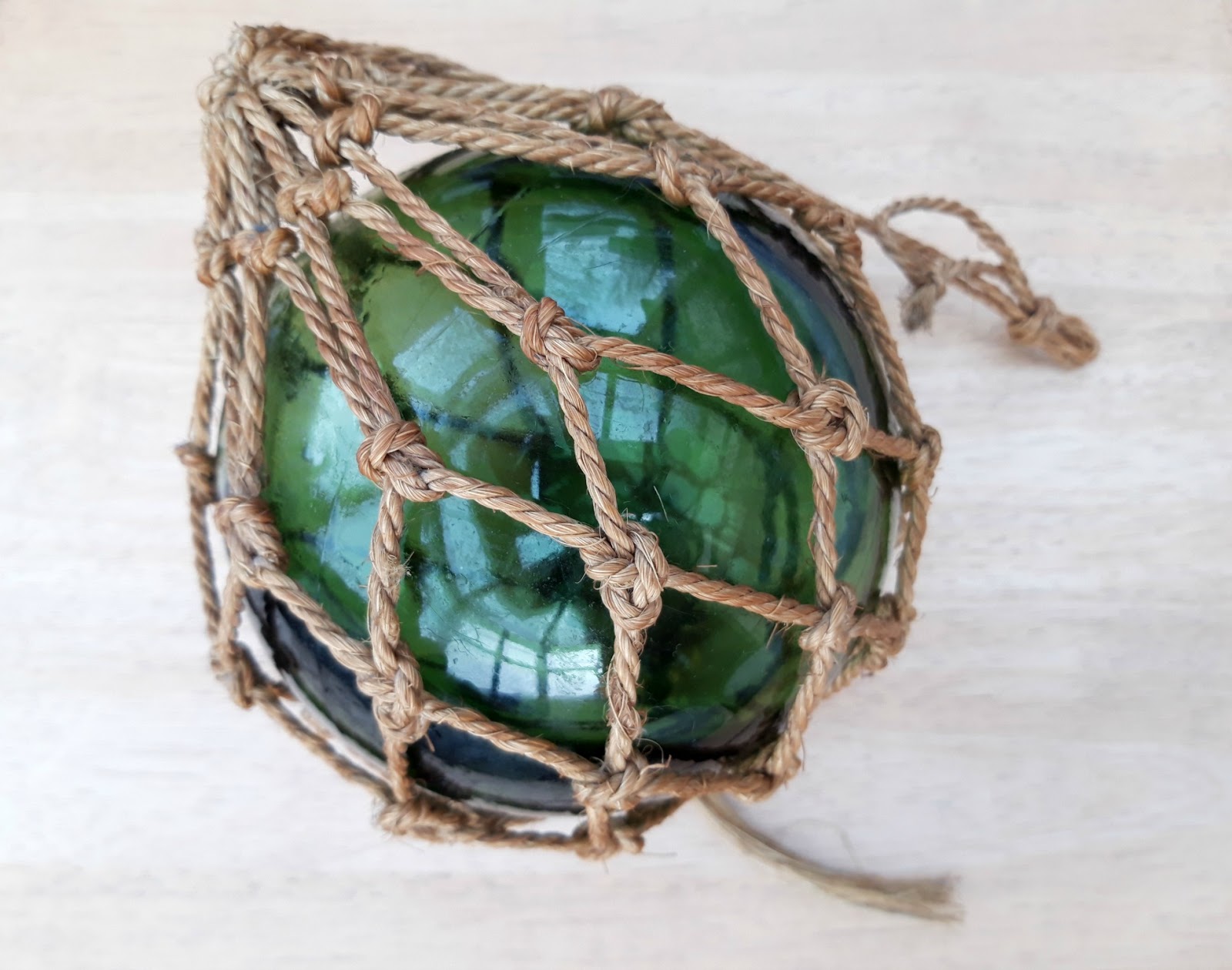 I've also used the float as inspiration for the pattern that goes along with the yarn – oh, didn't I mention that there would be patterns to go along with these new yarns? 😉 – but I'll you more about that another day.
I am thrilled with the way that this shade has developed; it is absolutely what I had in mind when I thought of a seascape and I don't think it could have turned out any better.
Unless you've only just found my blog, you'll know that we've got a dog and I'm out for a walk with him every day, whatever the weather.  One of our favourite walks is around the Sankey Valley Park, a short car drive away from Winwick, and especially in the spring when the meadow areas adjoining the footpaths are full of wild flowers and so this shade, inspired by them, is called Wild Flower.
I've chosen my very favourite wild flower colours – blues such as the cornflower blue of a spring sky …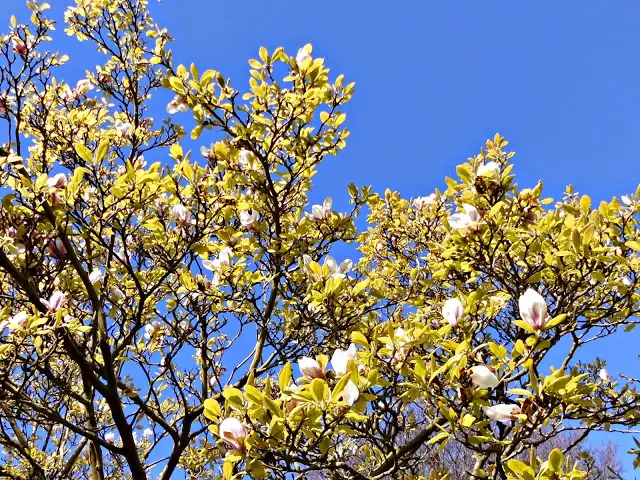 bluebells …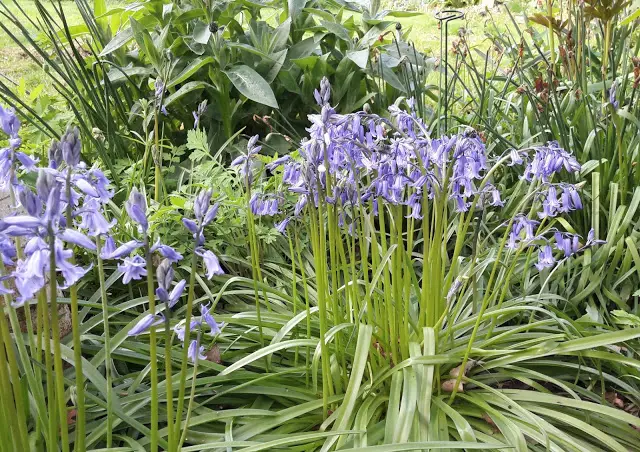 forget-me-nots …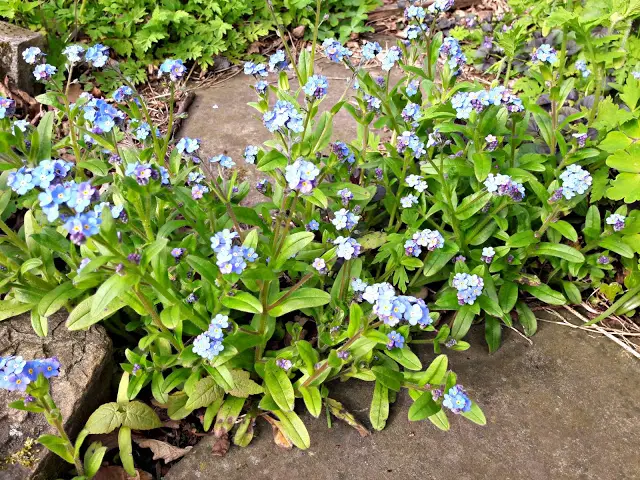 and the blue of the chicory that grows wild along the footpath;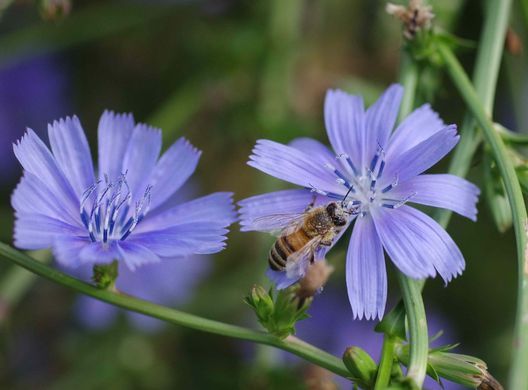 Source: https://hapalochlaena.wordpress.com/2014/01/12/bees-in-chicory/
pinks such as these tiny flowers that we see each year but I still don't know what they're called …
(Edit – thank you to Paula for telling me that it's Claytonia sibirica – pink purslane.  I'm so glad that I know now! 😀)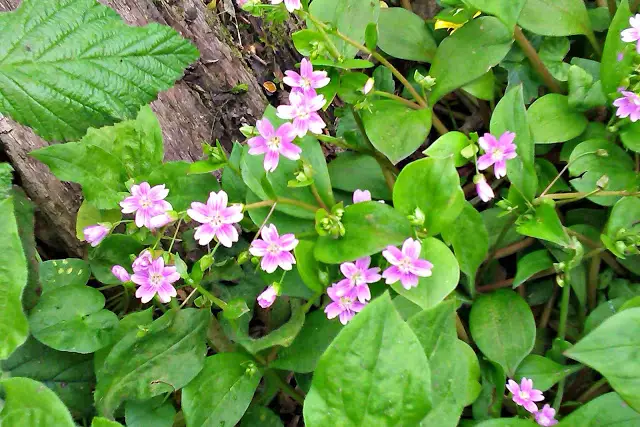 and ragged robin.  I've got some of this in my garden now too.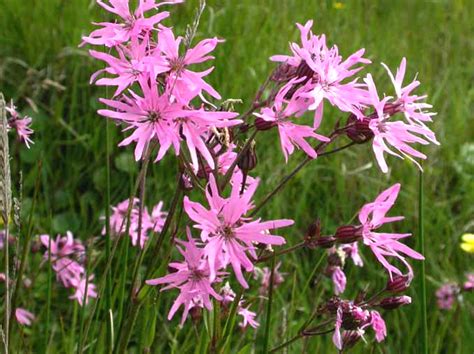 Source: https://perfectplants.co.uk
There are yellows in abundance in the buttercups in the garden (these are the only wild flowers that small daughter was ever allowed to pick) …
Cowslips …
Primroses …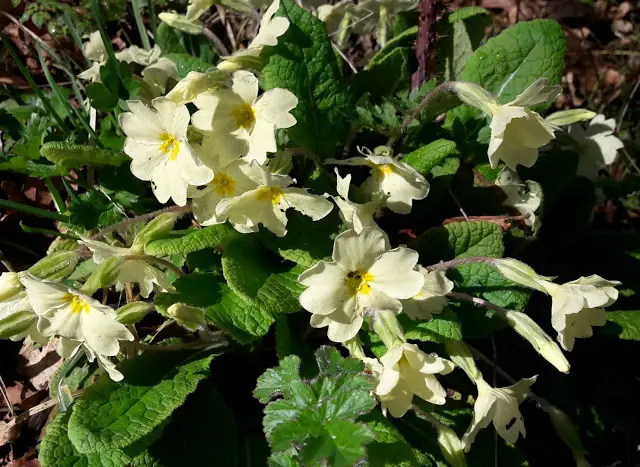 and lesser celandine.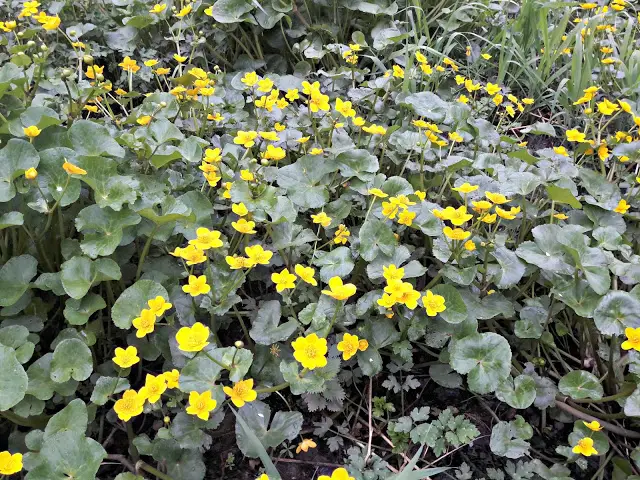 Purples in the aquilegia that have self-sown all around the garden …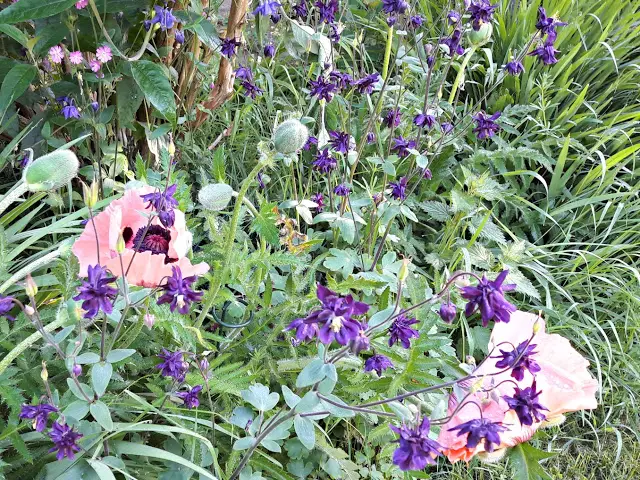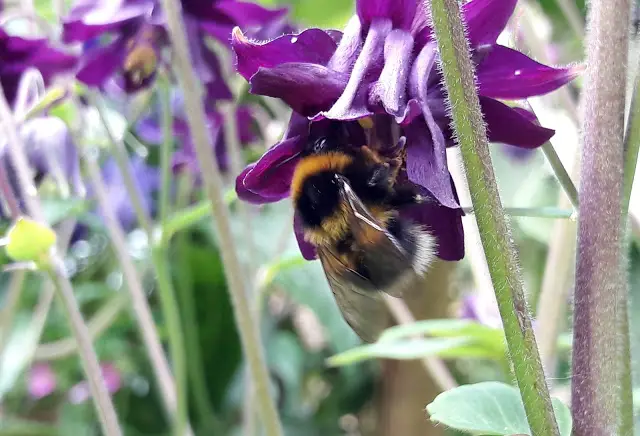 and greens … so much green as the landscape comes back to life after the winter.  You've only got to look at the photos above to see that there's green everywhere, so that had to be in my wild flower colour choice too.  So many colours all around us and all we have to do is notice them …
It wasn't until I put the colours together that I realised that it what looked perfect in nature wasn't such an easy blend for a yarn, but once again, Sarah the Colour Genius nodded and said, "Leave it with me, I can do something with that."  
And oh boy, she really has!  This shade was perfect on the first sample that I saw and I love the way that it knits up and the way that it makes me feel when I'm knitting it.  You can't fail to feel good when you're knitting with such happy colours!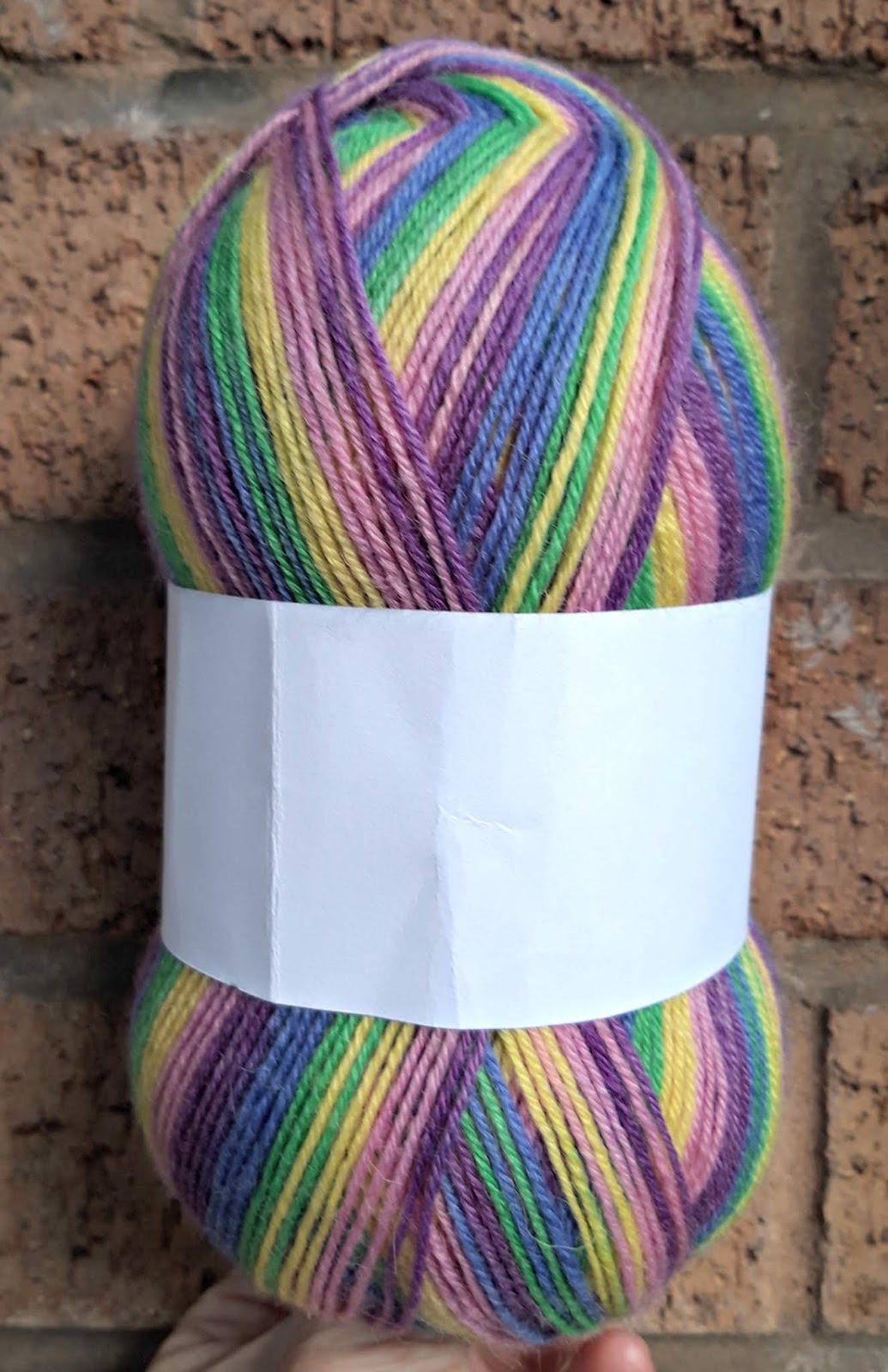 Finally, for the last shade, I wanted something more muted; something that would have a pop of colour but also a darker tone and not be as bright as the other shades because bright shades aren't to everyone's taste.  I must have had my husband in mind as he has always until very recently only wanted me to knit him black socks although I am doing my very best to persuade him out of that – and his name was used as the working name of this yarn at the mill whilst we thought about alternatives which has amused everyone no end!  
In my mind's eye, I could see a landscape like this one …
Source: www.pinterest.com
and one day the name came to me in a flash: Brightside.  There's always a bright side to everything and I do my best to remind myself of that at times when it would be easy to feel despairingly overwhelmed by what's going on around me.  I liked the idea of a dark colour – not black, though, which isn't always easy or pleasurable to knit – with primary colours to be a visual reminder that the darkness doesn't last forever.  That sounds a bit deep for a sock yarn and maybe it is, but as the yarns are intended to reflect the theme of Winwick Mum, I thought that Brightside might reflect my Monthly Musings where I try to find the bright side in something that has occurred – once again looking for the extraordinary in the everyday.  (Also, Mr Brightside by The Killers has been small daughter's favourite song for months and months so there may have been some subliminal messaging going on too!)
I wasn't sure whether navy blue or grey would be the right colour, and after some experimentation, a parcel arrived for me in the post …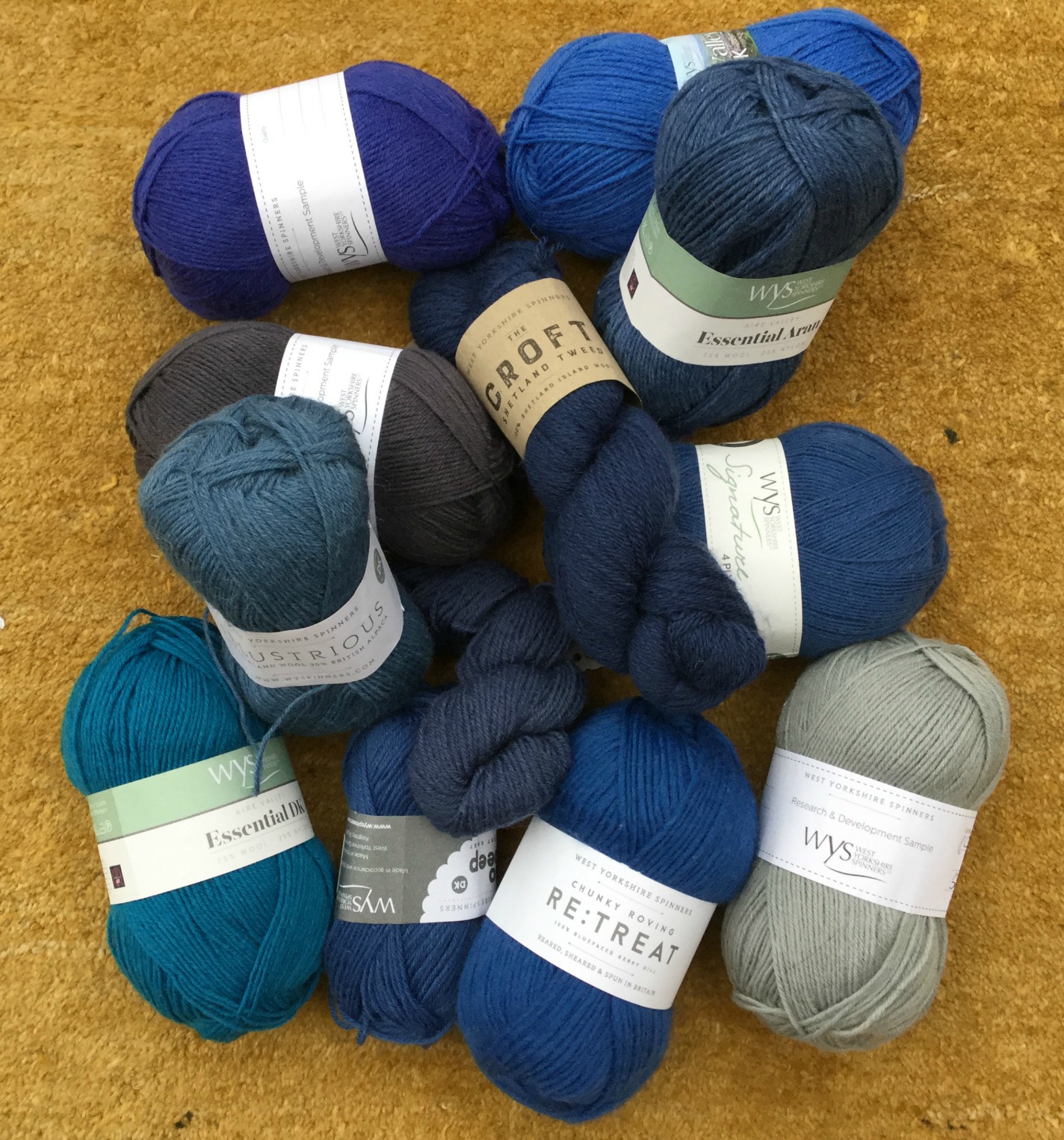 A whole pile of blues and greys to choose from to make sure we got the right shade!  I didn't realise that there were so many different shades of blue in the various WYS ranges but they've got a massive selection of yarns in different blends.
This has been the downside of living an hour and a quarter's drive away from the WYS mill  – it's not been possible to just pop in for a quick look at something, so there have been lots of phone conversations, photographs exchanged by email and parcels through the post but amazingly, it's all worked out!
This is Brightside now with the navy blue that I chose from that pile you can see above (and no, I didn't keep all those balls of yarn 😀) and I think it looks pretty good.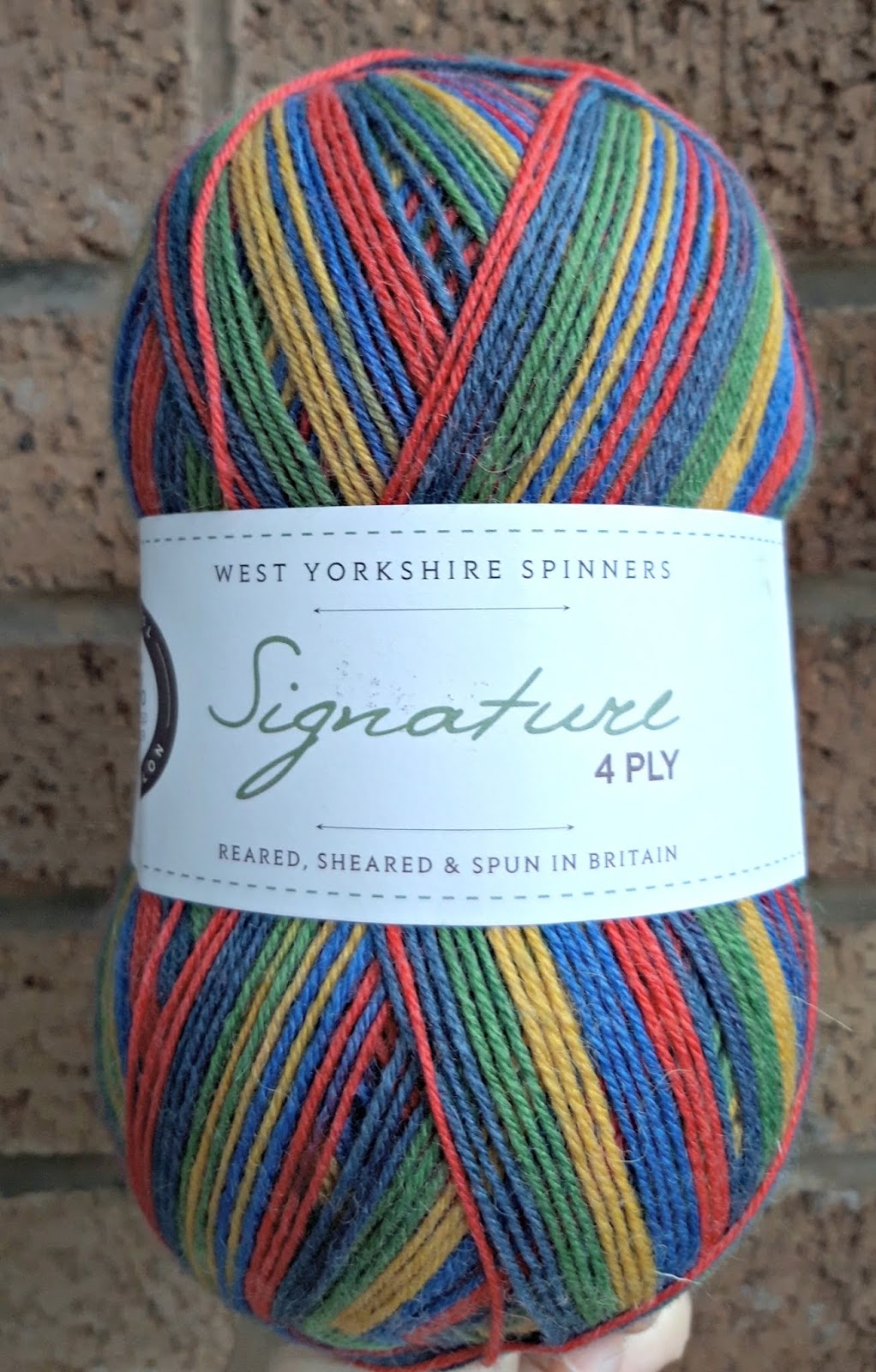 In fact, "pretty good" is an understatement as I am absolutely besotted with each of these colours now that they've been created as Winwick Mum stripes.  I don't think there's any way that I could choose just one to be my favourite – I have four favourites here!
The West Yorkshire Spinners Signature 4ply Winwick Mum Collection is to be officially launched at the CHSI Stitches show which runs from 17 February 2019 so there are only a few more weeks to wait before you'll be able to see the yarn "in the wool", as it were 😀.  Stitches is a trade show so not open to the public, but if you own a yarn shop and you're coming along then you'll be one of the first to see the yarn, and if you're a customer and like what you've seen so far, there's time to ask your Local Yarn Shop to put in an order when the yarn is available.
So what do you think of the colours?  I hope you like them! Over the next week or so I've got plenty more to tell you about them and of course you'll want to see how they knit up.  And that photo shoot I mentioned a couple of posts ago … there's plenty of exciting stuff to come!