Back to school
Don't you just dread the alarm going off on a back-to-school morning?  I've been getting up at pretty much the same time over the holidays so it's not like it's a surprise, but this morning it felt like the middle of the night!
Small daughter has had two weeks off school (unlike many schools around here) and she was not at all happy to put her school uniform on again this morning.  It was raining as well, so although she didn't feel as if she was missing out on a sunny day, it meant that the dog and I were going to get very wet on our walk.
It's been very hot here over the holidays (or certainly, very hot for the UK) and I'm not sorry to see the rain – the garden has been desperate for it – although I had forgotten how uncomfortable it can be to walk in a dripping waterproof when it's not really cold enough to need to zip it up.  The hot weather has meant that the duckweed algae in the canal has gone crazy – oh no, this really isn't grass …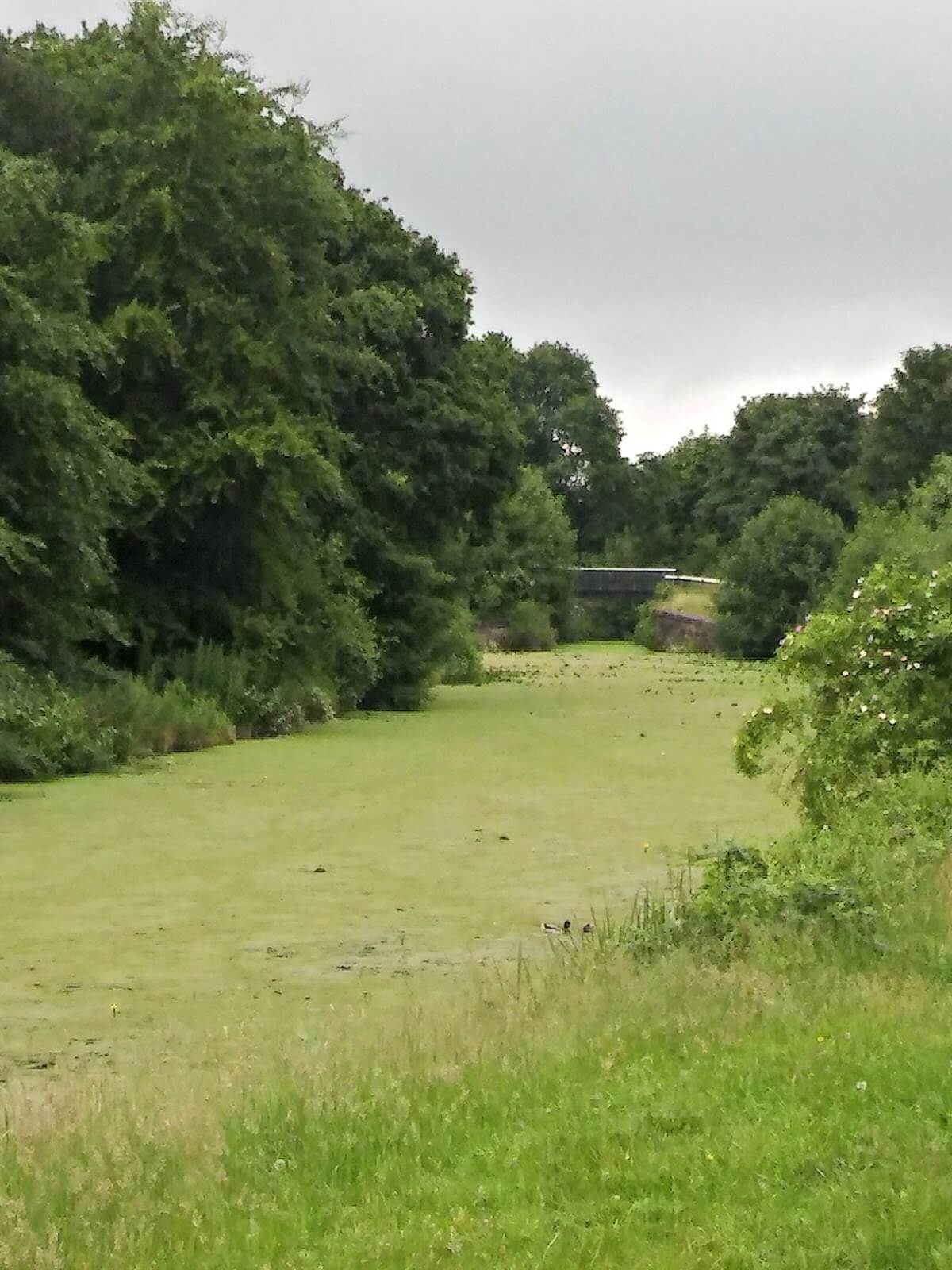 It's what my Mum used to call "Jinny Greenteeth" when I was little, and always with a warning to stay well away or you'd be pulled into the water by something unpleasant.  It worked for me – I always kept well clear and so did the dog, today.  He's daft enough to have forgotten that it is water and have bounded onto it to follow the ducks leaving trails in the green so he was kept tight hold of until we were safely past.  Apparently, Jinny Greenteeth has different names in different parts of the country so it's not just something that my Mum made up to control a small and exuberant daughter – you can read more about it here.  Do you have anything like this where you live?
Back on safe ground at home, the rain has been good for the plants that I brought back from my Dad's garden this week.  His vegetable patch has been overtaken by foxgloves and poppies (and more than a few weeds – I really must spend more time there clearing up!) and although foxgloves and poppies don't usually like to be moved, they were so lovely that I decided I had to take the risk.
We do have a few white foxgloves in the garden but nothing to compare to these tall, stately spires. White flowers seem to glow in the twilight and these are just perfect at the end of the garden under the trees.  They won't flower again next year as foxgloves are biennial plants which means that they grow in their first year and flower in their second year before dying off.  However, I am hoping that they will produce seeds which will sow themselves around the borders.
These are the poppies I brought back – you can see why I couldn't leave them, couldn't you?  These are Papaver somniferum or opium poppies.  These ones are annuals which means that they flower and die in the same year, but again I'm hoping that there will be seeds which will mean I get to see the flowers every year.
We had visitors over the weekend so although that meant that the last few days of the holidays were a combination of cleaning, gardening and baking, it does mean that today I don't need to do any cleaning, gardening or baking – I can just eat the remains of the cake and get a few more rounds of the Peru socks done!
I've been catching up on the podcast episodes of the debate programme In Our Time on Radio 4. Each debate is about an hour long and you need to listen to it to follow the thread of the conversation so usually I only get to listen to them on a train journey or at another time when I can sit and listen for an hour – I get cross if I have to keep jumping up and down to do things in the middle of the programme.  My girls having a lie in over the holidays have provided the perfect opportunity for a cup of tea and some quiet listening!  
There are all kinds of subjects which are discussed by a panel of experts – history, science, philosophy, culture and religion – and of course with the on-demand service you can pick and choose what you want to listen to.  This week I've listened to debates on the Salem Witch trials, Josephus (a Jewish historian from Roman times), Alexander the Great and the Greek historian Thucydides (whom I read about during my Master's degree).  It doesn't take a rocket scientist to work out that my interest lies in the historical programmes, but there's such a wide choice that it would be hard not to find something to interest you!
The first of the Peru socks is finally done – thank goodness!  It's taken quite a bit of work to get it to fit to big daughter's exact specification and high instep but we've done it at last, and I'm very pleased with how it's turned out.  The next three socks should knit up much quicker now that I know what I'm doing and how many rounds I need for each section.  I was starting to worry that she'd have gone and come back before we got these socks right, but it feels like I should meet the deadline now!  Phew!
It does mean that I'll be knitting in every spare moment (it's not unheard of for me to get a few rounds in whilst standing in the playground waiting for small daughter to come out of school!) so if you see a mad knitting woman whilst you're out and about, you'll know it's me!