And now, the weather …
Hello, it's lovely to see you again!  One thing you can be sure of on this blog is that if I'm not talking about socks, there's a good chance that I'm going to mention the weather.  There's been plenty about sock (yarn) on the blog just recently so I'm going for the full weather fix today!  WARNING: there is snow giddiness in this post! 😀  
I just need to say before I launch into this post that I know that other parts of the world are in the grip of icy blasts and weather far worse than anything I get giddy over, so if that's where you are, I hope you're staying safe and warm xx
We've had quite a lot of fog recently.  I tend to associate fog with November rather than January but we've had more foggy days recently than not so maybe I'll have to review my association!  When the weather's like this, it's always a bit of a gamble whether to take the dog for a lead walk where I know I'll have him safely attached or to go where I can let him off and hope that he doesn't disappear (this dog is a big hairy toddler even at the age of 7 and a half!).  On this particular morning, although it was a very foggy drive to the Lyme and Wood Pits Country Park (I've written about this place a number of times before), by the time we got there it had lifted a little and just seemed to be foggy "around the edges".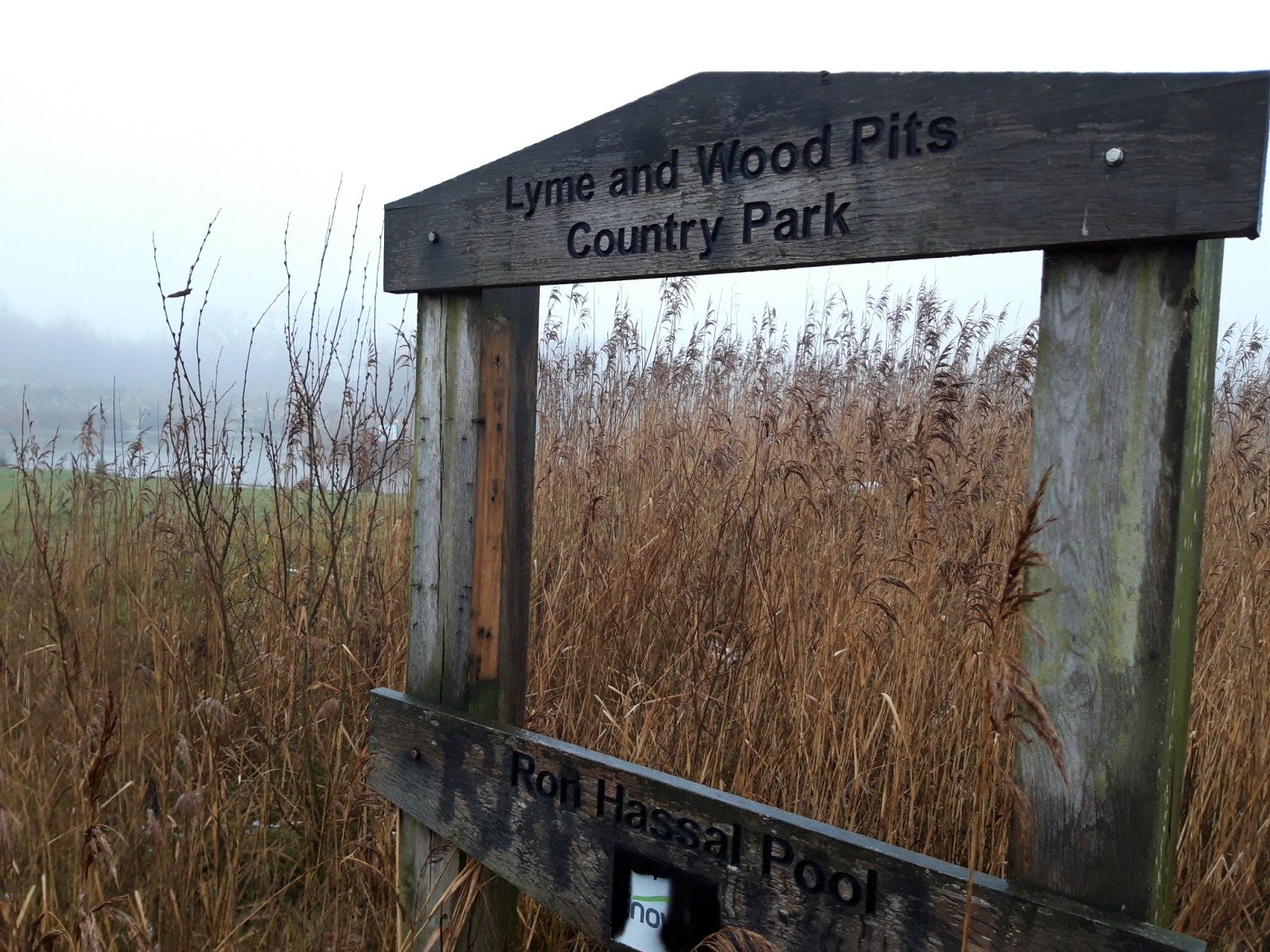 Some parts of the park were foggier than others.  The landfill site is ahead and to the left of this photo.  It was most peculiar to hear the lorries but not be able to see them.
I do like this hill with it's solitary oak tree, and I thought it looked even more atmospheric than usual with the mist shrouding the surrounding woodland.  There are lots of oak trees around here; it was the same at the place where I grew up so perhaps oak trees just like the environment around slag heaps.
We've also had sunshine and blue sky, although it's been very cold.  Winter sunshine throws lovely shadows onto the trees.
And then we got some snow.  At last!  I do get very giddy about snow and I feel a bit guilty about saying that because I know that it can cause such chaos and bring misery to so many people – but I just love it!  Like some people need to see the sea or the mountains, I've realised that I need to see snow and seeing that white stuff makes me so very happy; perhaps that's because I've never lived anywhere where the snow lasts for months and months, where temperatures are so low that you can't begin to imagine how cold it is and where you think think you'll never see flowers again, but perhaps not.  I think it might just be in my DNA.  
This was the first snow on our glass conservatory roof.  It reminded me of the ice-sculpted rooms at the Ice Hotelin Jukkasjärvi, Sweden, where I was so lucky to go for my 40th birthday – yet this was all done by nature.  No carving tools of any kind were involved in this scene of leaves and branches.  I find it incredible.
I love the difference that the light makes, as well.  The first photo was taken about 10 minutes earlier than the second but already the light had changed and it was much brighter.  All of our photos from the Ice Hotel are more like the blue photo above because of the time of year (and possibly our cameras); I have asked myself whether I'd like the snow so much if I lived somewhere beyond the Arctic Circle and always I think that it would be interesting to find out.  Not that my family are likely to be encouraged to move there any time soon, not even for the chance of seeing the Northern Lights on a regular basis, so I think that will just remain one of life's mysterious wonders! 😀
Outside, the snow was more than our usual couple of flakes (I'm still convinced that Winwick is built over an undiscovered volcanic hotspot!) and had covered the ground in a white coat.
As soon as small daughter had gone to school (grumbling as it wasn't a snow day), I bundled myself up in all my layers and took the dog for a walk.  This is Culcheth Linear Park, where we often like to walk.  As soon as we got out of the car, the dog shot off to do his usual doggy sniffing thing around the bushes and I breathed in the cold air and admired the trees.  I can't begin to tell you what it is that makes me so happy to see the snow, but the monochrome beauty of the trees is definitely part of it.  And the air, so much colder and fresher than usual.  And the quiet; everything was muffled except for the birdsong and the sound of the water in the drainage channels.  It's like someone has put a finger to their lips and said "Shh!" and just for a moment, the world has listened and become still. 
Here's my "over the gate" shot – it's the same view as this one but looks very different now.  There have been some groundworks going on to widen the drainage channels (you can see it on the right) and it's all very muddy and messy, and of course the dog was straight into it, knee-deep in squelch in no time.  Urgh!
Doesn't this look like the biggest birds have been walking around in the snow?  It's actually the marks where the melting snow was dripping off the trees, but I did have a good look round in case some ginormous feathered thing was about to land! 😀
I do love fairytale paths that climb steps or disappear through the trees.  There's no Big Bad Wolf in these woods, though!
Back home, it didn't take long before I had the fire lit and a brew in my hands to thaw out.  It's entirely possible that we won't get any more snow now this winter and that's how it is living where we do, but I'm very glad that we've had some and I've been able to get out in it.
I've finished my cowl and I thoroughly enjoyed knitting it.  I've knitted a LOT of socks over the last couple of months getting ready for the Winwick Mum yarn collection as WYS and I want to show the yarns off with plenty of pairs of socks (there is more coming on that very soon, I promise!) so it was nice to knit something that was completely different.  
When I was last up in Skipton, I took the half-finished cowl to show Tracy who dyed the yarn and she asked me if I was going to write up the pattern.  I hadn't particularly thought about it, but I'm happy to do that if anyone else would like to knit it.  It really was very easy and used up the whole skein of yarn so it might be a good stash-buster – and we've still got the weather for wearing it!
I'm feeling the need for lemon cake to go with my cup of tea today, so I'm going to try out Lucy's recipe and see how it turns out.  I'll let you know!  Have a lovely weekend whatever you're doing xx