Getting colder
Considering that it's nearly the end of November, it's not really been that cold here in Winwick – although I shouldn't be surprised as I'm convinced that we're over an undiscovered volcanic hotspot and that's why we never get any snow.
We did get our first frost earlier this week, though, and it was lovely to be out with the dog in the crisp morning air, our breath steaming out in front of us as we walked up to the housing estate built on the site of Winwick Hospital (it was once the largest psychiatric hospital in Europe – I wrote about it in this post).  Nobody was around and we crunched across the frosty grass at the back of the houses …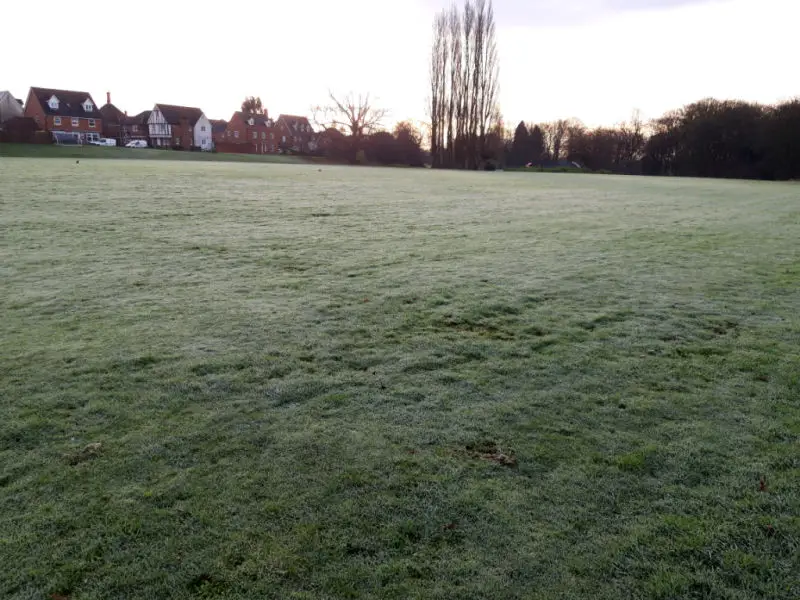 I love it when the grass is frosty and you can see the outline of every blade of grass, and all the veins on fallen leaves.  
There were plenty of those as we walked through the small wood, and yes, those are new boots, thank you for noticing.  My old pair literally fell to bits with a huge hole in the side that made me look like something out of a Victorian picture of someone who had fallen on hard times and they let the water in so it was definitely time to let them go!
It was really quiet walking back through Winwick.  It's been strange recently – even though we're back in lockdown, the roads have still been busy and you wouldn't necessarily know that people were only supposed to be making essential journeys.  I assume that the people out and about are making essential journeys because there's nowhere to go at the moment that isn't for exercise or to buy food or something like that, and we've just got used to living like that at the moment, haven't we?
Back home, I noticed that Something has been enjoying the seeds from the sunflower heads that I left on the soil of my veg box.  I never see anything eating them but hopefully whatever it is will be nice and full for the Winter!
I know it's getting towards the end of the year when it's time to order my new planner.  I've bought myself another Circle Planner* – this is the third one I've had and it really works for me.  I spent a long time looking for a planner that did what I wanted it to do (although really, was I ever going to find one that did all the jobs I wrote down on the pages instead of me still having to do them?) and although I still don't use it to it's full potential, it has been brilliant for keeping track of what I'm supposed to be doing – more so than ever over the last few weeks as I've been finding myself more forgetful than usual, and I've needed to write everything down. 
It's the immediate stuff that I forget – I'll go into a room to pick something up and then find myself in a completely different room doing something else – I did worry that something awful was going on inside my head but then I listened to this podcast, recommended by someone in the comments on one of Lucy's blog posts, and the lightbulb went on.  Apparently, the forgetfulness is very common in Women of a Certain Age and I can't tell you how much I am not looking forward to being someone who has things happen "at your age".  
Anyway, as I'm also not very good at being told what to do, and I'm starting to think that a to-do list just feels like an instruction for me to ignore, I'm thinking of my planner as a memory list; I'm writing down everything that comes into my head instead of trying to add it to a mental list and I'm actually finding myself more productive.  I should have done this years ago! 😀
In case you're interested in taking a look, the Circle Planner comes in two sizes this year – the Classic size (19 x 25cm) which is the size I use and new for this year, an A5 size.  It's hardback with a pocket at the back for papers, it's got two calendar pages for each month (useful if you want to keep work and home stuff separate), lots of list space, colouring pages, goal setting and review pages … there's plenty in there!
Carla, who designed the planner, very kindly sent me a copy of the A5 version as well this year so that I could try that one out – it's got all the same pages but just on a smaller scale.
The layout is slightly different this year and it took me a while to work out what it was, and then I realised that every available space has been used to make the calendar and list spaces wider – that's actually really useful because we don't always have one word appointments to write in!
So that's my planning sorted for next year – I've got stuff in there already – it's no wonder we think the time flashes past, is it?!
I've been spending my knitting time working on the commission socks for Wiseheart & Wild that I showed you the other day.  They're coming on well – I'm up to the point now where I've got my design and so I print out a prototype version of the pattern for myself that I use as a base for the socks.
This particular pattern isn't too bad as I've got it how I wanted it on the first try, but you should see some of them when I've finished!  There's usually all kinds of scrawl on the chart and on the paper as I write myself notes to adjust things or make alterations for different sizes.  It's not particularly technical at this point because now I just need to knit the socks, but this is the point where it all starts to come together.
Isn't that stitch definition fabulous?  Those cables are standing out beautifully – the yarn isn't so soft that they disappear into the background – and I think these are going to be fantastic walking socks.
When it gets to this point, I can look at the sock in it's final form.  I work from a first version of the pattern and then I write it up properly so that I can use it for the second sock to test it out.  I usually prefer to knit one sock, do something else for a week or so and then go back to knit the second sock so that I have to read my own pattern because if I can remember exactly what to do by knitting the sock straight away, I often miss things in the written pattern that I should have picked up.  Luckily, though, Helen, my fab tech editor doesn't miss a thing and once I'm happy with the pattern it goes off to her so that she can check what I've written, pick up all the things I've missed and help me with anything that needs changing.
I think the biggest piece of advice that I've got for anyone who is an aspiring designer is not to be afraid of approaching a tech editor to check your work.  I was very shy about it for a long time, worrying that what I had written or the way I had written it wouldn't been seen as good enough to someone who checked patterns for a living, but then the day came when I couldn't put it off any longer and it's been one of the best things for me and my pattern-writing.  Tech editors are definitely the unsung heroes of the design industry, both in knitting and crochet, and their knowledge, technical skills and eye for detail shouldn't be underestimated or undervalued – but that doesn't mean they are unapproachable!  Their role is to help us as designers to create better patterns that offer knitters an enjoyable experience, and they are happy to do that, so if you need design help, find yourself a tech editor!  
I'll be able to show you more of the socks and tell you more of the story behind the pattern very soon!
OK, this is nearly me done for today, but before I go, I wanted to show you these …
They're ink pad stamps and they're very generous gift from Emily at Skull and Cross Buns* – I've been admiring her stamps on Instagram for quite some time but never expected a box of them to land on my doorstep!
Years ago, when big daughter was small and small daughter wasn't even a twinkle and there seemed to be more hours in the day, I used to make my own cards and still have the big box of stamps that I used to use.  I love that this is still obviously a thing all these years later in 2020 and not a fad that's gone away, like ginormous shoulder pads or neon legwarmers 😀
Emily has a huge range of stamps and of course, at the moment, has a big selection of Christmas ones for making cards, gift tags and wrapping paper.  She sent me some lovely knitting-themed ones which I know I will get plenty of use out of …
and a personalised one with my name on it …
(I'm always inordinately pleased to see things with my name on them because when I was growing up, "Christine" was never one of those names that appeared in any of the personalised gifts that used to be sold in cafes or motorway service stations – unless we were in Scotland, for some reason)
BUT LOOK AT THIS ONE!!
Well, I'm be astonished if you couldn't see my smile from where you were!  Emily, I am delighted with the stamps, thank you very much!   
Right, that's me done for today – I'm off to put my feet up and knit for a bit!  Enjoy the rest of your day/evening wherever you are! xx
* Circle Planner – this is an affiliate link and the code CHRISTINEPERRY will get you 10% off, although there's often a better offer on the website
* Skull and Cross Buns – this isn't an affiliate link and of course there's no obligation, but if you're at all interested in stamps and especially personalised ones, do go and take a look!