"It was THIS big!"
It's early on Sunday morning and I'm sitting here in a quiet house … my husband has gone out on his bike for his daily exercise and my girls are checking the insides of their eyelids for cracks 😀
Phew, it's been a funny old week, hasn't it, and the world is quite different to how it was when I wrote my Monthly Musing last weekend.  England is back in coronavirus lockdown, Wales is just coming out of it, the US has a new president, there are a myriad of traumas reported on the news, and yet life just goes on for us all.  In an effort not to be swamped by it all, I'm trying harder than ever to look at what's around me and what I can be grateful for, and now that the nights are drawing in here as we approach Winter, I'm embracing the Hygge moments with ALL the candles, blankets and coal fires!
Small daughter is still at school (much to her disgust) and we've settled into school runs very well since September when she first went back.  It means that I can be out with the dog first thing in the morning which gives my husband and big daughter time to get themselves organised for the day and clears my head – there's something about being out in the morning that really helps me to get myself motivated for the rest of the day – and it also means that the dog gets his big walk and then can snore to his heart's content when we get home.  
We have to go to different places pretty much every day as he tends to misbehave if we do the same route all the time.  I took these photos quite a few weeks ago and haven't had chance to share them with you until now – this was a crisp, Autumn morning at Nine Arches in Sankey Valley Park.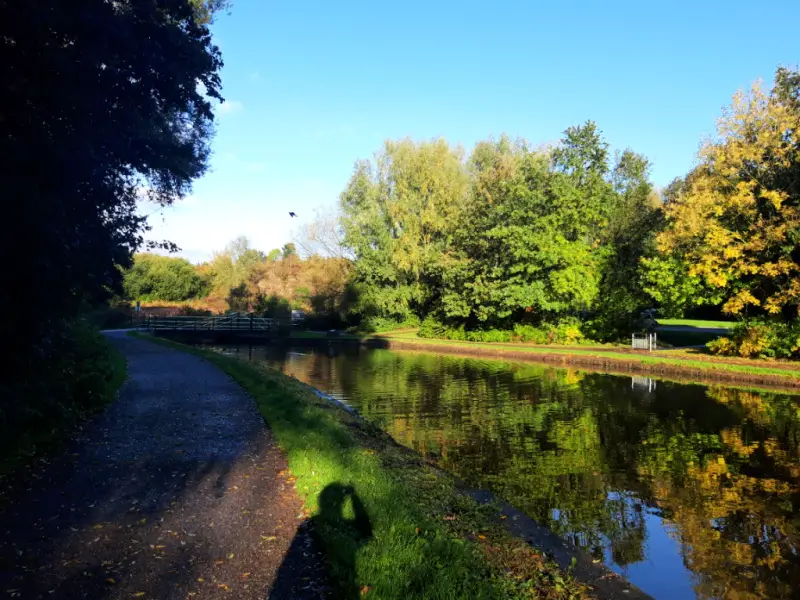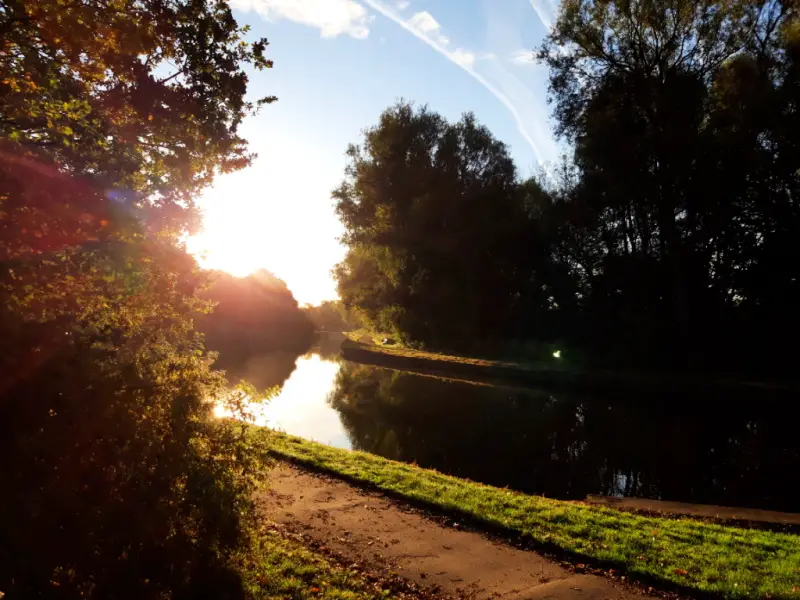 It was such a beautiful morning and the dog bounced along happily, his breath steaming in the air, until I had to grab him because I spotted fishermen up ahead.  I always do my best to avoid fishermen – they don't seem to appreciate my hairy boy offering to help them with their bait (actually, he doesn't offer, he just helps himself and then there's nothing left for the fish) – and most of the fishermen (we never see any women, I wonder why that is?) we meet are camped out for their day with the chairs and umbrellas and a huge amount of kit and generally don't even want to say hello so I let them get on with it.  These fishermen, though, were walking up and down the canal bank with their rods – they didn't have any kit or chairs or umbrellas – and one of them actually spoke to us so being the nosey kind of person that I am, I was sure to get in quick with my questions!

No, it's not as deep as it looks.  As it was originally used by barges to transport goods then it was very deep at one time but it's not used now and hasn't been cleaned out so it's silted up so that it's only about 4 or 5 ft (1.2-1.5m) deep now.  That's still deep enough!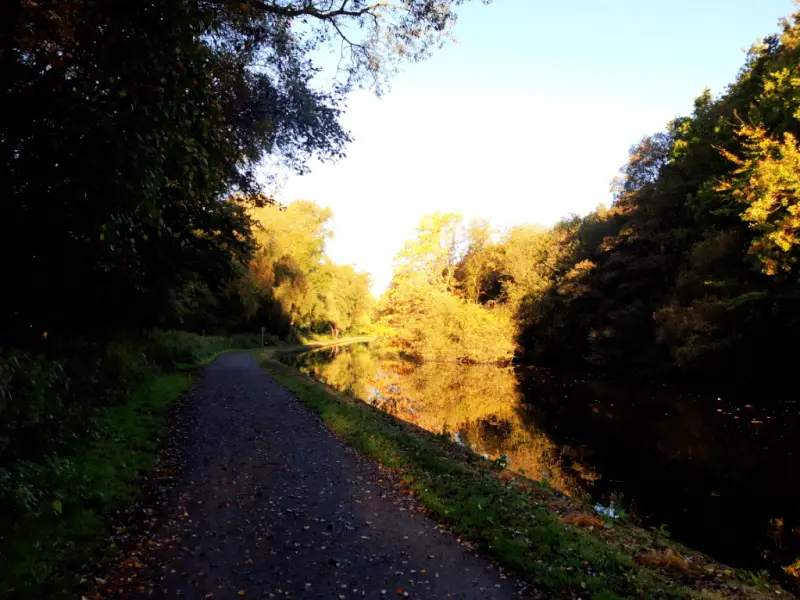 Yes, there are lots of fish in the water.  There are pike, carp, roach and perch, and they are pike fishermen so they walk the bank whereas carp fishers are the ones who sit on their chairs. "Aren't pike those big fish with lots of teeth?" I asked, mindful that the dog had been in that water before now.
"That's them," he said. "They like to hide in the gaps in the vegetation.  Can you see those little holes in the bushes across from us where the ducks go in and out of the water?  They wait there for the ducks and then they come up and take them so we fish those places because we know that's where they'll be."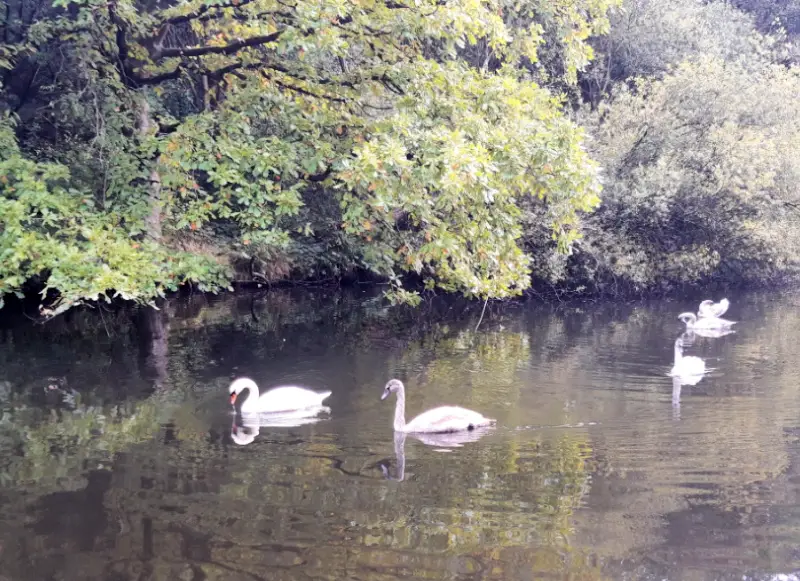 "Take the ducks?!  I thought they just ate little fish!"  I was remembering a windsurfing session in a local dam many years ago where the instructor joked about not falling off because the pike would bite your feet but I thought that was just a ploy to keep you upright.
"Oh yes, I've seen one just come up and grab a duck and pull it down under the water.  They eat the ducklings in the Spring (which explains what happens to the swan cygnets that we look out for on another walk) and they'll even take a small dog."
"They eat dogs?!"
It's entirely possible that I was pandering to the stereotypical fisherman's instinct to hold their arms out and say, "It was THIS big!" but he had my entire attention now and there is no way my dog is going in that water again.
"Well, probably not your dog as he's big but small dogs, yes, they'll have those."
 "I didn't think they were that big!"
"They can be," he said, thoroughly enjoying himself now.  I had brought this all on myself.  "My friend caught one that was 12lb (5kg) this morning but I've heard of one caught locally that was 45lb (20kg) and some of them are nearly as tall as you if you stood it on it's tail."  Now, given that I am just over 5ft 5″ (1.6m) tall and 45lb is about 3 stone (20kg), that's an awfully big fish!  (Oh, and in case you're wondering, the fisherman always throw them back in the water.) By this time, I had visions of some prehistoric beast 5ft down in the water ready to launch itself out onto the towpath and eat everything in sight.  
"I've never caught one that big," he said, as if that made everything better.  The dog is still never going in that canal again.  "And we're out here every day."  He sounded rather wistful and I realised that for someone whose passion is fishing, catching a fish that size is the stuff of legend and ambition.  I left them to it.
Phew, who would have thought that a walk with the dog could have turned into such an education about large omnivorous fish?   
This is a pike.  It is a bit of a prehistoric beast, isn't it?
Source: https://www.frenchriverresorts.com/fishing/
And here's a happy fisherman with his whopping catch.  Yes, I do know that this size of fish is the exception and not the rule, but nope, I have not changed my mind about the dog – or my view about wild swimming – you just don't know what's down there!  
Source: www.anglersmail.co.uk
So, apart from learning more about what lurks beneath the surface in our local waterways, what else have I been up to?  Well, I have started a new (and last for this year) sock commission and I've got permission to tell you all about this one as it goes along.
I won't give too much away just yet but it will be lovely to show you how it's coming along as I'm getting on with it, and to tell you a little bit about my design process as well.  Usually, everything has to be such a secret!
This is the yarn.  It's called Northern Alchemy and it's been produced by Kate at Wiseheart and Wild, and dyed by her daughter Annie who owns Wild Spinsteryarns (this particular shade is Perry Pink  – isn't that fab?!).  It's a no-nylon yarn – as you'll know, I've got a soft spot for breed-specific no-nylon yarns – and it's a blend of lots of local fleece from where Kate and Annie live in the Peak District.  
Kate and I had had a conversation quite a long time ago about Derbyshire Gritstone sheep fleece and how it was supposed to be fantastic for knitting socks with but no knitters ever got their hands on it because the spinners snapped it all up for themselves.  Kate told me that she was planning to develop her own yarn using local sheep fleece and this is the result.  It can take a long time for a yarn to come together – you have to wait for the sheep to grow the fleece, for them to be shorn, for the fleece to go to the mill and be turned into yarn … we probably started our conversation a good year ago at least!
You can read about the yarn here in Annie's blog – it's a mix of 6 different wools: Derbyshire Gritstone, Whitefaced Woodland, Shetland, Tencel, Cheviot and Dorset Horn cross and a small amount from Heather the three legged sheep who was a Charolais northern mule cross (a local resident 😀). 
I'll tell you more as I go along, but so far I've wound the skein and checked my gauge as you'll see that the yarn looks different to the West Yorkshire Spinners yarn and it's always sensible to do that when you start using a new yarn.  I'll keep you posted!
Until then, stay safe, stay warm and keep your toes out of the water where the big fish live! xx