Arches of brick and balls of yarn!
Hello to you!  I can't believe that it's Tuesday already – the days have been rushing past faster and faster but now that small daughter is back at school … yes, after all these months she has gone back to school and I don't know if you have children, but if you do then wasn't it strange and yet wonderful to see them go?! … I am hoping to get myself into some kind of new routine and slow the time down just a little bit.
I can't pretend that we're not worried about small daughter being back in a school environment with so many other people after such a long time at home, but the school that she goes to is very organised and very thoughtful about what is best for the teachers and the students so we are happy that they will be doing their best to keep her and all the other people there safe.
I sat down with my planner the other week to try to make sense of what was going to be coming up.  I'm back on school runs again after a 3 year break – the school are discouraging bus travel for those who are able to walk, cycle or get a lift so because I work at home anyway and the school is just a bit too far to reasonably walk to, I'm picking small daughter up each day.  I've decided to use the time to get a few extra rounds of knitting in, and also re-start my Welsh language practice which I let slip at the beginning of lockdown.  I'm quite surprised that I haven't forgotten as much as I thought I would have done, but I'm still not convinced that "I met a man in the pub yesterday who works with your sister" is going to get me very far at the moment!  I'll keep going …
I'm also scheduling in regular times to walk the dog rather than just when I feel like it, or when I have time, and that feels much better.  I need to get out and be in the fresh air and the dog appreciates it too.  We found a new walk last week at the other end of the Sankey Valley Canal route to where we usually walk, and it was really quite exciting to be able to explore!
I'll try not to bore you with too many photos, but I love an arched bridge and I love a good fact too – and there are plenty about this viaduct!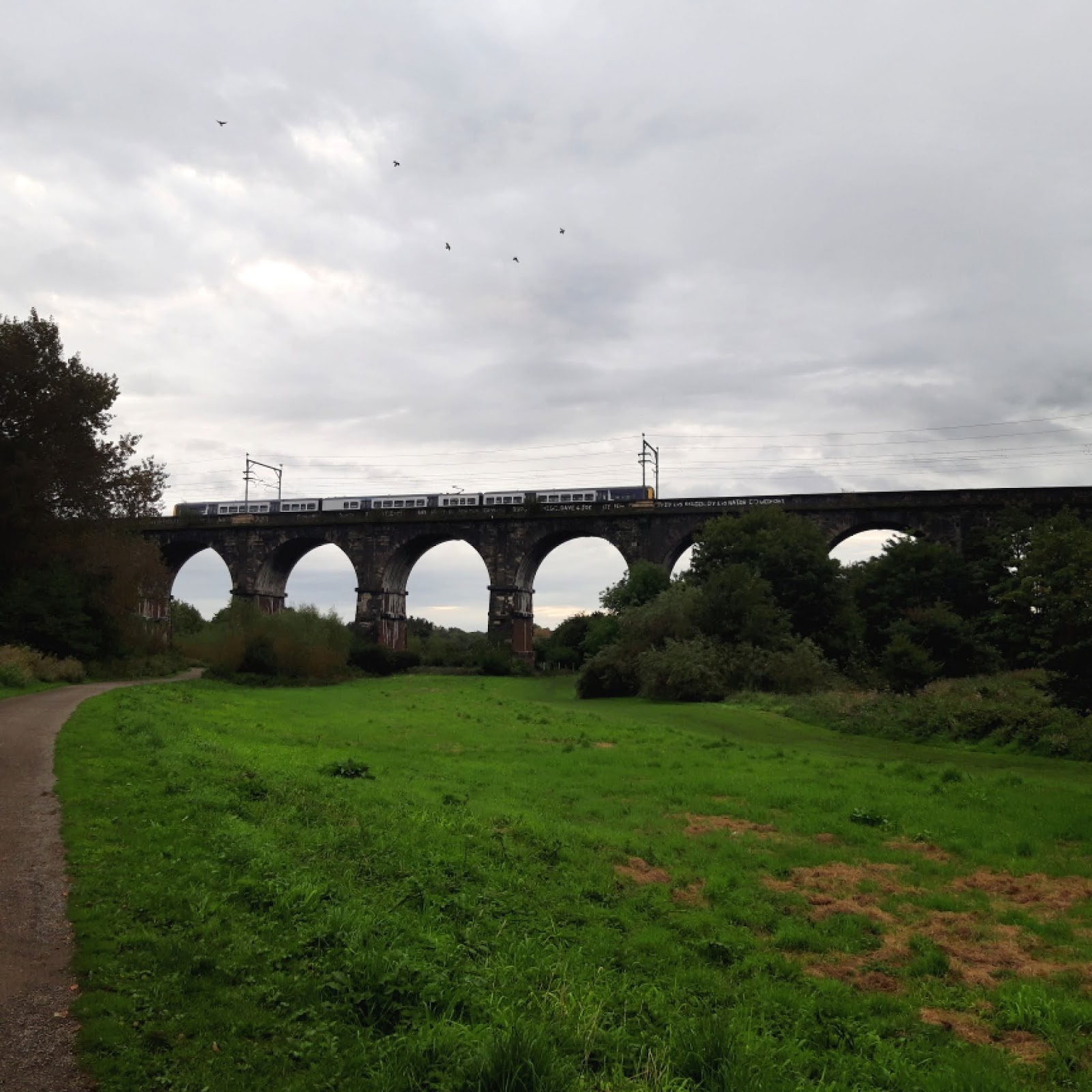 It's called the Sankey Viaduct but is known locally as the "Nine Arches" and you can probably guess why.  It was built between 1828 and 1830, commissioned by the Liverpool & Manchester Railway Company and it's now a Grade 1 heritage site – in fact, it's said to be the earliest major railway viaduct in history.
It's huge – the arches tower high above, apparently because of a dispute with the Sankey Brook Navigation Company which was responsible for the canal traffic which passed beneath it and insisted on the bridge being high enough not to interfere with the barges.
Looking up, I thought at first that some giant birds perched on the ledges, or perhaps it was paint as there is other graffiti on the bridge, but looking closer, I spotted stalactites!
Can you see them, just about where the arrow is pointing?  The water is pretty hard in our area so they must be formed by the minerals in the water which drips when it rains.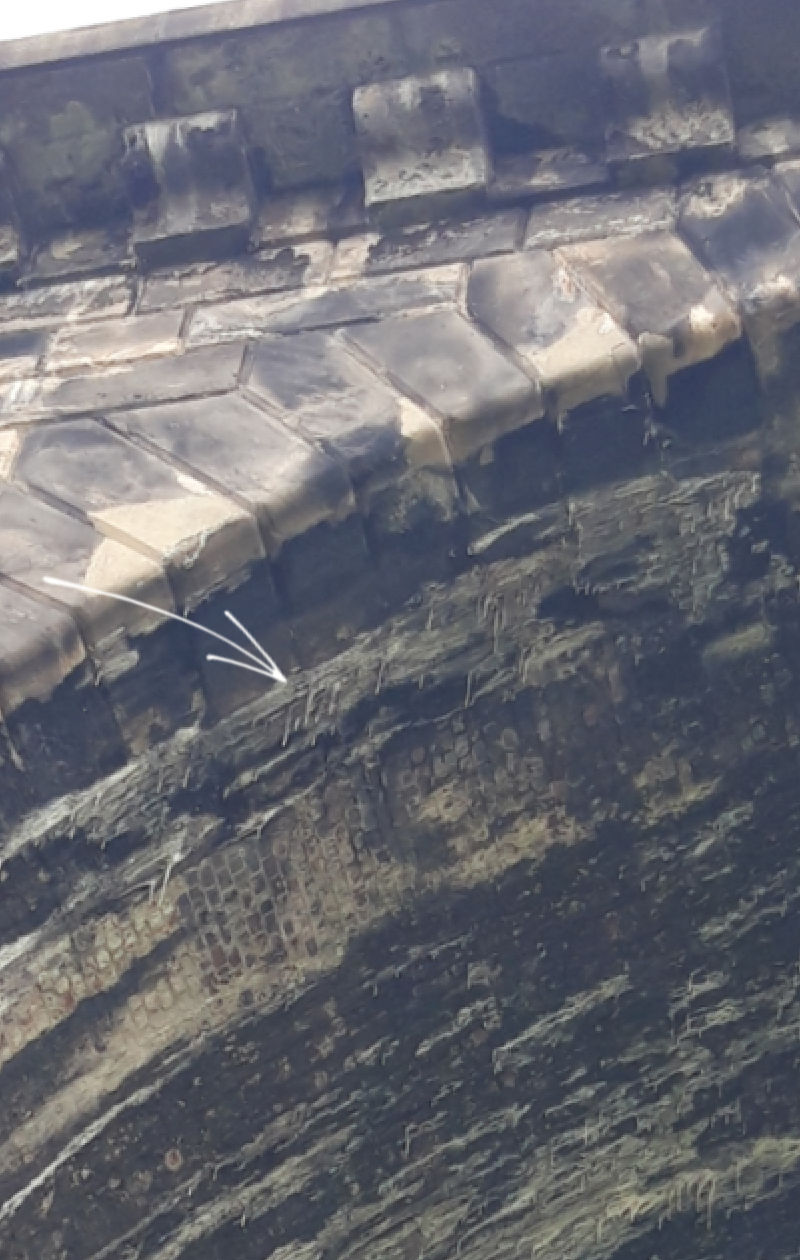 I'm easily amused by things like this!
The sun had come out by the time we walked back and it all looked much brighter.  I like discovering new places right on our doorstep; I'm quite familiar with the Sankey Valley at the Warrington end, but I had forgotten that the canal that runs through it is the St Helens canal and therefore it makes perfect sense that it would go through Newton-le-Willows and on towards St Helens.  The dog and I don't walk that far, though!
It's been good for the dog to see somewhere new too, although today he was nearly in the canal himself reaching over to try to fish out a banana skin that some runner had thrown in.  Luckily, I managed to grab him just before he overbalanced and managed to get him on his lead.  Swimming in the local canal is not on my agenda whatever the weather!
It feels like such a long time since I've written a blog post!  I've missed talking to you (talking at you? 😀)!  Thank you very much to all of you who have been answering my questions about flowers on my previous posts, though, or just leaving me comments about your socks – it's good to hear from you and I hope that you are all keeping well!
I've got some exciting news to tell you about socks … oh, this has been such a long time coming and it's been really hard to keep the secret but it's out now …
The new West Yorkshire Spinners Christmas yarn is here!
The brand new yarn for this year is called Silent Night and it's the one on the top left of the photo above.  It's quite different to the ones from the previous years – for a start, it's blue which might come as a surprise, but I bet when you think of the name, you can see the same pictures in your mind's eye as I could when WYS told me about it … a dark blue sky, a huge star above a stable … it's a Christmas card picture.  Can you see it?
There's something else a bit special about this yarn too as it has a sparkly thread running through it so it shines and twinkles when you knit it.  It's not scratchy either, which is hugely important for something that you're going to wear next to your skin, and I could see this yarn being used for not only socks, but shawls, hats, cowls, mittens and being gorgeous to wear.
Next to Silent Night at the top of the photo is Fairy Lights and that's a previously limited edition yarn which is being brought back this year due to popular demand, and has also had the Signature Sparkle treatment.  It really does make it twinkle like fairy lights!
Robin is last year's yarn which has been hugely popular all year round (I see a LOT of it in my Facebook groups!); Candy Cane is another limited edition which has been brought back again and there's Holly Berry too, another popular yarn all year round.
Is there a sock pattern, you might ask?  Well, yes there is, and thank you for asking!  In fact, there's not just one pattern …
Oh my life, there are five!!  In fact, when you count them all up, there are SEVEN!
Yes, I have been extremely busy this Spring and Summer, and whilst the UK was in the middle of a heatwave, I was knitting Christmas socks! 😂
I was thrilled to be asked to design for the Christmas yarns again – designing socks for WYS is not something that I take for granted!  There's a brand new pattern to go with Silent Night and that will be free with the yarn as usual (that's the one you can see in the picture), and then there are five more patterns so that each yarn has a pattern to go with it in a new Christmas Socks collection book.  
Christmas Robin is the same as last year, but there's a new one for each of the others – and Silent Night's pattern is two in one, both in a similar style to the free mid-calf sock pattern.  One is knee-high with calf shaping, and the other is a ribbed slouch sock so that whatever your preference or leg size, there should hopefully be a version of the Silent Night sock to fit you.  It was quite an adventure writing a knee-high pattern, but it's so good for me to do things like this as it really makes me think, and the funny thing was that almost as soon as I said to myself, "Knee-high?  Does anybody wear knee-high socks these days?", I was inundated with questions about making them, so I took that as a sign!
The patterns are all different – lace, cables, texture, rib – and as always I've tried to design them with beginners in mind so you could knit these as a first pair, but you could also knit a pair of the Sockalong socks first as all my patterns are based on that same pattern same.  I'd say that these patterns are for adventurous beginners; they are given a skill level of 3 by WYS so they shouldn't be too daunting!  I'll share more photos in a couple of weeks – WYS have some beautiful professional photos which will be coming out over the next few days so I'll hold onto mine for now, but I will talk about them again soon!
The yarn and the pattern book goes on sale tomorrow (16 September) and you should be able to find them at your local WYS stockist – have a look at the WYS stockistspage if you are unsure where your nearest one is – or you'll be able to buy it online: try CityKnits*, Black Sheep Wools or Wool Warehouse for one of the bigger retailers, or you'll be able to find smaller ones through an internet search.  If you're abroad, you'll find overseas stockists listed on the WYS page, and UK stockists will be happy to post to you as well if you get in touch.
OK!  I think that's me for now … I'll try not to leave it so long next time! 😀
* this is an affiliate link