No-nylon sock yarn review – New Leaf Yarns Alpaca blend 4ply
It's been a long time since I wrote a no-nylon sock yarn review and I am VERY late in reviewing this yarn from new leaf yarns (I bought and knitted it back in 2017 but fortunately it's still available!).  
I decided that I wanted to create my own pattern for this yarn, and these are my Calcite socks – I'll be sharing the pattern another day for these easily-knitted cabled socks.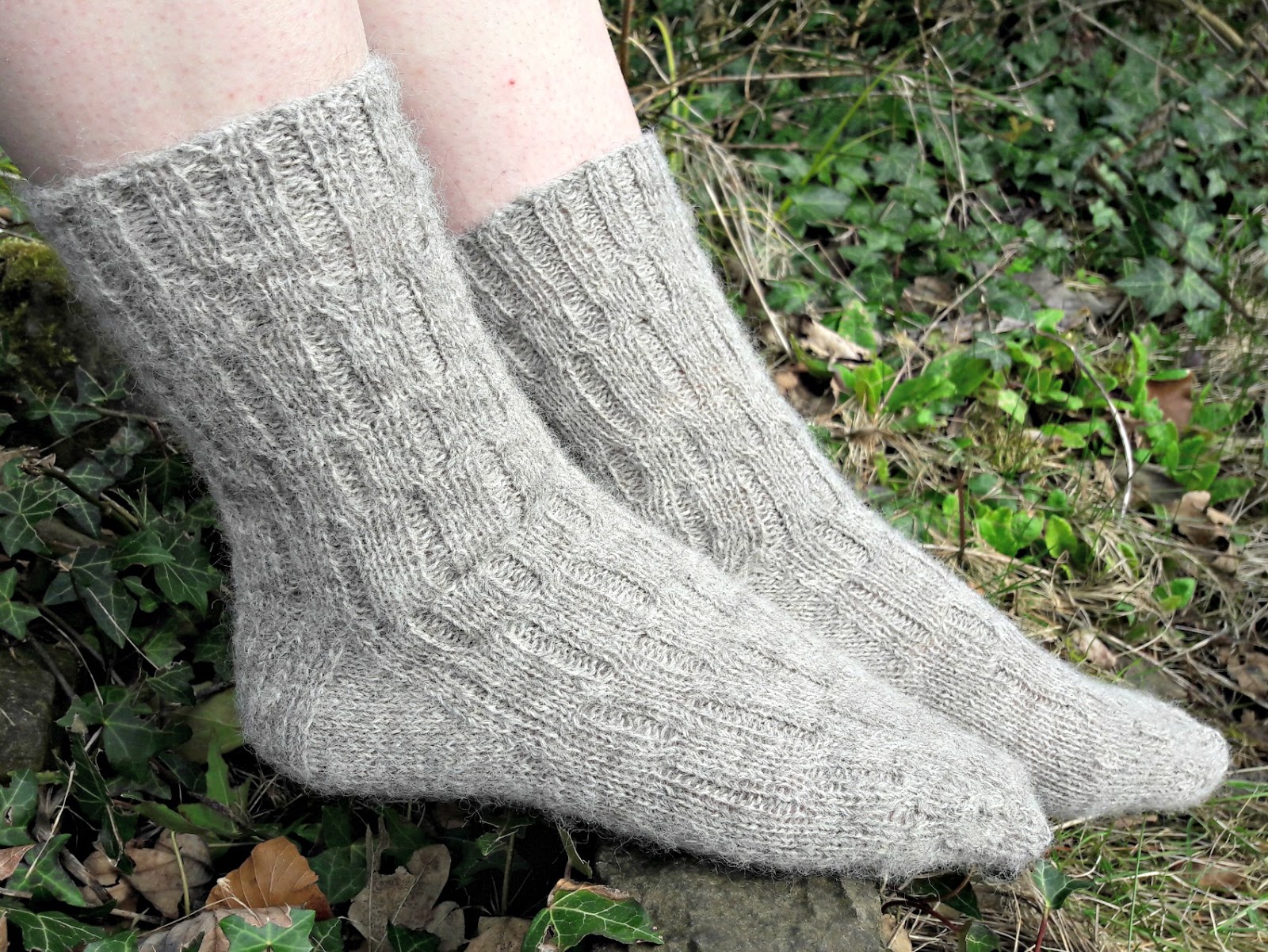 Before I start the review, there are a couple of things that you need to know:
I used to be really tough on my no-nylon socks because I felt that they should be able to stand up to the rigours of being worn as well as socks containing nylon.  My view on this has changed now – my belief now is that no-nylon yarns have their own qualities which make them different from commercially-produced yarns and to try to compare them as the same thing doesn't work.  I have learnt that no-nylon socks just don't last as long as ones with nylon in (on my feet anyway – I have pokey toes, see below) but the pleasure of knitting and wearing them is different to other yarns and they should be appreciated for that.  
I still expect no-nylon sock yarns to be good value for money – after all, it's no good saying a yarn is suitable for socks if it wears through after one outing! 
Being tough with my socks means that they'll get worn for a few days at a time; there's less need to wash natural fibre socks anyway even though we're in the habit of wearing our socks once and then washing them – you don't see sheep showering all the time, do you? 😀It also means they'll be worn in boots on long dog walks whatever the weather and will probably go into the washing machine because that's how most people choose to wash their socks – although painful experience has taught me that the dial goes no higher than a 30 degree hand wash!  (No point in experimenting unless you learn something, eh? 😀 )
I've got pokey toes so unless I reinforce the toes of my socks, there's a good chance that I'm going to go through them faster than many other people – this isn't always helpful in a yarn trial but on the plus side, I can test that aspect out more quickly! 😀 
What's the yarn made from?

The yarn is a blend of Alpaca (from a Scottish alpaca called Nicky – how could I resist?!), Bluefaced Leicester and Teeswater.  It's an interesting mix – the alpaca is super-soft but the long staple length (the staple length is how long the fleece is when it's shorn from the sheep – there's more on that here) of the sheep fleece give the yarn strength and bounce which is why I was able to consider it for socks.  Usually, very soft yarns such as Alpaca and Merino are better-suited to less hard-wearing projects but I'm always interested to see how blends like this will work.
Alpaca (not Nicky, but Topaz, Jim and Mally from this post here)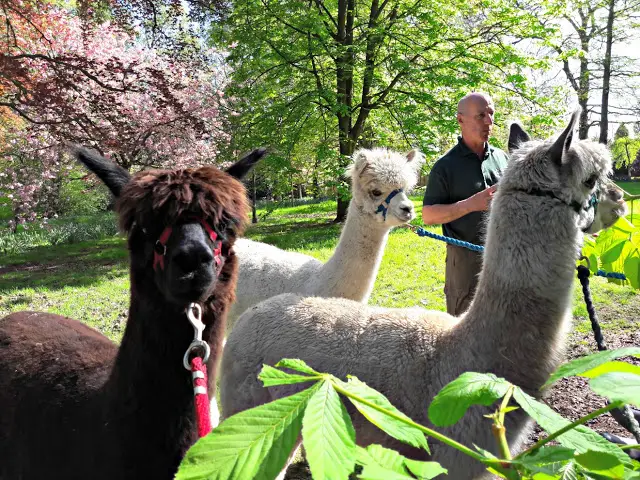 Teeswater sheep
Source: www.teeswatersheep.co.uk
Bluefaced Leicester sheep
Source: www.nationalsheep.org.uk
Where does it come from?
The yarn comes from new leaf yarns, which was started by Jane Green in May 2017 with the aim of blending alpaca fleece from small herds with British wools and natural fibres. 
What does it feel like and – most importantly – how soft is it?


As you'd expect, it feels lovely!  This particular skein is a soft rose-grey colour and it feels very smooth to the touch.  Too soft and smooth for socks?  Read on!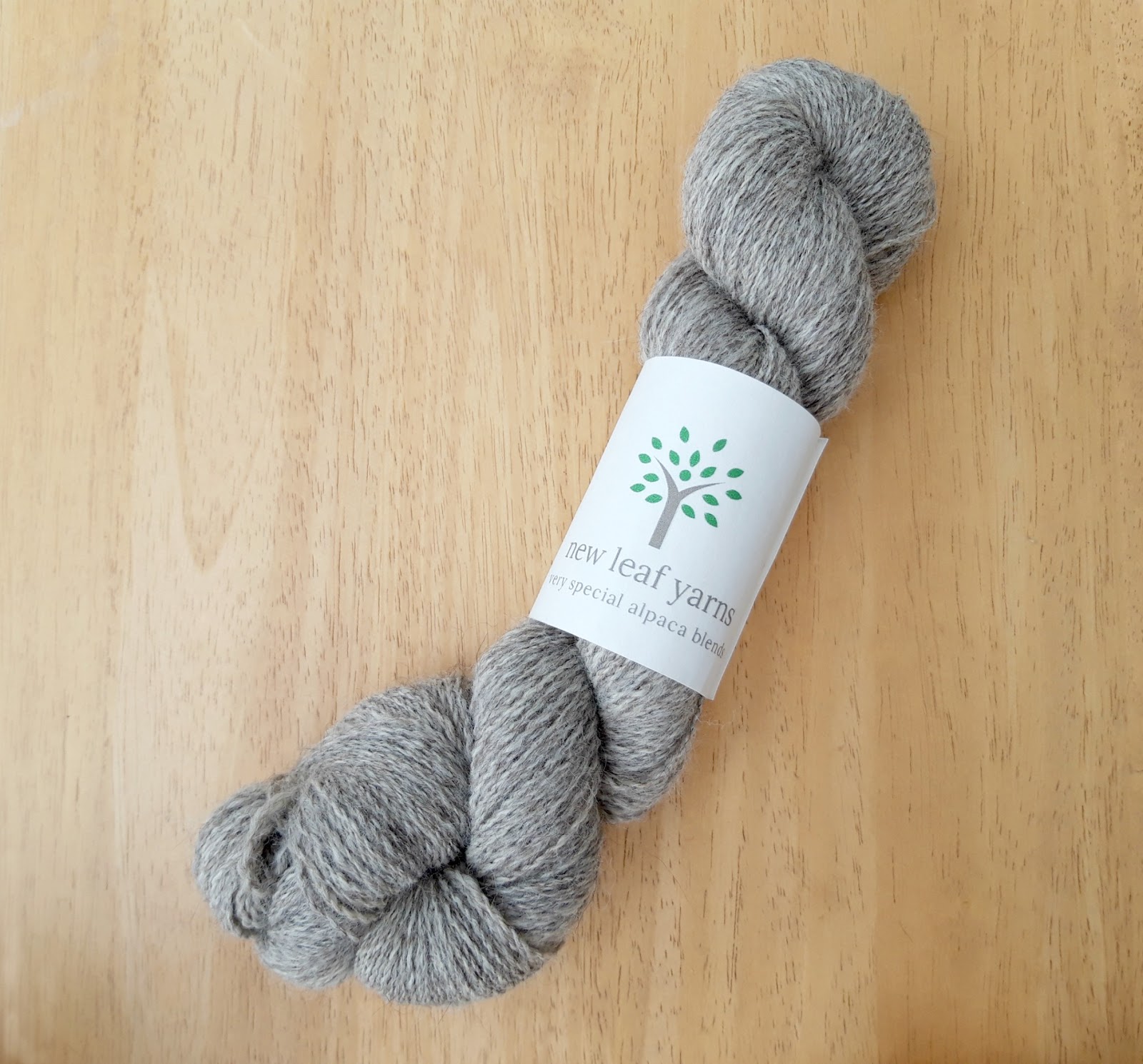 How long is a skein?

There are approximately 400 metres in this skein (420 metres in the newer yarn).

What's it like to knit with?

I found this particular spinning to be a bit slubby and splitty in places so not ideal for a beginner knitter – HOWEVER, it's important for me to tell you that Nicky's yarn was Jane's first foray into 4ply yarn and the yarn that's currently on her website is her second and improved spin.  Her newer yarn is made with fibre from Scottish alpacas Innes, Sam and Tam.
It's worth pointing out that there was a magical transformation once I washed the socks – oh my life, the yarn bloomed and softened and I couldn't wait to put them on my feet!  This is something that happens with many yarns so you should never judge a yarn without washing it first!
Jane sent me a sample of her new spin and you can see it against the original yarn here.  It's a bit darker and there is a difference in the feel of the yarn as it's spun more tightly so I think the new one would be much easier to knit with.
The newer version is on the left; you can see that it's a bit darker but that's how the alpaca fleece blend together – these are all natural colours and they're gorgeous!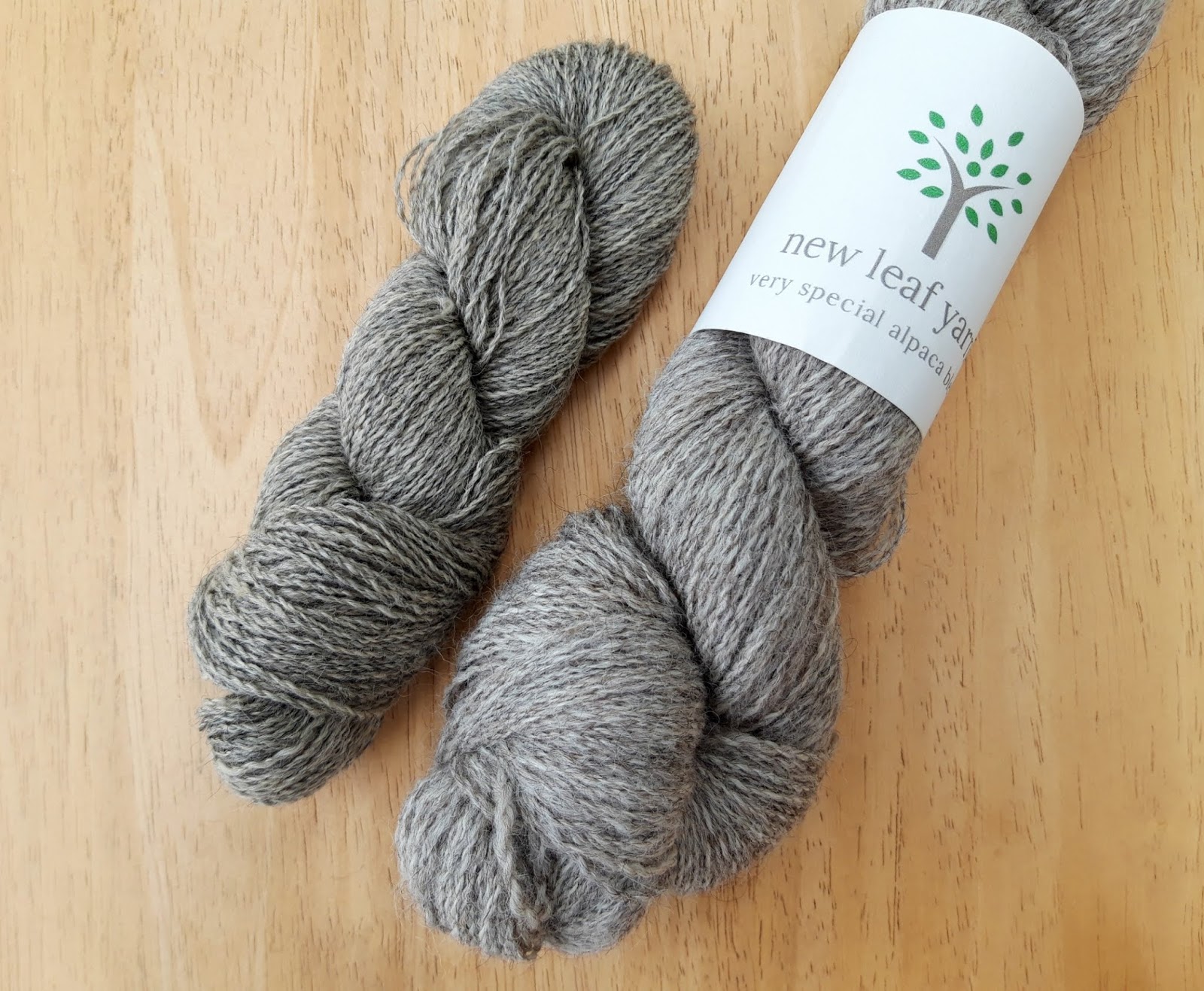 If you look closely, you can see that there is a difference in how the yarn looks.  I wasn't unhappy with the first yarn but to have a new improved version is fabulous!
Did you do anything to make it more hardwearing?
I used Ribbed heel stitch on the heel to give that nice cushioned feel and I used it on the toes as well to try to make sure I didn't go through them too quickly.
How does it wash?
The ball band states that the yarn is hand wash at a low temperature- so of course I threw it into the washing machine!  After the 40 degree incident with the Tamar socks, I have decided to learn my lesson and always wash my no-nylon socks very carefully (albeit in the washing machine) and use a 30 degree hand wash cycle.  I am convinced that the spin cycle is also a factor in how the socks survive the machine and the gentler spin of the hand wash setting is essential.  The socks came out beautifully.  Apart from the fact that they were clean again, you wouldn't know they had been in a washing machine at all.
How does it wear?

I can quite honestly say that these have been the softest, warmest pair of no-nylon socks I have ever worn in my life!  I have loved wearing them – they've been out on dog walks in my boots, they've been in my everyday boots, they've even kept my toes toasty in bed on very cold winter nights.  They feel quite thick because of the way the yarn has bloomed but have had the same warm-in-winter, cool-in-summer qualities to them that I've come to expect with all my natural fibre socks.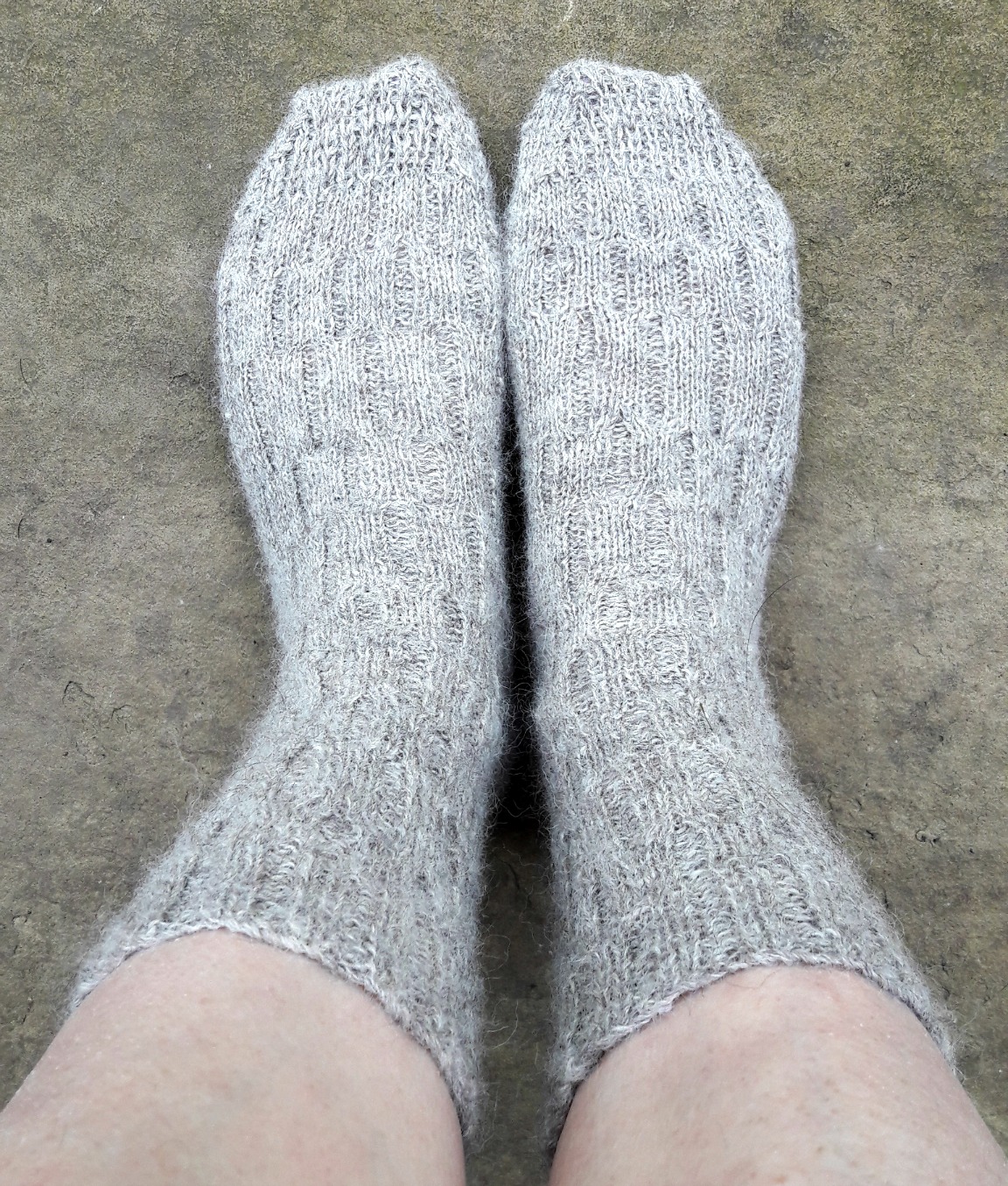 Are there any holes?
I'm so sad … yes, there are!  BUT it took a good eight months for any holes to appear so my toe-reinforcing plan has obviously worked.  You can see that the yarn has fulled and it's the same on the inside so I think it has definitely made the fabric stronger.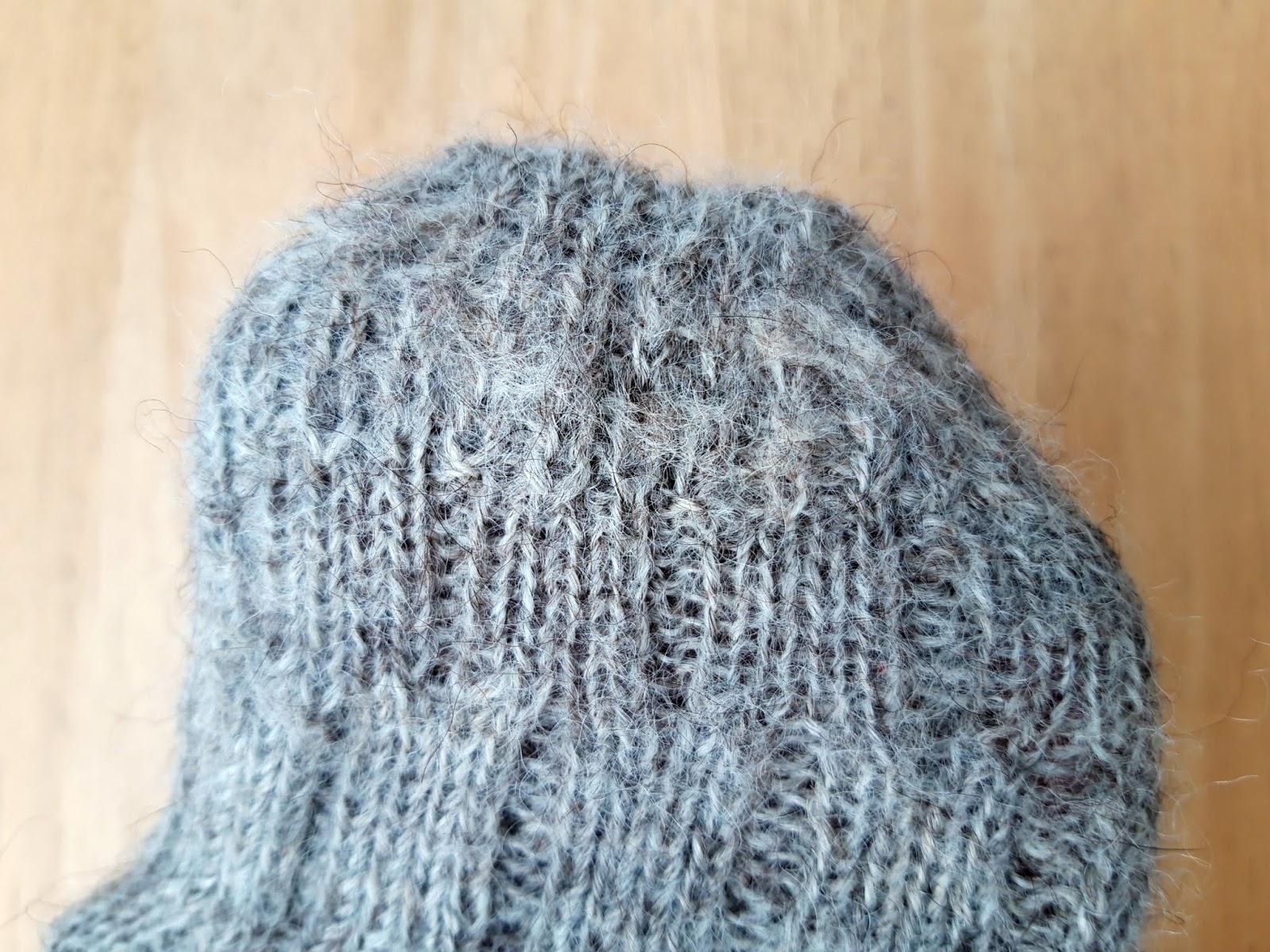 I've got a hole in one toe, although I expect toe holes in all my socks sooner or later …
Just on one side which is better than I expected – the other side and the other sock look fine so this one will be back on my foot after darning.
For the first time ever, though, I've gone through the heel turn – although to be more accurate, I've worn away the softer part of the yarn and the rest of the yarn is holding my sock together.  This is actually a really good example of how the combined strengths of blends work well together and is exactly why I love that there are so many yarn choices!
Would you do anything differently next time?
I'd continue the heel stitch onto the heel turn to reinforce that part of the sole (there's a tutorial for that here).  The toes … ach, short of cutting my own toes off, I think that poking my toes through my socks is always going to be a problem for me.  The alternative here would be use to a reinforcing thread as well as the yarn, perhaps, or to knit the toes in a different yarn altogether, but that doesn't particularly appeal to me so I'll keep experimenting and darning!
Would you buy this yarn again?
I already have!  I've got another skein of Nicky's yarn in my stash and I will definitely make more socks because these have been a delight to wear.  
I want to try it out!  Where can I get it from?
You can buy it directly from Jane at new leaf yarns here.  If you're tempted to try it, I am sure that the newer version of the yarn will make socks that are just as nice, and if you don't wear them in your dog-walking boots they will probably last longer than mine!
If you are interested in no-nylon sock yarns, you can find my other reviews on the No-Nylon Sock Yarn Reviews page.
This is an impartial review using yarn that I bought myself.