Skipton days
If you've been reading the blog for any length of time, you'll know that one of my best friends is Lucy of Attic24, and I try to get over to Skipton to see her at least once a month (if my other best friends are reading this – move closer up north!!).  I've felt very spoilt as I've been able to catch up with her twice within the last two weeks, so not only have had I had the joy of chatting in person but I have also had this drive over the moorland from Colne in Lancashire to Skipton in Yorkshire.  I go through three counties to get to Skipton as I live in Cheshire, so I drive from Cheshire through Lancashire to North Yorkshire, and I love how the scenery changes from one county to another.
On this day, Storm Ciaran was blowing in from the south and those clouds didn't look very promising!  In fact, in the second photo you can see rain on the windscreen (I always stop the car before taking photos on this road and usually get out, just so you don't think I'm zooming along with a camera in my hand!) and by the time I was leaving, the weather had taken a turn for the worse and it was not a fun drive home.
Inside Coopers Cafe Bar, though, it's warm and cosy.  You'll have seen plenty of photos of drinks on the table when I've visited Cooper before, especially if I've been able to go on a Friday when the knit n natter takes place, and if you're a reader of Lucy's blog, you'll have seen more than a few photos in her posts too, but this is what it looks like when it's quiet.  We were the only ones sitting upstairs so I took the opportunity to snap a quick photo to show you what it looks like.  Those two tables are pushed together and sometimes more are added so that pretty much the whole of this room is taken up by people crafting and chatting.  It's so lovely to be a part of.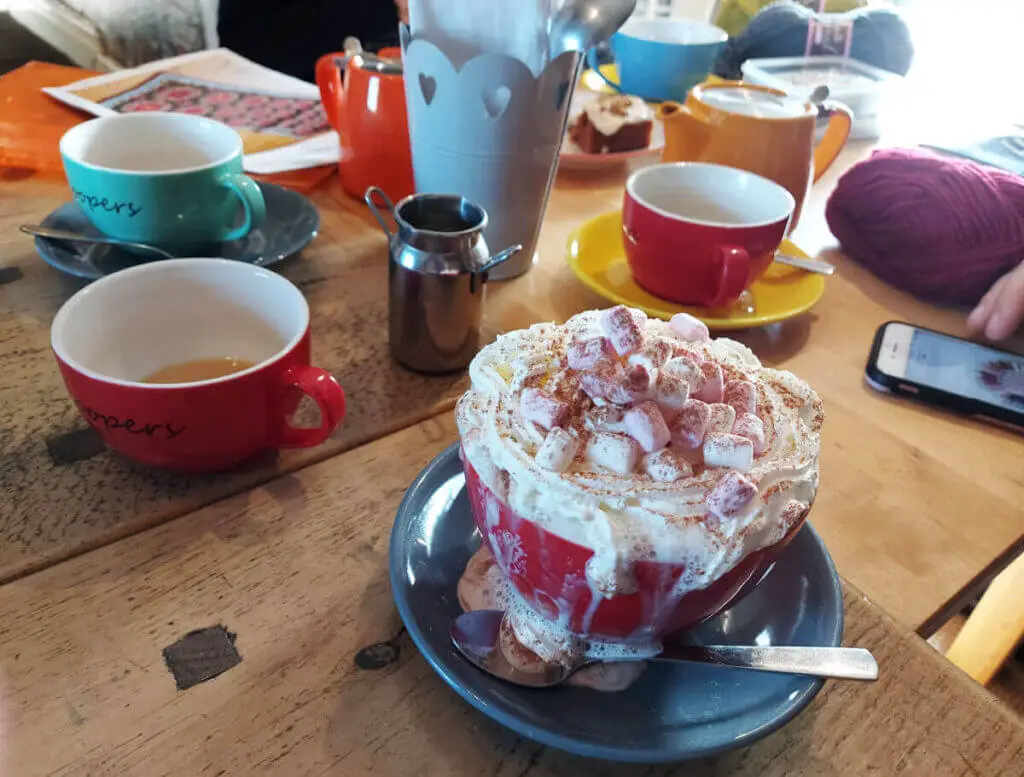 I was back there again yesterday and the weather couldn't have been more different!
It takes me ages to get there when I keep stopping to take photos (sometimes I do stand in the middle of the road but it's easy to see and hear cars coming) but I adore this drive over the moors in all weathers.  Sometimes there are sheep, sometimes not, but there's always that huge sky, and the sense that the landscape is empty even though you know that it's not: this is an area with plenty of farms and none of this land is unaccounted for.
After the knit n natter, Lucy and I went for a quick walk up into Skipton town as she had an appointment and I took the opportunity to visit Jane at Purl & Jane yarn shop to say hello and actually get a look around – in all the years I've been going to Skipton, every time I've visited and had time to call in, the shop has been shut, but yesterday I got to go in.  It's such a lovely little shop – jam packed with gorgeous yarns that are all a bit different to what you might find in other yarn shops (although she did have some West Yorkshire Spinners and I spotted a couple of Winwick Mum yarns on the shelves too!)  Yes, I may have made a purchase, and I'll show you tomorrow (yes, another post incoming – too much to tell you to put it all in one!)
After that, Lucy and I made our way back to Coopers for another drink and to share a scone – one of the highlights of a visit to Coopers is their fabulous hot chocolate and I slurped all of that up!
This time, thankfully, there was no stormy weather to contend with on the way home, but the sun was very low in the sky which made driving quite difficult at times.  Shortly before I stopped to take this photo, I'd been driving into the sun and I couldn't see a thing for a few moments which was quite scary as I didn't want to end up in a ditch!
This is the view coming out of Yorkshire towards Lancashire again.  That's a long hill down and then a long hill back up again – I'm always very grateful that I'm in the car and not on a bike!
I also saw these incredible clouds.   Aren't they amazing?
I don't think I've ever seen clouds with a hole in them quite like that!
Right, that's me for today.  I haven't quite got out of the habit of taking loads of photos from Blogtober so I've still got more to say – I'll see you again tomorrow!  🙂