From sheep to socks – sorting fleeces
Warning – this post is sheep-heavy! 🙂
The weather was pretty rubbish for the whole of the half term school holiday that we had here in the UK a couple of weeks ago, and in the rolling Lancashire hills on a Tuesday morning there was more cloud than hills to see.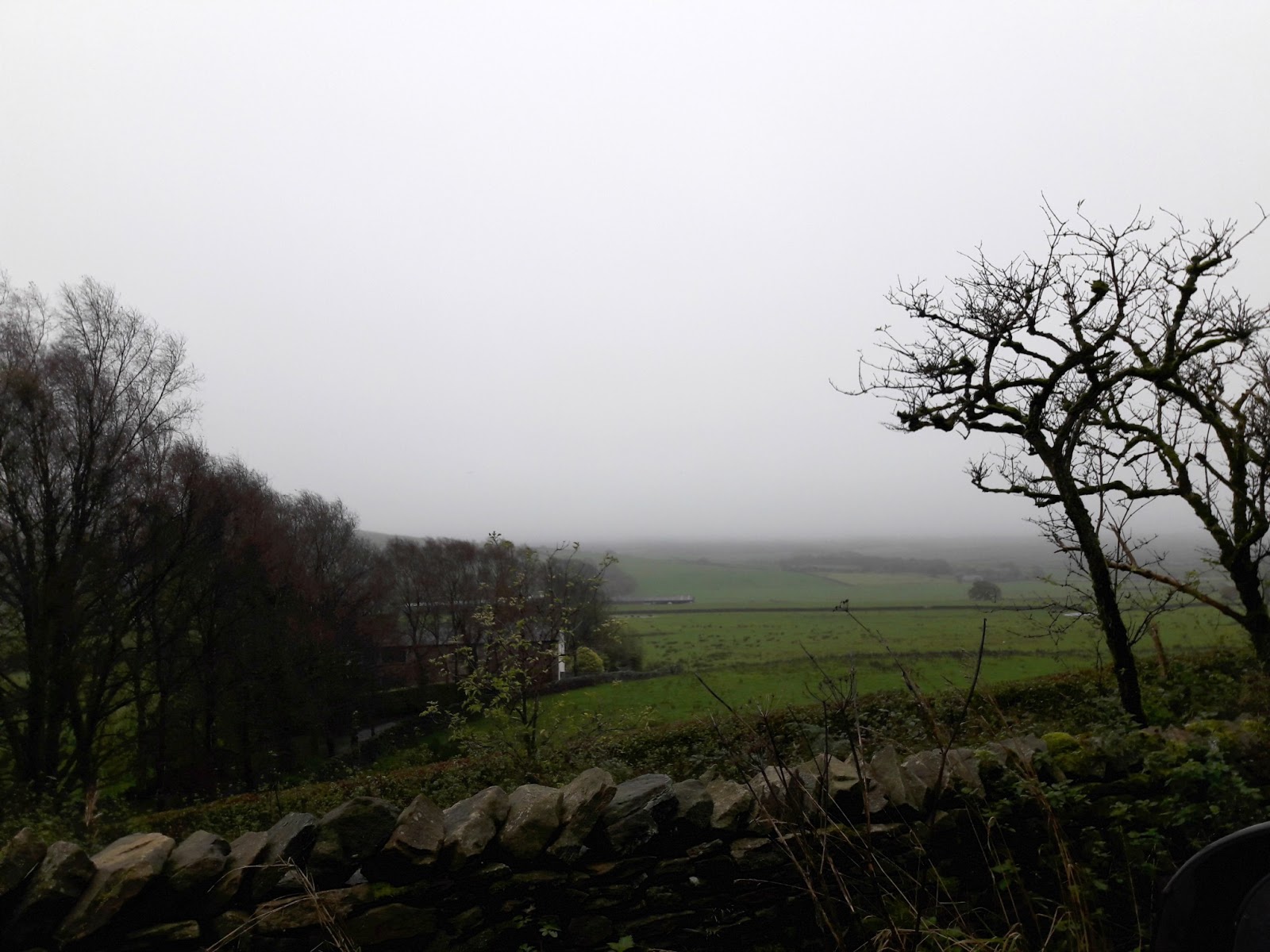 Small daughter and I were on our way to meet Kate from Northern Yarn and Wendy, who writes the excellent website Yarnsub, to help sort out fleeces ready to go to the mill for this year's Northern Yarn Poll Dorset Lambswool spin, and it felt as if we were driving right into the clouds!  I was delighted that Kate had asked if I'd like to go and help, and was even more pleased when small daughter showed such excitement at the thought of coming along too.  Perhaps my woolly obsession is starting to rub off on her at last! 🙂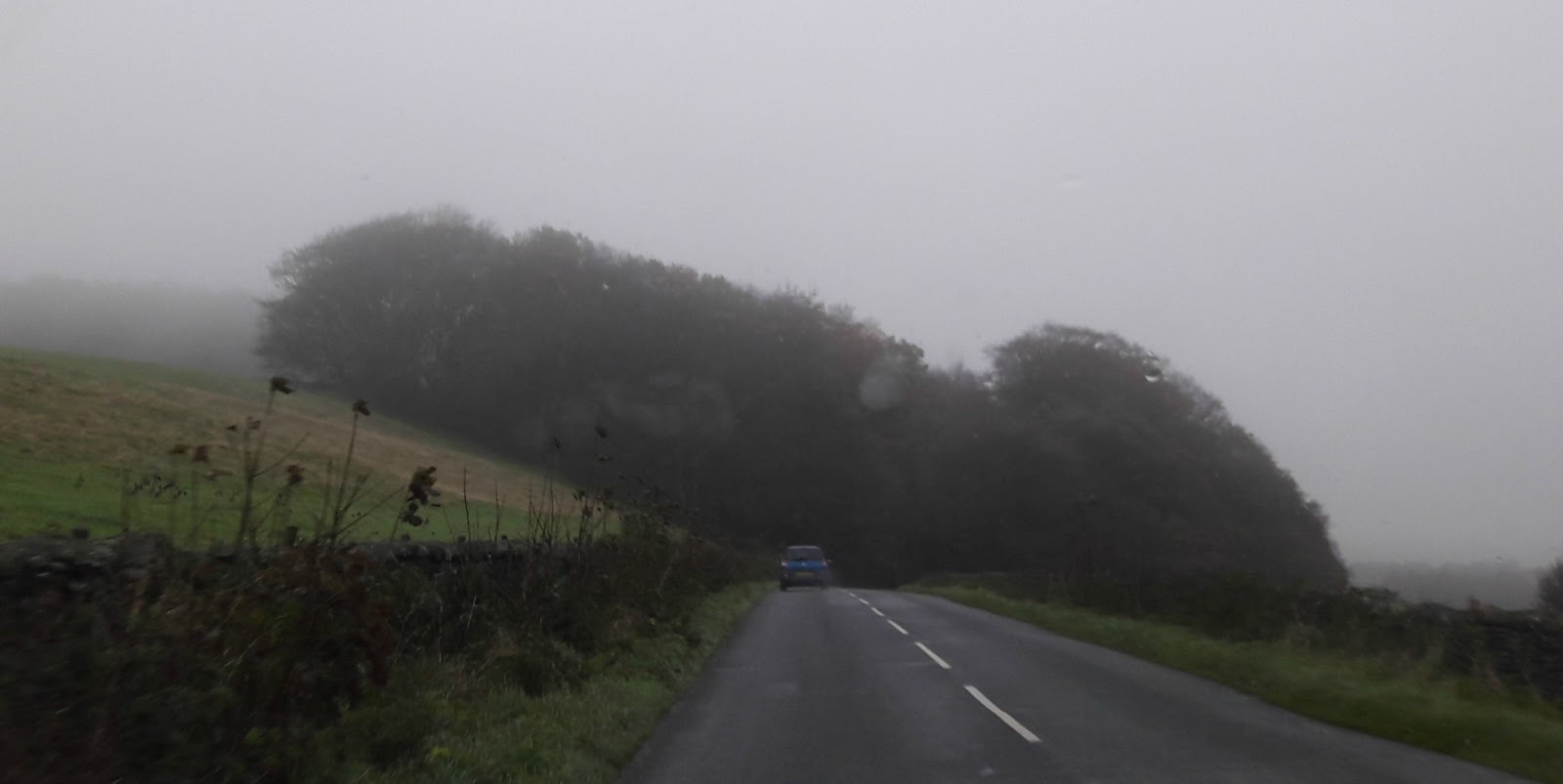 The farm where the Poll Dorsets live is just outside Lancaster, not far from where Kate's shop is in the city centre, so the yarn that Kate sells really is local yarn!  When we arrived, the rain was blowing in sideways gusts and we were glad to get straight of the car and into the barn where the fleeces were – and these inquisitive ladies!
These are Poll Dorset sheep; they've got proper thick fleeces to keep out the weather and usually would be out on the hills at this time of year except for the fact that …  
they all had lambs!  We weren't expecting to see any so late in the year, but Lyn the farmer told us that Poll Dorsets can lamb all year round unlike most sheep breeds which only lamb from January to May. 
Small daughter was delighted to see them, as were Wendy's two boys, and they all spent a lot of time leaning over the fence to watch them.  Lyn told us that usually, the lambs would be outside as well at this time of year but the weather had been particularly nasty that week so they'd been brought inside to keep them safe.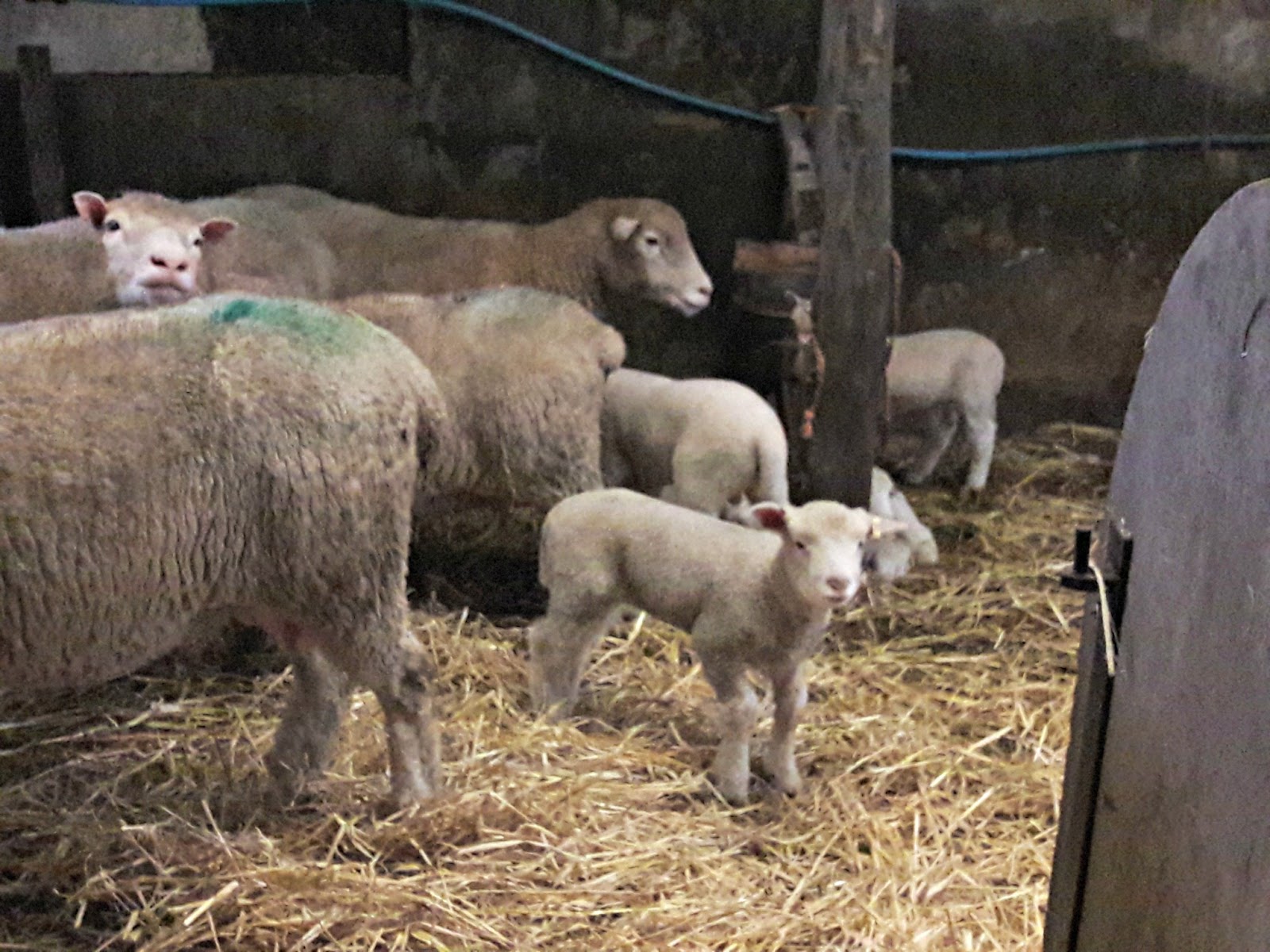 We reluctantly left the lambs and their Mums to themselves and went back into the main part of the barn to make a start on sorting the fleeces.  Lyn is extremely knowledgeable about all things sheepy and chatted with us for quite a while about sheep husbandry and farming.  Despite the name, lambswool isn't from the little gambolling bundles in the photo above but is from any sheep that hasn't been shorn before as that's the softest the fleece will ever be.  Once the sheep has had it's first cut, it's known as a shearling and then a gimmer when it's between it's first and second shearings.  
Lyn has a couple of different sheep breeds on the farm, but it's the Poll Dorset fleeces that Kate uses for her yarn.  She had already been through the fleeces once but there were still two bags that needed sorting through to make sure that no precious lambswool had been left behind. 
And these were Bags with a capital B.  They were huge!
This is what the fleece looks like when it's first sheared from the sheep.  This is actually a different breed of sheep to the Poll Dorset, but you can see that this is still a long way from being anything that you'd want to knit up.   From the farm, they go to be washed and scoured to get rid of all the dirt and impurities; it's known as "greasy wool" when it's like this because it does indeed contain grease, including lanolin.  Our hands felt very greasy when we were working, and they shone with it too – but they did feel nice and soft!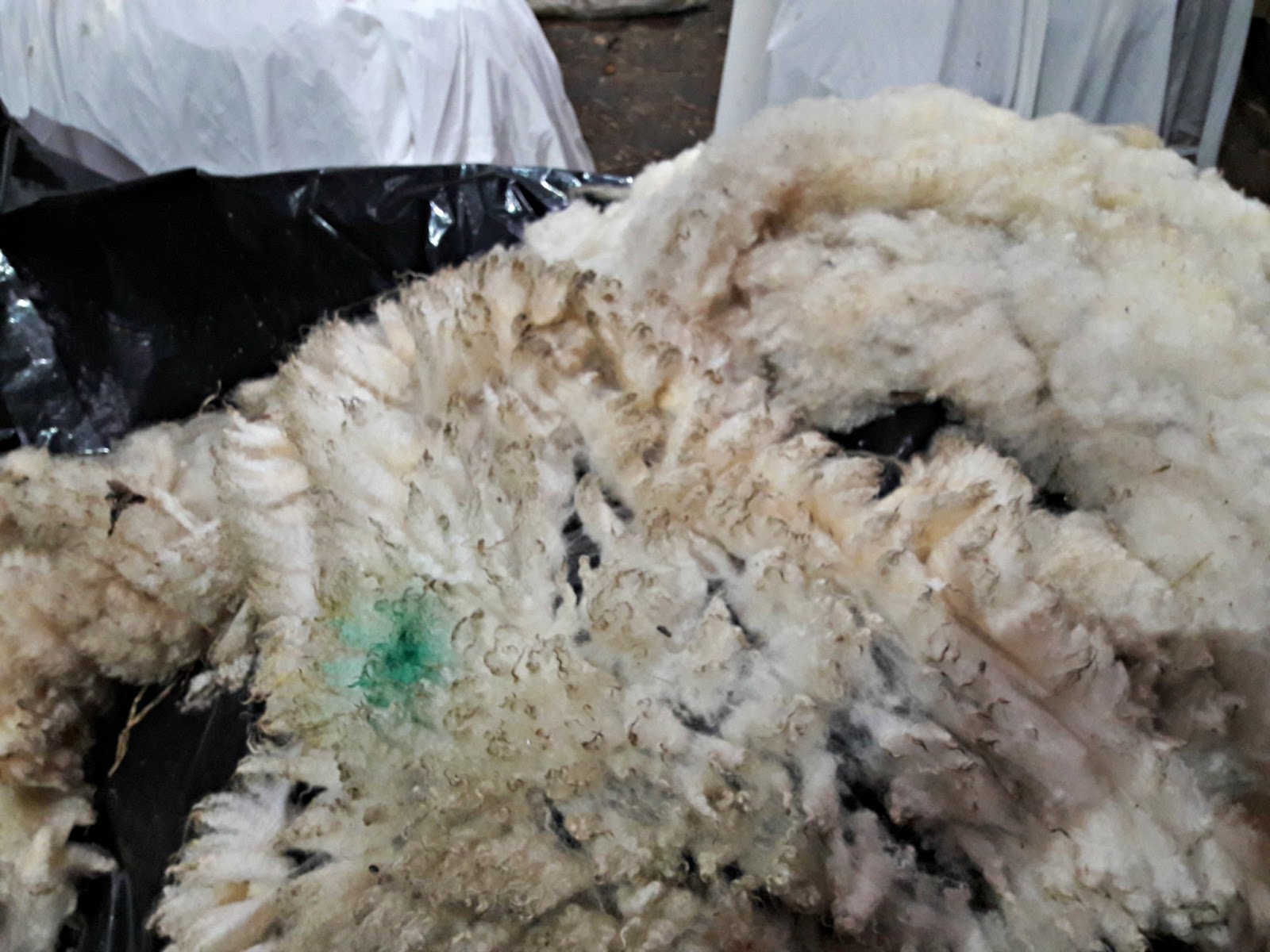 Kate had already been through the fleeces once but still needed to go through them again in case she'd missed anything.  This is what lambswool fleece looks like – a bag of little bits!
The tiny bits weren't of any use to us, but these long sections are perfect for spinning and it was these that we were looking for (but not the bits of poo that were attached to many of them – urgh! 🙂 )
Although you wouldn't think so from looking at the tightly curled fleeces of the ewes in the earlier photos, Poll Dorsets have a long staple length on their fleeces which make it perfect for spinning into yarn.  Staple length simply means how long the wool is from where it is cut to the very end.  Ideally, it should be around 2″ (5cm) so that it lies smoothly in the same direction as the rest of the fibres.   As you can see in this photo, this piece was nearly 3″ long which is just right for lovely yarn.  There were a lot of shorter pieces in there too, some of them just because that's how they grew, and others caused by "double cutting" which is when the shearer makes a second pass (goes back over the fleece twice) to make sure that they've got it all off.  These aren't what you want in yarn as they are too short to lie in the same direction as the rest of the fibres and can stick out, making the yarn scratchy and not as comfortable to wear, so they were discarded.  
There were six of us in total, painstakingly working our way through the bags to pull out the longest pieces of fleece, and then going back through it again to make sure we hadn't missed any.  There were several lamb-viewing breaks and a picnic stop but to their credit, the young people worked for much longer than I thought they might do and we were finished by the time Kate needed to pick her girls from school (no half-term holiday for them that week so they missed out on the sorting fun).
It's quite incredible to think that all that fluff (small daughter practically disappeared into it on more than one occasion because it was so soft and snuggly!) will become yarn that looks like this …
The yarn above is from last year's fleeces which later looked like this …
These are my Easy Cable Socks – from sheep to socks indeed!  My socks have been very well worn and they're looking a bit battered, but they are so comfy!  I need to do some emergency repairs to the toes now but I was expecting that at some point because of my pokey toes 🙂
Is it time for a lamb-viewing break?  I think it might be!  (I did tell you this post would be sheep-heavy!)
And time for a tea-break too!  Wendy and I had been abandoned for the lambs at this point, but we've got all of the useful stuff out of the bags.  What's left will go to the Wool Marketing Board to be sold on; although it looks as if there's still plenty of it left, it's worth very little to Lyn as the price of fleece is so low – sadly, the story for lots of farmers for around the country which is why I like to try to do my little bit to shout for British breed yarns.   
The new Northern Yarn Poll Dorset Lambswool will be available later in the year so if you fancy trying it out, it's worth signing up to Kate's newsletter so that you can one of the first to know about it when it comes back into stock.  You can do that either through the Northern Yarn website or by clicking here. 
I'm very grateful to Kate for letting me be part of her day and get my hands on the fleece, and it was lovely to meet Wendy too – we're already planning our fleece sorting party for next year!