No-nylon sock yarn review: Blacker Yarns Tamar Lustre Blend 4ply
I finished knitting my Blacker Yarns Tamar Lustre Blend 4ply socks just before the Edinburgh Yarn Festival in March this year.  I was really pleased with them.  The pattern is Arwen from The Sock Drawer by Verity Castledine, one of those patterns that is actually not that hard at all but looks very effective.  I thoroughly enjoyed knitting these socks, both the pattern and the yarn were a delight to knit – but enough of that!  You want to know what's happened to them six months on so that you can decide whether this yarn will make it into your own sock drawer …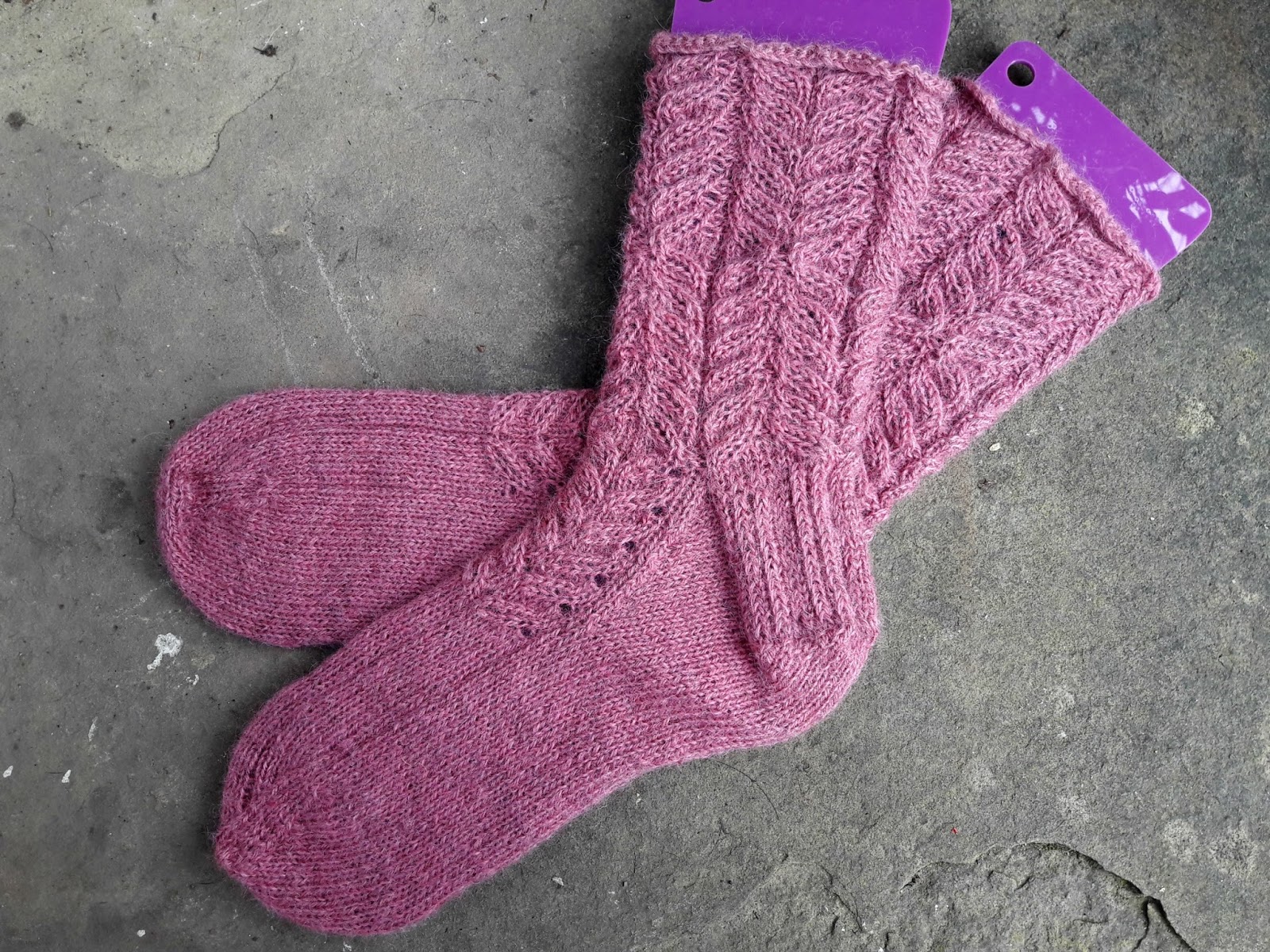 Before I start the review, there are a couple of things you need to know:
I am tough with my no-nylon socks, perhaps tougher than I am with socks knitted with nylon yarn.  This is because I want to know that this yarn is equally as good for socks as commercially-produced yarn and provides good value for money. 
Being tough with my socks means that they'll get worn for a few days at a time; there's less need to wash natural fibre socks anyway even though we're in the habit of wearing our socks once and then washing them – you don't see sheep showering all the time, do you? 🙂 It also means they'll be worn in boots on long dog walks whatever the weather and will probably go into the washing machine because that's how most people choose to wash their socks.
I've got pokey toes so unless I reinforce the toes of my socks, there's a good chance that I'm going to go through them faster than many other people – this isn't always helpful in a yarn trial but on the plus side, I can test that aspect out more quickly! 🙂  
What's the yarn made from?
This yarn is 100% wool made from a blend of Teeswater, Wensleydale and Leicester Longwool sheep fleeces which give the yarn it's shine, along with 30% Cornish Mule to give body, bulk and additional softness.  This is what the sheep look like: 
Teeswater …
Source: www.teeswatersheep.co.uk
Wensleydale … (these sheep make me think of Highland cattle!)
Source: www.wensleydalesheep.co.uk
Leicester Longwool … (Does anyone else see Dougal from The Magic Roundabout?)
Source: www.lavenderfleece.com
and mule sheep are crossbreeds – usually a Bluefaced Leicester ram with purebred mountain ewes from Wales, the Pennines or Scotland.
Source: http://bit.ly/2yEkOHj
Where does it come from?
Blacker Yarns source all their fleeces from small farms in the UK.
What does it feel like and – most importantly – how soft is it?

It feels gorgeous, soft and silky in your hands and with a sheen to it that absolutely lives up to the name "Lustre Blend".  I did worry that it might be too soft for socks, but the long locks of those longwool sheep mean that it should be strong enough to cope with being worn as socks.  The shade that I have is called Kensey.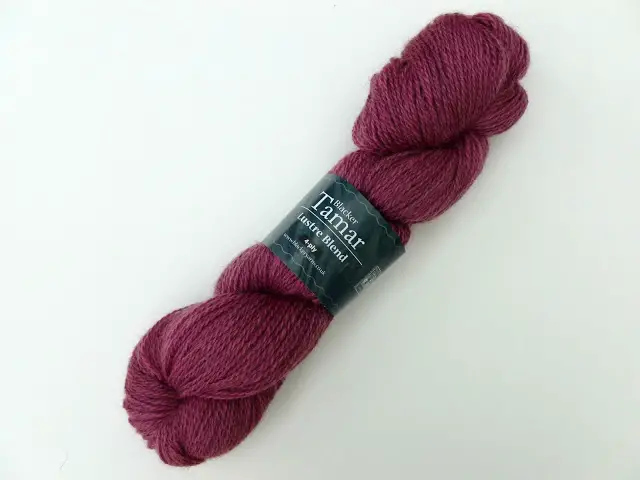 What's it like to knit with?

This yarn is a joy to knit with.  The softness of the skein doesn't change once you've wound it into a ball, and as the sock grows, the fabric is smooth and pliable.  Too soft for socks?  I hoped not.  It also has lovely stitch definition and shows up the pattern beautifully.
Did you do anything to make it more hardwearing?
I altered the pattern on the heel to incorporate slip stitches into the way it was knitted so that it was more of a heel stitch.  To be honest, I don't tend to have problems with my socks wearing through at the heels, it's always the toes for me but I like the thicker fabric of a heel stitch heel.
How does it wash?

This was always going to be the nerve-wracking part of my experiment.  The socks went into the washing machine at 30 degrees – and they were OK.  There was some fulling of the yarn but not significantly so; I might have been disappointed if this was a cardigan but for socks it bothers me less.  The fulling adds to the strength of the fabric and I didn't mind.
Unfortunately, when they went into the washing machine at 40 degrees by accident, the yarn was not so happy.  It fulled quite badly and I thought that I'd done irreparable damage.  Luckily, I was able to soak the socks in cool water with distilled (white) vinegar* and get them back onto my sock blockers to regain their shape.  
*Soaking woollies that have shrunk in a water/vinegar solution and then blocking them back to size can sometimes save the item, although not in every case.  It's always worth a go, though.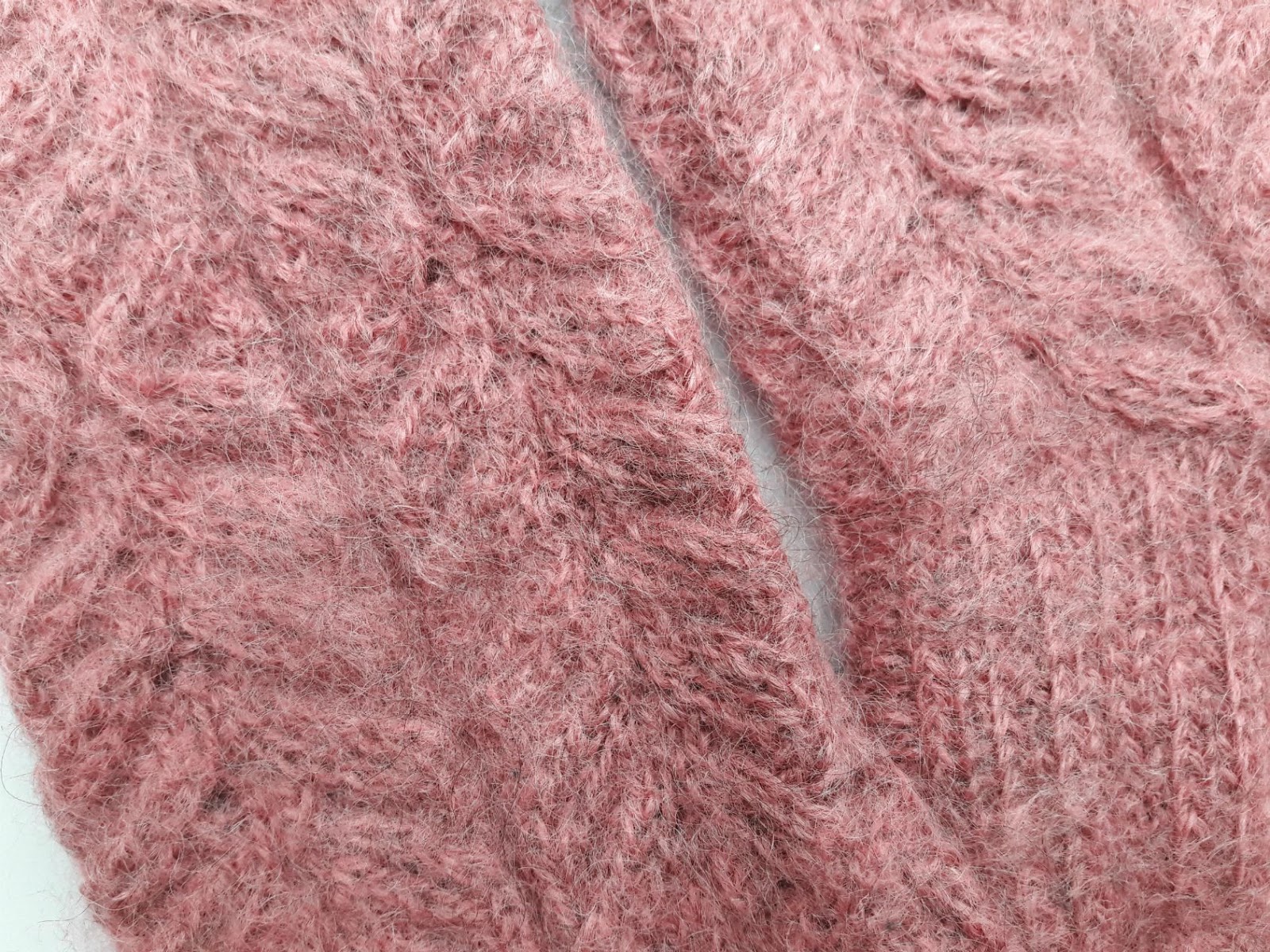 They're never going to be the same but – amazingly – they're still wearable.  Now, when I put the socks on, they're less flexible over my foot and feel more like putting on a boot rather than a sock.  It's not uncomfortable; the socks have moulded to the shape of my feet now but they are different.
How does it wear?

It's actually wearing really well, despite my attempts to do dastardly things to it in the washing machine.  You can see where the yarn has rubbed and fulled on the inside, but that has just made a stronger fabric and I think that even my pokey toes will have a job to poke through these socks!
Are there any holes?

Nope, none whatsoever.
Would you do anything differently next time?

I wouldn't wash them at 40 degrees!  These socks are probably better hand-washed, although I wasn't disappointed how they turned out after a 30 degree wash.  For anyone who would be distressed by the yarn changing in any way, I would recommend that you don't put this year anywhere near the washing machine.


Would you buy this yarn again?

Yes, I would.  I'd happily wear more pairs of socks from this yarn, although I'd be more careful how I washed them.
I want to try it out!  Where can I get it from?

You can buy it directly from the Blacker Yarns website here.  You'll also find Blacker Yarns at various shows around the country during the year so you can squish before you buy too.
If you are interested in no-nylon sock yarns, you can find my other reviews on the No-Nylon Sock Yarn Reviews page.
This is an impartial review using yarn that I bought myself.