Seaside yarn – visit to Ewe Felty Thing
With the school half term holidays fast approaching, you might be thinking of a day out to the seaside, and North Wales is as good a place as any to dip your toes into the water … or perhaps not, as it's February and the sea will be more than a bit cold!
In that case, you'll be looking for alternatives to beach-time and I can suggest just the place if you're heading to Llandudno – Ewe Felty Thing, a veritable TARDIS of yarn tucked away from the main promenade.  Llandudno is the largest seaside resort in Wales, built on a peninsula which gives the resort two beaches.  The North Shore is the busier side with the promenade, the pier and long row of Victorian villas overlooking the sea, and the West Shore is quieter and wilder, stretching along the estuary of the River Conwy back past Deganwy to Conwy itself.  Ewe Felty Thing is on the North Shore side, close enough to the bustle of the main streets but in a quieter street of it's own, and definitely worth seeking out!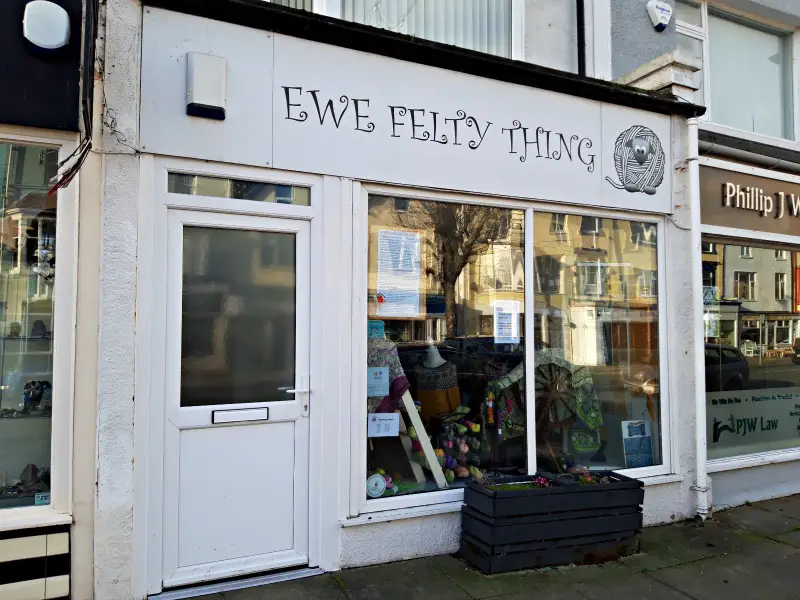 I went there at the beginning of February – look I had my name in the window! …
It's a surprisingly easy journey from Newton-le-Willows, our local railway station, to Llandudno by train and in less than two hours I had swapped houses and fields for the sea and boats.  And sunshine!  How lovely to look out onto blue sky!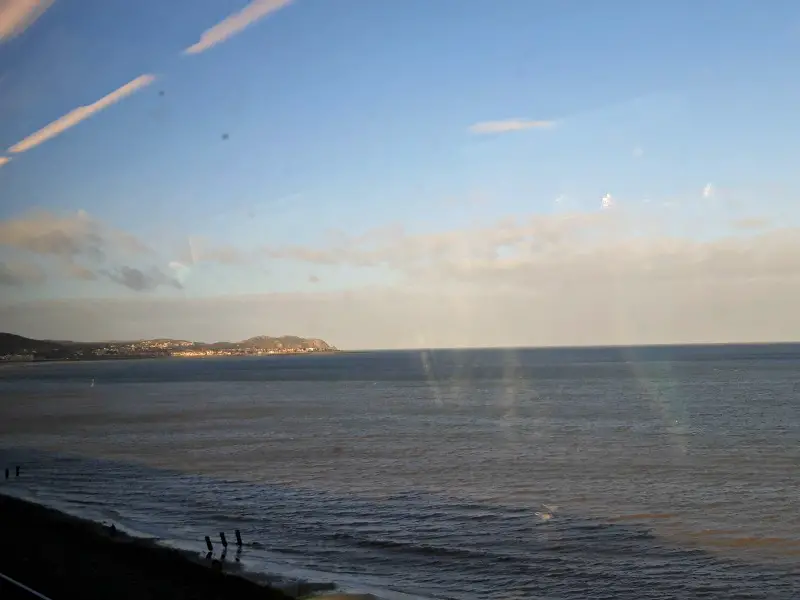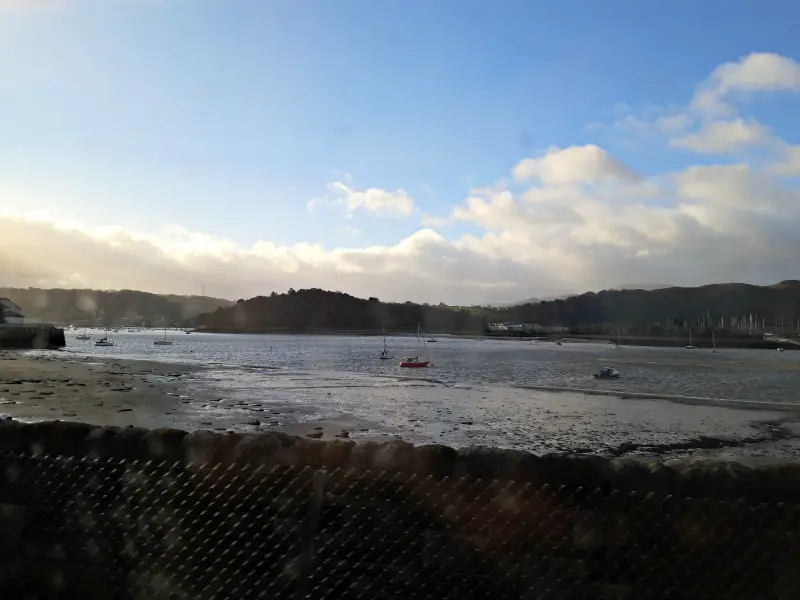 Ewe Felty Thing is just a short walk up from the station – less than 10 minutes' walk – and whilst I waved at Nikki and waited for her to find the key to open the door for me, I had a good nosey at the shop window.
I love looking in shop windows.  I'm very good at window shopping without necessarily needing to go in and buy things (I don't usually resist the temptation to go into a yarn shop, though!), and I like it when the opposite shops are reflected in the windows too – it always feels like I'm looking at something secret which I know sounds completely crazy!
There's hand-dyed yarn in the window and that's a sign of things to come.  You can just see a yellow sweater there too – that's one of Nikki's original designs, her Save the Bees sweater.  She's a talented lady, as you'll see!
Here's Nikki, who owns the shop, with her daughter Ada.  Wendy, who's not in the photo, is Nikki's right-hand woman and they all three looked after me very well – there was plenty of tea and home made cake and a fabulous sandwich for lunch – I was a very happy bunny!
Nikki's jumper matched her socks (you can't see those but I could!) and Ada's jumper is The Sweater That Lived by Verity Castledine (Ada has a bit of a thing for Harry Potter 😀).
I was there to spend the day talking socks with my Sock Clinic – an opportunity for me to meet people who either knit socks or would like to, and for people to ask questions, to wave their feet at me so that I can admire their socks and to try out my needles.  I think it's always best to give them a go if you can before buying – so often people have decided on one method of knitting and then find that another suits them better.  Ada is a good example – she started her very first sock on the day I was there, and originally thought she liked the short circular needle best, until she got her hands on the magic loop and that was the one for her.  She made a great start too in her Seascape yarn – I wouldn't be surprised if she's wearing her socks already!
You've probably spotted some more hand-dyed yarn behind Nikki and Ada – there is so much of it in this shop!  It's a proper rainbow shop, and I felt my spirits soar just to drink in all the colours.  You couldn't fail to feel happy surrounded by all that colour!
Would you like to take a look around?
This photo is taken from the shop entrance and it goes on and on!  That wall to the right also goes on and on – it's completely covered with hand-dyed yarns!  So many, in fact, that I couldn't get them all in one photo!
The shop is one of the largest stockists of hand-dyed yarn in the country (in the world, it felt like – I don't think I've ever seen this many skeins in one place outside of a yarn festival!).  There are currently 24 hand-dyed yarns in stock, including Nikki's own Ewe Felty Thing yarn …
The other dyers are:  Truly Hooked, Sionnach Yarns, Bear in Sheep's Clothing, Temporal Spin, Dina's Home of Crafts, All Wool that Ends Wool, Abercairn Yarns, Cat and Sparrow, Knitter Scarlet, The Woolly Tangle, Sianny's Yarnies, Mam a mi, Spindlebury, Occasional Purl, Phiaeco, Woo!, Woolrush handspun, Madder about Wool, Woolly Wumpkins, HeyJay, The Stitch Foundry, What Mustard Made and Ann Campbell.
I know lots of people like to buy yarn as holiday souvenirs – there's certainly no shortage of choice there and it's better for your teeth than holiday rock!  I've added the links so that you can go and take a look at the dyers for yourself – that way, if you do decide to visit the shop then you'll know who to look out for!
There's not just hand-dyed yarn here, oh no!  There is all kinds of fluff and equipment for felting, and Friday mornings are Felty Fridays where you can go along to make your felt projects in company …
You can see spinning wheels at the bottom left of the picture above – they're small and collapsible so that you can put them into a carry bag and hang them on the wall out of the way if you need to.  Fancy a bigger spinning wheel though?  Yes, they are here too …
I'd have been disappointed if I hadn't seen a wheel like the one in the middle whilst I was in Wales – they're synonymous with the country!  Nikki is an Ashford stockist and has a wide range of bobbins and accessories as well as the wheels, and she also offers spinning lessons if it's something that you've always fancied having a go at.  So far, I've avoided the temptation of spinning as I can see that it's another rabbit hole to disappear down and until I can work out how to get more hours in to my week, it's a rabbit hole too far for me!
The Sock Clinic started at 10.30am and within minutes of the doors opening, people were coming into the shop.  It's always lovely to see the communities that have been created around a yarn shop; there are Knitting Natter and Crochet Chatter groups on Wednesday mornings and evenings and people from both groups had come to the shop as well as visitors from further afield – some just for the day and others who will be going back to join in with the groups another day.  It's always so lovely to see new friendships being formed, and there were a few of those!  I also loved that people didn't feel the need to rush away; there's such a welcoming, friendly feel to the shop that I wasn't at all surprised to see people stay for hours!
This is something that's very close to Nikki's heart.  She's spoken on social media about the importance of being able to take time for yourself to "water your camel" or, to put it another way, "put on your own oxygen mask first", and finding a place where you are welcomed in and can craft with others and absorb the conversations without necessarily being required to instigate them is invaluable to those who need to expand their support networks past their own families and friends.  I think that more and more these days, we are realising that being connected through our phones and laptops isn't enough and we should celebrate those places that offer us the freedom to water our camels when we can.
Here's my spec …
There was just the right amount of room for my stuff without me getting in the way of the important things like finding a seat on the sofa and checking out the home made cake (Nikki and Ada had been busy baking four different cakes – the gin and tonic cake was amazing!).
I also managed to spring a bit of Welsh onto some unsuspecting visitors – not much, but given that the lessons I'm on at the moment focus on me saying things like "I met a man in the pub last night who knows your sister", I decided that might not sound as friendly as I'd like it to and was probably best avoided!  Strangely, there's been nothing in my Welsh course so far that relates to knitting or socks.  I'm assuming that's an oversight and I'll get to that bit very soon 😀
It's interesting that every time I do a Sock Clinic and take my needles with me for people to try out, there's always one that generates more interest that the others, and it's always different.  On this particular Saturday, it was magic loop that was gaining all the interest, and it wasn't long before Nikki's entire stock of 80cm needles had been sold.  I'm looking forward to seeing lots of pairs of socks!
Nikki has a huge range of needles in stock in both Lykke and Addi brands …
The original Lykke needles were made of driftwood and the display is made of driftwood from the beach.  Clever, eh?
There's sock yarn (of course) – in the hand-dyed range as you'd expect, but also in other brands too.  The yarn down the left hand side of that tall unit is all West Yorkshire Spinners Signature 4ply – at first I wondered why there didn't seem to be much of the WYS self-striping yarns …
apart from these ones here which were designed by a certain sock-obsessed blogger … 😀
until I realised that having so many solid colours meant that there was a good choice to tone with all the hand-dyed yarns.  Nifty thinking, and an excellent way to get best value out of your skein!
You never know how these Sock Clinic days are going to turn out – I always worry that nobody will turn up and the shop owner and I will watch the tumbleweed blowing around the empty shop all day, but it was amazing how many people I got to say hello to – thank you to you all for making the trip to Llandudno!
I didn't think I was going to get any time to take photos of the rest of the shop but luckily, there was just time before I had to head out for my train home.  You might think that you've seen it all with the yarn, the spinning wheels, the felting, but you haven't at all!
There are cases with project bags and notions pouches, hand-made stitch markers, jewellery, felted pictures …
There are tubes and tubes of buttons, reels of cotton, ribbons and other haberdashery necessities …
hand-dyed yarn, have I mentioned that? 😀
And even on the counter there are treasures galore.  I could have spent hours just looking at all the things! …
Look!  These are Welsh love spoons.  They're traditionally carved out of wood and the motifs on them represent emotions that the carver might not have felt able to convey in words to the person they carved the spoon for.  If you do an internet image search for Welsh Love Spoons, you'll get an idea of the incredible range of spoons, and the talent of those carving them.
I love them – and these spoons here with the hearts on reminded me very much of the Love Spoon socks I designed for Knit Now recently …
Love Spoon Socks from Knit Now issue 111
The February sock club at the shop is using my Sanctuary Socks pattern – the idea is that that there's an knit and a crochet pattern every month and people who want to join in can go along to meet up at the shop and then they're all working together if anyone gets stuck.  It's a great idea!
Phew, it was such a happy, busy day and I thoroughly enjoyed myself!  I had hoped that I'd see Conwy castle lit up on the way home as the train follows the river estuary path through Deganwy towards Conwy, but it was just a bit far away to see more than the glow of lights.  I knew it was there, though, and it made me smile.  In fact, the whole day had made me smile so much – yarn, knitting, the seaside, good company and good cake – what more could you want on a Saturday in February?
Ewe Felty Thing, 22 Madoc Street, Llandudno, LL30 2TL
www.ewefeltything.co.uk    Tel: 01492 878510
Huge thanks to Nikki, Ada and Wendy for looking after me so well! xx