More Super Socks release day!
Oh wow, what an exciting day this is!
My second sock-knitting book, More Super Socks, is released today and I am thrilled to see it finally leave the confines of my computer screen and go out into the world!  It's written to be the next step on from Super Socks and takes you through adding cables, lace, intarsia and colourwork to your socks.  Four brand new patterns will help you to practice the techniques that you learn in the book.
You can take a tour of the book and see all the patterns inside here.
What do you think?  Would you like a copy?  Here's how you can get one!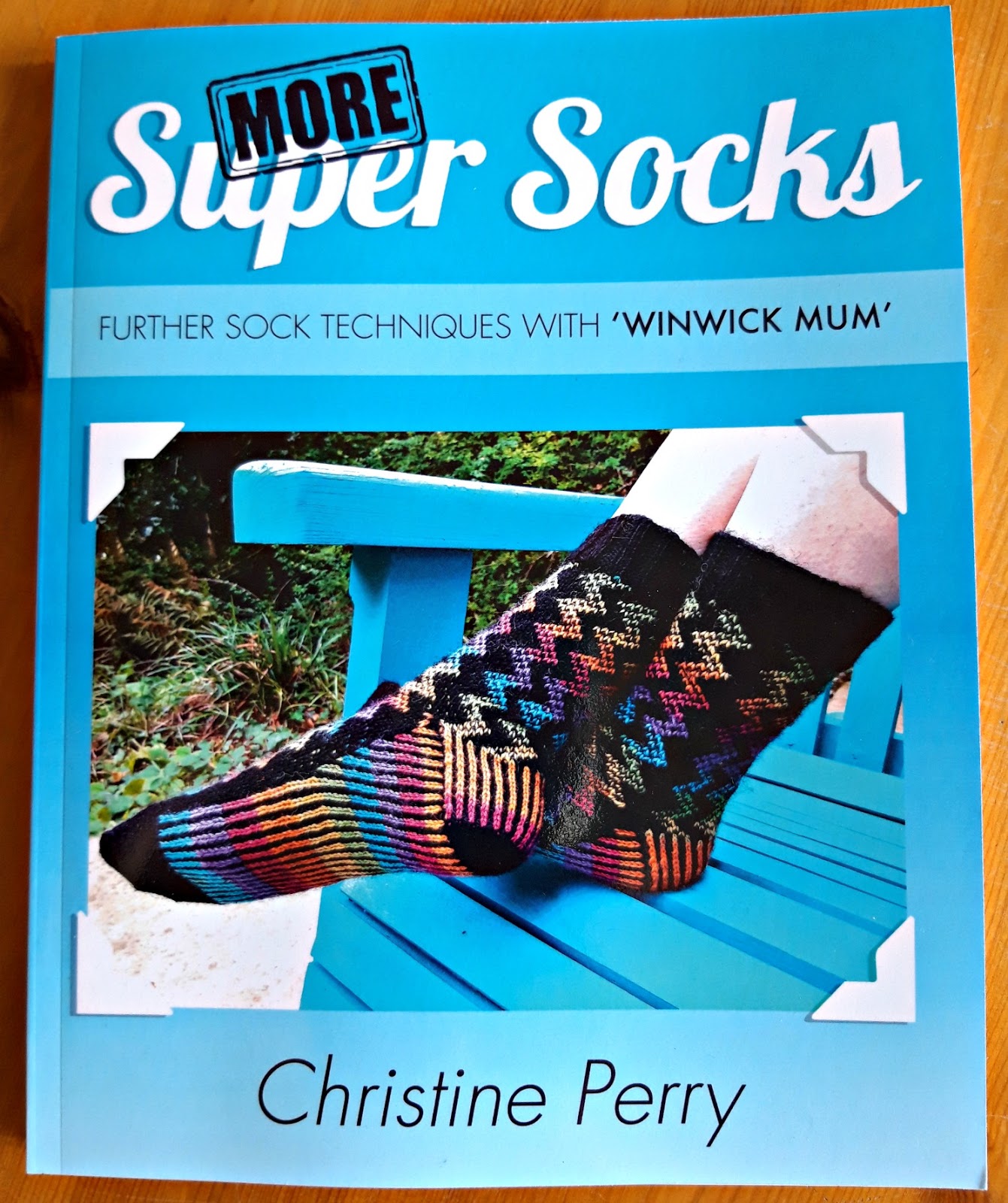 💜 Signed copy through the blog
Click on this link HERE to buy a signed copy through the blog.  I'll post to anywhere in the world, but please be sure to choose your correct postal country from the drop down list as PayPal won't calculate the postage for you.  If you're using an iPad or iPhone, you'll need to email me for an invoice as there's a PayPal issue with these Apple devices.  Don't forget that I'm at Yarndale this weekend so I'll send them as soon as I get a minute!
💖  Yarndale
I'm going to be at the Yarndale festival at Skipton Auction Mart this weekend and I'll have copies of the book with me which I will be very happy to sign for you – although be warned that I've not got the neatest writing! 🙂
💚 Amazon
You can find the book on Amazon in both paperback and Kindle formats.  It should also be available in any country that you can buy from Amazon – you may find more than one listing for it but it's the same book; I've asked Amazon to merge the listings to avoid confusion!
** Amazon doesn't suit everybody so I am planning to upload it to Barnes & Noble, Nook and Kobo – I just ran out of time before Yarndale 🙂
💛 Local yarn shops and online stores

As of today (Saturday 29 September 2018), there are copies at Black Sheep Wools (you may need to phone the Craft Barn as they may not be online yet) but more copies will be available in local yarn shops and online over the next week or so.  If you're the owner of a yarn shop and would like to stock it, do get in touch, and if you're a yarn shop customer and would like to see it in your local store, please ask the owner!  The book has a UK ISBN number so will also be available for book stores to order.
💙 Win one in the More Super Socks release giveaway!
To celebrate the release of More Super Socks, I'm giving away either a paperback or Kindle version and you can win one by commenting below with the answer to this question: which is your favourite pattern in the book?  Remember that you can take a tour of the book here.  The giveaway will close on Friday 5 October 2018 and I'll pick the winner as close to 8pm (GMT) as I can using the random.org generator so that it's fair.
EDIT:  The giveaway is now closed
Thank you so much for all your support! xx