Back in the swing of things
Small daughter broke up for her school half term holiday on Friday and boy, am I glad!  I am sooo ready for a week of not having to get up and face the school run, cram everything that I need to do into the few hours that she's at school and generally run about like something daft until I fall into bed at night.  
It's always busy in our house, but it's been even more so just recently as we've just completed the sale of my Dad's house – in the end, more complicated and more emotional than I expected – and it's surprising what an amount of time it can take up even when you're not actually moving house yourself.  It's done now, though, and that chapter is closed, and now it's time to get back into the swing of things.  Time off the usual routine is just what I need!  I thought I'd start with a catch-up of what I have managed to do that wasn't anything remotely to do with house sales – it's nice to think about something different!
Something different was just what we did on Friday night – my husband and I were invited to a masked charity ball.  I've never been to a masked ball before, and it was quite strange to talk to people without being able to see their faces.  It was fascinating to see what a range of masks people had chosen as well; from sequinned face transfers to masks like ours below to full-face Chewbacca masks.  We also spotted Batman and Robin, presumably having a night off from fighting crime. I'm not entirely sure that Chewbacca, Batman or Robin would be seen at a ball, even if it was a charity one to support cancer research, but it made us smile.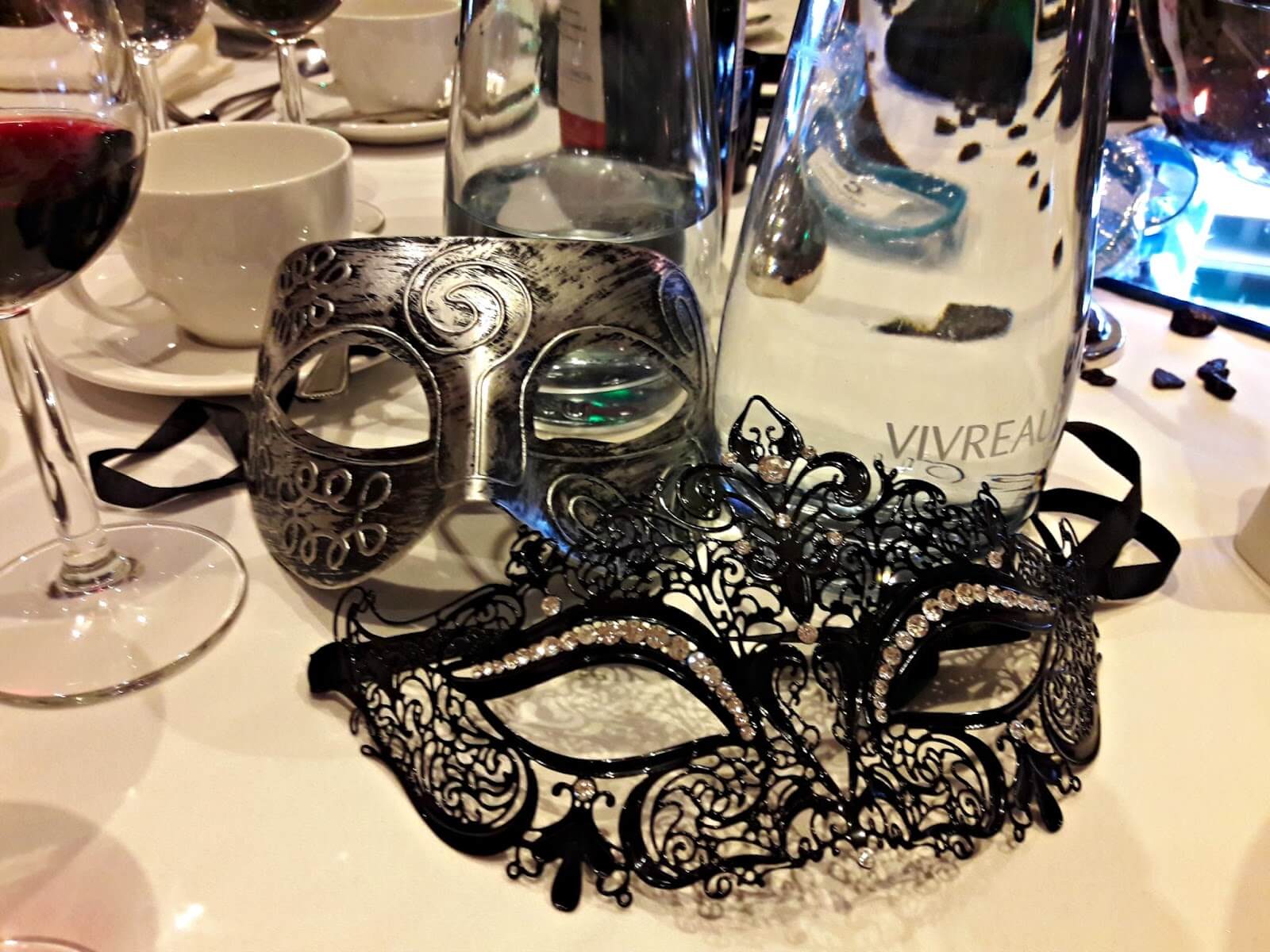 This afternoon, I pulled out my knitting bag and sat down to see where I was up with my projects. Some days recently, I've found it quite hard to fit knitting time in along with everything else, but I have realised that I am a nicer, calmer person if I can do even just a few rounds so it's been important to try to do that – for my family's sake as well as my own! 
I finished off my husband's DK socks.  I was really pleased that he chose this West Yorkshire Spinners Blue Lagoon yarn as up until now, his yarn of choice has been black with leftover colours for the heels and toes.  It's been much nicer to knit with stripes of blue!  He was having a hygge moment in front of the fire with his book.  You may have heard the word "hygge" (pronounced "hoo-ga") around quite a lot at the moment; it loosely translates from the original Danish as "cosy" but it's more about a feeling than anything physical – I think of it as being a time when everything is right with the world.  With his book, his comfy pants and new socks on, and a cup of coffee in his hands, everything was definitely right with his world just then! 
I've also finished off my Stylecraft Head over Heels socks.  It's taken me a blooming long time to finish the second sock – not second sock syndrome but I was distracted by something else which I'll show you in a minute.  I'm pleased with the way these socks have turned out – the shade is Kilimanjaro – and the stripes are easy to match if you're not keen on pulling the insides of the ball out to find the match before you start.  I've finished these just in time as some of my older pairs of socks are reaching the point where they need to be retired, so it's nice to have a new pair ready to wear.
This is what I was doing instead of my Stylecraft sock.  A friend's birthday was coming up and I had an idea to knit something for her.  I had another ball of the Stylecraft Head over Heels yarn which I knew would be perfect; this one is Olympus and it's a gradient yarn rather than stripes so just right for a shawl.
The pattern is Shore by Derya Davenport.  I've had my eye on it for a while and this was a good excuse to try it out.  It's lovely when you can choose a pattern and yarn that you think will be just right for the person you're knitting for – now that my friend's birthday has passed I can show this to you!
I think this yarn would have driven me nuts if I'd tried to use it for socks, but I was really happy with the way it turned out for the shawl.  It started off with 398 stitches (no, I do not recommend casting on late in the evening after a glass of wine … just saying!) and got smaller which meant there were good long rows for the colours to change.  My friend was very pleased with it and she's worn it a lot since I gave it to her which is lovely – it's always double the pleasure when someone enjoys wearing something that you've enjoyed making for them.
I also wanted to show you the treats that I brought home from Yarndale before I forget.  Some are bought, some were gifts (thank you! xx) but I'm delighted with them all and I'll look forward to using them over the coming months.
Clockwise: The Sock Drawerbook by Verity Harris of Truly Hooked (these are simple but effective lace sock patterns which I'm looking forward to knitting); Blacker Yarns Cornish Tin 2 in Wheal Rose Red (I sampled some of this limited edition yarn just before Yarndale and loved it – this is going to become socks); Blacker Yarns St Kilda Laceweight, another limited edition yarn dyed by The Yarn Goddess in Stac an Armin (actually deep pink shades, not purple as they look in the picture) and Stac Lee (undyed brown) which I absolutely didn't need to buy but couldn't resist after seeing this shawl knitted in it; a project bag from Three Bags Full, perfect for my next tutorial sock which is underway … photos coming soon!; "Yarndale Socks Rock" sock blank from Suffolk Socks (I've never used a sock blank before, this is going to be fun!); a covered notebook from AnnieOBTextiles which will be perfect for knitting notes; hand-dyed sock yarn from West Green Loft Yarns (in the centre of the picture); a skein of sunshine-coloured Wollmeise Allegria (which will definitely become a shawl at some point); purple Exmoor Sock yarn by John Arbon (I haven't used this yarn before but have heard good things about it – I couldn't resist that colour!) and a wristlet project bag from MySisterKnits which is just right for knitting socks on the go!  
Oh, and I bought myself a new crochet hook from Fleabubs by Lala.  Lucy is going to be doing a new blanket CAL in January next year and I loved the sneak preview of the pattern she brought to Yarndale.  I'm going to join in (or at least, give it a good go!) and thought I'd get myself organised with a new hook.  My old crochet hooks are the old fashioned thin metal ones which make my fingers ache after a while, so I thought I'd try out an ergonomically-designed one.  Lucy and I have already established that I don't crochet in the same way that she does so I wasn't sure if I'd be able to hold a different style of hook, but this one fitted my hand perfectly.  And it's pink and sparkly and has a unicorn on it.  What's not to like?!
I think that's us just about caught up!  Finally, before I go and start some work in my poor neglected garden, the official photographs from the British Knitting Awards are available.  Here's me with a (not too cheesy) grin – I thought you might like to see it!  I'm with Sarah Neal who is the editor of Let's Knit.  I didn't get long to speak to her, but I thought she was very nice.  There's something about the crafting world that attracts nice people, isn't there?  
I hope you're having a wonderful weekend.  I'm feeling much relaxed already – bring on the school holidays!