Surrounded by socks – Yarndale Sock Line 2016
Four weeks ago this weekend, a certain woolly event called Yarndale took place in Skipton.  There can't be many in the crafting world now who haven't heard of this fabulous festival in the Yorkshire Dales, and I've been lucky enough to be involved with it for the last two years with the Yarndale Sock Line.
The Yarndale Sock Line started off as a suggestion that sock bunting might look nice in the Auction Mart to go with the crochet bunting in the Yarndale Hub.  I thought that it would be better if the bunting could be put to some good use rather than just be stored until the next year (and I knew that my husband would Not Be Pleased if he discovered rather a lot of sock bunting spilling all over stored in our garage!), and the idea of asking for pairs of socks which could later be given away came about.  You can read more about the first Yarndale Sock Line here.  It was much more of a success than I ever imagined, and I was touched by the generosity of so many people who gave their time and money (because let's be honest here, yarn isn't cheap) to make a pair of socks to give away to a stranger.  75 pairs of socks were given away last year – isn't that incredible?  Here they are …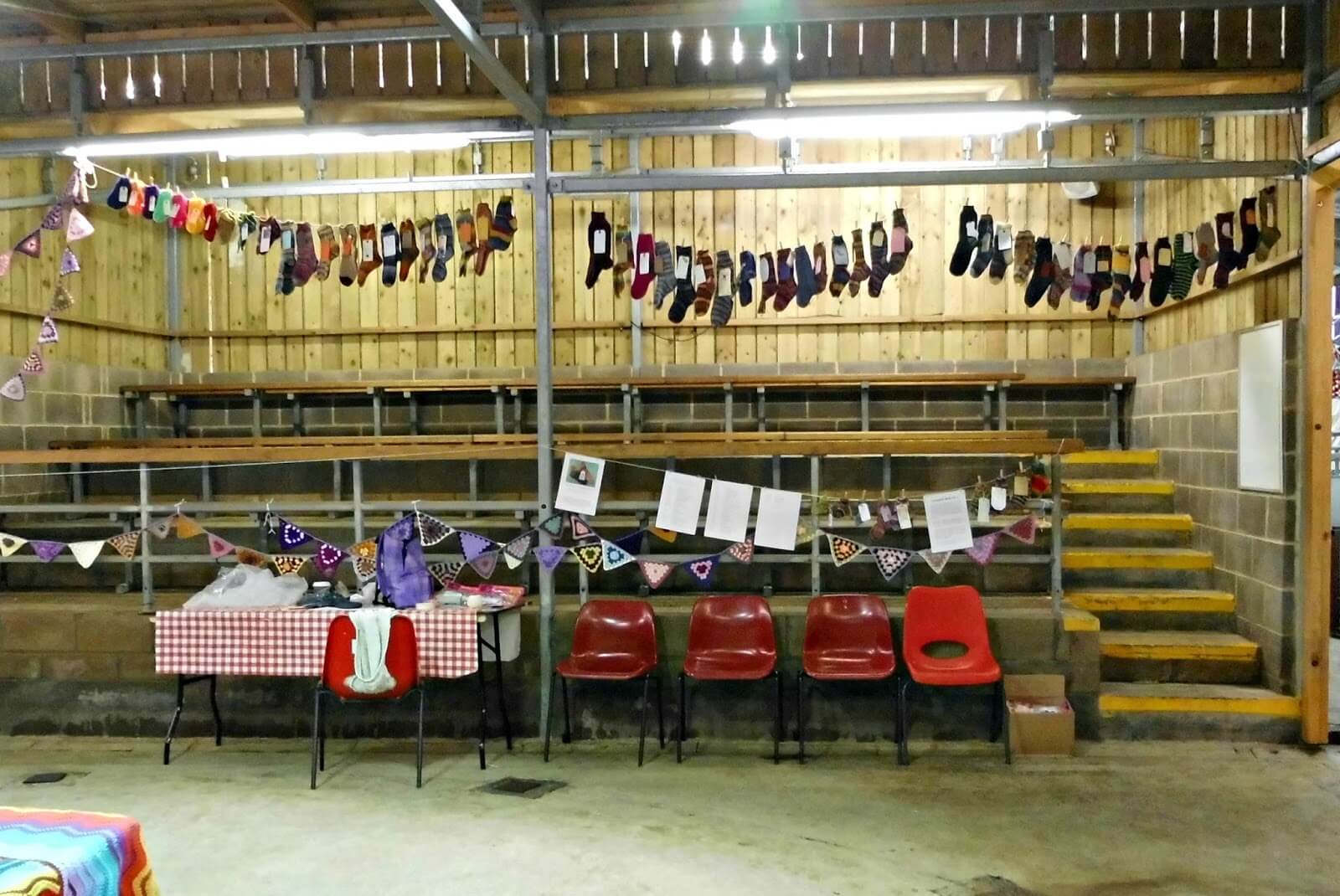 I was so terribly proud to see those socks on that line.  What was even more heartwarming was that almost straight after Yarndale last year, people were asking if I was going to organise a Yarndale Sock Line for this year because if I was, they wanted to join in. Lucy thought it would be a great idea to make the Yarndale Sock Line a regular feature and so it was decided that another washing line would be strung up high above the Knit n Natter lounge on the weekend in September when Yarndale took place.
Now, the thing about doing something for a second time is that it can go one of two ways, like the infamous "second album" syndrome that so many singers face.   Either people think "no thanks, I've done that once" and your plan bombs like a brick into a lake, or people think "yes, that's great, let's join in again!" and you never know what's going to happen until it does.  Luckily for me (and of course, knowing how generous crafters are) the second option happened.  When I met up with Lucy over the school holidays in August, she already had a bag of sock parcels waiting for me.
These socks were logged and photographed and put up on the Yarndale Sock Line Pinterest board and then I just had to wait until I saw Lucy again in September before I knew if there were any more.  
"There have been a few parcels for you," said Lucy, before I got up to Skipton.  She wasn't kidding!
Oh my life!  There were packets and packets of socks!  Quite early on, I knew that the Sock Line was going to be even better than last year's.  It was lovely to see names from last year, and I was very grateful to those people who had sent in more than one pair, and also to those people who sent treats for me!  Thank you! xx
How many pairs do you think there were this year?  Have a guess.  Here's a clue, there were more than 75!
When the Yarndale weekend came around, I headed up to Skipton with more socks than I had dared to imagine would be sent in.  Remembering Lucy's instructions from last year not to garotte anybody with the washing line, I put it back up in the same place.  I knew there were more socks this year but hoped they would still fit.
It's a lovely moment, that point when you're ready to hang up the first pair.  That's when you know that everybody's hard work is about to be on view for the whole weekend, that the socks are going to be admired and photographed and I'm going to be able to very proudly tell people that they've been sent in to be given away.
Right from start, there was a difference to the Sock Line last year.  I had to push the socks closer together to fit them all on, and working my way along the washing line, I even wondered at one point if I was going to run out of space after all.  What a nice situation to be in!  
You know what's coming now … more pictures of socks than you thought you ever needed to see! – but how could I not show them off?  
It's actually quite hard to photograph the Sock Line and show the socks clearly because it's up in the air.  These are the adult socks which were sent in before the Yarndale weekend.
These ones are the children's socks, and also the photos of the socks that were gifted before Yarndale started.  I'm very happy for people to send me photos of their socks that have been gifted elsewhere, particularly if it's abroad as I know that the price of the postage can be off-putting.
These were the socks that came in after I'd collected the majority of them from Lucy; I kept them on their own separate part of the Sock Line as they hadn't been photographed yet and I knew that a few more pairs would be coming in over the weekend so I'd be able to do them all together.
When the time came to leave the Auction Mart for the evening, the Yarndale Sock Line was in place, socks on high and swinging proudly above the Knit n Natter lounge.  How many pairs did you think there were?  Have you changed your mind now you've seen them all?  If you scroll back up to the top of the page where you can see last year's picture, there's quite a difference, isn't there?
Whatever number you've got in your head – hold onto it!  Yarndale was the busiest it has ever been and the socks kept coming.  More and more socks.  I ran out of pegs.  They were balanced on the washing line, socks perched upon socks.  It was quite unbelievable – the Sock Line was literally groaning underneath all the pairs!
I don't think the photographs can really do justice to the Sock Line compared to actually seeing it in real life.  The colours, the sizes, the sheer number of them was quite amazing.  I don't think I spotted more than two or three pairs that were knitted in the same yarn, and there were many different patterns and styles.  People had taken such care over them, and you could tell.  Call me soft, but I think it was a line of love, and you could feel it.
I think lots of other people could too.  I could have sold the socks many times over, but although selling the socks and donating the money to charity is an option, it's not the one that I wanted to take for the Yarndale Sock Line.  If you're in need then although money is useful, it's sometimes too easy to spend it on something else, or for it not to be enough, or for you to not have the time or the inclination or the ability to go out and buy whatever it is for yourself.  By gifting the socks themselves, it's something extra to whatever you might already have or be given that doesn't require you to do anything more than put them on.  I love that in these times of uncertainty for everybody, there is still the capacity within us to do something for someone else, and I'm very grateful that you do too.
So what comes next?  Well, these were the extra socks that were donated at Yarndale …
They've now been put up on the Pinterest board so you can see every one of the 160 pairs up there. Yes, you did read that right.  160 pairs!!  Isn't that amazing?  That's twice as many as last year and more, all to be sent to warm someone's toes.
The next bit is the nice bit; I get to send the socks out to the places where they're needed.  I had a list at Yarndale for suggestions but there's still time if you want to add somewhere to the list of places I can contact.  I'm looking for homeless hostels, crisis centres, refuges, hospices, old people's homes … is there somewhere in your UK town where you think they might appreciate the delivery of a few pairs of socks?  Let me know in the comments, or email me if you prefer at winwickmum (at) gmail (dot) com and I'll get in touch with them.  I will of course let you know where all the socks go to when they've been mailed out.
No "second album" syndrome for the Yarndale Sock Line, and it's all down to you.  Thank you! xx