After the rain
I started writing this post after a couple of days of whopping thunderstorms – but despite the post title, it doesn't seem to have stopped raining since!  
The dog and I had a very wet walk this morning (it was lovely – no one around, birds singing, dog paddling in the streams, rain bouncing on my jacket, just like old times!) and calling into the Post Office afterwards, the lady who worked there said as I dripped up to the counter, "Ugh, it looks awful out there".  Normally, I think it would have been, but the novelty of it all meant that I wouldn't have swapped it for anything.
Small daughter and I spent our time the other evening playing "Name That Tune" whilst the thunder rolled about the house, making even the dog jump and he's not bothered by fireworks so it must have been loud!  "Name That Tune" is an old TV show that I remember from being younger – basically, you have to guess the name of the song within the first few notes.  The contestants on the show used to say, "I'll name that tune in … " and then would choose however many notes they thought they could guess it in.  This was a bit of a cheat game for me as it turns out that all the time in my teenage years that I spent in my bedroom listening to cassette recordings of the Top 40 (come on now, I'm not the only one who sat poised over the tape recorder waiting for Number 1! 😀) was not actually wasted time at all and has now come into its own as I can name a surprising number of songs as long as they're all from the UK charts in the 1980s and early 90s.  My street cred with small daughter went up no end!
When it's not been raining, I've been spending much more time out in the garden recently; it's needed a lot of work to try to reclaim the borders which were overtaken by ivy and I am probably still about a third of the way through the work (it might only be a quarter but a third sounds better so I'm going with that!) that I want to do this year.  It's involved cutting branches off trees, some really heavy pruning and some tough decisions about plants that have had their moment in the garden and need to leave.  I've worn out my poor old shredder but fortunately, I've been able to order a new part instead of having to buy a new shredder so that's on it's way to me and then I can get stuck into that again hopefully over the weekend.
The plants have really appreciated the long burst of good weather that we've had, and now that it's rained for the last few days, even the tiniest plants that I've planted in the borders have doubled in size.  Isn't it clever how Nature can do that?  The grass, which was so dry and brown, is now green again and I've made myself stop and look at it as it is rather than at all the things that still need doing.  I was listening to a podcast whilst I was gardening the other day and the lady speaking (she was actually talking about to-do lists) said that if all you ever do is see what still needs to be done then you can never appreciate what's right in front of you.  That's very true, isn't it?  
Well, here I am appreciating what's right in front of me.  Some of it is a bit bedraggled but there's even beauty in seeing how each plant looks in the rain.  I should probably have warned you earlier that this is a photo-heavy post!
The top two pictures here are of Cotinus "Grace", the bottom left is Alchemilla mollis or Lady's mantle (every garden should have this, look how those raindrops land on the leaves!) and the bottom right is Stachys byzantina or Lamb's ears.  The raindrops haven't pooled on those silky leaves at all, it looks very dishevelled!
This also looks very dishevelled.  This is one of the borders that I've been clearing and replanting.  It was in a terrible state, full of ivy and very dark under some big tree branches.  The chipped bark on the ground is what's left of the tree branches (more shredding and clearing to do, don't look too closely) and those straggly bits of planting are what I hope are going to be the mainstay of my new border.  Now that I've opened it all up and brought some more light in, this border gets much more sunlight and I've got Kniphofia or Red Hot Pokers in there, bright orange annual Rudbekia, I've got marigolds that still need planting up and at the front, more Alchemilla mollis and a yellow Geum.  It's going to be a border of reds and oranges; I've already got a Photinia "Red Robin" in there which has lovely red leaves when they're young, a yellow Forsythia, a red Hamamelis or Witch hazel and a peony that I brought from my Dad's garden which has refused to flower so far, so I can't quite remember what colour it is.  
The Oriental poppies have gone now, but look at these seed heads!  They look very exotic all on their own … I'm not quite sure why, but it reminds me of some kind of Christmas cake!
I've made this year's elderflower cordial too, but I used "proper" elderflowers and not these ones from the Black Elder that's in the garden.  I've always wondered whether you could or not but have resisted trying it in case I poisoned myself!
This Clematis recovered surprisingly quickly from the heavy pruning that it got a month or so back.  It grows up a post with a jasmine plant and they had both got very overgrown and intertwined with ivy so I just cut the lot back to the ground.  Jasmine only flowers on old wood so I probably won't get any of those flowers this year, but look at all those flower buds on the clematis!  I think I might be doing this more often!
In other border news, I've cleared another overgrown one which has meant that this poor standard rose which was getting buried under a Buddleja has been pulled out into the light.  I might have been a bit heavy-handed with the Buddleja so the flowers on that will be limited this year – a shame as the butterflies love them, but hopefully there will be plenty of other flowers that the butterflies will love just as much as they grow in the newly-cleared borders.
I've planted Leontopodium or Edelweiss – yes, you probably did hear me singing the song from the musical "The Sound of Music" as that's where I first heard of them.  My Nan loved the musical so I grew up with the songs although it wasn't until years later that I actually saw what they looked like.  I did have them in the garden at our last house for a while, and when I saw them on the website where I bought this year's plants, I couldn't resist! 
In the centre of this collage is Primula vialli which is so pretty, especially en masse, so I'm hoping that the plants I bought from the farm shop will thrive there.  Lastly, there's what's left of the cat mint, hiding behind some sweet peas.  Oh, the cats have enjoyed it but there's not much of it left to grow!
Elsewhere in the garden, the day lily (Hemerocallis) is flowering …
My Felicité Parmentier rose is flowering.  It lives next to my Emily Grey climbing rose but always comes out just as the yellow Emily Grey flowers are fading so I get a lovely long run of roses.  It's very spiky and has long arching branches so it can be a bit of a pain (literally) if I don't tie it up or cut it back!
Ah, my favourite summer scented flower – Trachelospermum jasminoides or star jasmine.  I can't wait for this to flower every year – it grows right along the wall by the front door underneath my study window and it smells absolutely heavenly, even until late at night.  If I was going to recommend one plant that everyone should have in their garden, it would be this one!
You might be gardened out now so let's talk knitting instead!  I started these the other day and boy, are they quick!  They're ankle-length socks; they're the usual Sockalong basic sock pattern but without all the leg section and not knitting that makes quite a difference!  I don't tend to wear ankle socks very often, although small daughter does (and already has her eye on these), but it's a regular question in my Facebook groups about making shorter socks.  I thought I could write up the pattern with a few extra cuff options if that would be useful – what do you think?
Big daughter and I sat crafting together last night, and listening to the rain on the roof.  She's decided to have a go at embroidery and bought herself a kit containing this house plant picture and some others that she liked the look of.  I know a little bit about embroidery (ah, we crafters, we have to dabble in everything, don't we?!) but I've tried really hard not to say "what you want to do is" all the time and waited until she's needed to ask me a question.  Considering that it's her first go, I think she's doing really well, and she's really enjoying it.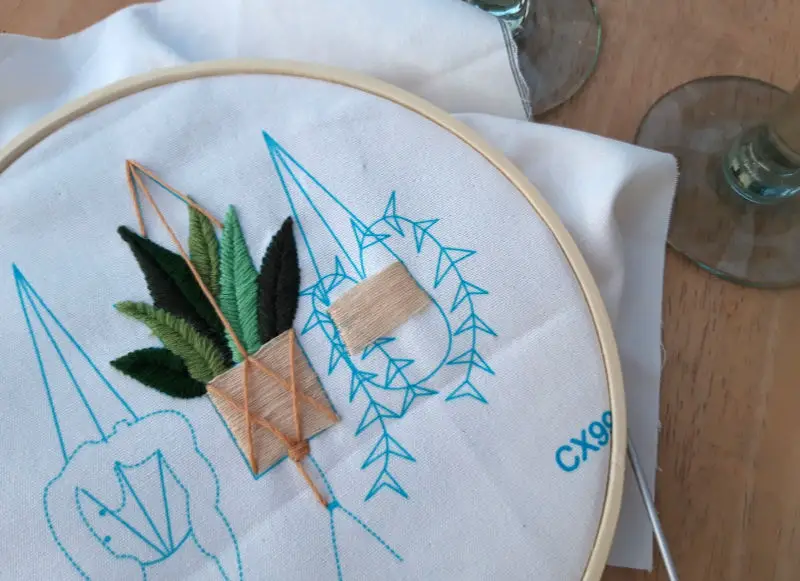 Well, I think that's about me for today otherwise I'll never get this post out for you to read it!  I hope you have a lovely weekend, and I'll be back again with another post next week!