Winwick Mum Sockalong 3rd birthday
Happy birthday to you, 
Happy birthday to you, 
Happy birthday dear Sockalong, 
Happy birthday to you!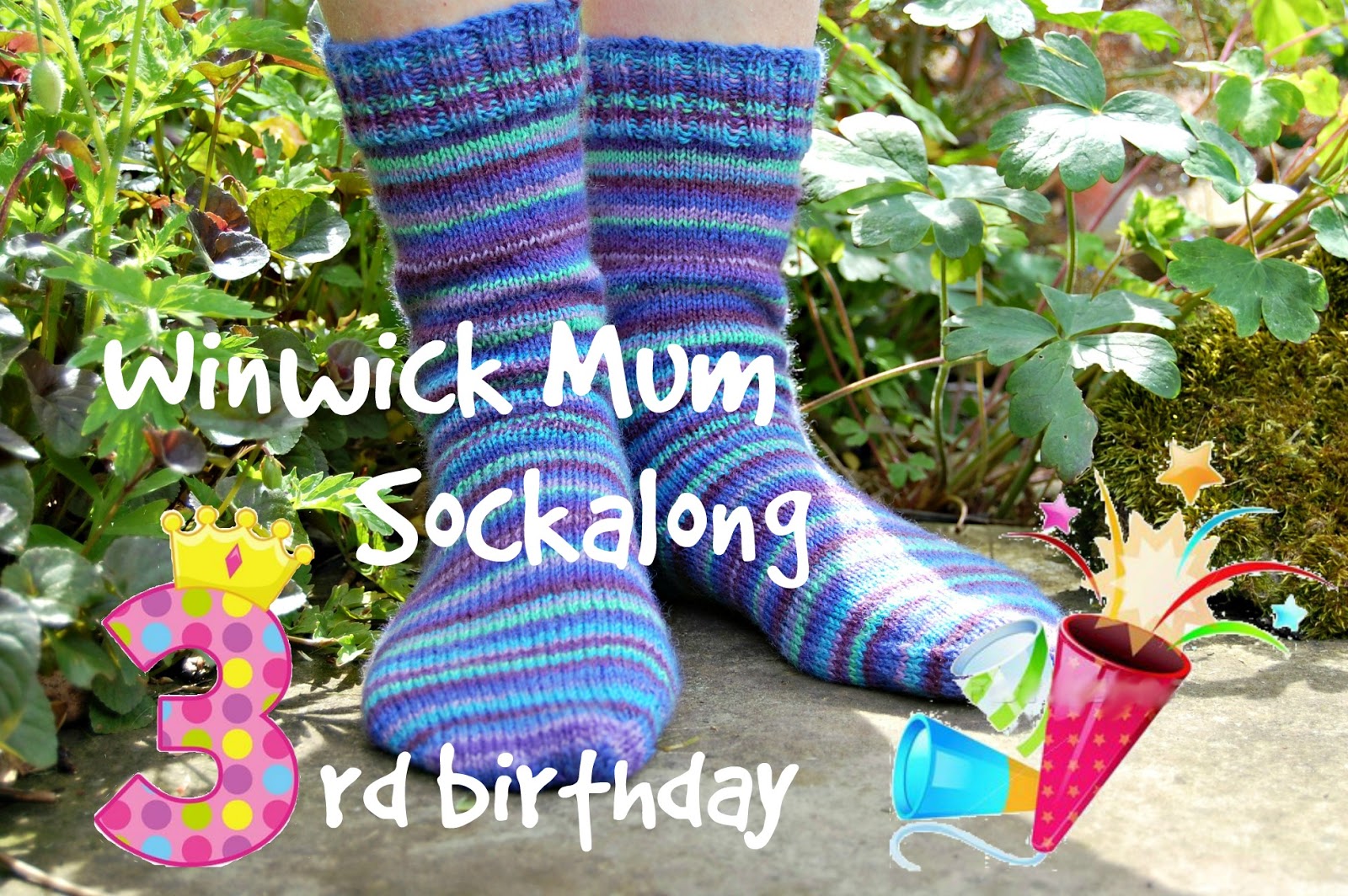 I'm absolutely thrilled to be writing this on the Sockalong's 3rd birthday.  Three whole years of the sock tutorials helping beginners to get that first pair of socks on their feet – that's definitely something to be celebrated, I would say!
And how the Sockalong has grown!  When I first started the Sockalong, I thought it would be nice if a few people took part, and if 30 people joined the Facebook group that would be a good number for chatting.  Wow – it's been so much more than that!  Thousands of people visit the blog every day and there are now more than 10,000 members in the Winwick Mum Sockalong Facebook group (the group that is dedicated to helping beginners to work through the Sockalong tutorials) and almost 10,000 members in the Winwick Mum Knit n Natter Facebook group (the group that's all about chatting and knitting in our virtual living room).  Tea and cake is optional, but there's always something to talk about – and I think it's blooming marvellous that so many people have now got socks on their needles!
The best thing about the Sockalong birthday is that it's an opportunity for me to say thank you to you for knitting the socks, and for telling others about the tutorials so that they can knit the socks too.  I do like to say that I'm on a mission to take over the world with hand-knitted socks, but it's not just because I think it would be wonderful to see every pair of feet in hand-knits, but more than that, I love that the process of knitting the socks can be such a life-changing thing for people.  Every day, I see pictures on social media of people knitting socks whilst they're waiting in queues, being driven in cars (if you knit whilst you're driving, don't tell me about it because it's not a good idea!), waiting for appointments, even walking the dog (no, I've not tried that one!).  Delays are no longer a burden but an opportunity get a few more rounds knitted.  I love the idea that in waiting rooms all over the world, people are getting their little fix of calm before they see whoever they need to see, their fingers moving in a rhythm of stitches that is both productive and meditative.  I am very honoured to be a little part of that, that through the Sockalong I am able to give someone the push and hopefully the confidence to give it a go – and that by you taking the time to give my tutorials a go and then telling others, you're a part of that too.  Be proud!
So, in what has become Sockalong birthday tradition, I have a giveaway – two prizes again this year, thanks to friends of the Sockalong community, and you can see them below.  
In this prize is a signed copy of Super Socks, a Winwick Mum Sockalong badge, a yarn holder, a ball of West Yorkshire Spinners yarn and a set of stitch markers.
In this prize is a signed copy of Super Socks, a Winwick Mum Sockalong badge, an Addi circular needle, a ball of West Yorkshire Spinners yarn and a set of stitch markers.
Would you like to take a closer look?  I won't show you the book again as I think it's quite obvious what that is (it's the paperback version of the tutorials, just in case you've managed to miss it 🙂 ), but here's a close up of the badge which is in both prizes.  It's an enamel badge with two pins on the back, ideal for attaching to project bags, coats, bags – perfect for wearing to yarn festivals so that you can be spotted by other Sockalongers too!
This is one of the balls of West Yorkshire Spinners yarn – it's Signature 4ply which is lovely yarn for socks; a blend of wool including 35% Blue-faced Leicester (our home-grown equivalent of merino).  It's not too smooth to knit with straight from the ball, making it ideal for beginners who have enough to think about without the yarn sliding off the needles at every opportunity, but will bloom and soften beautifully when washed – it copes very well with being washed in a machine too, which is always useful!  The ball was gifted by my friends at Black Sheep Wools who stock all the WYS colours and make choosing a single ball very difficult!  This colourway is Rum Paradise from the Cocktail range and knits up into rainbow stripes.
The ball fits very nicely onto this spinning yarn holder.  It's in two pieces; the top piece spins so all you need to do is push your ball of yarn onto it and it will unwind the ball as you knit, saving you having to chase your ball of yarn all over the floor.  
It's also great for when you wind skeins into cakes as they are held firmly by the central rod and don't disintegrate as you use the yarn (which is what happens if you pull from the centre – ask me how I know this 🙂 ).
Finally, in this prize, is a set of stitch markers beautifully made by Rachel of Demelza's Delights.  Rachel has been kind enough to gift stitch markers for the Sockalong birthday prizes each year, and every year I love the markers she sends.  Look at these!  They're called "Shimmering Flowers".  I've definitely got my eye on these ones, so if you don't want them, I can give them a very good home 😉
Here's what's in the other prize … a book and a badge as you've seen already, and a ball of West Yorkshire Spinners Signature 4ply yarn.  This colourway is Wood Pigeon from the British birds range which is also knits into stripes.  I am always astounded by how close these colours are to the actual colours of the birds' feathers – we have lots of wood pigeons that like to visit our garden to stomp about on the grass, dance tangos on the bird feeders, poop on our cars from a great height and generally make a birdy nuisance of themselves, so I get a lot of time to see the colour of their feathers and this yarn is a wood pigeon in a ball!  Having said that, this colourway is my favourite of the British birds (and Rum Paradise is my favourite of the Cocktail colours) so I can forgive the feathery pests just a little bit 🙂
The circular needle is an Addi 80cm needle which is perfect for knitting a pair of socks on magic loop – no other needles required.  I'm still miffed that I lost a DPN down the dashboard of my old car, never to be seen again, but there is none of that when knitting your socks with magic loop.  It's a 2.5mm size, just right for casting on a new pair of socks!  Most of my sock needles are Addi; I have always been very impressed by them and would always recommend them for beginners.
Finally, another set of Rachel's gorgeous stitch markers.  This set is called "Diamonds and Pearls", and they really do sparkle in the sunshine!
Would you like to win one of these prizes?  It's very easy to enter …
For the last two years, I've been asking you to tell me how many pairs of Sockalong socks you knitted since the last Sockalong birthday.  I'll never know how many pairs of socks have been knitted using the tutorials but it's nice to get at least some idea, so this year will be continuing the tradition.  So far, our running total stands at 7,600 pairs – how many more have been knitted this year?!  It's not a competition with previous years, it's just a bit of fun (and might also tell me how close we are to really taking over the world with hand-knit socks 😉 )
To enter the giveaway, please comment how many pairs of basic Sockalong socks (not other patterns, please) you have knitted since May 2017.  Don't worry if you're still making you first pair or are about to cast on, just write that information and your comment will count too.
The giveaway will be drawn on Sunday 6 May 2018 as close to 8pm BST as possible.  I am happy to post the prizes anywhere in the world so don't feel that you can't be part of this because you don't live in the UK.  Don't worry if you don't have a Google or blog account to leave a comment, you can leave it as "anonymous" but don't forget to put your name in the comment so that when I post the winners I'll be able to identify you so that you can get in touch for your prize!  Oh, and also don't worry that your comment doesn't show straight away – the comments are set for me to check them before they upload to the blog to make sure that no spam gets through so they are all safely stored in my blog messages until I've seen them.  I'll make sure they're all uploaded on time!
Happy birthday Sockalong, here's to many more years of socking all over the world! 
The giveaway has now closed, you can find out who won and what this year's sock total is here.