February
February's a funny month, isn't it?  Unless you've got a birthday or you're waiting for a Valentine's card, nothing much seems to happen; the most exciting thing for us at the moment is that small daughter is on her school half-term holiday but she's poorly so we're keeping our fingers crossed that anything we had planned is still going to be able to go ahead.
Outside, there has finally been a sprinkling of snow but not enough on the grass to make a snowball, never mind build a snowman – and anyway, small daughter is wrapped up in bed and hasn't even noticed.  She's snuggled up in my bed with me and one of the cats (the magic purr is always essential when you're under the weather); I'm catching up on blog-reading and drinking tea, being grateful for school holidays which mean that you don't have to get up and rush about (even though it's miserable to be poorly in the holidays).
I feel that I don't have much to show you at the moment; until this morning we've had rain, rain and more rain so no interesting outdoor photos.  Even the snowdrops in the garden have been bowing their heads to get away from the weather …
They're actually a little more upright today but the poor things have been flattened by the constant downpours.  We've been hunkering down by the fire, listening to the wind whistling around the house and trying to make the best of our time indoors.  Big daughter has been reading a new magazine and I've sneaked a peek …
I don't often have time to read magazines these days (hence the pile that is slowly building up in my study again after all that time I spent clearing them out last year) but I've been trying to make more time to sit and read, even if it is just a magazine article rather than a novel.  I gave my husband what he said was the best laugh of the week (how rude!) when he asked what I was reading and I showed him this article about bullet journaling.  "You'll probably find that you'll get on better if you actually do what's on your to-do list rather than just keep re-arranging it into pretty patterns," he said, and he is right, but I do like to know about these things and although bullet journaling didn't particularly work for me when I tried it a couple of years ago, there's no rule that says I can't read about it now, is there?  I'm never going to be someone who spends hours with washi tape and coloured pencils making a journal into a work of art (the last time I had any time and inclination for that sort of thing I was about 15!) but I don't see why I can't investigate whether any improvements to my current planning system can be made.  "You've been looking for the perfect system for the last 20 years!" my husband laughed.  Yes, this is true; yes, he knows me very well and yes, this is just another excuse for procrastination.  But a nice one.
It's not been all procrastination, you know.  I have been knitting.  What have I been knitting?  Well, actually, quite a few things.  There are my husband's black socks which are now past the heel on the second sock (thank goodness!) …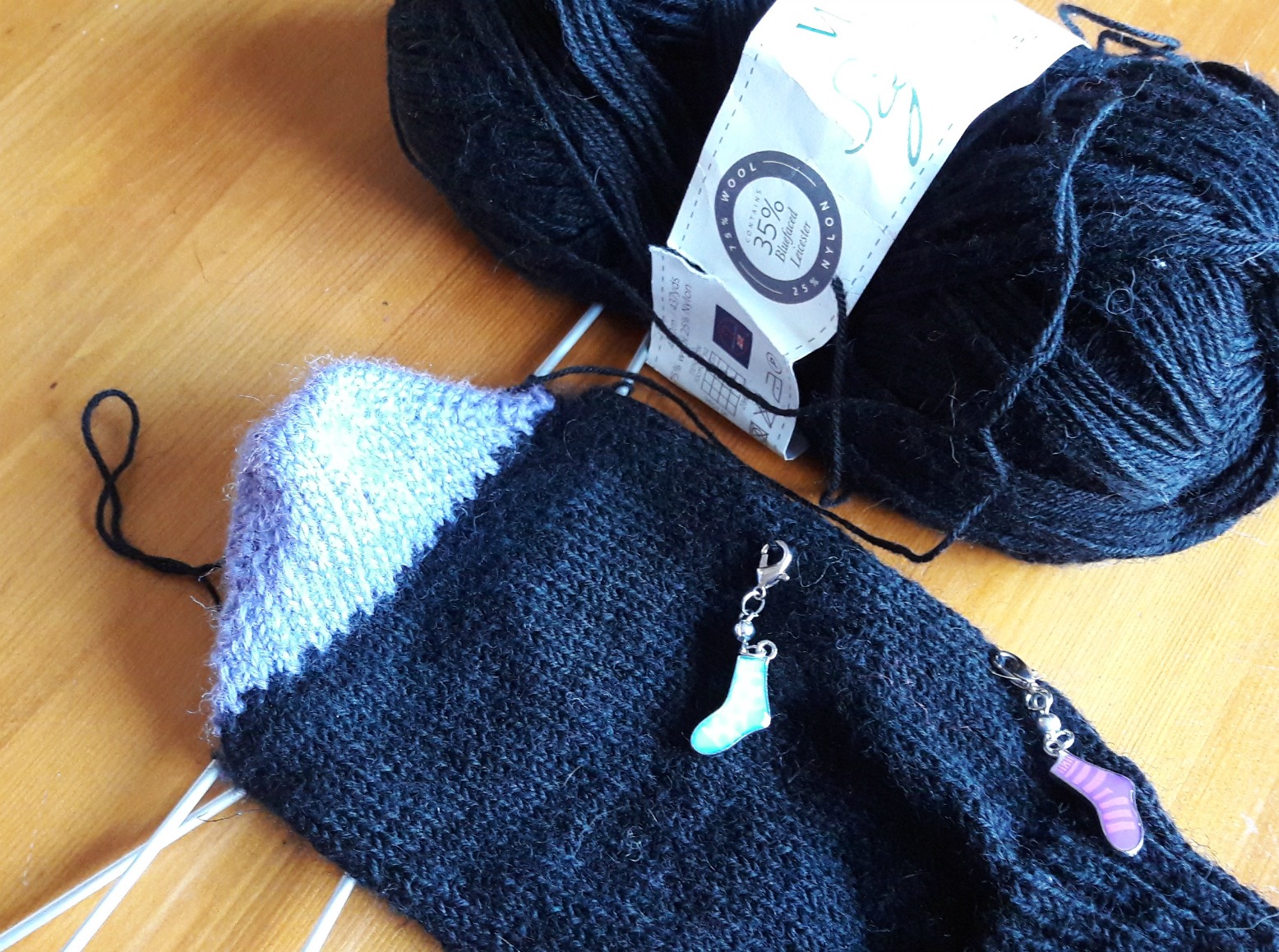 If you're a crocheter you may well recognise the stitch markers which came from a crochet magazine (imagine that – in all the years I've been knitting the only magazine stitch markers that are sock shaped that I've ever seen are on a Simply Crochet magazine!) and have been very handy for marking rounds so that I don't have to keep counting them.  If you look closely, you'll see that they've got lobster clasps rather than jump rings so that it's easy to take them out – essential for crocheters but pretty nifty for knitters too (especially those making black socks!).
I've also made a start on my second Christmas IOU pair which are for big daughter.  I've got another pair in the same yarn to make for her boyfriend – he of the size 14 feet – but I thought I'd work my way up to those 🙂
Now, you may be thinking that's not much to show for the time that I've told you I've spent knitting and you would be right.  That's because there are things going on behind the scenes that I haven't shown you yet … would you like to share my secret?
Would you?
I'm writing another book!
Pheeee!  It's quite scary for that to be out there!  I've been working on it for a while and the plan is that it's going to be ready for later in the year so I do need to keep myself on track with this (ah, now you can see why I'm interested in tweaking my planning system!).  I'm doing OK so far and it's been great fun choosing yarns and working on new patterns.  Yes, I did say new patterns – a lot of people asked whether there were any patterns in Super Socks other than the basic Sockalong sock, but there was never any intention of Super Socks being anything other than a hand-holding tutorial to help beginners to knit a basic sock.  However, I did listen to what people said and this new book is going to include some new not-available-anywhere-else patterns.  
I'm not ready to share anything else just yet so I do hope you will bear with me, but I'll keep you posted as I'm going along – if nothing else to make sure that I'm keeping up with my deadlines!  There's nothing like a public announcement to keep you focussed, is there?! 
The sun has come out now (it took me a while to realise what it was, I thought someone had left the lights on!) and the snow is starting to melt so it looks like small daughter might miss it all.  She's still fast asleep and the cats have changed sentry duty so now we have the other one with us.  My mug is empty and I need to fill it up – and knit, whilst I have a day with nothing to do but look after my sleeping girl – I've got a deadline to keep!
PS  If you are a Feedspot user, you may spot Winwick Mum on a couple of their lists this week … 🙂