Socks … for a change!
It's always exciting when a new sock yarn is launched and this week saw the arrival of the new Florist collection from West Yorkshire Spinners.  It's part of their Signature 4ply range and not specifically a sock yarn at all but is perfect for all kinds of projects – it's just that I am ever-so-slightly obsessed with socks and tend to look at yarns with my sock-obsession spectacles on and never consider knitting anything else!
I was lucky enough to get a sneak peek of the yarn earlier in the year – but of course I left it until the last possible moment before casting on and have spent the last two days with sparks flying off my needles so that I would have something to show you today.  If nothing else, I'm impressed with how fast I can knit sometimes! 🙂
These are the colours that WYS sent me.  Aren't they pretty?  They're called Violet (on the left) and Foxglove (on the right) but I think you could probably have guessed that!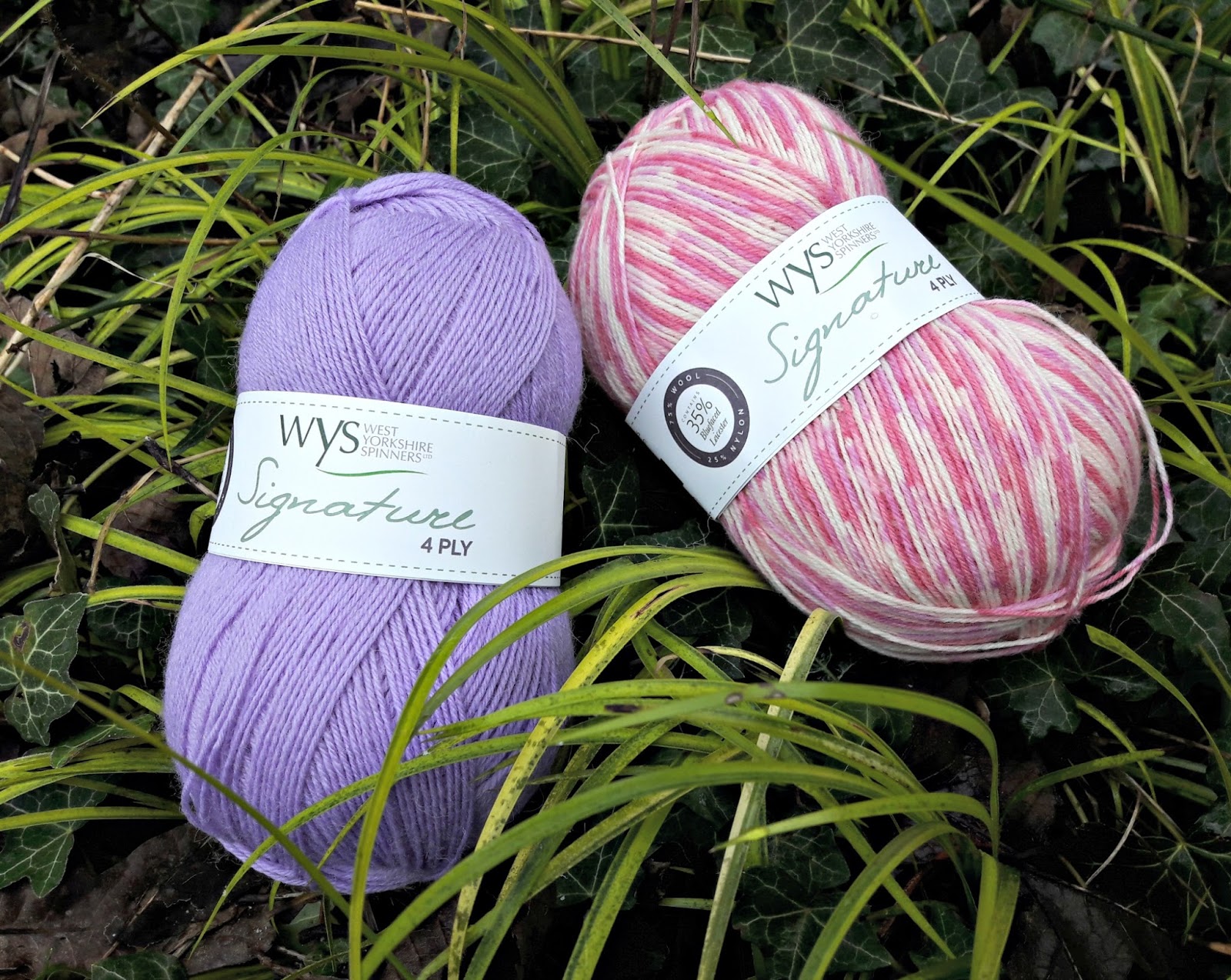 There are 13 new shades; six prints and seven solid shades.  All of the colours are named after flowers and the variegated (print) yarn is different from all the others in the Signature range in that the colour changes are very short so it's quite a departure from stripes.  All of the colours are very pretty, though, I'd have had a hard time choosing if I'd had to; I'd say they're perfect for spring socks – or any other project. (Shall we just assume that when I say "socks", you can insert "shawl", "baby clothes", "hats" or anything else you like?  It's going to get a bit boring otherwise! 🙂 )
Luckily, the yarn is typical of the WYS Signature yarns in that it knits up quickly (just as well given my last-minute-ness) and the stitches just zoom around your needles once you get into a rhythm.  I'm always happy to recommend this yarn for beginners for just that reason; it's not splitty or sticky to knit with, it's hard-wearing and you get good value for your money which is always important.  
So this was tea-time on Monday night when I'd realised that I'd better get cracking!  You can see how the pattern is starting to come out – definitely not stripes but actually more like mermaid scales when you stopped to look at them.  This is one of those yarns that I expect will be different with every sock – the stitch count, the tension, the dyeing process will all affect the pattern sequence and one of the joys will be seeing how it turns out.  
In the evening, my husband and I watched an episode of Endeavour on the TV and it was perfect for getting on with the sock.  So I did.  Heel turned, gusset on the go … this sock was flying off the needles!  
And here it is.  You can see that the mermaid scales (or possibly flower petals?) of the leg section changed across the gusset and the foot; this is just how it will always be with this yarn for the reasons I've mentioned above – and despite my insistence on having my socks match, I actually quite like it.  I know that the second sock probably won't match exactly, but I'm surprised to find that I'm OK with that; it might be because the contrast breaks the pattern up but whatever it is, I find that it's not jarring to my matching sensibilities.  After all, no flower has perfect petals but they are all still beautiful.     
In fact, the more I've knitted this yarn, the more it's grown on me (I can hear you groaning!) and I'm looking forward to seeing more projects being knitted up now that the yarn is available.
What do you think?  Do you like it?  And where is it available from?  Well, anywhere that sells WYS should have it in stock now as it was officially launched on Monday, so do check with your local yarn store as it's important that we support our bricks and mortar stores, although it will be available online as well.  Magnolia Tree Wools* will post worldwide if you don't have a yarn store nearby.  
Let me know what you think if you try it out!
And in other sock news … the black socks are finished!  Hooray!  We were away in London for a few days at the end of last week as it was half term here, and my train knitting for the return journey was these black socks – I was determined to get them finished!  I was going to tell you about our trip earlier in the week but as you've read, I got a bit sidetracked by new yarn so this week's posts are a bit backwards and you'll get to hear about our London trip (and see this sock still in progress!) later in the week.
Big daughter's sock is nearly finished too.  That was my train knitting on the way to London and I'm almost at the point where I need her to try it on for size; it will have to wait until she's home at the weekend now but I'm hoping that this sock will be done very soon as well.
And yes, there is still secret book sock knitting going on so you can be sure that I'm not sitting about doing nothing!  Thank you very much for all your lovely comments when I told you about it last week, they made me very happy!  I'm planning for it to be ready for Yarndale (ooh, deadline!) so I'll keep my fingers crossed that everything goes smoothly and I can manage that … it might only mean that big daughter's socks get finished for next Christmas but I'm sure she won't mind!  At least, I hope she won't 🙂
Huge thanks to West Yorkshire Spinners for sending me the yarn to try out and show you.  *Magnolia Tree Crafts is a sponsor of Winwick Mum which means that I will earn a small commission for any sales made; my disclosure statement is at the bottom of this blog page.