Signs of Spring
There are still a few weeks until the Vernal (Spring) Equinox on 20 March (meterological Spring starts on 1 March) but already I'm noticing signs of Spring when I'm out with the dog.  I'm trying not to think that the Winter is over already because we all know that the weather ignores the seasons and does what it pleases, and it's entirely likely there'll be snow in March (it happened last year!), but it is lovely to see the flowers appearing.
At Culcheth Linear Park, there are crocuses in various shades of purple.  
These always make me think of the Crocus Fairies from Cicely Mary Barker's Flower Fairies paintings – I remember being out somewhere as a child and I chose a keyring with a picture of the Crocus Fairies on it from a shop.  I've no idea what happened to it (or where I would have been to choose it), but here's the picture …
No prizes for guessing why I chose this one!  I did like the poem that went with it too …
Crocus of yellow, new and gay;
Mauve and purple, in brave array;
Crocus white
Like a cup of light, – 
Hundreds of them are smiling up,
Each with a flame in its shining cup,
By the touch of the warm and welcome sun
Opened suddenly.  Spring's begun!
Dance then, fairies, for joy, and sing
The song of the coming again of Spring.
The Flower Fairies pictures are beautifully painted, and each one has a little poem to go with it – I don't think I'd realised there were quite so many of them until I went to look for the link to add to this post, and I've had a lovely time reading them all.  
There are still snowdrops in bloom; these are in the Linear Park.  I love that they're still in clumps despite dogs that never look where they're putting their feet rampaging around.  I'm really pleased that they've not been picked, either; on the odd occasion I've knocked one in the garden and snapped the stem, they've never lasted once they're in the house even in water so it would be a shame for someone to take them.
The daffodils are on their way …
It's been such a muddy winter at the Linear Park with all the groundworks going on to clear out the drainage ditches that seeing the flowers makes you remember that it doesn't always look like that!
I called into the farm shop on the way home and look!  Cherries!  They really are very early and definitely not seasonal so they've travelled a long way to get to a farm shop in Winwick.  I love cherries and I couldn't wait till I got home – I was delving into the paper bag even as I was turning out of the shop driveway!  Some were very sweet but others were just about all right; I'll probably leave it for a while before buying any more but they were a nice treat!
This morning, the dog and I were at Sankey Valley.  I realised shortly after leaving my hat and mitts in the car that it was a mistake and it was much colder than it looked.  The sun did look lovely through the grasses and sparkling on the Brook, though!
And then turning down another path, here was my reminder that it really is still Winter and I should not have left my hat and mitts in the car!  Oh well, it was too late to turn back at this point so I tucked my hands up into my sleeves, zipped my coat up around my ears and walked faster.
Winter mornings are great times for walking.  I couldn't work out what was different about this path at first – we come along here a few times a week – and then I realised that the landscapers had been in and all the trees and bushes along the canalside had gone.  What a big expanse it is now!  It's also more likely that the dog will take a leap into the canal as there's nothing to stop him and he has no sense at times, but luckily he stayed on the path today.
In sock news, the pink socks are finished and are ready for their new home.  They do look smart, don't they?  I wouldn't have thought of putting those colours together (mostly because I like stripes!), but they look really good.  They're made in West Yorkshire Spinners Signature 4ply in Sarsparilla with Dusty Miller as the contrast.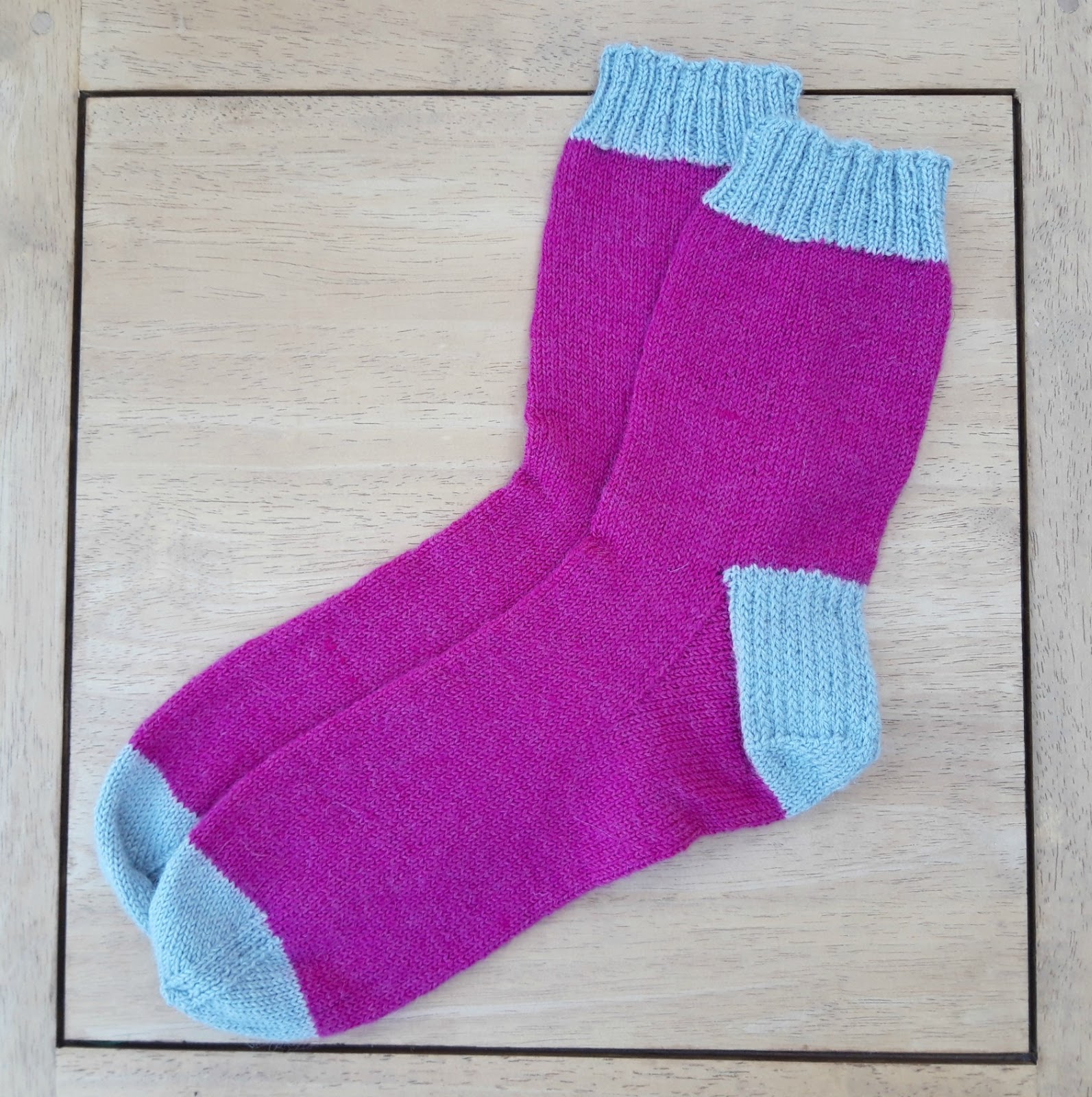 Thanks for all your comments about my last Winwick Mum yarn post – I'm never sure whether it's just me that's fascinated by the behind-the-scenes workings but from all of your comments here and on social media, it seems that it isn't!  I love to know where things have come from and how things work – I am an engineer's daughter, after all 😀 – and now that I know you're interested as well then I'll keep on telling you what I find out! 
It's going to be a busy weekend for me – I'm off to the Stitches trade show on Sunday as it's the official launch of the Winwick Mum Collection yarn.  I'll be on the West Yorkshire Spinners stand trying not to be too giddy so do come and say hello if you're going to be there!  Although, having seen my badge to get in, there's no guarantee that I won't be too giddy – you have been warned! 😀