Yarndale Sock Line 2017
Do you know, I think sometimes that I must spend my life wandering along in a bit of a daze.  
When I announced in January of 2015, "Right, that's it, I'm going to write some tutorials to show people it's really not hard to knit socks", I never imagined that the Sockalong would be as useful or as popular as it has been.  Later that same year, when the idea of the Yarndale Sock Line came along, I had no idea that it would now be in it's third year and we would have more socks than ever before to give away to people who need them.  
And when I say "more socks", I mean "more socks"!  In our first year, we had 75 pairs to donate, last year we had 160 pairs and this year we've got … not so fast!  I like to make you wait for this bit 🙂
Here's a photo one of my minions helping me to unpack the first of the socks.  Small daughter had a surprisingly long attention span for this and we rattled through the packets, logging and photographing each pair of socks, in good time.  
I like to make sure that I have a note of every pair of socks: where they come from, the colour, the size and who made them as it helps me to identify the socks and where they are going to go after Yarndale.  I think that last piece of information about who made the socks is especially important as I like to be able to tell you where the socks have gone later.  It completes the circle nicely, I think.  Every single one of these pairs of socks have been knitted with love for someone that the knitter will never know.  I do go on about this a bit but I think it's important to keep saying it, because in our world where the media likes to focus on what's going wrong, we need to remember that some things are going right.  I like to think that when I tell you that the pair of socks that you knitted has gone to, say, a homeless hostel or a children's hospice, you will smile, your heart will smile and that moment of connection will send love and positivity out into a world that needs all the love it can get.  
The socks kept coming, right over the summer.  There was a bit of a production system going on!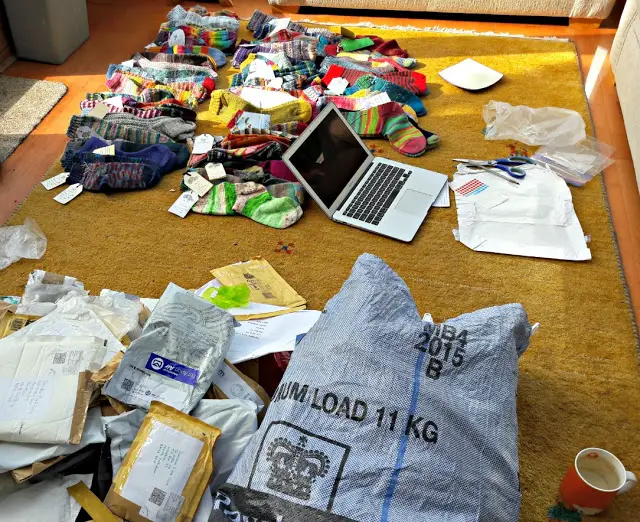 Another minion was roped in.  I've had lots of offers of help this year (thank you to everyone who offered!) but it doesn't really take that long once we get going and I also think it's important for my girls to see such generosity first hand.  They've got so used to me knitting socks now that I don't think anyone in my family even notices (actually, I know that's true as I've knitted birthday socks for my husband right under his nose and he didn't notice)!  Big daughter was particularly struck by the messages written on the backs of the tags.  "That makes them really special," she said, and I agree.
And still they kept coming!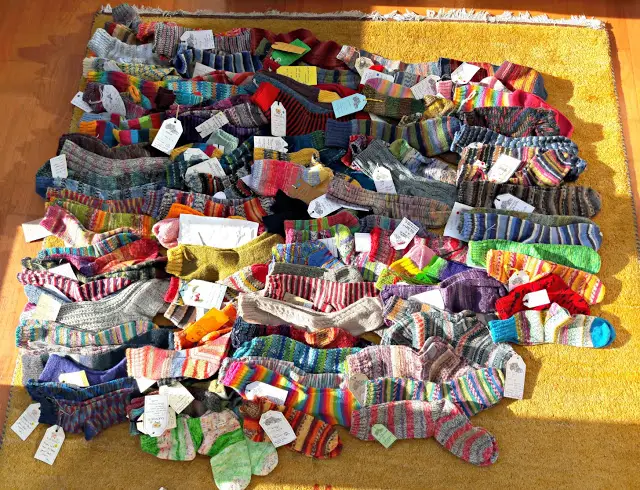 By the time I headed up to Skipton to help set up ready for Yarndale, we already had over 200 pairs to hang up.  200 pairs!  We'd overtaken last year's total by 40 pairs of socks and Yarndale hadn't even started!  Isn't that truly amazing?  I was VERY glad that I'd bought more line to hang up and lots more pegs!
It became quite obvious pretty early on that I was going to run out of space.  For the last two years, the Sock Line has hung above one of the sets of seating in the Knit n Natter lounge, but I had filled that space and was only half way down one of the bags of socks! 
This year, the Yarndale Sock Line expanded!  It moved into the space above the second set of seating and it wasn't long before that was full too.  And then Lucy handed me a bag of parcels that had arrived after the last time I'd been up to Skipton.  More socks!  It was the most wonderful feeling, opening all those parcels in the Auction Mart, surrounded by the smell of livestock and the noises of exhibitors setting up.  There they are at the bottom of this picture, or at least, some of them.  There were over 30 pair of socks in those parcels which took our total just before Yarndale opened to 246 pairs.  I know!  I had to sit down when I worked that one out! 🙂
We've got socks of all sizes.  Children's socks down to the tiniest baby socks …
women's socks, men's socks, socks that would suit anybody …
socks with lace patterns, cables, Fair Isle, first pairs of socks ever knitted …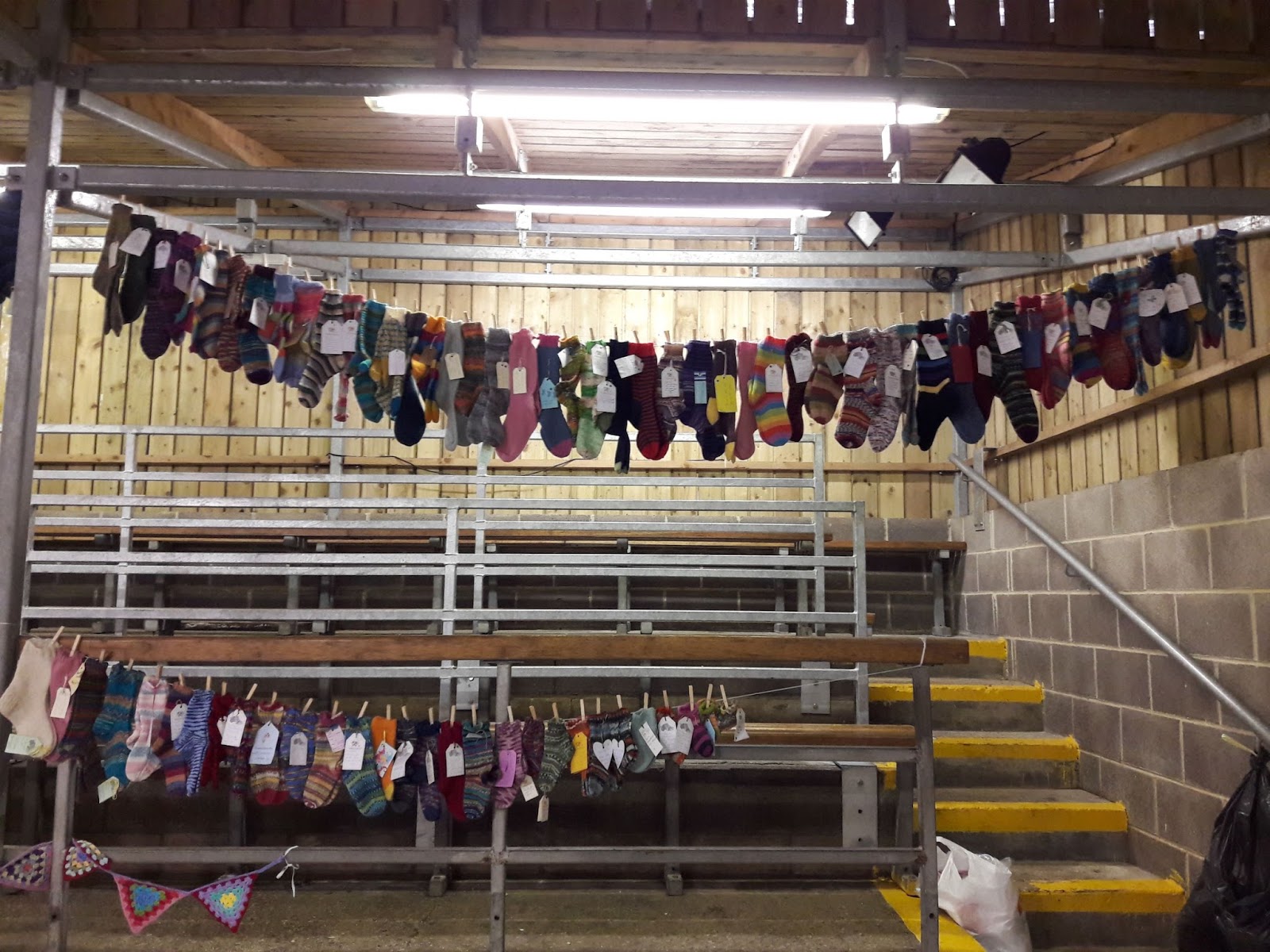 socks from all over the world, socks that came with their knitters to Yarndale and socks that have travelled thousands of miles to hang in the Auction Mart and be admired.
And admired they certainly were.  I don't think that anybody who came into the Knit n Natter Lounge could have failed to spot all of these fabulous pairs of socks, not even in the busiest Yarndale moments.  I was asked on more than one occasion if they could be bought (to which I always replied "No, but can I teach you how to knit your own" 🙂 ) but the joy of these socks is that they are a gift and more than that, a gift without obligation, which makes them very special indeed.  
At one point on the Saturday, I had so many pairs of socks that I ran out of space to hang them up.  You can just see them piled up on the table on the right of this photo!
Oh, and here are some of those messages that made big daughter catch her breath.  They may only have taken moments to write but the effect that they will have will, I am sure, last a lifetime.  I loved reading all of them and I know that whoever gets the socks will do too.
This is how part of the Sock Line looked on Saturday night.  I managed to cram more pairs of socks onto the top lines so that there was more space on the bottom for new pairs of socks which I had been told were coming on the Sunday.
All of the socks on the bottom line here are ones that arrived over the Yarndale weekend (including the parcels that I opened) – and that's not all of them.  Did you ever think that we'd have so many socks?  I certainly didn't!
I'm nearly ready to start sending the socks out to their new homes, although don't worry if you've thought of somewhere that might appreciate them as there's still time to get in touch with me.  I'm looking for places where people can put the socks on their feet straight away so if you know of anywhere like that, do let me know through the comments or email me (the link is in the left hand side bar).  I'll definitely let you know where they all go (you can see where the previous years' socks went here) so you can see how many people we've been able to send socks to this year.
Thank you so much to everyone who got involved, either for the first time or as a Sock Line veteran.  Your generosity is amazing.  See you next year!
Ha ha, did you really think I wasn't going to tell you how many pairs we got this year?  You might want to be sitting down for this … 
340 pairs!!
Wow!  Just wow!  And thank you! xx