Yarndale 2017 – My favourite moments
It seems longer than two weeks ago that Yarndale filled the Auction Mart in Skipton; already October has arrived and the nights are drawing in.  It's been lovely to look back on my Yarndale photos this last week as I've got ready to write this post.  I absolutely love the Yarndale weekend and being involved with the festival (thank you so much for all your comments on my Yarndale Sock Line post – I will reply to them soon!), and my heart swells with happiness from the moment I get into my car, loaded down with socks, books, emergency chocolate (totally essential for a Yarndale weekend!) and my shopping list of yarns and treats that I want to look at.
This is the fifth time I've visited Yarndale and the third time that I've been involved in the festival.  I don't think I'll ever get tired of it.  Would you like to have a look at some of my photos too?  Get ready for a photo-heavy post of my favourite Yarndale moments!  (Disclaimer:  it's also very long – I did consider splitting it into two posts but thought you might have had enough of Yarndale by now.  Feel free to have a lie down in the middle if you need to.)
 💜   Setting up 


One of the things I like most about Yarndale is the way that it reminds me how closely connected we are as crafters to the farmers and the sheep that produce our yarn.  There's always a smell of livestock in the Auction Mart even though the floors are scrubbed, and here's why …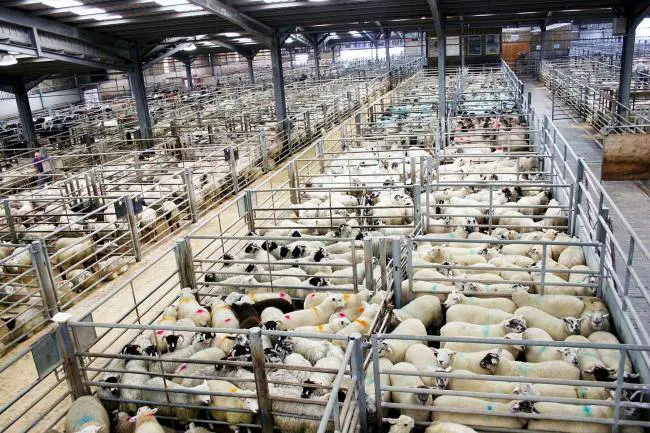 Source: www.facebook.com/Yarndale/
There were 10,000 sheep in the Auction Mart the day before the exhibitors moved in to start setting up.  Some of them didn't go very far … this was taken looking out of one of the Auction Mart side doors on Friday afternoon!
The pens are scrubbed out, tables and chairs are left ready for the exhibitors to make the space their own.  There's always a cacophony of noise; banging, clattering, the sound of wheels rattling over the ridged concrete floors, all of it echoing around the metal-roofed building and mingling with the sounds of busy conversations as people start to fill the space.  Happy noise.
💜  The Yarndale Sock Line


Of course!  My own little space in the Knit n Natter Lounge next to Lucy and the friendly folks from Wool Warehouse is just the nicest place to spend the weekend.  Walking into the enclosed area feels like coming home now, and I love that moment when I start to peg socks out on the Sock Line.  Until then, I don't really get a sense of just how many a pairs of socks we have because they've all been looked at over a period of weeks and not all at the same time.  We had soooo  many pairs of socks this year – you can find out just how many in the post about this year's Yarndale Sock Line here.
I also love getting out my "Why not knit socks?" washing line that small daughter helped me to make last year.  Be warned, this will be coming to Yarndale with me even when small daughter is definitely not small any more! 🙂
💜  Yarn – and so much more


Yarndale's mission is to celebrate creativity and yarn in all it's forms.  I think they do this beautifully with the mix of exhibitors that they have.  There's something for everyone, and I like that every pen is set up differently.  
Some of them occupy a big space where you can see everything from a distance …
Blacker Yarns 
and others have a smaller space which invites you to get up close to look at the detail that's gone into the work on sale.
Daisy Florence Design
There are balls of yarn in boxes …
Blacker Yarns
Skeins of yarn in boxes …
Eden Cottage Yarns
Skeins of yarn hanging on hooks … 
Hand Dyed by Kate
Skeins of yarn on tables … 
The Knitting Goddess
Yarn that looks like cats … how brilliant is that?!
Mothy and the Squid
And that's before you start to look at the fibre for spinning and the sheep themselves that have come along for the weekend.
Buttons … I've never really got the whole button thing, if I'm honest.  There are people who buy them and hoard them because they're pretty and I can see why they would do that, but it's never been something that I've wanted to do – until I saw these ones.  It was like a whole sweetie shop full of buttons!  One of those, one of those, one of those …
Textile Garden
Textile Garden
Textile Garden
I love looking at the felt-work.  I have to say that I'm in awe of people who can stab away at piles of fibre and make them look like little animals or birds.  Or big dogs, in case of one exhibitor.  I have a felting kit in a cupboard and that's where it's staying.  My fingers were not designed to be a pincushion.  I'll leave it to the experts!
I love the eclectic mix of exhibitors, people that I would know nothing about unless I saw them here, and my life would have been poorer for not being able to admire the creative talent that's on show.
Janet Browne Textiles
The UK Handknitting Association's Yarn Doctors (Bronagh, left, and Juliet) were on hand to teach beginners how to knit or crochet and to unravel problems for more experienced knitters.  
It's not all about yarn, either, and that's what makes Yarndale so inclusive.  It doesn't matter if you don't knit, you can find half a dozen (or more) other crafts to try out. 
CoolCrafting
CoolCrafting
The two things that I noticed more of this year were giant yarn, knitting needles and crochet hooks …
and also undyed yarn for hand-dyeing.  I think there's been a big rise in people wanting to have a go for themselves after seeing so many beautiful yarns around.  Some of them, like podcaster Kathryn from Crafternoon Treats, will discover a latent talent and have their own stands at Yarndale …
Crafternoon Treats
and other people, after having had a go at it, will prefer to remain staunch appreciators of the dyeing skills of others (and not having to clean up the mess afterwards).  I could see me being in that group of people!
There was so much more that I missed.  I always think, especially as I go to help set up, that I will see everything but I never do.  Every year I read other people's blog posts and think "Where was that, then?" and "Oh, I wish I'd seen that!" and I resolve to make sure that I don't miss anything the next year.  Ahem.
💜  Waking up in someone else's town


Did you ever stay over at a friend's house when you were a child, dropped off by your parents and waving goodbye to them as they left you behind in a house that you knew but somehow felt different because they weren't there?  That's how it feels to me when I go up to Skipton for Yarndale weekend.  Whenever I visit Lucy, I usually have to be home in time for small daughter getting home from school but over Yarndale weekend, my husband is in charge at home and there's no need for me to rush back.  Instead, I can take a long shower in my hotel room without cats coming in to remind me they need breakfast or small daughter wanting money for the school bus.  I can go out to the pub in the evening to meet up with friends without having to worry about babysitters or what time I need to be back home.  I can be the first one at the supermarket in the morning, watching the sun rise over the hills as I wait for the manager to open the doors so that I can buy toothpaste because I've forgotten to bring mine.  Ah, freedom.
 💜  Celebrating creativity
Because that's what Yarndale is all about, isn't it?  From the miles of bunting in the Yarndale Hub … 
to the current creative project – this year it was crocheted hearts to raise funds for the mental health charity, MIND …
and here's my contribution, hastily hooked on Friday night after I left the Auction Mart.  Nothing like leaving it till the last minute!
The yarn-bombing outside (this was my absolute favourite bit – look at that snail trail!) …
and Lucy's mandalas swinging in the trees …
More mandalas in the cafe area …
and the biggest mandala in the world (or so it seemed to me) …
Giant mandala made by Hester
it's all about getting involved, and I think that's what so many people like about Yarndale.  
💜  Friends old and new


I met so many people over the Yarndale weekend and admired so many pairs of socks.  It was brilliant!  I love saying hello to people in real life who have knitted socks or read the blog (yes, that's you!) and I know there were so many more that I missed seeing because it was too busy or I just had to nip to the loo (sorry, when a girl's gotta go, a girl's gotta go!).  Thank you to everyone who came to say hello, it was really lovely to see you!
And so many tiny socks too!  This one came all the way from Canada and the photo is slightly fuzzy because I was so excited to see it!
I love being part of this socky community that has developed, I absolutely love it.  There were meet-ups a-plenty and it was a joy to watch people who have only ever communicated online finally see each other in real life.
💜   Giant Swaledale Sheep
What is it about these giant sheep, their cheeky sheepdog and the shepherd that tickles me so much?  No idea, but I get really giddy when I see them.  I've got almost as many photos of these sheep as I took of real sheep when I went to Woolfest last year.  That's a lot.
💜  Packing up
You'd think this bit would make me feel sad, but it doesn't.  It feels right, at the end of a busy weekend, a bit like a circle of life type of thing.  The Yarndale seed is sown, it blooms over the weekend and then it disappears again, having spread seeds of creativity far and wide.  And next year it will happen all over again.  Comfortable, familiar, seasonal.  
I have so many more photos but this post has gone on for quite long enough (some would say too long!).  Let me show you one final photo of the treats I came home with, some bought and some gifted, and then I'll leave you in peace.
💜  Yarndale treats
Clockwise from the top left is some WindSong Fibers Farm cormowool/alpaca yarn from America, a new project bag (can you ever have too many of these?), watermelon sock yarn from Hand Dyed by Kate (ooh, I've fancied some of this for such a long time!), Dodgson Wood Castlemilk Moorit and Bluefaced Leicester DK yarn from Northern Yarn, hand-dyed mini skeins from Yarn Magpie, One Farm Yarn 4ply yarn in shade Elephant from The Knitting Goddess, calico cat 4ply yarn from Mothy and the Squid and in the middle a dinky felted sock made just for me by Beth.
I always feel so spoilt when I leave Skipton and the empty Auction Mart with full shopping bags and a full heart.  A weekend just for me to indulge in yarny things and fill up my well-being tanks ready for the coming darker days of autumn and winter.  I am looking forward to next year already!